Draftkings NFL Cash & GPP Lineup Daily Fantasy Football Week 11
Week 11 means we've made it to the end of the bye weeks! Only four teams are on bye this week, and they are the 49ers, Jets, Colts, and the Panthers. We typically three of those four defenses for Quarterbacks but this week we have a fair amount of options on the Draftkings main slate. A big note for this slate is that the Patriots and Raiders game will be played in Mexico City where the stadium sits over 7,000 feet above sea level. There could be a chance that players get tired as the game progresses.
The Draftkings main slate is without a few really good games this week, which means the PrimeTime slate should be a lot of fun this week. The Sunday Night Football game features the 1st seed Eagles at Dallas in a division rivalry, while the Monday Night game has the Falcons going to Seattle.
Vegas:
Since Vegas has become such a huge part of the DFS community and is where most DFS players start their research, I decided to write up a portion outlining the big Vegas numbers. All Vegas totals will be taken from Fantasy Labs Vegas page on Wednesday.
This week there are currently two games with a game total over 50 with the Patriots and the Raiders sitting at 53.5 and the Redskins at the Saints sitting at 51. These two games are above the rest of the pack with three games sitting with a total over 44. The Bills at Chargers (44), Chiefs at Giants (45), and the Rams at Vikings (45.5).
There are three games that Vegas has as over a touchdown favorite. The Chiefs led the way with as 10 ½ point favorite over the Giants, The Saints and Jags are tied for second on the main slate with a 7.5 point edge over the Redskins and the Browns, respectively. And the Patriots are 7 point favorites against the Raiders. There are four teams with implied team totals over 24 points. The Chargers (24), Vikings (24), Chiefs (27.75), Saints (29.25), and the Patriots (30.25).
I encourage you to check out the Fantasy Labs page on Sunday morning to see if there are any drastic changes to these game totals. Of course, Lineup Labs subs have access to this information in the player pool. Let's dive into the slate.
Quarterbacks: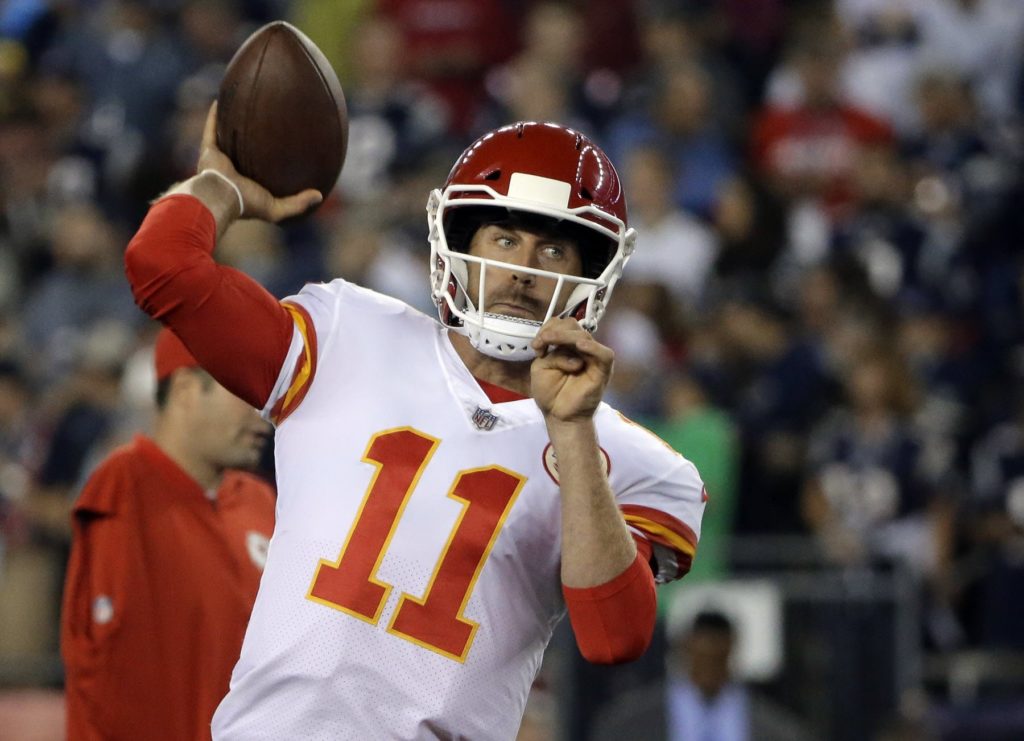 This is a pretty good week for Quarterbacks. There are plenty of good options at the high priced tier, and a few good value plays. Starting with Drew Brees.
Drew Brees (DK $ 6,800) – Brees is the 2nd highest priced quarterback on the DK main slate. Brees is in an ideal spot as a home favorite with a high team total (29.25) and a high total (51). Brees has historically done well at home and Washington ranks in the middle of the pack in aFPA to quarterbacks this season. Brees will likely be one of the most popular quarterbacks on the slate with his price reaching a season-low 6.8K. The concern here is that the Saints are not the same Saints team that we could on to throw the ball 40-50 times per game. The Saints are passing the ball only 52% of the time this season compared to 64% of the time last season. Brees has not attempted over 30 passes since week 7 against the Packers. Brees is always a threat to have a huge game at home. He will be popular so fade him at your own risk.
Alex Smith (DK $6,700) – If you are fading Brees, don't overlook Alex Smith. Smith is about the same price as Brees and has similar Vegas numbers. Chiefs are big favorites (10.5), have a high total (27.75), and are facing a putrid Giants defense that just allowed CJ Bethard to score 26 DK points against them. The Giants are 30th in the league in aFPA to quarterbacks this season and have gotten burned by Jared Goff, Russell Wilson (on the road), Trevor Siemian, Philip Rivers, and Jameis Winston the past six weeks. This Giants team is #bad, and the Chiefs will have no problem with them coming off of a bye (Andy Reid is 16-2 lifetime coming off of a bye). I'd lean more on Smith than Brees because the Chiefs have a 57% rate and Smith provides some rushing upside. Smith is my favorite QB this week.
Blaine Gabbert (DK $4,900) *expected to start* – I know, you probably threw up in your mouth and are skipping over this section. But Gabbert is getting his first start of the season against the Texans. The Texans rank 29th in aFPA allowed and have been burned for more than 20 points in four of the past five weeks by quarterbacks. Gabbert looked okay this past preseason, completing 61% of his passes and a QBR of 85.9. Bottomline is you're probably not going to roster Gabbert here, but he's super cheap and is going up against a bad Texans' defense and has plenty of weapons to make plays for him.
Cash:
Smith, Brees, Brady, Carr
GPP:
(Above) Cousins, Rivers (if active), Cutler, Gabbert
Running back: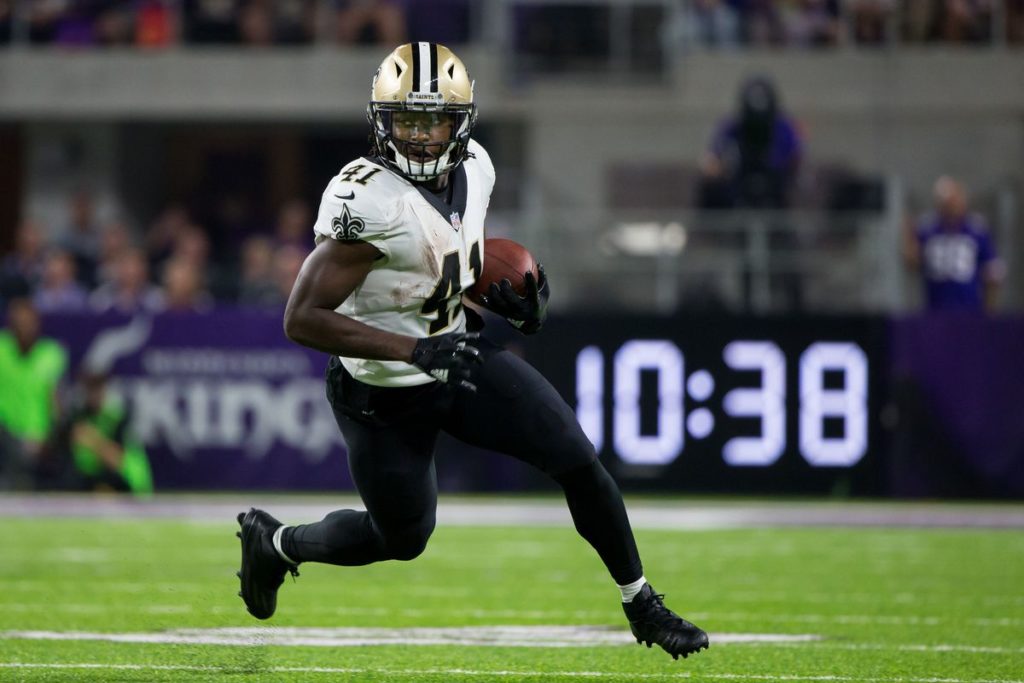 There isn't a clear standout running back on this slate, so there isn't an incredibly priced up player like we saw last week at $9,800. This week Gurley (8.4K) is the highest priced back and Fournette (8.2K), Ingram (8.1K), and Hunt (8K) all round out the $8,000 range.
Leonard Fournette (DK $8,200) – Fournette burned me last week in his first game back. He was in an ideal spot and threw up a complete dud in my lineups. I generally don't like playing running backs against the Browns, but this is a situation where I'm watching the weather very closely. Winds are expected to reach upwards of 20MPH on Sunday in Cleveland, and the Jags already hate putting the ball in Blake Bortles' hand. The Jags run a league-high 51% of the time and are 7 ½ points favorites. If the weather holds up as it looks right now, this could be a sluggish game that Fournette ends up touching the ball around 30 times.
Kareem Hunt (DK $8,000) – I think Hunt will be the most popular top priced running back of the four mentioned above. The Giants rank 27th in aFPA for running backs and Kareem Hunt is a huge favorite with one of the highest implied team total. He's not a bad play by any means, I just really like getting my exposure to this Chiefs offense through the passing attack. Also, I've seen Hunt turn into a 2-down back and be replaced by Charcandrick West more than I'm comfortable. In the Chiefs, las game Hunt saw his snap count dip from 67% to 54%. He still got 5 targets in the game, but only touched the ball 13 times. I understand that Hunt is in a good spot, I just like the passing attack more for KC. This could be a week that I venture away from the top priced running backs.
Alvin Kamara (DK $7,500) – Kamara just might be my favorite running back this week. He's $600 cheaper than Mark Ingram and gives me exposure to both the Saints passing and rushing attacks. The past two weeks Kamara is only playing in 39% of the snaps but is receiving 92% of the targets out of the backfield. He's combined for 40% of the running back targets with 33 compared to Ingram's 38. Although the snaps are quite even, Brees looks to Kamara often, and on a PPR format like DK, Kamara only needs about 5 catches for 50 yards to put him on pace to reach value.
Rex Burkhead ($3,600), Dion Lewis ($4,200), James White ($4,700) – The trio of Patriots running backs are going to be somewhat popular. Burkhead might carry the highest ownership with his 3.6K price tag. But to try to figure out which running back, Bill Belichick will use, is anyone's guess. Last week Burkhead led the three backs in snaps with 51% (Lewis 30%, White 16%, Bolden 3%). Lewis led the team in rushing attempts with 50% (Burkhead 36%, White 7%, Bolden 7%). Burkhead was tied with White in targets with 3 targets apiece (Lewis had 0). At the end of all this the touches brokedown this way – Lewis 14 touches, Burkhead 13, White 5, and Bolden 2. Like I said, anyone's guess who will emerge here. I'd imagine Burkhead would be the best player because of his ability to catch and rush the ball, along with his low price. But it's very tough.
Cash:
T. Gurley, L. Fournette, K. Hunt, M.Ingram, A. Kamara, M. Gordon, R. Burkhead
GPP:
(All Above), C. Thompson, Pats RBs, K. Drake
Wide Receivers: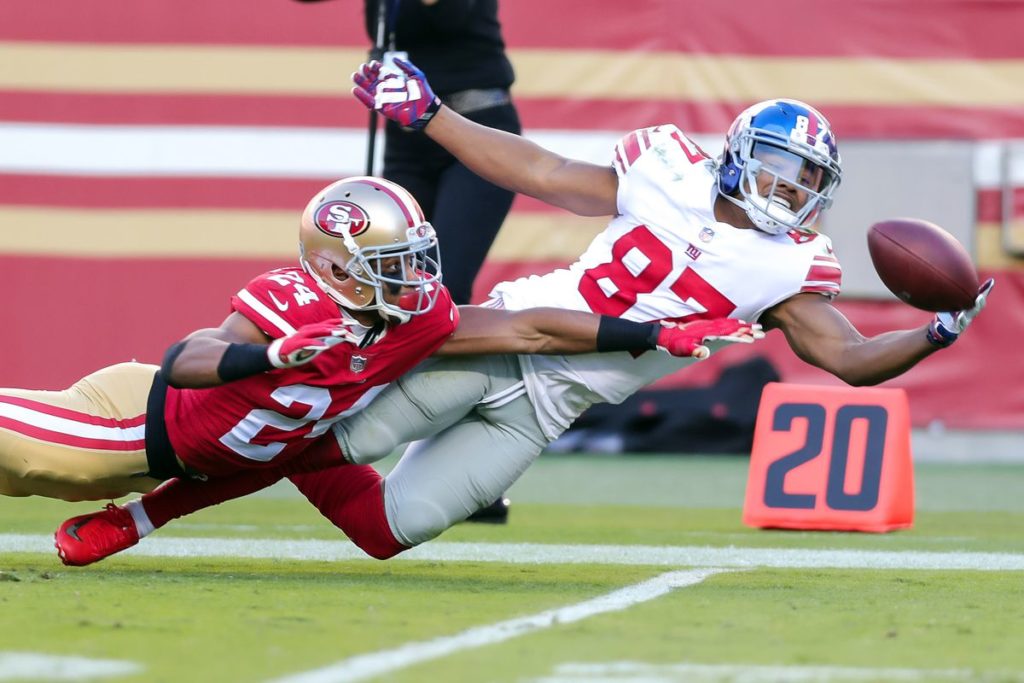 Michael Thomas (DK $ 7,400) – Thomas is the second highest price wide receiver and will be popular. He's going to be the conventional stack with Brees. Thomas is 7th in the league with 83 targets, averaging over 9 targets per game. He hasn't scored a touchdown since week 4 against so we can expect some positive regression for him. The one concern some people may have in rostering him could be ill-advised. People might be concerned that Josh Norman could shadow him, but that is not expected to be the case here. Josh Norman does not shadow receivers and has played all, but a handful of plays on the left side of the defense.75% of Thomas' snaps are on the right side of the formation so he should avoid Norman for most of the game.
Sterling Shepard (DK $6,300) – Another popular play here with Shepard coming off of a 13 target game and 28 DK points. Shepard has received 22 targets in his last two games and had turned that into some good production (16 catches, 212 yards, 40.2 DK points). The Giants are likely going to be trailing, which will force Eli to throw the ball upwards of 30 times, and that means Shephard is likely to see 10+ targets again. The Chiefs are 31st aFPA to wide receivers so he should be a lock for cash games. His price continues to rise with his production as of late, but you're looking at a receiver with a floor of 5 catches and 70 yards.
Tyreek Hill (DK $7,100) – This middle tier price range will be popular this week, especially without a clear stud to pay up for. Hill is typically more of a tournament play than a cash game play, but the matchup lines up perfectly for him this week. The Giants are one of the worst teams in the league at giving up the deep ball, and that fits perfectly into Hill's game. Hill doesn't have an exceptionally high floor, but his ceiling is the perfect play for tournaments.
Michael Crabtree (DK $6,600) & Amari Cooper ($6,000) – Going a little cheaper from the guys mentioned above, you can't go wrong with either of the top two receivers for the Raiders. The Raiders are a touchdown underdog in the game with the highest total between two offenses that have the firepower to put up points. We've seen Derrick Carr eclipse more than 30 attempts in each of his last four games, including two game of over 49. It's easy to see the Raiders airing the ball out to either keep up with the Pats or maintain a lead. If Carr is likely to throw 45+ times, these two could be in store for 10+ targets each against a Patriots defense that is much improved but still ranks 29th aFPA to wide receivers.
Value
Jeremy Maclin (DK $4,500) – Maclin caught 8 of his 9 targets last week for 98 yards against the Titans. This week he faces the Packers who rank 28th in aFPA to wide receivers this season.
Bruce Ellington (DK $3,000) – Ellington stepped in for an injured Will Fuller and caught 4 of his 8 targets for 41 yards and a touchdown against the Rams. Ellington is going to face the 2nd corner with Patrick Peterson likely to follow DeAndre Hopkins all over the field.
Cash:
M. Thomas, S. Shepard, T. Hill, A. Cooper, J. Maclin, B. Cooks
GPP:
(All of the Above) D. Hopkins (too cheap), M. Wallace, M. Crabtree, E. Sanders, K. Allen, M. Evans, A. Thielen.
Tight End: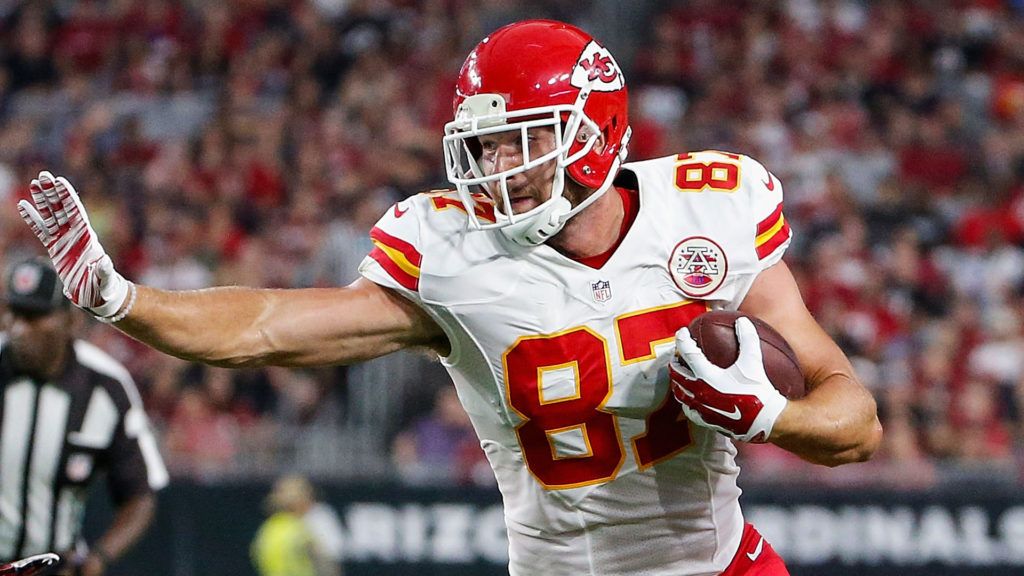 The top-priced tight ends are all in great spots (Kelce, Gronk, Engram). If you can fit one into your lineup, they are the clear top plays of the slate.
Tyler Kroft (DK $2,900) – A nice salary put here. Kroft has done a great job exceeding value since Tyler Eifert went down for the season. This week we get him at a discount after a poor performance in week 10. He faces the Broncos who have a tight end funnel pass defense and rank 30th in aFPA against tight ends. Kroft has scored at least 9 DK points in 3 of his last 4 games.
Martellus Bennett (DK $2,800) – Bennett could be a sneaky pivot off of Gronk. In only a short period time with the Pats, Bennett caught all 3 of his targets for 38 yards last week. You don't need much at 2.8K, a touchdown and 20 yards will give you a little more than 3X
Cash:
T. Kelce, R. Gronkowski, E. Engram, V. Davis (if Reed is out), T. Kroft
GPP:
(All of Above) J. Cook, B. Watson, J. Gresham, C. Brate
Defense: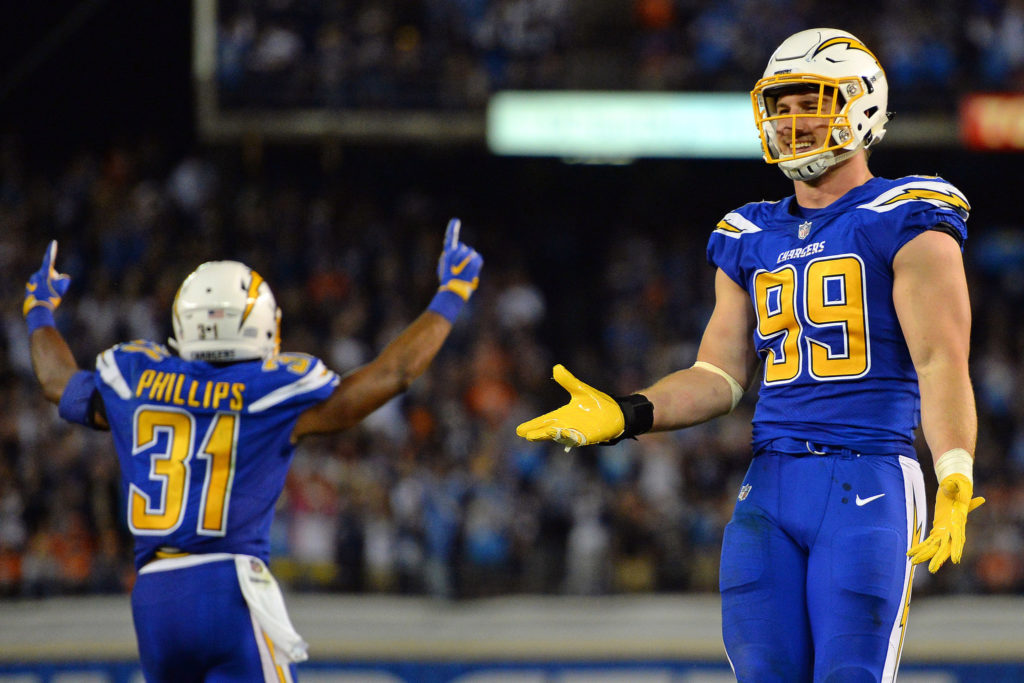 LA Chargers (DK $3,000) –  The Chargers are facing rookie quarterback Nathan Peterman in his first career start. The Chargers have a great defensive line and should be able to bring pressure on Peterman, forcing sacks and possibly interceptions.
Cash:
JAX, LAC, HOU, ARI, DEN,
GPP:
BAL, KC, NO, CIN