Draftkings NFL Championship Round: Jacksonville Jaguars at New England Patriots
We've arrived at the Conference Championships and are down to four teams fighting for a chance to hoist the Lombardi trophy. For Brady, it's just another ordinary January, but for the rest, this is a chance to put their stamp on a franchise that took a chance on them when no other team in the NFL would.
Unfortunately Championship weekend also signals the end of the DFS football season until late August. I'm assuming Draftkings will continue to run out single-game slates, but I haven't played those, so I'm not sure if I'll be playing. Because there are only two games this week, I'm going to run through my write up a little differently. Opposed to going position by position, I'll break down both championship games and write off my favorite plays for the games. But before I do that, I wanted to go over some strategies I like to employ when playing only two game slates.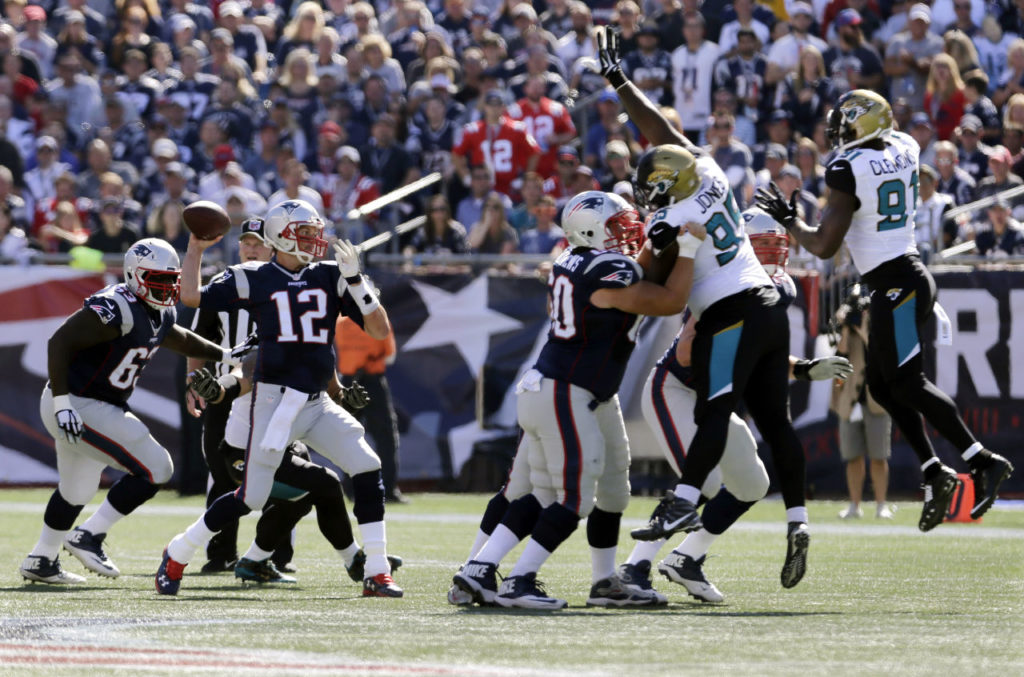 I've had some pretty good success over the past two season with the two-game prime time slates. They're entertaining because you're able to keep a close eye on each game and every play matters. Ownership is easier to predict, and the focus should be more on getting the best players into your lineup opposed to finding players with low ownership. Sure if you want to fire away multi-entries in the $4 Final Four with $400K + entries you can get crazy with playing a less than 10% owned player, but that's not the ideal strategy for two-game slates.
The key to playing two-game slates is trying to figure out what the game flow of each game is going to be. We usually use Vegas lines to give us an idea of how the experts think the game will play out, but for two games slates, we need to combine that with our opinions of how the game script is going to go. You should always take a stance on whether you think a game total is too high or too low, but it's important to set your lineup up with positive correlation to ensure you get the most out of your lineup.
You'll see a lot of lineups this weekend with game stacks and even team stacks. We'll likely see several lineups with people rostering all of the offensive Patriots and bringing it back with some Jaguars in hopes of accumulating all of the points in that game. The best way to do that is by running through the game script scenarios:
I.e., If the Patriots score 28 points, I think Brady will account for 3 touchdowns and their running back [Lewis, Burkhead, White] will account for the 4th touchdown. If the Pats score early, that opens up the passing defense to play Prevent Defense, which creates throwing lanes over the middle for Bortles. That's a general idea of how I generate game stacks; the tricky part is finding which players have the highest touchdown equity and playing them in your lineups. I'll do my best to break down how I see these two games playing out, but you should come up with your theory of the games this week and play lineups accordingly.
Jaguars (19.5) at Patriots (27) | NE [-9] | Over/Under 46.5
New England Patriots (27)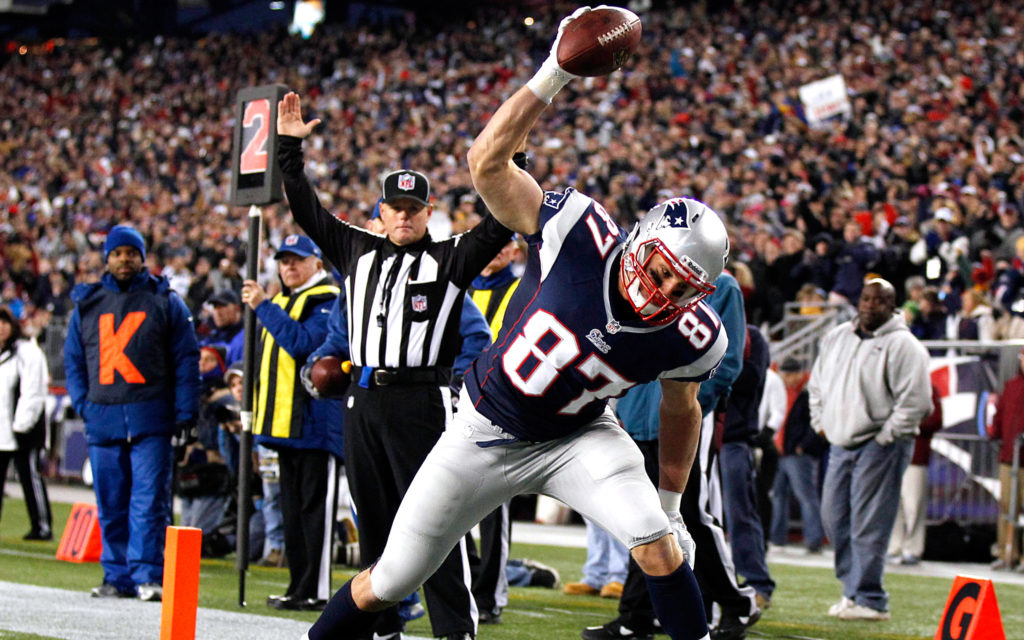 * News *
T. Brady – limited on Thursday (hand) – expected to play
R. Burkhead – limited on Thursday (knee) – expected to play
For the second consecutive week, the Patriots have the best Vegas numbers of all the teams on the slate. They are the largest favorites (-7), have the highest implied total (27), and have the highest game total (46.6). The difference from last week is that the Pats are not going up against the mediocre Titans defense again. They are going up against the Jags who ranked fourth DVOA in total defense, and first in passing defense, per Football Outsiders.
The Jags are coming off of a week where they allowed the Steelers to put up 42 points and 545 total yards (462 pass, 83 rush). That is only the second time the Jags defense has allowed more than 40 points this season (44 to 49ers and 42 to Steelers). While this defense is far from one that offense would like to face, they are far from unbeatable.
A very detailed article by Warren Sharp of Sharp Football Analysis broke down the secret to beating the Jaguars pass defense and essentially blueprinted the Patriots game plan. This is a must-read for anyone trying to figure out how the Patriots will attack this Jaguars defense. Check out the article here. Onto DFS.
You are surely going to want to get your exposure to the Patriots offense. But the question is where? As a team with an implied total near four touchdowns, that generally bodes well for Tom Brady ($7,700). But as a big home favorite and in a matchup against a defense that funnels offensive production to running backs, which also bodes well for the New England running backs. So which way should you go?
After reading Sharps article is crystal clear the best way to attack the Jags is over the middle with at most two wide receiver sets. They have a strong defensive line and secondary but are average at linebacker. That opens things up for Gronk and the running backs. So I'm looking to build Brady stacks with Gronk ($7,900) and one, possibly two of the New England running backs. Brady and Gronk are the top plays on the board and I will have them on 70% of my lineups.
Unfortunately, the New England running back situation is far from a clear picture. Dion Lewis ($8,100) is the slates highest price running back and has done exceptionally well over the past four weeks, scoring five touchdowns during that span. But with the news that Rex Burkhead ($5,400) will likely return for the first time in three weeks, it could eat away from Lewis' production. On top of Burkhead's return, we saw last week James White ($4,900) eat into Lewis' production by scoring two touchdowns against the Titans.
I don't have a problem with playing any one of these running backs with Brady because they are all capable of catching the ball. I still think Lewis will get the majority of the workload even with all three backs active. Even though Burkhead may return I strongly think White will have more opportunity over him because he was productive with his touches last week and the Pats are likely to ease Burkhead back into action. I really like White for the savings he brings, and I'm leaning toward a hard fade on Burkhead simply because on two-game slates you have to take a stand on questionable players.
I'd rank them Lewis, White, Burkhead.
I don't mind pairing one or two of these running backs with Brady because I am likely not to stack Brady with any one of his wide receivers. As Sharp's article pointed out, the best way to target the Jags is over the middle and with the running backs. I don't like picking on Ramsey or Bouye on the corners. If I had to rank the Pats receivers
I'd go Chris Hogan ($5,000), Brandin Cooks ($6,100), Danny Amendola ($5,500). But none of these come close to Gronk.
Last week, the Jags allowed Steelers tight end Vance McDonald to a team-high 10 catches. Imagine what Gronk will do if he's funneled with 16 targets that McDonald saw last week. Gronk is might be the best play of the entire slate.
PATRIOTS PLAYS:
T. Brady, R. Gronkowski, D. Lewis, J. White, C. Hogan, B. Cooks
Jacksonville Jaguars (19.5)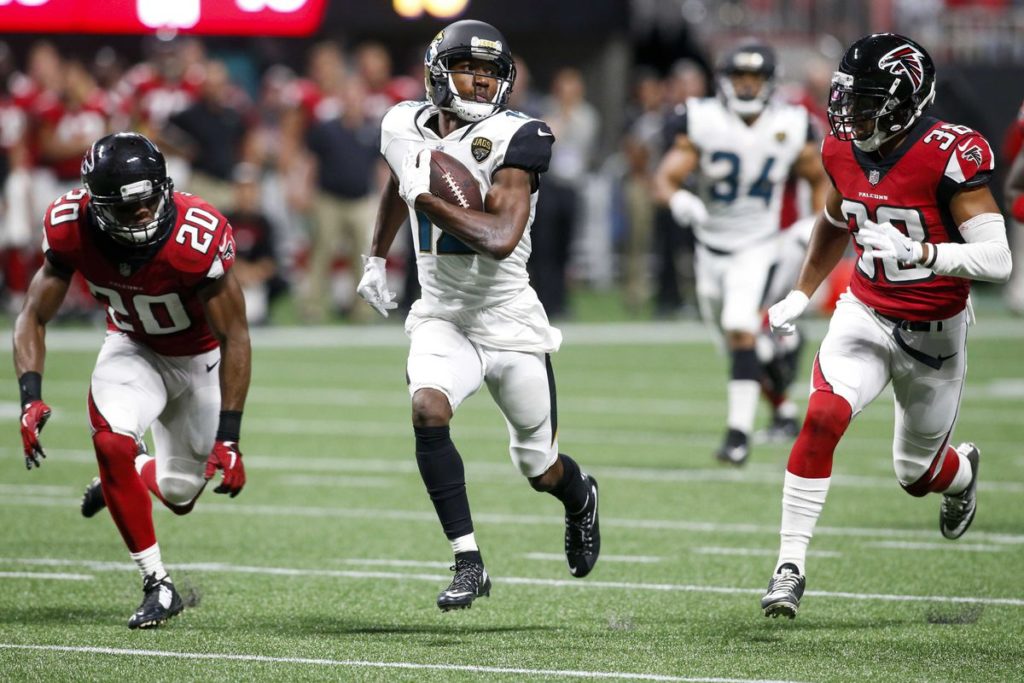 * News *
L. Fournette – limited on Thursday (ankle) – expected to play
T. Gipson (FS) – missed practice on Thursday (foot) – expected to play
On the Jags side of the ball, we have a few intriguing options, starting with the quarterback. Don't throw up, but Blake Bortles ($5,000) is a popular punt play that is worthy of your consideration. NFL coverage on every station has bashed Bortles' inconsistent play, but somehow he has gotten the Jags to the AFC championship game. In his two playoff games, Bortles has completed only 53% of his passes and has thrown for a combined 301 yards with 2 touchdowns. Those numbers are a far cry from what you'd like to see from a quarterback in a championship game, but Bortles has added some production with his legs to make up for his lack of production through the air. In the past two games, Bortles has 123 rushing yards on 15 attempts (8.2 YPC). The added rushing production has made him rosterable considering his minimum priced salary.
Now Bortles faces the Patriots defense that ranked 21st DVOA during the regular season but isn't as bad as their ranking suggest. The Patriots haven't allowed a quarterback to throw for 300 yards since week 6. However, even though the Patriots are much improved, if the game script goes as Vegas and several other analysts suggest, Bortles could be looking at plenty of garbage time opportunities to reach his value at only $5k. Even if the Jags manage an early lead, it bodes well for Bortles because he owns a passer rating of 103 when playing with a lead.
If I'm playing Bortles or trying to find a Jaguar receiver to create a game stack with I'm rostering Dede Westbrook ($3,900) or Marquise Lee ($4,400). Despite only seeing 9 targets combined last week, Westbrook and Lee still played over 65% of the snaps last week. Since the Jags got their full receiving corp healthy, Lee and Westbrook have led the way in snaps and targets, while Keelan Cole ($3,500) and Allen Hurns ($3,300) have split time in the slot. Although the best way to attack the Patriots secondary is receivers in the slot, I still prefer Westbrook and Lee over Cole and Hurns because they are more likely to be on the field.
My rankings for the Jags receivers are Westbrook, Lee, Cole, and Hurns.
The real focal point of the Jags offense is their running game. Leonard Fournette ($7,200) is the lone back on the slate that doesn't have to worry about touches. Fournette is the only running back that is guaranteed to touch the ball over 20 times. He's also the lone back that doesn't have to share touches with anyone. The issue with Fournette is that he could suffer from a negative game script. If the game goes the way Vegas projects, that could limit Fournette's rushes, and he has only averaged 3 receptions over the past four games. On top of that, Belichick gameplans to take away the opposing offenses' best player and that means Fournette will likely see 7 to 8 men in the box. The positive side of rostering Fournette is that you get nice touchdown equity. Despite averaging a modest 4.4 YPC last week, he accounted for 3 of the 5 offensive touchdowns. It's worth noting that the Patriots have only given up 5 rushing touchdowns on the year and last week held Derrick Henry 2.3 YPC. The matchup and negative game script make me cautious in rostering Fournette this week despite his $1,500 drop off from last week.
JAGUARS:
B. Bortles, D. Westbrook, M. Lee, L. Fournette *only if you are fading Brady and stacking with Jags DST*