NBA Daily Fantasy Basketball Sleeper Lineup Picks for 10/30/18
*Mike Barner — @rotomikebarner*
There are a lot of great value plays on tap Tuesday in DFS with eight games on the NBA schedule. Here are some options to consider as you craft what will hopefully be a winning lineup. Don't forget to sign up for our Newsletter and try our Playerlab tool, where you can filter the stats that matter the most and help build a winning entry on FanDuel and DraftKings.
POINT GUARDS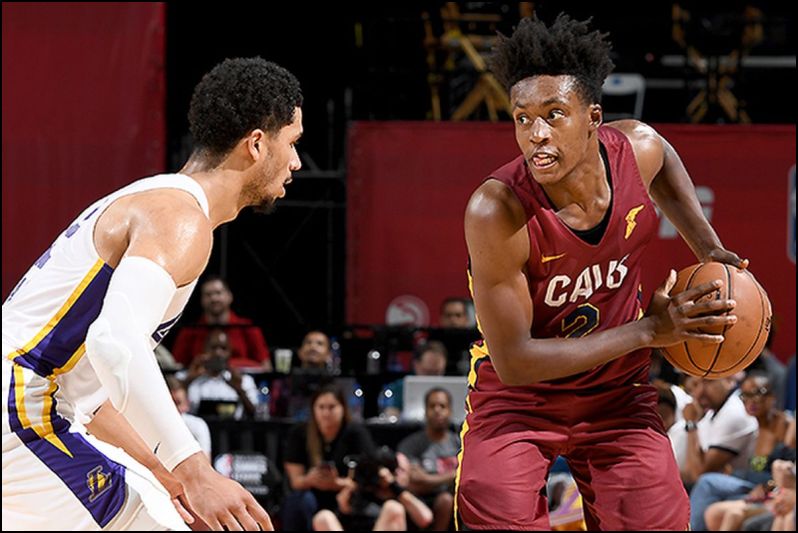 Collin Sexton, CLE vs. ATL
FanDuel = $4,800
DraftKings = $4,000
The Cavaliers continue to start George Hill at point guard, but Sexton is their future at the position. He's not your traditional point guard, though, averaging just 2.2 assists in 24 minutes per game. After getting off to a slow start, Sexton is showing some promising signs by averaging 13.3 points, 3.3 assists and one steal across his last three games. The Hawks play at the fastest-pace (108.8 possessions per game) in the league, which could leave Sexton with a few added opportunities to provide value Tuesday.
D.J. Augustin, ORL vs. SAC
FanDuel = $4,400
DraftKings = $4,300
The Magic have scored the fewest points per game (100.8) and some of that might be due to their lack of talent at point guard. Augustin has been starting for them, but he's much better suited to be in a backup role at this stage of his career. His numbers don't jump off the page, but his averages of 8.7 points, five assists and 1.5 three-pointers per contest make him someone to not completely overlook. This might be a spot to put him into your lineup against a Kings team that has played at the second-fastest pace (107.6).
SHOOTING GUARDS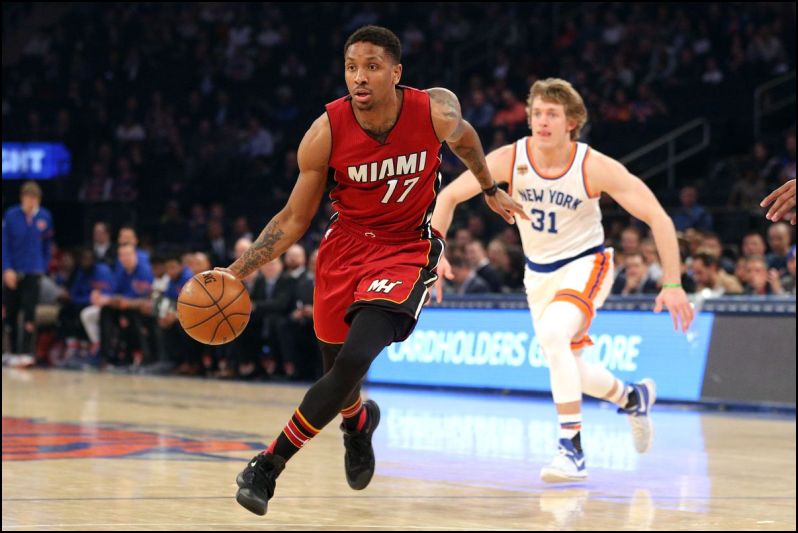 Rodney McGruder, MIA at CHA
FanDuel = $5,600
DraftKings = $6,200
McGruder didn't exactly have a great performance with seven points, six rebounds, and one three-pointer Monday against the Kings. On a positive note, he did play 32 minutes. With all of the injuries the Heat suffered to start the year, McGruder found himself in an expanded role that he has yet to relinquish. With averages of 14.5 points, 6.5 rebounds, four assists, and 2.3 three-pointers look for him to have a bounce-back performance Tuesday.
Jordan Clarkson, CLE vs. ATL
FanDuel = $4,400
DraftKings = $4,600
With the Cavaliers loss of Kevin Love (foot), they have a gaping hole in their offense. Clarkson's 28.8 percent usage rate is already the highest on the team, but he could be looking for even more shots moving forward. The departure of LeBron James certainly hasn't been good for the Cavaliers, but it has benefited Clarkson, who is averaging a career-high 16.2 points per game. Considering the fast pace at which the Hawks play, this could be a big night for Clarkson.
SMALL FORWARDS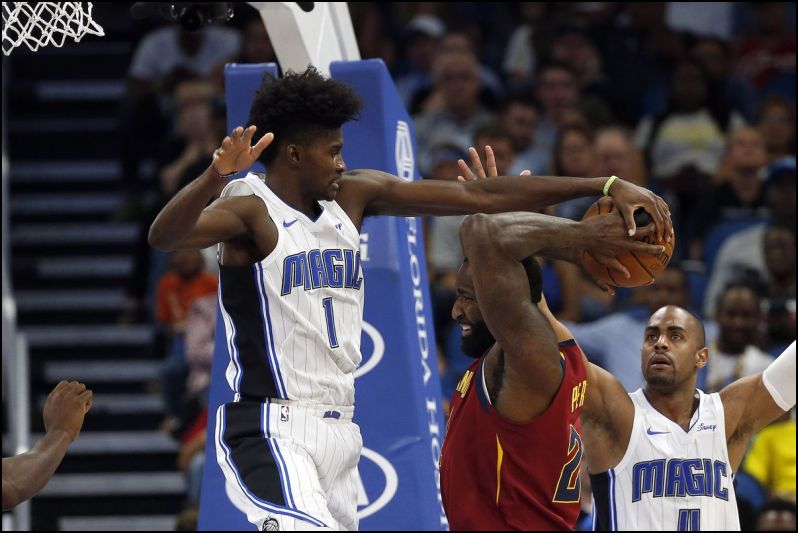 Jonathan Isaac, ORL vs. SAC
FanDuel = $5,700
DraftKings = $4,700
The Magic have some ugly offensive numbers, but they've played three tough teams in a row in the Celtics, Blazers, and Bucks. Isaac actually played well during that stretch, averaging 10 points, 7.3 rebounds, and 2.3 blocks. He still has a lot of improving to do offensively, but he can be a menace defensively and on the glass. With the added scoring potential facing a Kings team that has allowed the fourth-most points per game (119.3), Isaac is someone to consider in tournament play.
Jeff Green, WAS at MEM
FanDuel = $4,000
DraftKings = $4,400
One of the biggest disappointments of the season has to be the Wizards and their 1-5 start. They are allowing a staggering 125 points per game and they again don't appear to be the most cohesive unit. A contributing factor for their struggles has to be injuries with Dwight Howard (back) yet to make his debut. Howard won't play again Tuesday and the Wizards could also be without Markieff Morris, who is in the concussion protocol. If he can't play, either, this is a prime spot for Green to get added playing time. Don't expect lofty production, but he is averaging 11 points, 5.3 rebounds and 1.5 assists across 26 minutes per game.
POWER FORWARDS
Montrezl Harrell, LAC at OKC
FanDuel = $5,700
DraftKings = $5,500
Marcin Gortat might be the starting center for the Clippers, but Harrell is the player who has seen the most playing time at the position. In the three games in which Harrell has played at least 20 minutes, he's averaging a staggering 19.7 points, 7.3 rebounds, 1.7 steals, and 2.3 blocks. The Thunder could be really thin at center Tuesday with both Steven Adams (calf) and Nerlens Noel (ankle) listed as questionable. If either or both of them don't play, the Thunder will have to go small, which could mean even fewer minutes for Gortat. Even if they do take the floor, Harrell can provide value at this price.
Zach Collins, POR at HOU
FanDuel = $4,400
DraftKings = $4,000
Collins might only be averaging 22 minutes a game, but he's been extremely efficient, shooting 69.4 percent from the field, 54.4 percent from behind the arc and 88.2 percent from the charity stripe. It's going to be hard for him to continue to shoot that well, but he's clearly made himself a fixture of the second unit for the Blazers. With the Rockets propensity to use small lineups and play at a fast pace, Collins could be set up for another valuable evening.
CENTERS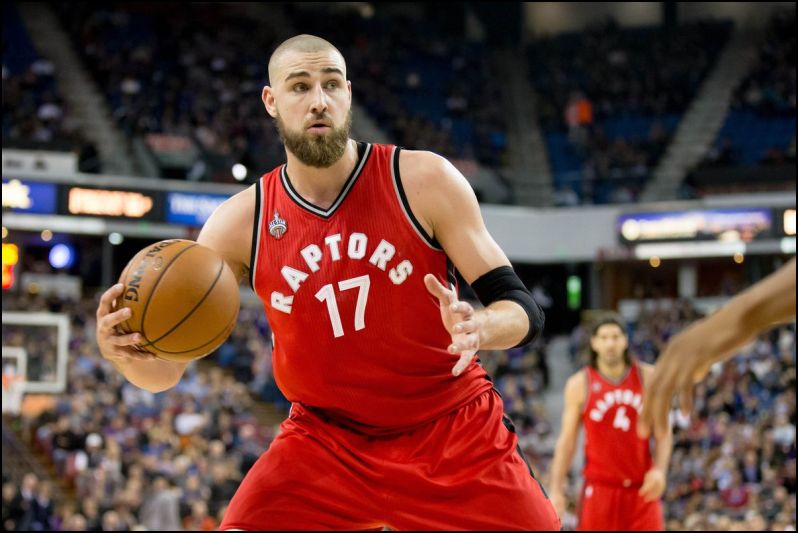 Jonas Valanciunas, TOR vs. PHI
FanDuel = $5,800
DraftKings = $5,400
The Raptors continue to play matchups at center, which resulted in Valanciunas coming off the bench Monday against the Bucks. Expect him to be back in the starting lineup Tuesday with the Raptors set to face Joel Embiid and the Sixers. Across the three games in which Valanciunas has started, he's averaging 13 points and nine rebounds.
Cody Zeller, CHA vs. MIA
FanDuel = $4,400
DraftKings = $4,100
Even though the Hornets like to use a lot of small lineups, Zeller has started all seven of their games. He doesn't get traditional starter's minutes at just 22 per game, but that hasn't stopped him from averaging a respectable 9.4 points and six rebounds. The Hornets might be forced to give him more playing time against Hassan Whiteside, making Zeller someone to consider if you want to go really cheap at center.