NBA Daily Fantasy Basketball Sleepers for 1/19/18
*Mike Barner*
NBA Daily Fantasy Basketball Sleepers for 1/19/18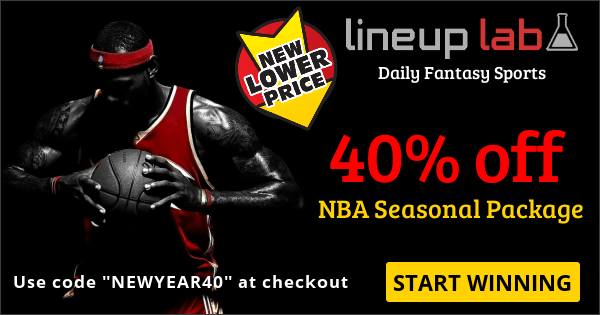 Use Code "NEWYEAR40" at checkout for 40% off Seasonal Package
POINT GUARDS
Darren Collison, IND at LAL
FanDuel = $5,300
DraftKings = $5,600
Collison's overall scoring average is down at 12.8 points per game, but he sure is efficient, shooting a career-high 50.7% from the field to go along with 88.8% from the free-throw line. Although he's not a volume scorer, he still provides a steady floor with averages of 2.7 rebounds, 5.3 assists, 1.2 steals and 1.3 three-pointers per game. He gets a favorable match Friday against a Lakers team that plays at the fastest pace (103.6 possessions per game) in the league, which should give him added opportunities to provide value at this reasonable price.
Tyler Ennis, LAL vs. IND
FanDuel = $3,800
DraftKings = $3,900
The Lakers are going to be short-handed at guard Friday with both Lonzo Ball (knee) and Kentavious Caldwell-Pope (Achilles) ruled out, so expect Ennis to be in the starting lineup. He's played well in his previous five starts this season, averaging 9.2 points, 3.4 rebounds, 5.4 assists and 0.8 steals per game. His upside isn't extremely high, but it doesn't have to be to warrant consideration for your entry at this very cheap price.
SHOOTING GUARDS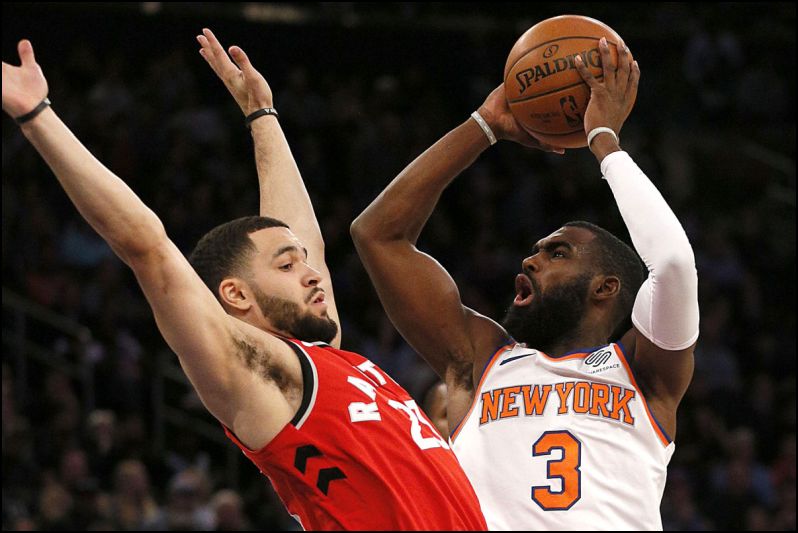 Tim Hardaway Jr., NY at UTA
FanDuel = $5,600
DraftKings = $6,100
Hardaway has played well in three games since returning from a leg injury, averaging 19.0 points, 4.0 rebounds, 1.7 steals and 2.7 three-pointers per game. He played 26 minutes or less in two of those games, so his ceiling could be much higher if he can return to his normal amount of playing time Friday. With a career-high 24% usage rate this year, Hardaway is one of the better value plays of the night at shooting guard.
Josh Hart, LAL vs. IND
FanDuel = $4,500
DraftKings = $4,600
Hart is another player who will likely see increased playing time with both Ball and Caldwell-Pope injured. Hart has played at least 30 minutes in a game five times this season, averaging 15.2 points, 7.0 rebounds, 1.0 steal and 2.0 three-pointers per contest. Jordan Clarkson is in a shooting slump right now, hitting only 37.6% of his shots so far this month. While Clarkson might have the higher upside when his shot is falling, I feel more comfortable going with Hart's consistency Friday.
SMALL FORWARDS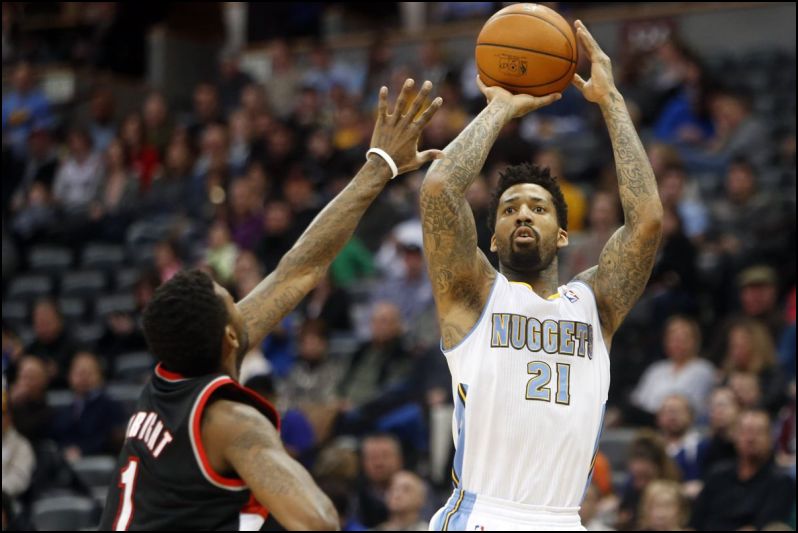 Wilson Chandler, DEN vs. PHO
FanDuel = $5,000
DraftKings = $4,300
Chandler's scoring is way down this season at 9.4 points per game, his lowest since the 2011-12 season where he only played eight total games. His playing time hasn't decreased, but his usage rate is a career-low 14.8%. The good news is the minutes are still there and he is averaging 6.7 rebounds over his last seven games. He played very well in his first meeting with the Suns this season, finishing with 17 points, seven rebounds, four assists, and three three-pointers. The Suns play at the fourth-fastest pace (102.4) and allow the most points per game (112.4) in the league, so Chandler does have some upside in this contest.
Dillon Brooks, MEM vs. SAC
FanDuel = $3,900
DraftKings = $4,200
Brooks enters Friday on a small hot streak, averaging 18.0 points, 4.5 rebounds, and 3.5 three-pointers in his last two games. He played at least 27 minutes in both of those games and could be in line for added playing time again Friday with James Ennis III (calf) already ruled out. The Kings have struggled to defend opposing small forwards this season, so Brooks might be worth the risk if you are playing in a tournament Friday.
POWER FORWARDS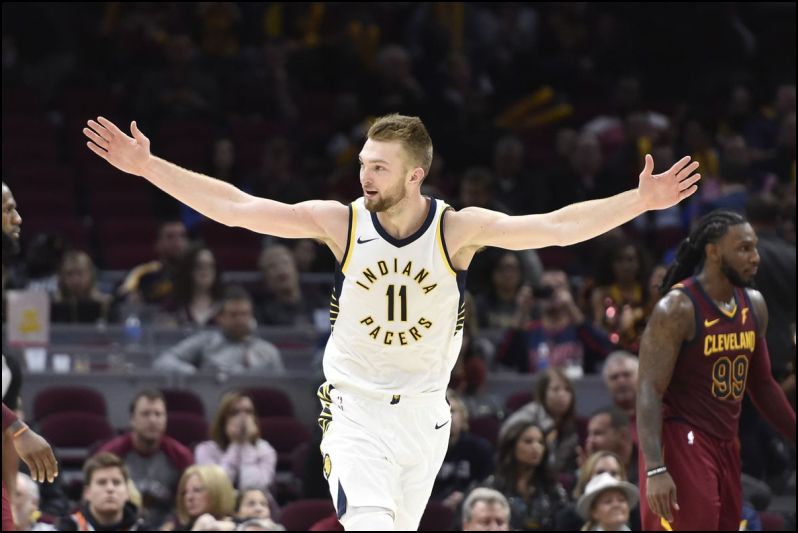 Domantas Sabonis, IND at LAL
FanDuel = $6,000
DraftKings = $6,400
Sabonis continues to fill in as the starting center for the Pacers with Myles Turner (elbow) sidelined. He's done a nice job so far, averaging 12.4 points, 11.0 rebounds, and 2.8 assists through 13 starts. Not only will the Lakers uptempo pace likely afford Sabonis a few extra opportunities to produce, but they also allow the sixth-most FanDuel points per game and the eighth-most DraftKings points per game to opposing centers. Expect Sabonis to at least approach another double-double in this game.
JaMychal Green, MEM vs. SAC
FanDuel = $5,200
DraftKings = $5,300
Green is in the midst of one of his most productive stretches this season, averaging 12.8 points, 9.0 rebounds and 1.0 steal in his last six games. The Grizzlies are struggling this season and don't have great depth up front, so Green is likely going to see heavy playing time if he keeps this up. The Kings have a lot of size up front but have struggled to defend power forwards throughout this season. Don't be surprised if he and Sabonis have very similar stat lines when the night is all said and done.
CENTERS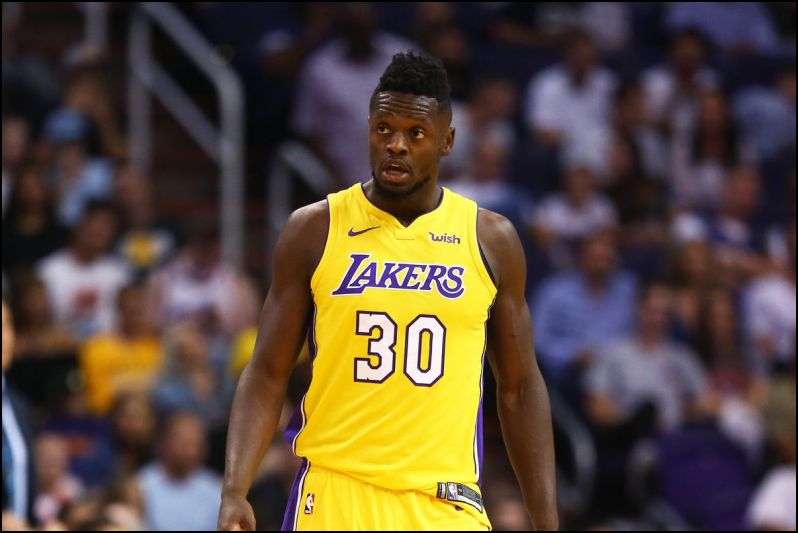 Julius Randle, LAL vs. IND
FanDuel = $6,600
DraftKings = $6,600
Randle has been one of the most productive players for the Lakers, posting the third-highest usage rate (24.8%) on the team. His overall numbers have been a bit inconsistent of late but he has still managed to score at least 15 points in five of his last seven games. With the Lakers thin at guard, they could look to their frontcourt for added production. The Pacers allow the most points per game on both FanDuel and DraftKings to opposing centers, making Randle someone to strongly consider for your entry.
Jonas Valanciunas, TOR vs. SA
FanDuel = $5,500
DraftKings = $5,400
Valanciunasis playing well right now, scoring at least 15 points and grabbing at least 13 rebounds in four of his last seven games. He's only averaging 21 minutes per game this season but has played at least 26 minutes in three of his last six contests. The Spurs have a lot of size up front, so Valanciunas could be in line for added playing time again Friday. At this price, don't be afraid to take a chance on him in tournament play based on his minutes potential.