NBA Daily Fantasy Basketball Lineup Picks 11/25/17
NBA Daily Fantasy Basketball Lineup Picks 11/25/17
Saturday (11/25) offers a well rounded 10 game slate, in which features some interesting variables to take into consideration when constructing your potential game winning lineup.

Use Code "LLNBA17" at checkout for 20% off Seasonal Package
POINT GUARDS: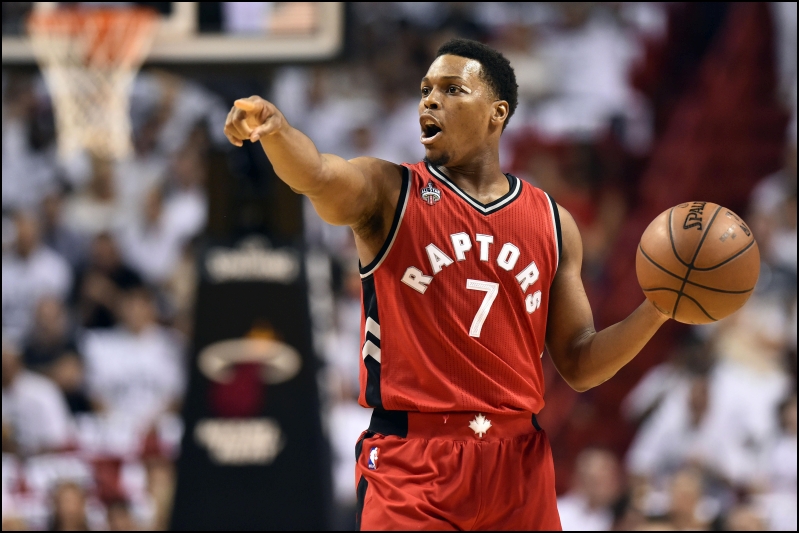 Kyle Lowry ($8,200 FD/$7,700 DK) – As of late, Kyle Lowry has been as productive as ever, with very little recognition. He has scored at least 50 FPTS in 4 of his last 5 games. (DraftKings scoring system) Saturday night he meets up with the Atlanta Hawks, ranked 24th in defensive rating and 14th against PG's this season. Even after Kyle's explosive performance last night, his DK salary price dropped $400, making him a very affordable PG in a slate where you will need your PG's to do some justice. One concern with taking Lowry might be that he is playing back to back games, and logged 40 minutes last night. This shouldn't be a huge concern as for the price he is listed, he could benefit your lineup severely.
T.J. McConnell ($4,700 FD/$4,000 DK) – If you need a cheap play at the point guard position that has the potential to get you exactly what you need then T.J. McConnell is your man for the night. With Ben Simmons out Saturday night against the struggling Magic, McConnell was listed as the official starter to replace the thriving rookie. This would evidently require Joel Embiid to carry a much heavier workload as his dynamic duo is sidelined, opening much more opportunity for McConnell to stuff the stat sheet. When McConnell was relied on to get the job done at certain points last season he produced very well, almost in a surprising fashion. The kid has huge upside to him when he is locked in, which anyone taking him would hope for tonight. In this slate, a starting $4K PG who's usage will be increased seems much worth the little risk he brings.
SHOOTING GUARDS: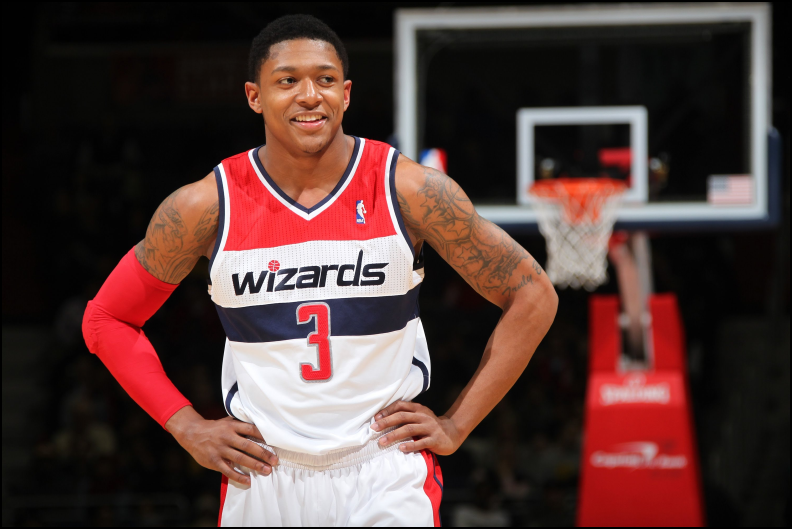 Bradley Beal ($7,600 FD/$7,400 DK) – Bradley Beal might be my favorite play at SG on this slate. John Wall has just been announced to miss approximately two weeks with a lingering injury, leaving it up to Beal to take over and try to keep this Wizards team from collapsing. The last two games John Wall has not started, Bradley Beal has provided 32.5  points per game. (43.9 DK points per game) It's a very small sample size, however, it shows that Beal can be relied on and for this price i think he can benefit just about any lineup. He'll have a little bit of a tough match up as he clashes with Portland, but somebody is going to have to score for this team tonight. I'm locked in on Beal for the slate.
Klay Thompson ($6,600 FD/$6,700 DK) – With very little value plays at SG this slate, your best bet is definitely to get a combination of affordable guards with massive upside. With Kevin Durant ruled out for a second consecutive game, the warriors will turn to the splash brothers to get things heated up on the offensive end. Last night Klay made use of only 26 minutes by pairing them up with 29 points and 4 rebounds. If the Warriors didn't completely demoralize the Bulls, Klay would've easily had 40+ points. He was still able to use his 26 minutes to provide 40 FPTS, which for his price is a secret weapon. Klay has the second highest usage rating, alongside his splash brother Stephen Curry, when Durant is off the floor.
SMALL FORWARD:
Robert Covington ($6,800 FD/$6,200 DK) – Again, this slate consists of many star injuries, opening up usage for many players that bring upside. This is what you will need to orient your lineup around for the night. With Simmons off the court, Covington has been one of the primary players seeing their usage increase, and he's been taking advantage. Covington averages roughly 40 DraftKings points per 36 minutes with Simmons off the court this year, and has a great match up against Orlando tonight. His price won't damage the salary too much which makes him even more of a necessity in this slate.
Omri Casspi ($3,300 FD/$3,600 DK) – With Durant out, Casspi seems as if he will get the starting nod once again in the second game of this back to back span or the Warriors. In games where he has logged a minimum of 20 minutes, Casspi has provided an average of 26.3 DK points/game as well as 29.00 FD points/game. At a price in the 3,000 range, this is excellent value and under these conditions he might be a necessity for a value play tonight.
POWER FORWARD: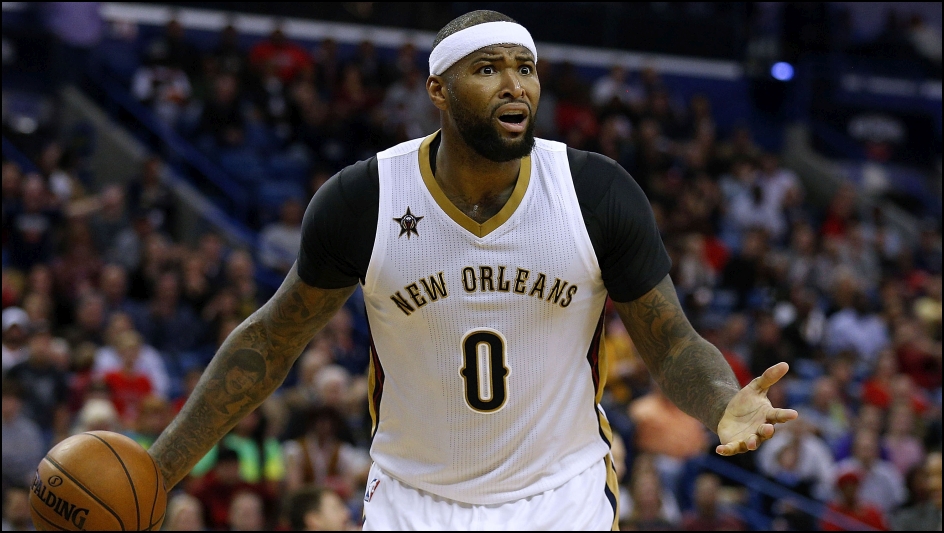 DeMarcus Cousins ($11,300 FD/$11,000 DK) – Saturday night's Pelican game is set to be a high scoring, high paced event as they square off with the lethal Warriors. The last time these teams have met, Cousins absolutely punished them, stuffing the stat sheet with 35 points and 14 rebounds. The only concern, as usual is if the Pelicans can keep up with the Durant-less Warriors in order to get Cousins his usual minutes. He's a bit pricy, but combined with a value play or two, you can really construct a solid lineup with Cousins taking control as your potential leading scorer. However, due to lineup regulation differences between FanDuel and DraftKings, Cousins can only be a Center for FanDuel lineups. For DraftKings, he is eligible at PF as well as Center.
John Collins ($6,800 FD/$5,200 DK) – Collins has been everything and more that the Hawks hoped he would be as he fills in for injured Luke Babbit and Mike Muscala. His ownership of recent has been through the roof, providing excellent value for most lineups. Babbit and Muscala are once again ruled out Saturday Night, opening room for this double-double machine to do his thing at home. His salary did increase on FanDuel, making him a little less of a value play. On DraftKings he still sits at a beneficial price, and could be a huge play for this slate.
CENTER: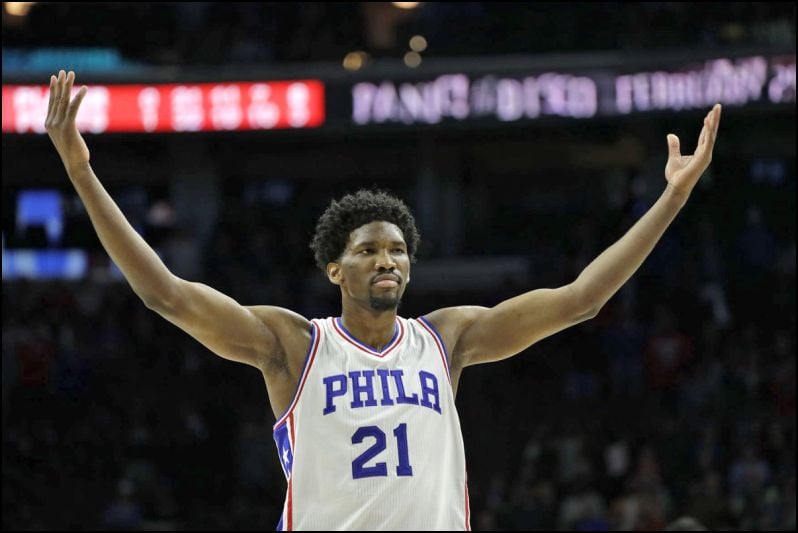 Joel Embiid ($10,100 FD/$9,800 DK) – When you hear Ben Simmons is out and the Sixers will need more usage out of Joel Embiid, how could you not consider taking him? He has been absolutely explosive this season and is listed as probably for tonight's matchup against the Magic, as he reportedly was dealing with an illness. I expect Embiid to be highly owned today, and for good reason. Mixing Him with McConnell and Covington could be a great stack today, as Embiid holds a massive 38.2 usage rate with Sommons off the court.
Marcin Gorat ($5,300 FD/$4,900 DK) – If you need a value play, Gortat may be your savior tonight. He is at a season-low in salary, sitting at just $4,900 on DraftKings. His minutes have been high lately, as he has recorded roughly 30 FPTS/game, posting double digit rebounds in four straight games along with a double-double in three of those four. Gortat has tremendous upside at little risk tonight, making him very valuable.