Chris Durell
Welcome back for a full day of daily fantasy baseball. The day starts early(12:37 ET) with four matinee affairs involving all American League teams. The main slate starts at its usual time (7:10 ET) and gives us another 11 games to sort through. Below you will find my favorite pitcher and team to stack from each slate. Let's dive into the action.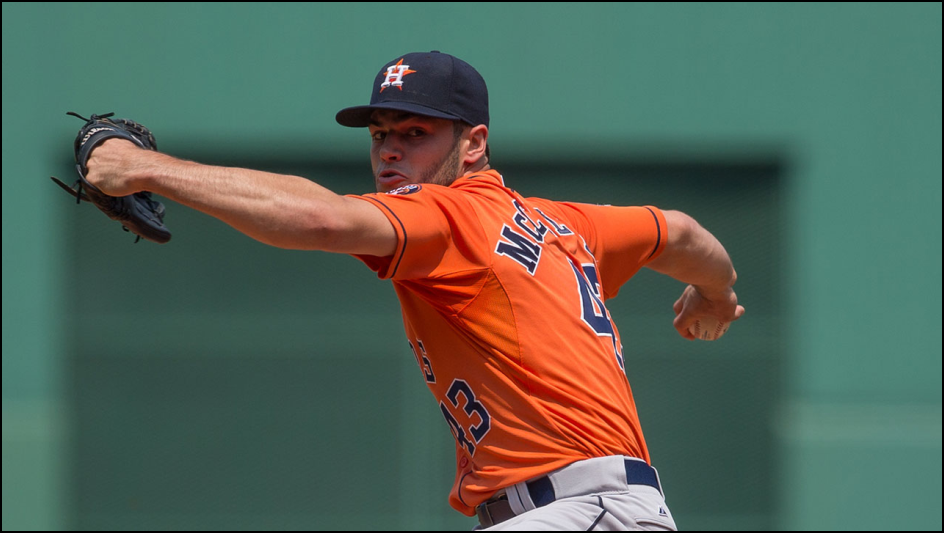 MLB Lineup Optimizer Starting Pitchers
Early Slate
Lance McCullers
Opponent – vs. LAA
Park – Minute Maid Park (Ranked #1 for Pitchers via ESPN)
Vegas Favorite ( HOU -165)
Vegas Total (8)
I love the spot for **Lance McCullers** today in the small four-game slate. He comes at a huge discount from **Chris Sale** and has been somewhat comparable through three starts. While McCullers ERA(4.67) is quite a bit higher than Sale's, they have nearly identical K'9 rate's(McCullers-11.94, Sale-12.05) and McCullers's xFIP(1.86) is actually a few notches lower than Sale's(2.38) as well. Don't get me wrong, both are great options with high upside, but if I am playing the early slate only with just four games I will take the discount and more balanced lineup every time. Both face teams that are striking out over 21% of the time vs. the specific handedness but looking at the last seven days, the Angels have been ice-cold at the dish with a league low 43 wRC+ and very high 25.9% K rate. McCullers is safe in all formats.
Main Slate
James Paxton
Opponent – @ OAK
Park – Oakland Coliseum
Vegas (SEA -165 )
Vegas Total (8)
First of all, there are three very high upside options on the main slate and all are pitching on the road tonight. I start by eliminating(of the top options. I will still have exposure) **Carlos Martinez** of the Cardinals as he comes in 0-2 and while he struck out 11 in his last outing vs. the Yankees, he also walked EIGHT batters! That brings us to **Stephen Strasburg** and **James Paxton**. Vegas has both teams as -165 to -175 favorites across multiple books, but I lean Paxton for a couple of reasons. He is cheaper on both sites and has been the more impressive pitcher. Through three starts, Paxton has only allowed eight hits, four walks, and has yet to allow an earned run while striking out 22 batters. Even his xFIP(2.89) suggests that these numbers are real and can be somewhat trusted going forward. He also gets to face an Oakland team that ranks 24th overall in wRC+(64) vs. left-handed pitching, 27th in wOBA(.252) vs. left-handed pitching and they are also striking out at a 21.9% clip. Paxton will come back to earth eventually, but I don't think it will be tonight. He is safe in all formats.
MLB Lineup Optimizer Stacks
Early Slate
Tampa Bay Rays vs. Detroit Tigers(Norris)
Park – Tropicana Field
Vegas (TB -110 )
Vegas Total (8)
Outside of what will most likely be the chalky Houston Astros, there isn't really a team that stands out from a stacking perspective until you dig a little deeper. The Rays are a .500 ball club and sit second last in the AL East but have been money at home. They are 7-2 at the Trop and while they strike out a ton(29.2%) vs. left-handed pitching, they have the seventh highest wRC+(124) and wOBA(.338). Today they will face southpaw **Daniel Norris** who appears to be getting lucky early in the season. His 2.19 ERA looks impressive until you dig deeper and see his low .237 BABIP and high 5.01 xFIP on the season. This smells of regression in a big way and even his hard contact numbers show this as he is currently giving it up at a 42% clip. Look for the Rays to stay hot at home with the top DFS targets being left handed **Evan Longoria**, **Steven Souza**, **Brad Miller** and **Corey Dickerson**.
Main Slate
Washington Nationals @ Atlanta Braves(R.A. Dickey)
Park – SunTrust Park
Vegas (WSH -174)
Vegas Total (7.5)
The opening line seems pretty low for a stack but most of that 7.5 runs should come from the Nationals. **Stephen Strasburg** should help keep the Braves offense at bay in this one and the Nats get to tee off against 42-year-old **R.A. Dickey**. He gave up six runs, three earned, in his first start of the year with four strikeouts and four walks but was exposed for the home run in the new SunTrust Park in start #2. He struck out six and got the win but gave up two solo shots which could be a sign of things to come(trust me I had to deal with it as a Jays fan for too long). He is pitching in a park that was designed for the left-handed power hitter in mind and it just so happens the Nationals have three pretty good left-handed hitters at the top of their lineup. It starts with **Adam Eaton** who, since joining his new team, has a hit in 11 of his first 14 games(.327 average) with seven runs batted in. **Daniel Murphy** and **Bryce Harper** provide a ton of power upside in the middle of the lineup and if you need to choose just one of them, due to the high price, make it Harper. He is red hot going 9 for his last 12 with three doubles, four home runs and 10 runs driven in.