*Mike Barner*
NBA Fantasy Basketball Schedule Analysis for Week 4
One of the important aspects of playing in a head-to-head season-long NBA fantasy league is to know the ins and outs of the schedule. Unlike in rotisserie leagues, there may be times when it makes sense to bench one of your better players because they only play a limited amount of games. Let's take a look at the Week 4 schedule and see what moves you should consider for your squad.
Teams With The Most Games – 4 Games Each
Boston Celtics, Brooklyn Nets, Indiana Pacers, Miami Heat, Oklahoma City Thunder, Phoenix Suns
Only six teams play four games each this week, which is great news for owners who have Russell Westbrook, Kyrie Irving, Devin Booker and Hassan Whiteside. Your elite players get an added edge this week. You will also want to consider adding the players below to help gain the edge over your opponent.

Mike James, Phoenix Suns
James has taken over the starting point guard position as the team looks to trade unhappy veteran Eric Bledsoe. He has been successful so far, averaging 11.1 points, 3.3 rebounds, 5.0 assists, 1.1 steals and 1.1 three-pointers in seven starts. Although he is only shooting 37.3% from the field this season, those are significant counting stats for someone you can grab off waivers in 60% of Yahoo! leagues. Three of his four games this week come against poor defensive teams in the Nets, Magic and Timberwolves.
Tyler Johnson, Miami Heat
The Heat need Johnson to provide scoring off the bench and he has done just that this season, averaging 11.0 points and 1.2 three-pointers in 27 minutes per game. He has made at least three three-pointers in three of his last six games, so a four-game week with Johnson in your lineup could give you a big boost if you struggle in that category. Three of the four games the Heat play come against the Warriors, Suns and Pistons, three teams that tend to deploy small lineups. Still available in 65% of Yahoo! leagues, Johnson is someone you should consider adding if you need a guard.
Bojan Bogdanovic, Indiana Pacers
The Pacers are in full rebuild mode, leaving Bogdanovic to average a career-high 29 minutes per game this season. He has not disappointed as he is averaging 13.3 points, 3.0 rebounds, 1.6 assists and 1.6 three-pointers per game. His performance has been even better of late as he has scored at least 15 points and hit at least two three-pointers in four of his last five games.  The Pacers get to face the Pelicans, Pistons, Bulls and Rockets this week, so Bogdanovic could be in for some big scoring numbers. He's still available in 57% of Yahoo! leagues.
Teams With The Fewest Games – 2 Games Each
Charlotte Hornets, Memphis Grizzlies, Minnesota Timberwolves, Portland Trail Blazers
With only four teams playing two games this week, it can be a crushing blow if you have players on these squads. While you may normally start the players below, consider putting them on your bench this week and using someone else with a more favorable schedule.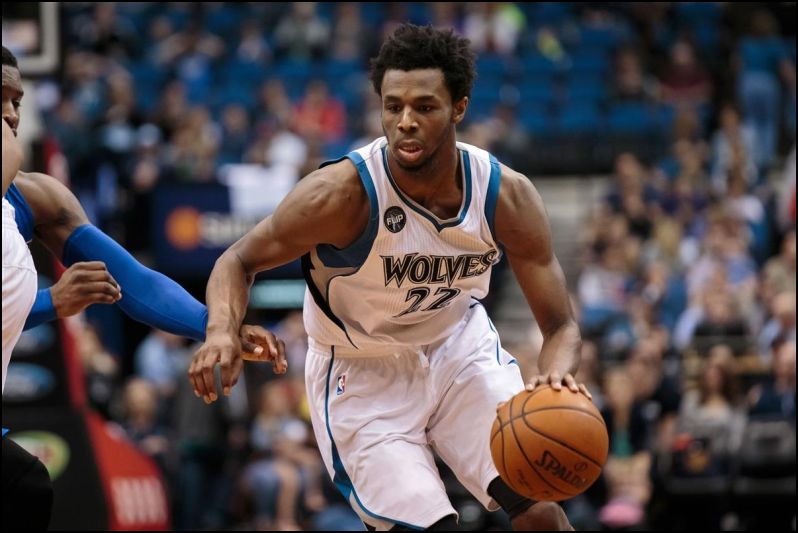 Andrew Wiggins, Minnesota Timberwolves
The main reason you own Wiggins is for offense as he is averaging 19.9 points and 1.6 three-pointers per game. Outside of also averaging 4.6 rebounds per game, he doesn't provide you with much else in terms of counting stats. With only two games this week, his ability to help your team offensively will be limited. One of those games comes against a bad Suns team, so there is concern he could see limited minutes in a blowout. Proceed with caution if you have Wiggins this week.
Jeremy Lamb, Charlotte Hornets
Lamb has been excellent while filling in for the injured Nicolas Batum, averaging 17.6 points, 5.1 rebounds, 3.3 assists and 1.7 three-pointers per game. He is also shooting a career high 48.5% from the field, so everything has come up roses for his owners so far. This might be the week to put him on your bench though as he is only playing two games, one of which comes against a Celtics team that is only allowing an NBA low 93.2 points per game.
Dwight Howard, Charlotte Hornets
Howard's move to Charlotte has done wonders for his value as he is averaging 14.6 points and 13.6 rebounds per game. While he is playing 31 minutes a game, he's not the defender that he once was as he is only averaging 1.3 blocks per game. His free-throw shooting also continues to be awful at 40.4%. Outside of his rebounding numbers, it's going to be hard for him to provide enough value this week with only two games.