*Mike Barner*


Use Code "LLNBA17" at checkout for 20% off Seasonal Package
Point Guard
NBA Fantasy Basketball Schedule Analysis for Week 6
Week 6 brings a bit of a different schedule in the NBA as there is only one game Tuesday and no teams will play Thursday. There are still advantages to be gained over your opponent though by diving deeper into which teams play the most and fewest games. Here are the moves you want to consider for your team based on the schedule this week.
Teams With The Most Games – 4 Games Each
Atlanta Hawks, Boston Celtics, Charlotte Hornets, Chicago Bulls, Memphis Grizzlies, Minnesota Timberwolves, New Orleans Pelicans, New York Knicks, Oklahoma City Thunder, Orlando Magic, Portland Trail Blazers
There are 11 teams that all play four games each this week, giving their players added value. Fantasy suds like Kyrie Irving, DeMarcus Cousins, and Kristaps Porzingis will be even more valuable with this advantage. If you aren't lucky enough to have several players from these teams on your fantasy squad, consider adding the players below.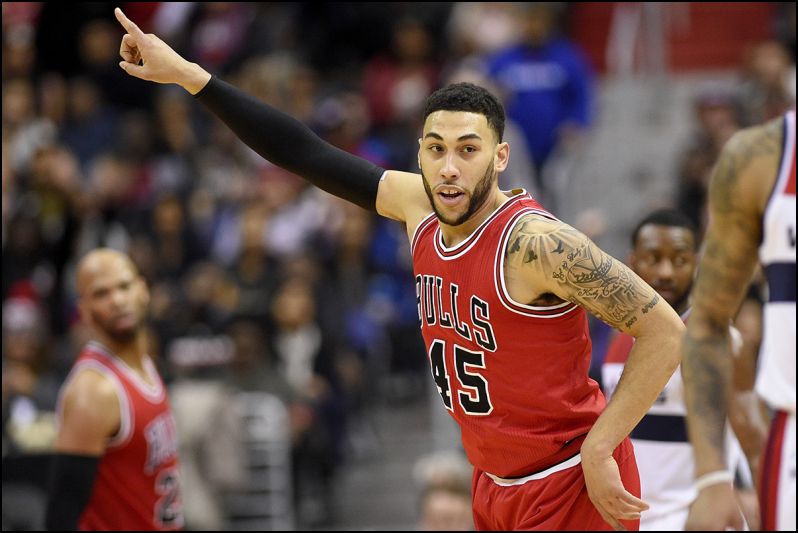 Denzel Valentine, Chicago Bulls
Valentine has finally moved into the starting lineup for the Bulls after they had really struggled to find a viable starter at small forward. He played at least 32 minutes in both starts, averaging 13.5 points, 6.0 rebounds, 4.5 assists and 3.5 three-pointers. Even though David Nwaba has a chance of returning from injury at some point this week, Valentine is still one of the better scoring options on the Bulls. He is still available in 71% of Yahoo! leagues and would be an especially good pickup if you need help with three-pointers.
Mario Chalmers, Memphis Grizzlies
The Grizzlies are down one of their best players as Mike Conley will be out for at least two weeks due to injury. His absence opens up an opportunity for Mario Chalmers to join the starting five. Chalmers has played well in three starts so far this season, averaging 7.0 points, 3.7 rebounds, 6.3 assists and 2.7 steals per game. With two of his four games this week being matchups against bad teams in the Mavericks and Nets, Chalmers could be in for some big assists and steals totals. He is still available in 88% of Yahoo! leagues.
Jerami Grant, Oklahoma City Thunder
The Thunder have one of the best starting five in the league, but they also have one of the weakest second units. One of their best bench players is Grant, who is averaging 24 minutes per game as a result. While he hasn't excelled in any particular area, he has been solid with averages of 8.9 points, 4.7 rebounds, 1.1 assists, 0.9 steals and 0.9 blocks per game. Grant has great matchups this week with three of his four games coming against the Warriors, Pistons and Mavericks, all teams that tend to use small lineups. If you need to bench a forward who is only playing two games this week, look for Grant on waivers as he is still available in 92% of Yahoo! leagues.
Teams With The Fewest Games – 2 Games Each
Detroit Pistons, Houston Rockets, Los Angeles Lakers
With so many teams playing four games this week, the players on the three teams that only play two games take a major hit. Consider benching the below players who would normally be in your starting lineup.

Brook Lopez, Los Angeles Lakers
Lopez is having a down year overall as he is averaging 15.4 points, 4.8 rebounds, 1.9 assists, 1.8 blocks and 1.5 three-pointers per game. Part of the problem is that he is averaging a career-low 24 minutes per contest. He always struggled to provide sufficient rebounding numbers out of the center spot, but his value takes a real hit if he's not playing enough to provide added value from behind the arc. With only two games on the schedule this week, it's best to put Lopez on your bench.
Reggie Jackson, Detroit Pistons
Jackson has been a steady source of production for fantasy owners as he is averaging 15.6 points, 3.3 rebounds, 6.0 assists and 1.4 three-pointers per game. One of the main reasons for his improvement is that he is shooting 45.1% from the field after struggling to shoot only 41.9% last year. While he does have two decent matchups this week against the Cavaliers and Thunder, he doesn't excel in any one area enough to keep him in your lineup. Valentine and Chalmers are both shaping up to be better options than Jackson this week.
Eric Gordon, Houston Rockets
Gordon is having one of the best starts to his career as he is averaging 20.9 points, 2.2 rebounds, 2.9 assists and 3.5 three-pointers per game. One of the main reasons for his hot start is because he was starting in place of the injured Chris Paul. Paul has returned, pushing Gordon back to a bench role. In his last two games off the bench, Gordon is averaging 12.5 points, 1.5 rebounds, 2.0 assists and 2.0 three-pointers per game. In his new role and only two games this week, it would be wise to put him on your bench.