Getting started with Lineup Lab, the world's best Fanduel and Draftkings lineup optimizer.
We will cover:
The UI Layout
Adjusting the Schedule
Adjusting Filters
Calculating Optimal Lineups
Saving your Work for Later
Introduction to Advanced Features
Optimal Lineups - The Basics
At its heart, Lineup Lab is a Daily Fantasy Lineup Optimizer. If you are playing Daily or Weekly Fantasy Sports, be it Football, Baseball, or Basketball then you are probably familiar with Fanduel, Draftkings, or a number of other Daily Fantasy Sports (DFS) sites. You have a salary limit and a number of players to choose from. Better players are usually more expensive.
Ok, for many of you none of this is ground breaking information. The problem we face as DFS players, is fully utilizing our salary cap. If you spent $59,100 and have $900 leftover, there is a good chance you could have selected a better combination of players, which in turn, would have given you more expected fantasy points. Don't believe me? Consider this: In some sports, there are over 3 trillion possible lineups. (3,000,000,000,000) That is a 3 with 12 zeros. If you use pen and paper, do you think you are selecting the #1 lineup? #17? #14,962? There is a good chance you aren't even in the top 1 billion.
So how do we find optimal results? Can you even find a number 1 result? Why yes you can. Follow me and I will show you how!
Getting Started:
From the home page, select the sport you are playing and the site you are playing on. Then you will be presented with the starting page:

Select the first option on the left: "Load a Projection Source". Once you do that, the main optimizer will load up.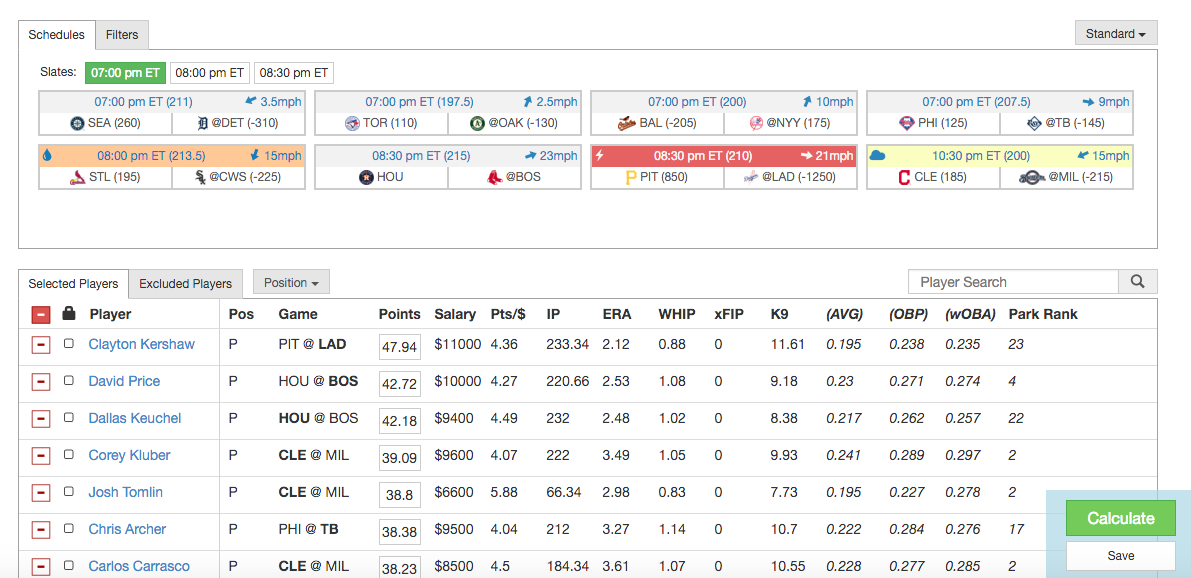 Here we can see 2 main sections to the optimizer. The top section is the schedule table. The bottom section is the player table. Lets go through a few key features, starting with the schedule table:

On the Schedule Table You Can:
Select a desired slate time
Remove players from individual teams or entire games by clicking directly on them
Review Vegas data (Game Totals and Spreads)
Switch projection sources using the dropdown menu in the top right corner
View other available filters by clicking the filter tab
Review weather and wind data if applicable (Risky games are color coded in Yellow, Orange, & Red)
Go ahead and click on the filters tab:

Here you can exclude players based on Salary, Points, or Pts/$. For MLB, you also have the option to show only confirmed players. This will remove all players who haven't been announced in the team's official lineup card. Remember, early in the day before lineups are announced, this feature will remove many players.
Moving on to the Players Table: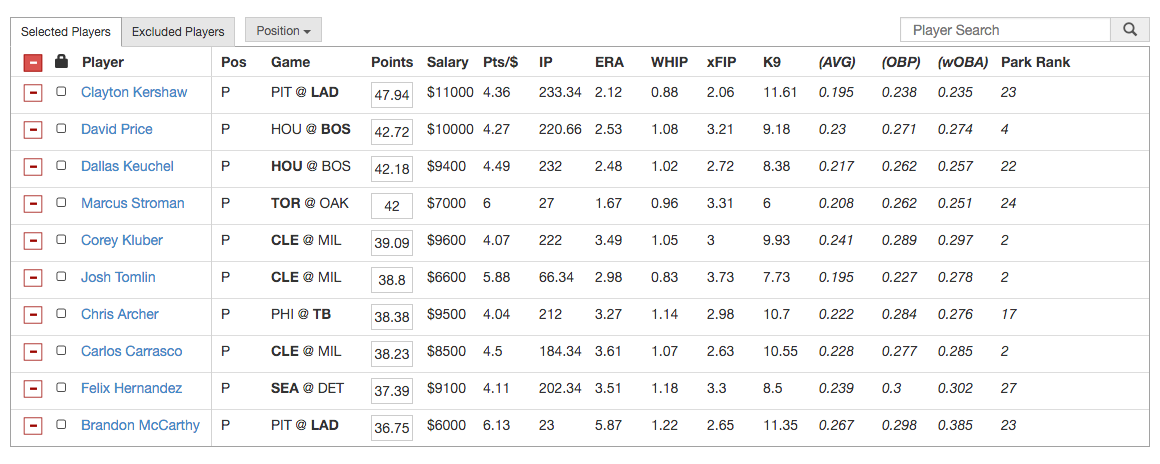 Here you will notice 2 main tabs: "Selected Players" and "Excluded Players". The Selected Players tab shows the players who will be sent to the algorithm for calculation. By default, Lineup Lab will usually take all players into consideration. To remove players, click on the little red icon next to their name. You can also "remove all" if you wish, and then add them back one by one if you just want to consider a small group of players.
On the Players Table You Can:
Remove one player or all players
Review players based on position, using the position dropdown menu
Review and sort players by any stat
Edit any player's projected points
Lock any player to force them into the result
Search for a specific player using the search box
Limit the number of times a player will appear in the results (advanced feature)
When ready, click the calculate button in the bottom right corner: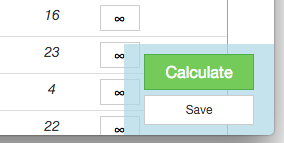 You should see some results: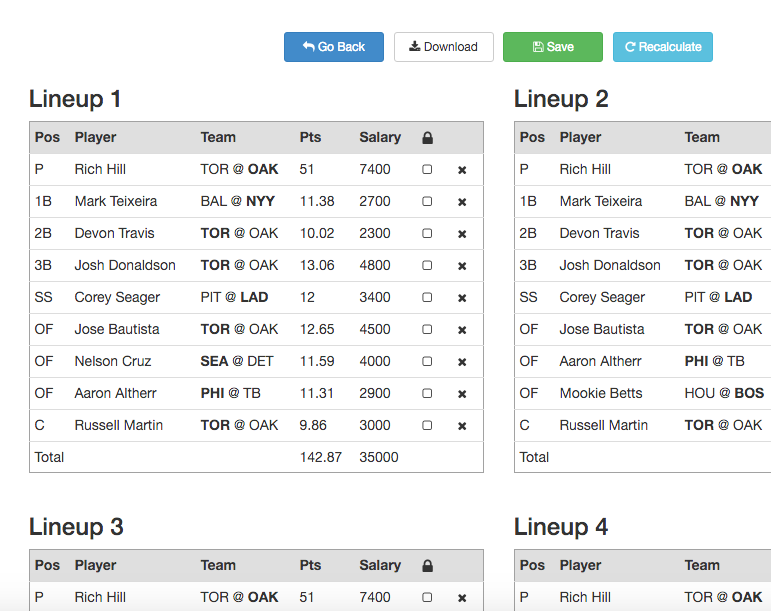 From here, there are a few more things you can do. If you see a player you don't want in your results, you can remove him and recalculate: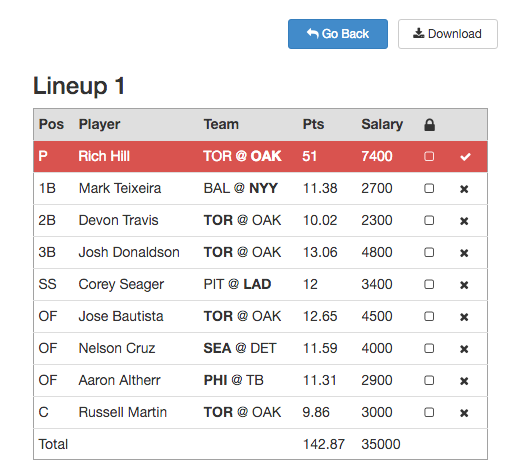 If you want to lock a player to ensure he is in every result, you can do that and recalculate: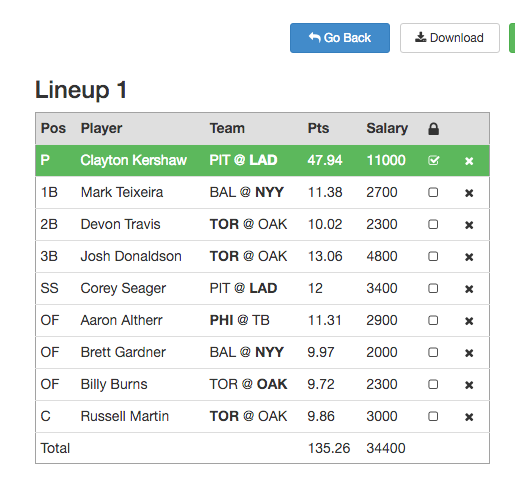 If you want to go back and make a major change, be sure to click the app's back button (NOT your browser's back button):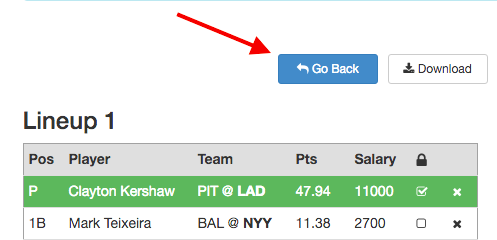 Finally, once you have today's best fanduel lineup, you can download them by clicking on the 'download' button. You can download a nicely organized list of your lineups, or an importable csv that you can import directly in Fanduel or Draftkings: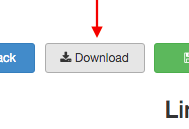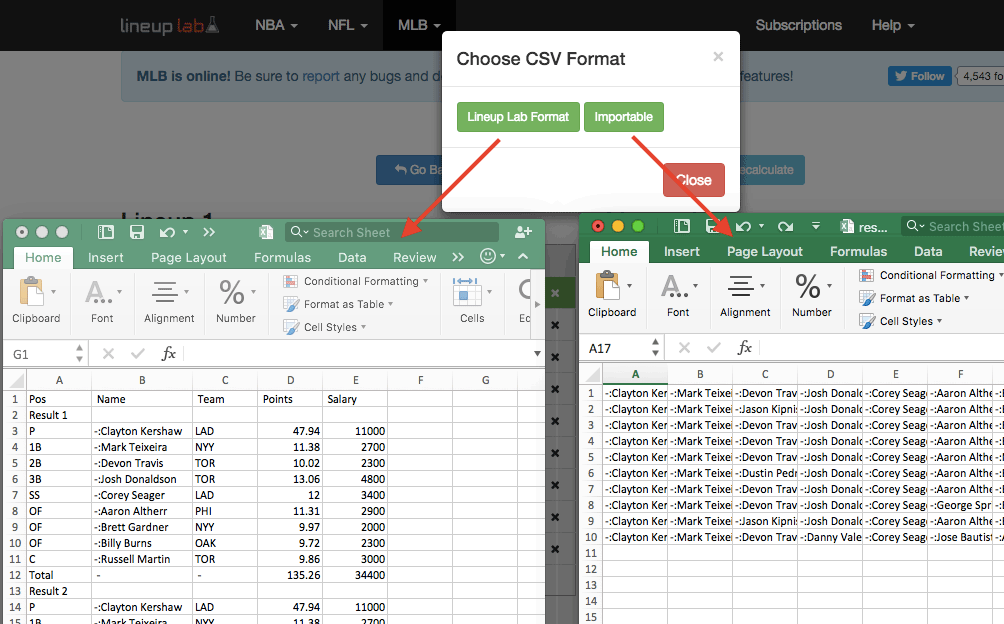 Finally, if you go back to the main optimizer and look in the bottom right corner, underneath the players table (you will have to scroll down) you will notice and "Advanced Options" section.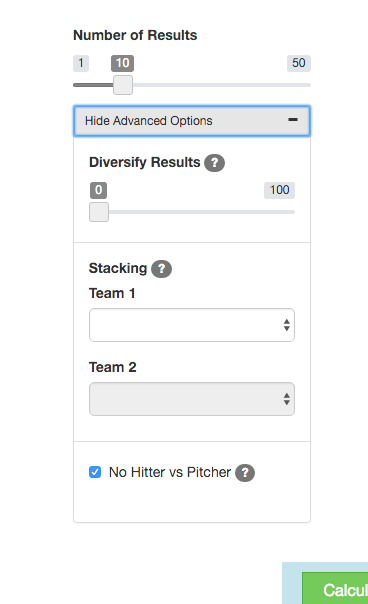 We wont be covering these features in today's tutorial, but you can read more about them here: Advanced DFS Strategies
That's it for this tutorial. Here are a few other tutorials that you should check out:
Go forth!
Register and start winning more games! Or Login and get started.
Basic Tutorial Video
A short video on basic training (Coming Soon).