NBA Daily Fantasy Basketball Lineup Picks 12/23/17
Saturday (12/23/17) features a twelve-game slate with games that may provide great value to your potential winning lineup. Many play opportunities lie beneath the $10,000+ priced players.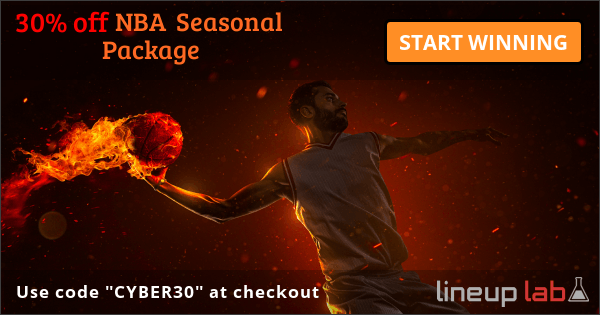 Use Code "CYBER30" at checkout for 30% off Seasonal Package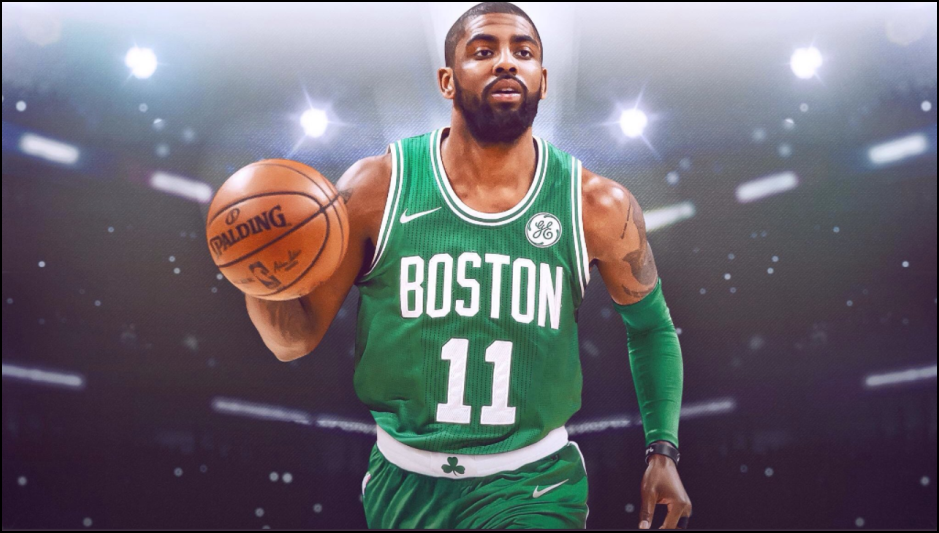 POINT GUARDS:
Kyrie Irving ($8,900 FD/$8,800 DK)
Holding about the same price tag on both platforms, Kyrie Irving has some serious upside Saturday night. Uncle Drew is averaging 42 FanDuel PPG over his last three games, as he torched opposing defenses for 30+ points each night. Although the Chicago Bulls have been hot lately, their defense remains weak as they rank top 5 worst in the league in defending point guards. This match is set to be in Boston, where Kyrie Irving is also averaging 44 FanDuel PPG over his last five home games. Kyrie should definitely cross your mind when assembling your lineup.
Tyler Johnson ($6,000 FD/$5,400 DK)
With a very appealing price, Tyler Johnson may be your go-to play to preserve some salary. Johnson has been given the starting nod the last three games to patch up Goran Dragic's recent absence as he is dealing with elbow issues. Tyler Johnson logged 36+ minutes in each of his starts and has been thriving due to Dragic's misfortune. Johnson evidently has seen a boost in usage and workload as he faces the New Orleans Pelicans Saturday night who rank 6th in pace of play. Averaging 32.2 FanDuel PPG in his three starts, the Pelicans will force the Heat to push up their tempo with Johnson running the offense. Johnson's price makes him extremely valuable in this slate and has a good enough resume to take the risk on.
SHOOTING GUARDS:
Khris Middleton ($7,700 FD/$7,600 DK)
Middleton and the Bucks play the Hornets Saturday night, the same team they defeated 109-104 the prior night. The Hornets rank poorly against SG's as Middleton scored 28 points Friday night. Lately, Middleton has not disappointed DFS wise. He has scored at least 32 FanDuel points nine straight games. Ranking top 10 in the league in pace, the Charlotte Hornets will be forcing a top 10 offensive in the Milwaukee Bucks to handle more possessions. This makes Middleton immensely valuable, as the number of opportunities he could have will increase.
Tyreke Evans ($8,000 FD/$7,900 DK)
With Conley still sidelined or Memphis, Tyreke Evans continues to put on a show given the boost in usage and workload. Evans has scored 22+ points in 3 of his last 4 games. His teammate, Marc Gasol is doubtful to play Saturday night as he deals with a sore hip. Evans will be the primary source to score for the struggling Grizzlies. He shouldn't have too much of a problem considering his opponent, the Los Angeles Clippers, rank 24th in the league in defending the position.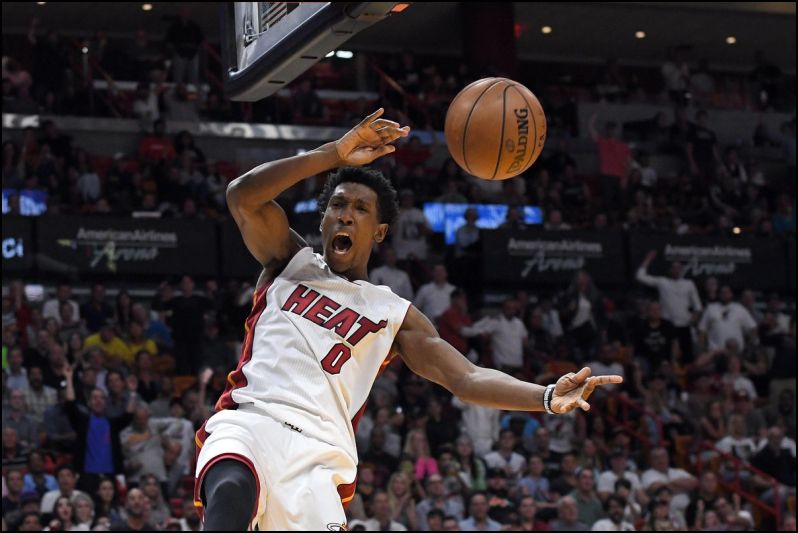 SMALL FORWARDS:
Josh Richardson ($6,000 FD/$6,400 DK)
Alongside teammate Tyler Johnson, Josh Richardson has been doing just fine handling his increased usage percentage due to Dragic's injury. In the three games Dragic has been sidelined, Richardson posted an average of 41.8 FanDuel PPG. Dion Waiters is also questionable in this one. If he is in fact ruled out, Richardson will see another upward spike in workload and be deemed as one of the Heat's primary scoring options. Despite his recent value, his salary price hasn't budged much which is nothing to complain about. I would gladly spend $6,000 on a player with this much upside.
TJ Warren ($7,700 FD/$6,600 DK)
As the days go on TJ Warren continues to be the foundation of the Phoenix offense with Booker sidelined. Since Devon Booker got hurt, Warren is averaging 20.6 PPG. His fantasy numbers have been sub-par in comparison to his expectations, however, it seems he's getting on the right track as he has provided at least 34 FanDuel points in three straight games. Warren faces the Timberwolves who he faced just a week ago, and although held to 26 FanDuel points, he seems a lot more appealing as the rematch now takes place in Arizona. Warren is an interesting play and most likely won't be owned very much.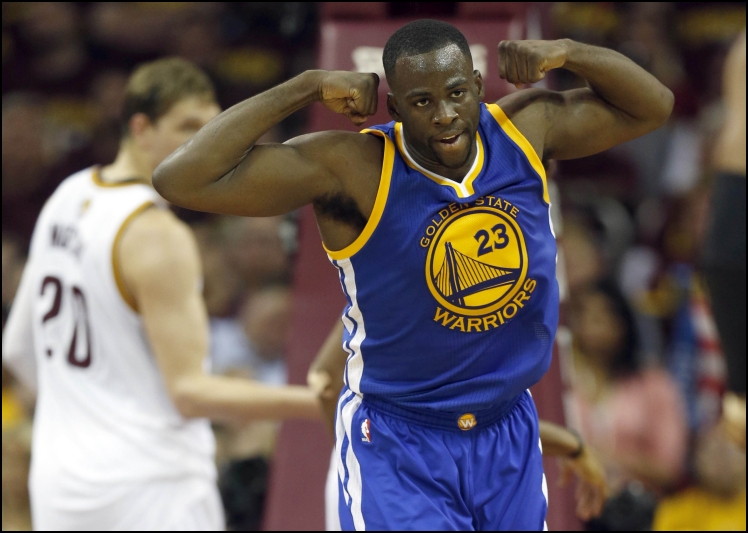 POWER FORWARDS:
Draymond Green ($8,700 FD/$7,200 DK) – 
After returning from a four-game frame Friday night, Draymond Green took no time getting right back on track as he posted a near triple-double in 30 minutes of play. He is playing the Denver Nuggets as the tough, gritty Draymond Green has significant upside. Although he can run up your salary, Green has a great match-up against a team whose defense ranks 26th in the league in defending power forwards, allowing nearly 50 fantasy PPG to PF's this season. The Warriors are still Curry-less and need players to take the weight off of Kevin Durant's shoulders. Draymond Green's return may solve this issue very shortly as he will inherit that responsibility with Klay Thompson.
Nikola Mirotic ($6,800 FD/$6,500 DK) – 
Mirotic, or MiroFix? Since returning from injury, the what once was 3-20 Chicago Bulls have managed to ride a seven-game winning streak which was snapped Thursday by the Cleveland Cavaliers, who only won by three. Mirotic provides some serious help on the offensive end coming off the bench and has been a pretty good asset in DFS play. He has averaged 35.6 FanDuel PPG over his last five contests. Mirotic plays the #1 ranked defensive efficiency rated team in the NBA in the Boston Celtics. Despite overall rating, the Celtics rank 27th in the league in solely defending big men (PF/C's). The PF position in this slate seems thin, making Mirotic a great fairly priced play.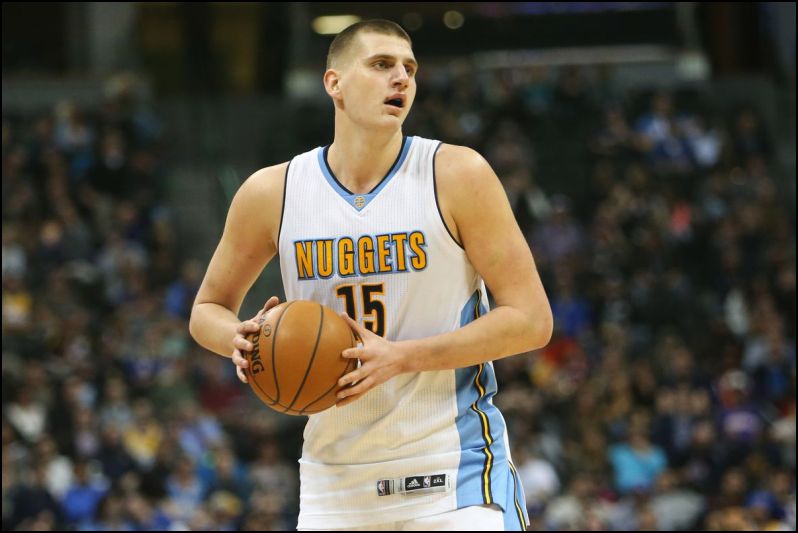 CENTERS:
Nikola Jokic ($8,300 FD/$7,600 DK)
From one Nikola coming off an injury to another, we now focus on the rising star over in Denver. Jokic has regained his playing time as he has logged 36+ minutes in back-to-back games. Due to his injury and initial minute restriction, Jokic has been priced down as we once saw him in the high $9,000 range on FanDuel and DraftKings. Jokic is coming off a 48.8 FanDuel point performance against the top 5 defense the Portland Trailblazers carry. The idea of this former second-round pick getting his rhythm back is scary for competitors, but a joy for DFS users. He clashes with the Golden State Warriors Saturday night, where he seems to have some upside considering his minutes boost and recent production.
Myles Turner ($8,100 FD/$6,500 DK) 
Myles Turner has a fairly big gap in salary between FanDuel and DraftKings, making him especially appealing on DK where his $6,500 salary seems way too cheap. Turner will be doing his thing at the Barclay Center Saturday night as he opposes the Brooklyn Nets for the second time in the past week. The first performance for Turner was average, posting 16 points on 7-for-11 shooting, which soon accumulated to 31 FanDuel points. This second time around may be a breakout game for Turner as the Nets rank third-worst in the league in defending centers. He is also coming off of a 40 FD point performance against the Atlanta Hawks. Regardless, the price for Myles Turner is extremely fair and seems to have a great opportunity for the ones seeking to take advantage of it.