*Mike Barner — @rotomikebarner*
Early bird special! Use code EBIRD15 at checkout to save 15%.
One of the themes of Week 2 was running backs racking up catches for their respective squads. Three of the top four leaders in receptions for Week 2 were runnings backs and all three of them finished with at least 80 receiving yards. There are plenty of great matchups for running backs again in Week 3, so let's dig into the position to see where you can gain the edge in DFS. Don't forget to sign up for our Newsletter and try our Playerlab tool, where you can filter the stats that matter the most and help build a winning entry on FanDuel and DraftKings.
CASH CONTEST OPTIONS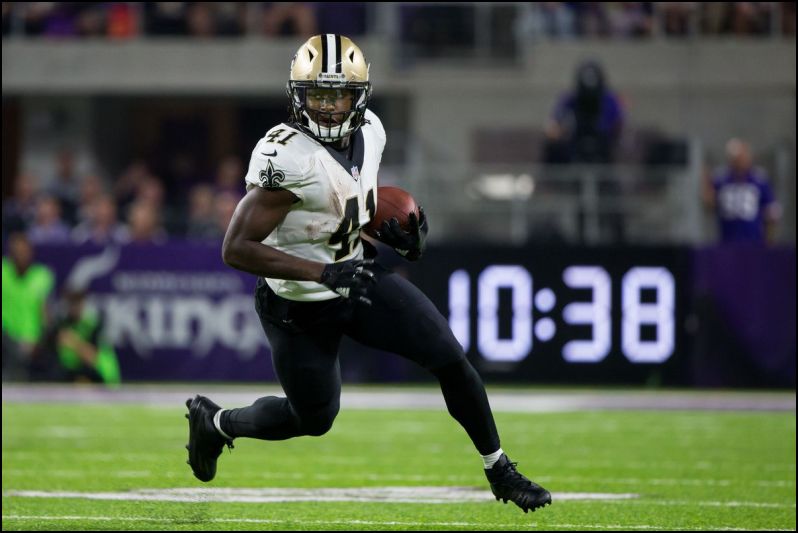 Alvin Kamara vs. Atlanta Falcons
Stadium – Mercedes-Benz Stadium
FanDuel = $8,700
DraftKings = $9,500
Kamara had another fairly quiet performance on the ground in Week 2, rushing 13 times for 46 yards against the Browns. However, he was heavily involved in the passing game, catching all six of his targets for 53 yards. Through the first two games, Kamara already has 15 receptions on 18 targets. He was a monster in the passing game last year, as well, hauling in 81 or 100 targets for 826 yards.
Week 3 brings a great matchup against a Falcons defense that suffered a significant loss when linebacker Deion Jones was placed on IR. Christian McCaffrey took advantage of his absence last week, catching 14 of 15 targets for 102 yards. Kamara may not get a ton of carries again, but his tremendous upside as a receiver makes him one of the best running back options available in DFS.
Saquon Barkley vs. Houston Texans
Stadium – NRG Stadium
FanDuel = $8,000
DraftKings = $7,600
The Giants looked awful offensively Sunday night against the Cowboys. Their offensive line once again had trouble protecting Eli Manning, who has clearly lost a step at this stage of his career. Manning looked to have his head on a swivel in the pocket, often checking down to Barkley to avoid the oncoming pass rush. The end result was Barkley catching 14 of 16 passes thrown his way. He didn't have a lot of room to run, though, accumulating only 80 receiving yards. He also couldn't get much going on the ground, carrying 11 times for 28 yards.
The Giants have talented playmakers on offense, but their offensive line and the poor play of Manning might limit some of them from reaching their full potential this year. The one positive for Barkley is that he should receive plenty of targets from Manning as he tries to quickly get the ball out of his hands. Barkley has shown an ability to force missed tackles and he can break off a big play at any moment, which gives him a high floor most weeks.
Jordan Howard vs. Arizona Cardinals
Stadium – State Farm Stadium
FanDuel = $7,400
DraftKings = $6,500
Howard didn't exactly shine on Monday Night Football against the Seahawks, rushing 14 times for 35 yards. He's failed to score a touchdown yet this year, but his involvement in the passing game has been promising. He received 32 targets in 2017, but he's already had nine passes thrown his way across two games, hauling in eight of them for 58 yards. The Bears have another talented pass-catcher out of the backfield in Tarik Cohen, but he's received only five targets so far.
Week 3 brings a great matchup that could potentially lead to a breakout performance from Howard. The Cardinals offense has looked terrible this year, often putting them in a big hole early. This has resulted in their opponents running the ball a lot late in games. The Cardinals haven't provided much resistance, allowing 256 rushing yards and four rushing touchdowns to opposing running backs.
GPP TOURNAMENT OPTIONS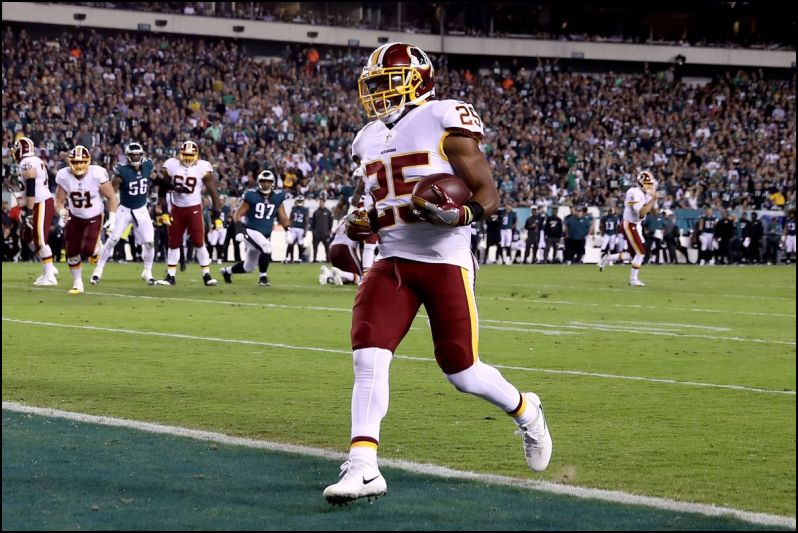 Chris Thompson vs. Green Bay Packers
Stadium – FedEx Field
FanDuel = $6,500
DraftKings = $6,300
Thompson may not get a lot of press, but he's one of the best pass-catching running backs in football. He proved it again in Week 2 against the Colts, catching 13 of 14 targets for 92 yards and a touchdown. He's quickly developed a strong relationship with Alex Smith, resulting in him receiving 21 targets through the first two weeks. While Adrian Peterson was brought in to help offset the loss of Derrius Guice, Thompson's significant role with the team remains unquestioned.
Peterson took a step backward from his 96-rushing-yard performance in Week 1, but part of that was because the Redskins were playing catchup against the Colts. Peterson ended up with 15 fewer carriers than he had in the first week. Going up against the high-powered Packers offense could force the Redskins to throw more passes in this game, as well, making Thompson a great option to target for your entry.
Giovani Bernard vs. Carolina Panthers
Stadium – Bank of America Stadium
FanDuel = $6,400
DraftKings = $5,900
Joe Mixon couldn't make it through Thursday Night Football unscathed and underwent a procedure to remove a small particle from his knee over the weekend. The surgery isn't expected to sideline Bernard for too long, but he won't be able to suit up Sunday against the Panthers.
Bernard started two games last season that Mixon also missed due to injury. One of them was a tough matchup against the Vikings where he finished with only 43 total yards, but he did score a touchdown and receive 14 carries to go along with five targets. He accumulated 130 total yards in his other start against the Bears. The Panthers have allowed 4.9 yards per carry across their first two games this season, leaving Bernard with a high ceiling considering his expected role and price in DFS.
Matt Breida vs. Kansas City Chiefs
Stadium – Arrowhead Stadium
FanDuel = $6,200
DraftKings = $5,400
The 49ers were dealt a crushing blow when they lost Jerick McKinnon to a torn ACL before the season even started. In his absence, Breida and Alfred Morris became the lead duo in their backfield. After an unfavorable matchup versus the Vikings in Week 1, Breida rebounded in a big way Sunday against the Lions. He only carried the ball 11 times, but he ran for 138 yards and a score.
Another encouraging sign for Breida in Week 2 is that he received four targets. This could be a high-scoring game against the Chiefs explosive offense, which may force the 49ers to throw more than usual. The Chiefs have given up 261 receiving yards on 21 receptions to running backs so far this year. If he continues to play like he did last week, he could break away from Morris, who has averaged 3.3 yards per carry.
Corey Clement vs. Indianapolis Colts
Stadium – Lincoln Financial Field
FanDuel = $5,800
DraftKings = $4,300
The Eagles could be very thin at running back this week. Darren Sproles missed Week 2 with a hamstring injury and his status for this game against the Colts is still in doubt. Jay Ajayi also briefly left Sunday's game with a back injury, but there have been reports that he might not be able to play this week. The Eagles already promoted Josh Adams from their practice squad, which isn't exactly a ringing endorsement for the prospects of Ajayi and Sproles taking the field.
Clement played well in Week 2 with Ajayi limited, finishing with 85 total yards and a touchdown. If Ajayi ultimately does not play in this contest, Clement should see a significant boost in value. If Sproles is also ruled out, the potential value you could receive from Clement at this might be too hard to pass up.
PLAYERS TO AVOID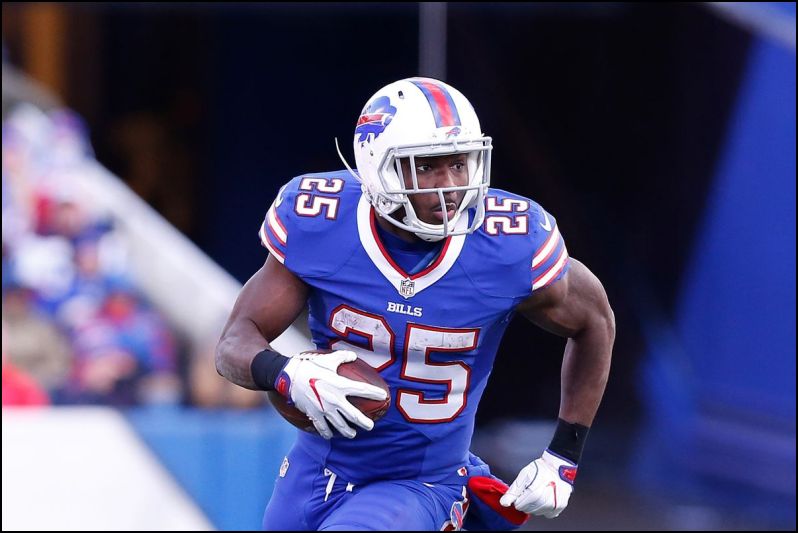 LeSean McCoy vs. Minnesota Vikings
Stadium – U.S. Bank Stadium
FanDuel = $6,500
DraftKings = $5,100
McCoy is really the only significant weapon the Bills have on offense. They have a hard enough time scoring points, to begin with, but now McCoy is dealing with a rib injury heading into Week 3. He's listed as questionable right now, but it wouldn't be surprising if he's forced to miss at least this contest. Even if he does play, he'll be at less than 100% against one of the best defenses in the NFL. Stay far, far away from McCoy when crafting your lineup.
Derrick Henry vs. Jacksonville Jaguars
Stadium – TIAA Bank Field
FanDuel = $6,000
DraftKings = $4,400
Henry had the potential to become the lead running back for the Titans after the departure of DeMarco Murray, but the addition of Dion Lewis put a damper on his value. They have basically split the carries through two games with Henry getting 28 rushing attempts compared to 30 for Lewis. Lewis is clearly their preferred option as a pass-catcher, though, as he has nine targets compared to just one for Henry. There's just not enough upside here with Henry to warrant taking a chance on him against the Jaguars stingy defense.