NBA Daily Fantasy Basketball Lineup Picks 12/16/17
NBA Daily Fantasy Basketball Lineup Picks 12/16/17
Saturday Night's NBA Main slate presents us an eight game mosh-pit with some interesting match-ups. Some of which provide some value plays given the injury epidemic going on recently.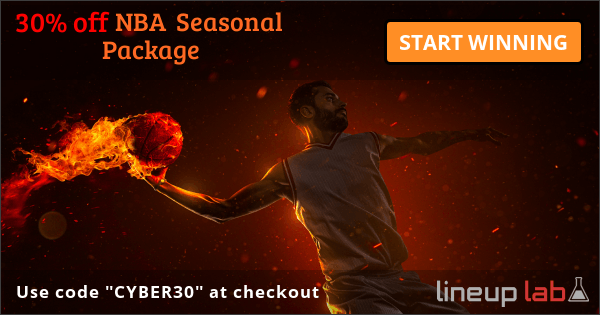 Use Code "CYBER30" at checkout for 30% off Seasonal Package

 
POINT GUARDS:
Russell Westbrook ($11,100 FD / $11,500 DK) 
If you're going to pay up for somebody on FanDuel Westbrook may be the foundation to your lineup. He is cheaper on FD than The Greak Freak, LeBron and Harden. He is still very worth it on DK as the triple-double machine is coming off of a triple-overtime game where he stuffed the stat sheet of 27-18-15. He now plays the next night at Madison Square Garden, where he may just put on a show. Westbrooks opponents, the Knicks, rank 25th in defending the position. He logged 52 minutes during last night's win, however, he should be more than fine. It's time for the Russ show for my lineup.
Jeff Teague ($6,400 FD/$6,500/DK) 
Jeff Teague has a great match-up Saturday against struggling Phoenix Suns, who rank 28th in defending point guards this season as they allow on average 50.52 FPTS per game. Teague has not been so valuable on DFS lately, but he hasn't had too big of a workload either with the way teammates Jimmy Butler and Karl Anthony-Towns have been playing lately. Regardless, this matchup offers Teague an ideal game to breakout to his old form.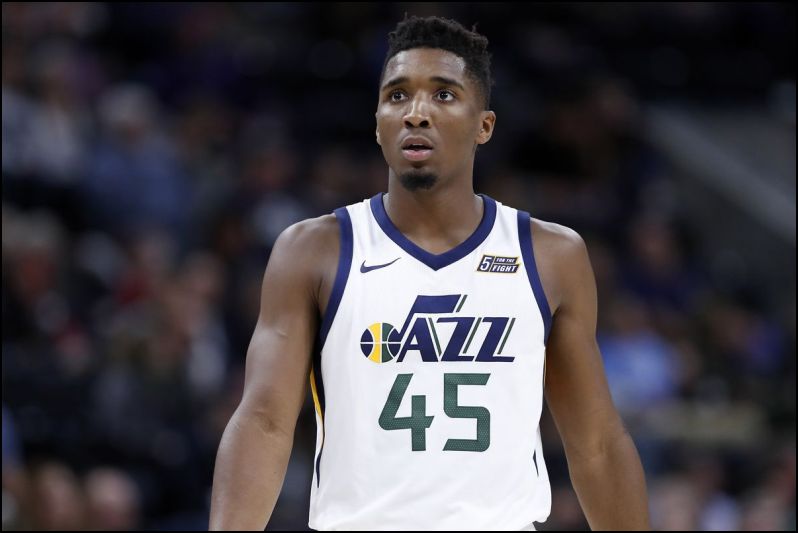 SHOOTING GUARDS:
Donovan Mitchell ($7,800 FD/$6,900 DK) 
Donovan Mitchell is one of the most underrated rookies that has emerged in the league this year. Mitchell is slowly and steadily raising eyebrows and sparking a ROTY conversation. A bit pricey on FanDuel, Mitchell has pretty good upside in this contest, as he opposes the defense-weak Cavaliers. He has also been incredibly consistent in fantasy value. With blows to Derrick Favors and Rudy Gobert in Friday night's game, Mitchell would be reintroduced to a heavier workload if one, or both of those are sidelined.
CJ McCollum ($7,100 FD/$6,800 DK) 
McCollum has some serious upside in this slate. McCollum has scored 20+ points in four straight games averaging 33 FanDuel PPG in those contests. He appears likely to make it five in a row as he matches up with the Phoenix Suns, the 30th ranked team in defending shooting guards. His price is very fair and adds value to his projections, given his consistency as of lately. McCollum is a little more flexible on DraftKings as he is also eligible for point guard.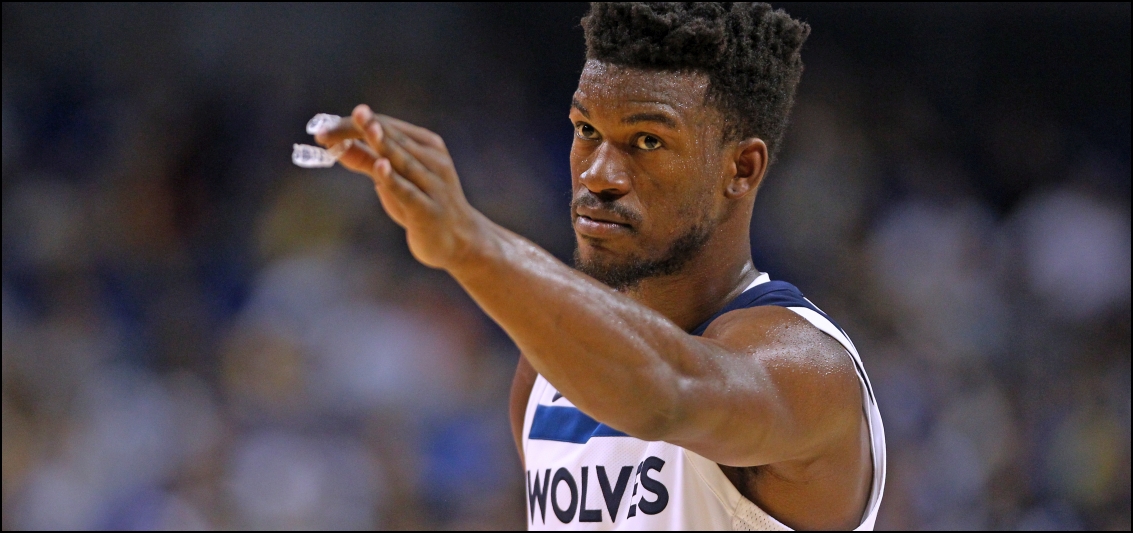 SMALL FORWARDS:
Jimmy Butler ($9,700 FD/$9,000 DK) 
Not many people have been hotter than Jimmy Butler lately. Holding one of the best SF match-ups of the night, Butler enters Saturday with a stretch in which out of the last 7 games, he has logged an average of 41 minutes and has scored an average of 27 points per game. One beneficial factor about Butler's match-up against the Suns is that Timberwolves head coach Tom Thibodeau hasn't had much trust in his second unit lately, as his starters have been seeing serious minutes regardless of score. This helps the case for obtaining Butler as a potential blowout won't damage his minutes too much. Butler is listed as SF on FanDuel, but SG on DraftKings.
Harrison Barnes ($6,700 FD/$6,500 DK) 
It seems as if regardless of how consistent Barnes is for the DFS community, he will never have the respect he deserves. Barnes meets with San Antonio Saturday night, a team he played earlier in the week. Barnes has played pretty well against the Spurs so far this season, averaging 33.9 FanDuel points per game in his two most recent games versus them. Harrison Barnes has great worth to his name considering his price won't hurt the salary too much. Speaking of consistency, Barnes has only scored less than 25 FanDuel points once out of his last 18 games. Six of those 25+ games have come in a row as of right now, starting a streak.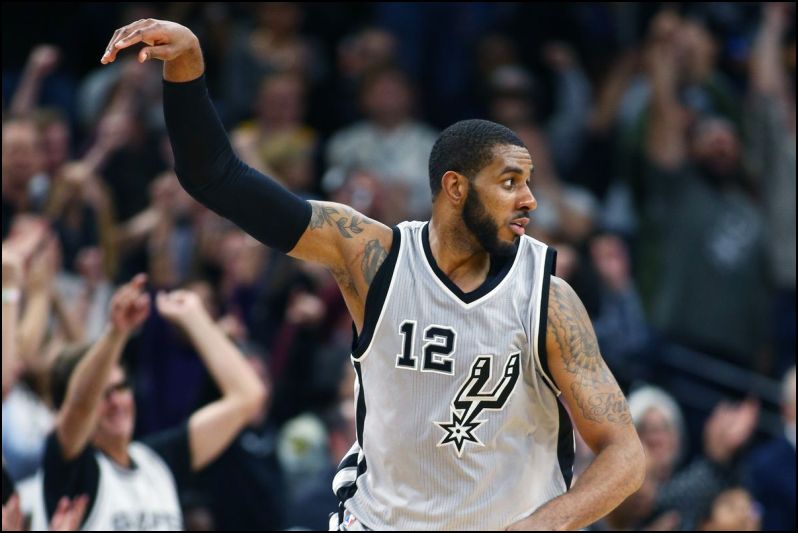 POWER FORWARDS:
LaMarcus Aldridge ($8,500 FD/$8,000 DK) 
Tony Parker and Kawhi Leonard are expected to rest against the Dallas Mavericks today. With this possibility, Aldridge easily grabs the attention of everyone drafting tonight. Aldridge played the Mavs earlier this week, posting 38.6 FanDuel points to accompany a 23 points & 13 rebound double-double. He averages 51 FanDuel points per game against them this season. This time, he is playing at home in San Antonio. Spurs are playing back-to-back games, however, due to a big Rockets win last night Aldridge only logged 26 minutes. There is not many solid options at PF today, and with Porzingis' status for tonight's game still unknown, Aldridge may be worth paying up for at the position.
Derrick Favors ($4,900 FD/$5,300 DK) 
Favors left Friday's contest alongside Rudy Gobert against the Celtics with an eye injury after logging in just 12 minutes. If Favors gets the go-ahead to play tonight and Gobert doesn't, he is almost a must play as he meets with the King and the rest of the Cleveland Cavaliers. Ever since the return of Rudy Gobert, Favors has not been dominant by any means. If anything, he's been virtually worthless as he averages a mere 18.6 FanDuel PPG since Gobert's return. His salary has greatly adjusted to this play as he is now dirt cheap, with a chance to get back into old form against a Cavs defense that ranks in the worst five teams in the league in defending the position.
Alternatives if Gobert plays: Taj Gibson ($5,800 FD/DK) & Carmelo Anthony ($6,800 FD/$7,000 DK)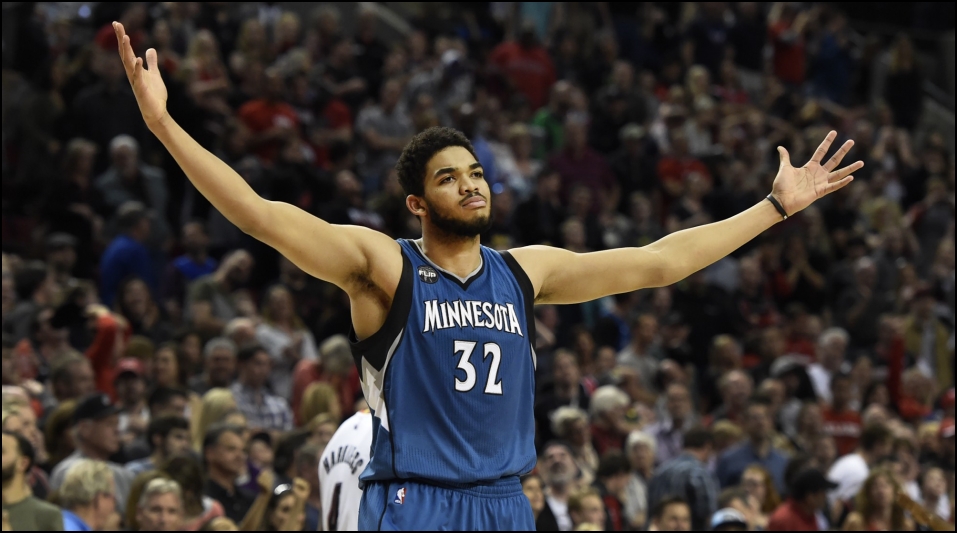 CENTERS:
Karl-Anthony Towns ($10,600 FD/$9,600 DK) 
On a slate like this one, Towns may be your ideal "big play" in your lineup. Almost nobody has been on good as KAT as he's starting to perform as he used to prior to the Wolves stacking their roster with some serious off-season acquisitions. There is a few reliable options at the Center position today, but Towns may be the most necessary. The big man has snapped his slump for now, averaging 59.8 FanDuel PPG in his last four games. His last game of those four consists of a 72.3 night against the Sacramento Kings just the other night. He's now rested with a great match-up at home. I'm locked in on Towns tonight.
Kevin Love ($8,000 FD/$7,900 DK)
The injuries of Favors and Gobert of Utah may just open an interesting opportunity for Kevin Love in this slate. Gobert is most likely going to be sidelined, taking away one of Utah's best rim protectors. Love is eligible for PF as well as C on DraftKings, keeping him an even more reliable option given Utah's injuries. Love has posted a double-double in six of his last seven games, with four of those six consisting of 20+ points. His price tag isn't too high, which makes him very appealing for someone who doesn't want Towns, and needs a solid play to compliment his bigger salary plays.