NBA Daily Fantasy Basketball Lineup Picks 12/18/17
NBA Daily Fantasy Basketball Lineup Picks 12/18/17
After a day off for most of the league, Monday night brings us a fresh ten game slate with some interesting play possibilities. There may be some hidden treasure to cash your lineup.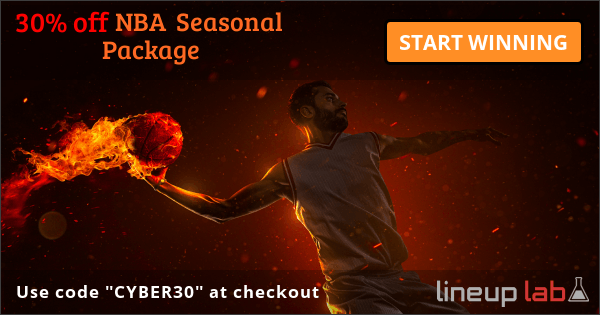 Use Code "CYBER30" at checkout for 30% off Seasonal Package

POINT GUARDS:
Russell Westbrook ($11,300 FD/$11,200)
As for most nights, Russell Westbrook seems worth paying up for; He clashes with the Denver Nuggets on Monday night, as the Thunder start off a three-game homestand. Denver ranks 24th in the league in defending the PG position, and rank 22nd in the league in overall defensive efficiency. They also rank 9th in the NBA in pace, with a top 10 rank in offensive efficiency which will up the tempo in this game. This should not be a problem for Westbrook, as it is a great benefit to his DFS value.
Yogi Ferrell ($4,800 FD/$5,000 DK)
Mavs starting PG Dennis Smith Jr. is officially listed as questionable Monday night. If he plays, ignore this article as alternative plays for each position will be listed at the end of the article. If Smith Jr. is out and you need a cheap PG play to accompany Westbrook, or just to stock up on salary, Yogi Ferrell may be the best $4,800 you've ever spent. The young PG has recently been giving the starting nod as teammate Dennis Smith Jr. has been sidelined with a sore hip. Ferrell exploded in his last game for 41.2 FanDuel points in 38 minutes against the Spurs, who are a top 5 defense. He now meets Monday at home with the weakly structured Phoenix Suns, who contain one of the worst defensive rankings in the league. An additional benefit is that the Suns rank 1st in pace, which could benefit Ferrell severely. This game consists of two of the worst teams in the league, making it more likely to be a somewhat close game throughout the duration which rids any concern of a blowout cutting player's minutes.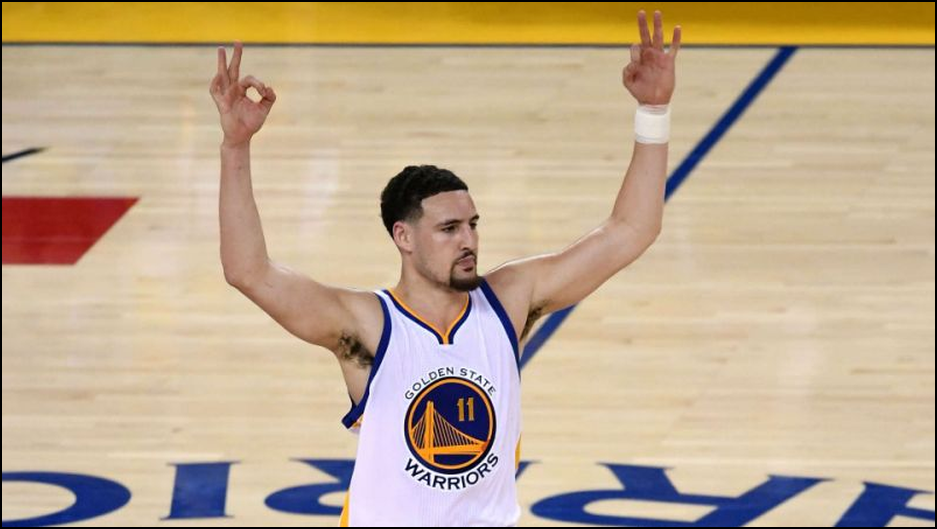 SHOOTING GUARDS:
Klay Thompson ($7,200 FD/$7,000)
With Stephen Curry sidelined for a little bit, many expect Klay to dominate the DFS board. He's been a bit of a disappointment, but that's solely because of the high expectations set for him. If you look aside from his fantasy points, his scoring is there without Curry; he has scored 20 or more points in five straight contests. The issue is that his other statistics in the stat sheet just aren't there some nights. Regardless, he plays the Lakers Monday night, who rank in the bottom third of the league in defending the position. For the price given lately, Klay has been consistent value-wise and can his floor should be around 30 FanDuel points whenever you roster him. His breakout game seems overdue and it very well could be tonight.
Dion Waiters ($5,800 FD/$5,500 DK)
I'm not sure my brain is familiar with writing about Dion Waiters. In fact, I don't think I've ever even typed his name on my keyboard prior to this article, but the former 4th overall pick caught my attention in this slate. Waiters and the Heat square-off with the 6-23 Atlanta Hawks, who are riding a four-game win streak. With Hassan Whiteside still inactive and a recent injury to forward James Johnson, Waiters is in for a heavier workload and a boost in usage. Averaging 26.5 FD points per game in his last four contests, he has fantastic value when you mix his recent consistency and workload with his match-up against a team whose defense is almost as poor as their record.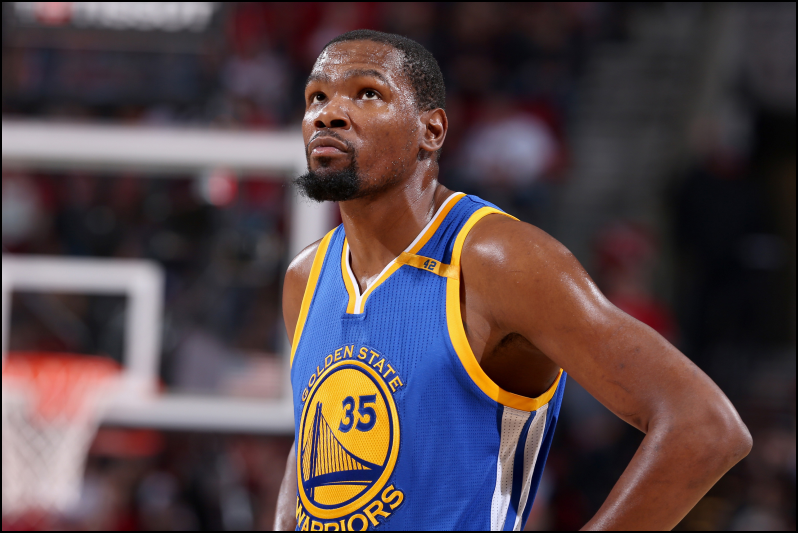 SMALL FORWARDS:
Kevin Durant ($12,000 FD/$11,600 DK) 
Carrying the highest price tag on both FanDuel and DraftKings, he seems almost worth it with just about any price as long as Stephen Curry is not sharing the court. In the previous four games without Curry, Durant has posted a monstrous fantasy performance each night as he averaged 63.1 FanDuel PPG throughout the nights. He's coming off a near triple-double, posting a 36-11-7 stat line. Luckily for those hunting Durant, there are quite a few value plays you can take the risk on to fit him into your lineup.
Omar Casspi ($4,500 FD/$4,100 DK) 
It wouldn't be fair to end my piece Durant claiming there are some value plays in this slate and then not provide one. Luckily, I'm a fair man. A key value play for this Monday night slate is Durant's teammate, Omar Casspi. Omar has drawn the start for Draymond Green in the last two games as Green is dealing with a sore right shoulder. He is listed as a SF on FD and is eligible for SF as well as PF on DraftKings, adding value to the risk of rostering him. Green has been listed out for this match-up opening a potential starting spot for him to do some damage in his third straight game. He has not disappointed with his responsibility of making up for Draymond's absence, as he averaged 32.8 FanDuel PPG over an average of around 28 minutes per game in those starts. He is extremely cheap on both platforms and is a great plug-in to make room for a star in your lineup.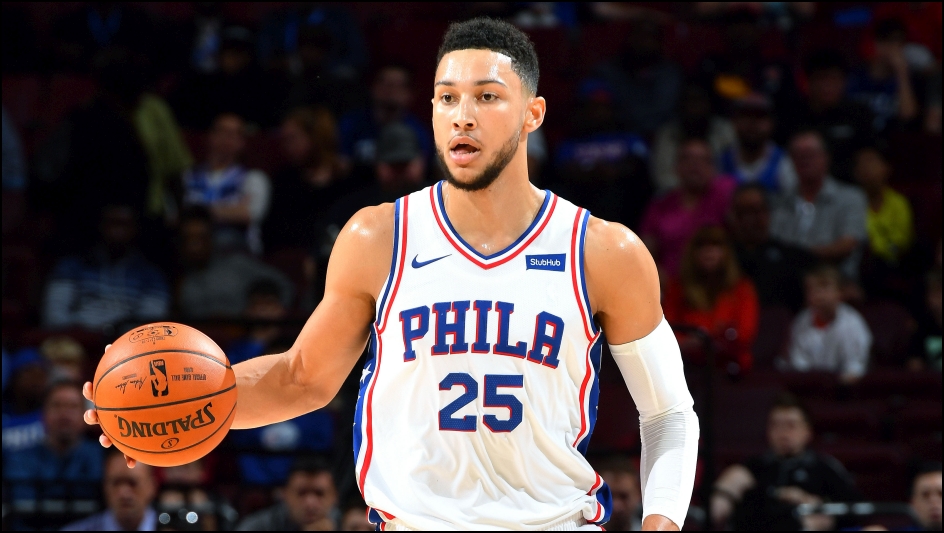 POWER FORWARDS:
Ben Simmons ($9,900 FD/$9,600 DK) 
Not the priciest of the "big dogs" of the slate, Simmons has a promising encounter with the streaking Chicago Bulls, who are looking for their sixth straight win Monday night with Ben Simmons in their way. This game has a few factors included with it that make it seem like Simmons will be a great play; Joel Embiid has been ruled out for this contest for rest purposes, evidently boosting Simmons usage and workload. Win streak or not, the Bulls defense is still on the poor end of the rankings. However, with Embiid out and the Bulls recent win spree, this game seems as if it'll be a lot closer than we would've predicted a week ago. The official odds have the Sixers winning by only one and a half with a total of 208.5 (Spread and total are subject to change). Simmons opposing a weak defensive team with predictions of a blowout slim gives the front-runner for Rookie Of The Year some extra attention on this slate.
Jordan Bell ($4,700 FD/$4,500 DK) 
Everybody's favorite part of these articles is for some direction to where the value is; Finding cheap value plays in DFS is like winning a scratch-off ticket: Awesome! Along with teammate Omar Casspi who is also listed in this article, Jordan Bell has some serious upside Monday night. Listed at PF on FanDuel and PF/C on DraftKings, Bell has started the last two games for injured Zaza Pachulia. Pachulia is listed out against the Lakers, which should put Bell back in the starting lineup. Bell averaged 28.2 FanDuel PPG in those two. He matches up Monday against a defense that ranks 28th in defending the position, allowing an average of 55.9 FPPG per 48 minutes. When logging at least 20 minutes this season, Bell has provided 30.1 FanDuel PPG. Bell and Casspi may be your salary saving dynamic duo tonight.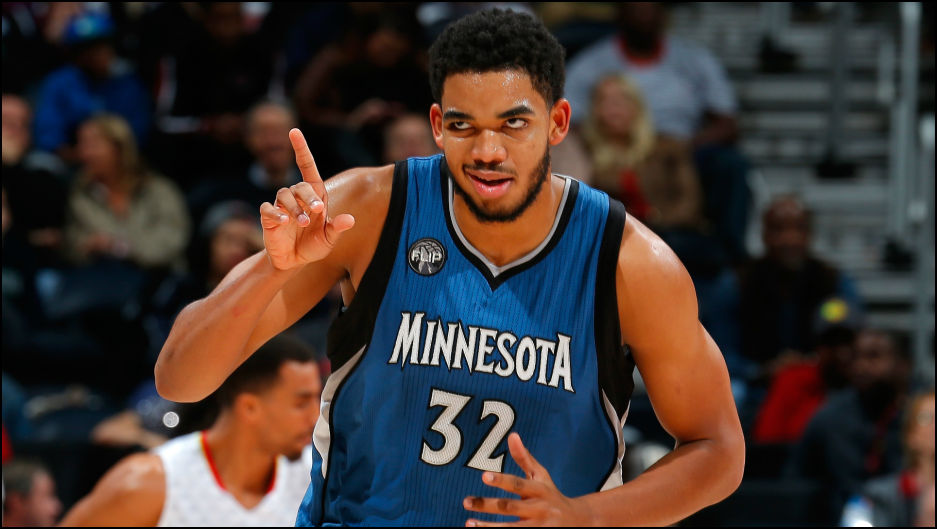 CENTERS:
Karl-Anthony Towns ($10,700 FD/$8,800 DK)
Towns was featured in Saturday's article I wrote and he's a little too difficult to avoid recently. Towns comes into the game Monday on an absolute tear, as he is averaging 58.9 FanDuel PPG over his last five games. Monday night KAT enters a contest against the Portland Trailblazers where he may be seeing an even larger workload. In Minnesota's previous outing, star player Jimmy Butler exited the game when appearing to hurt his back. Although he returned to the game later, he is listed as questionable for Monday night. If Butler is sidelined, Towns is in for a heavy boost in usage. Given his recent production, he only costs $8,800 on DraftKings (10th highest salary).  He is definitely a stud to consider paying up for, especially on DraftKings.
Ekpe Udoh ($4,700 FD/$3,700 DK) – 
Ekpe Udoh was the talk of the DFS community on Saturday night as the Baylor product scorched the Cavaliers for 48.9 FanDuel points in his first official start filling in for injured high-caliber rim protector Rudy Gobert. Only scoring 9 points in that game, Udoh found other ways to produce as he stuffed the stat sheet for 7 rebounds, 3 assists, 3 steals and a whopping 6 blocks across 32 minutes of play. Gobert is listed out tonight, and with Udoh's first impression as a starter Saturday it is almost evident that he will draw the start again. He clashes with the red-hot Rockets who seek a 14th straight win with this contest. For the dirt cheap price Udoh is tagged at (Especially on DraftKings) he won't have to do too much to exceed value.
Honorable Mentions:
PG: Chris Paul & J.J. Barea
SG: James Harden & J.J. Redick
SF: Harrison Barnes, Brandon Ingram & Josh Richardson
PF: Dario Saric & Thaddeus Young
C: Richaun Holmes & Al Horford