NBA Daily Fantasy Basketball Lineup Picks 12/25/17
NBA Daily Fantasy Basketball Lineup Picks 12/25/17
Monday night presents Christmas Day; one of the most entertaining days for the NBA season. With a small but stacked five game slate, you will need to include some low priced plays to be able to afford the large selection of superstars.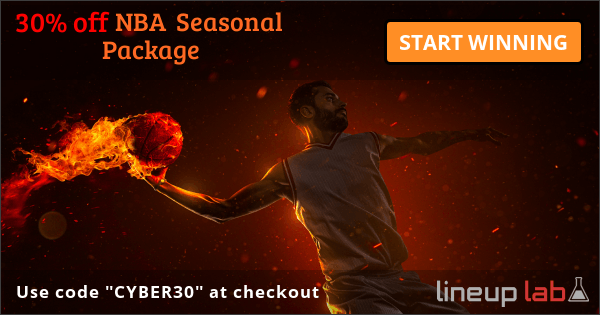 Use Code "CYBER30" at checkout for 30% off Seasonal Package
 
POINT GUARDS:
Russell Westbrook ($11,500 FD/$10,900 DK) – 
With so many superstar options in this slate Russell Westbrook may be your guy to pay up for as he is cheaper than LeBron and Harden on both platforms and cheaper than Kevin Durant on FanDuel. Lately, Westbrook has been an absolute menace to the stat sheet. He has scored 20+ points in six straight games, averaging a whopping 60.8 FanDuel PPG over those contests. He meets with former teammate James Harden on Christmas night, and is in great position to put on a show. The Rockets rank first in the league in offensive rating along with 8th in pace which could push the Thunder to increase the tempo and work quicker leading to more possessions and opportunity for Westbrook.
Jordan Clarkson ($4,000 FD/$4,700 DK) – 
Although listed as a SG on FanDuel (PG eligible on DraftKings), Clarkson seems to be a great play Monday night. The backup point guard should be getting the start for injured Lonzo Ball, who has already been listed as out for this contest. Clarkson hasn't been so hot off the bench lately, but we've all seen what he's capable of doing. At one point in the season he was outperforming Ball immensely enough where he would play the entire 4th quarter of games while Ball would sit. His recent decline in productivity has been adjusted into his salary which makes it even better for this slate. He will be playing the Timberwolves, who rank 22nd in defending opposing point guards this season. With a dirt cheap price Clarkson won't need to do much to exceed value, making him a great asset to withhold a steady salary.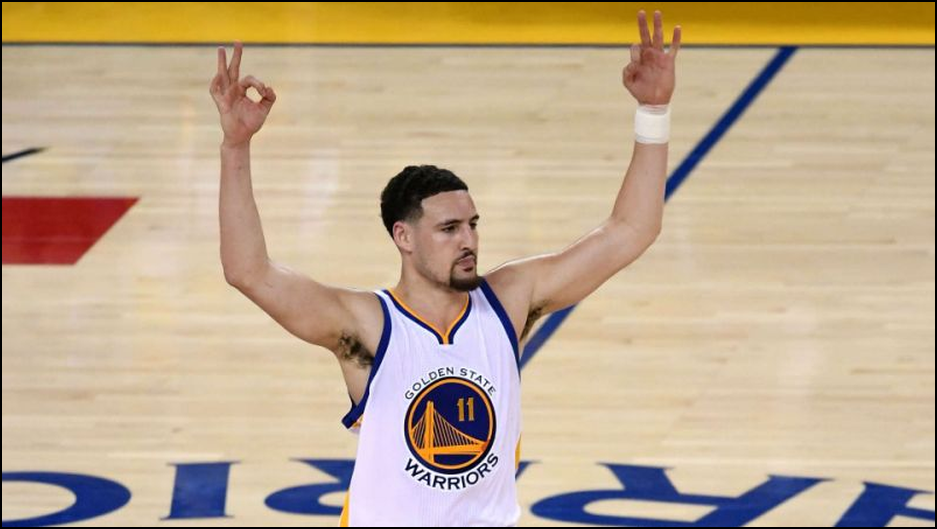 SHOOTING GUARDS:
Klay Thompson ($7,000 FD/$6,400 DK) –
With James Harden being very expensive in this slate ($12,000 FD/$11,100 DK), it may be smart to save some salary on the shooting guard position. Klay meets with the Cleveland Cavaliers for a third straight Christmas match-up. Once again Curry is sidelined, giving Klay and KD a heavy offensive workload against the poor defense Cleveland brings to the court. Klay has not had many breakout DFS games with Curry out, but has been very consistent. He has averaged 31.3 FanDuel PPG in the eight game absence from Steph.
Kentavious Caldwell-Pope ($6,100 FD/$5,100 DK) – 
Caldwell-Pope has been dealing with some legal issues, as he is unable to leave the state of California. Luckily for him, Monday night's game is indeed in Los Angeles. Listed at a fairly cheap price, KCP has been very productive in the games he has played recently. Over his last four games he has averaged 34.4 FanDuel PPG. He has also added at least two steals in seven straight games, which weighs heavy on the DFS scoring system especially on FanDuel. In those same seven games, KCP has accompanied his defensive skill set with double digit scoring as well. Caldwell-Pope may be your guy for this slate to fill the void in the SG spot.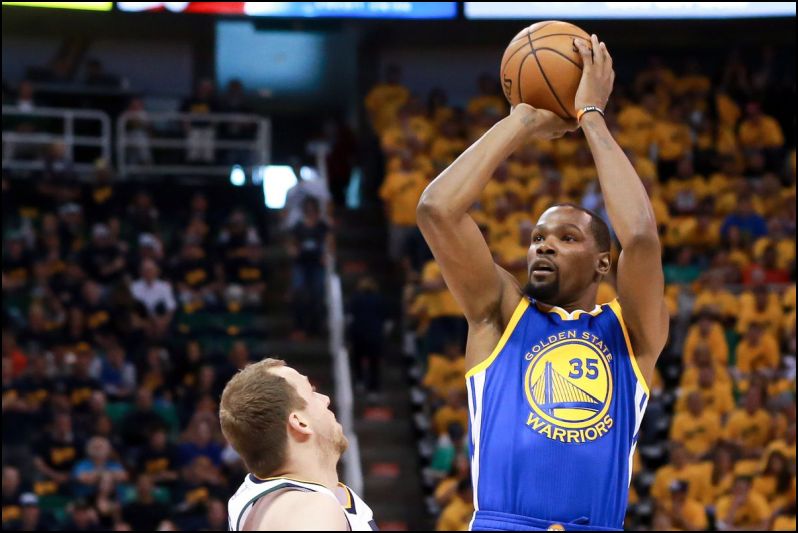 SMALL FORWARDS:
Kevin Durant ($12,100 FD/$10,500 DK) – 
Kevin Durant can destroy just about any defense which makes his date with the Cavaliers a lot more appealing considering their weak defense discussed in Klay's feature. The Cavs are allowing an average of 42.5 FPPG to the small forward position. KD has scored 50 or more FanDuel points in 6 of the 8 games played without sharing the court with Curry; with 3 of those 6 accumulating to 65+ points. The intensity of this game seems promising with both teams ranking in the top half of the league in pace. These teams are also "rivals" as they have met in three straight NBA finals. With a high price tag and a ton of superstar options, Kevin Durant seems worth paying up for if you can find the salary to fit him.
Trevor Ariza ($5,600 FD/$5,000 DK) – 
In this slate, you're going to need a few fairly priced plays that will provide you just enough to stack on top of your superstars performance. With that being the case, Trevor Ariza has a reliable resume to hold you over. He has a little bit of a tough game opposing a top defense in the Oklahoma City Thunder, but has proved to be very consistent for his price. Ariza has supplied 20+ FanDuel points along with double digit points in nine straight games. His teammate, Chris Paul, is listed as questionable with a leg injury which could open up a small boost in usage for Ariza if he is in fact incapable of playing. Ariza is definitely worth the risk in this slate as his sub-$6,000 salary will also open room for some bigger plays and will hopefully keep the 20+ streak alive Christmas night.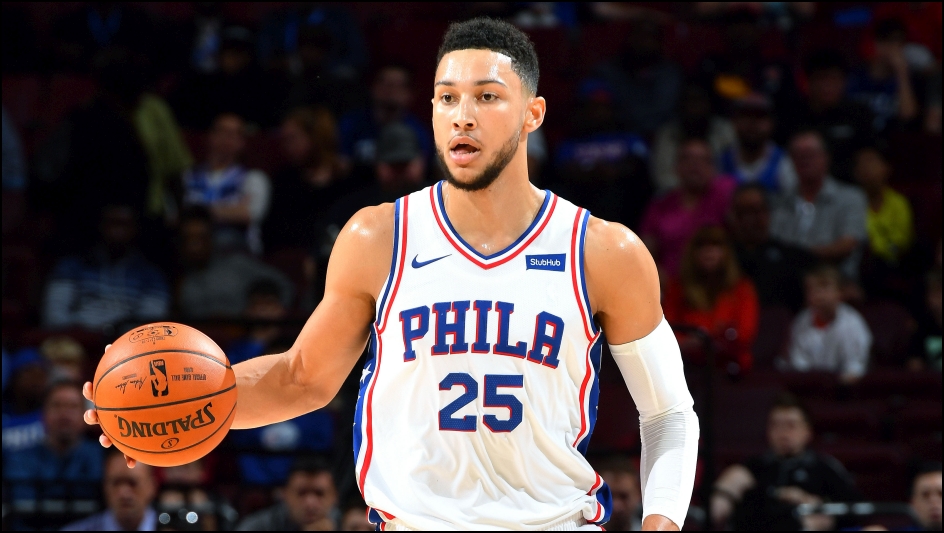 POWER FORWARDS:
Ben Simmons ($9,400 FD/$9,300 DK) – 
Simmons is a versatile play Monday night as he is listed as a PF on FanDuel yet eligible for PG and SF on DraftKings. Regardless of placement, Simmons is in for a great match-up with the New York Knicks. Teammate Joel Embiid is once again listed as questionable as he has missed five of the 76'ers last eight games with back issues. Simmons has averaged 42.5 FanDuel PPG in those five games without Embiid on the court with him. If Embiid is sidelined expect Simmons' usage to incline a decent amount as he faces off with a sub-par defense. Seeing what Simmons will do in his first game at Madison Square Garden should be interesting, and definitely a match-up to keep on your radar when trying to generate the perfect lineup. You should also keep your eye on Richaun Holmes and Dario Saric as they will also have a heavy workload if Embiid sits.
Jordan Bell ($4,900 FD/$4,900 DK) –
With the same price tag on both main DFS platforms, Jordan Bell brings a lot of upside to your lineup. The rookie has been filling in for Draymond Green as he has been dealing with an injury as of late and has proved himself to be the go-to guy to fill his void. Even with Draymond back in action the last two games, Bell was granted minutes in the low 20's in which included a breakout double-double game accumulating to 41.5 FanDuel points. Bell is averaging 25 minutes per game over his last five, and will be playing a Cavs defense ranking dead last in the league at defending the big man positions. To add icing on the cake, Draymond is questionable for this game which could annex even higher upside on this very cheap play. Luckily, FanDuel has gifted us all a Christmas present of their own with a late swap enabled slate.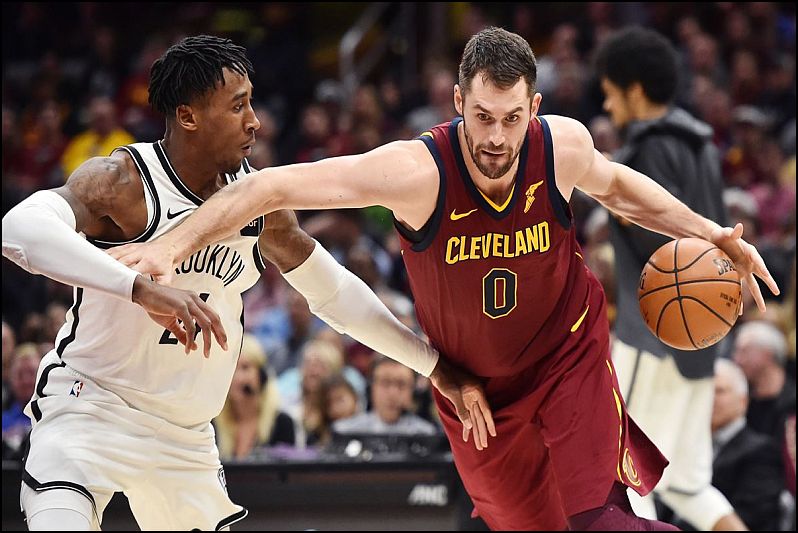 CENTERS:
Kevin Love ($8,000 FD/$7,500 DK) – 
It's hard to stay away from a game with so much more to it than a +1 in the win column which is why Kevin Love makes a great play. Love is averaging a double-double this season and has supplied 20 or more points in four of his last five games with an average of 38.9 FanDuel PPG in that span. Ironically, Love is only averaging just under 30 minutes per game this season despite his immense production. It is safe to assume that Love will see a good amount of minutes in this rivalry match-up with the Warriors, increasing his ceiling for DFS value. At a salary of $7,500-$8,000 Love can be a perfect play to plug in with a higher priced superstar and could even come very close to replicating that player's statistics.
Julius Randle ($5,900 FD/$5,000 DK) – 
If you are looking to spend small on a position, I personally would advise the Center position to do so in. With a recent injury to Laker's center Brook Lopez, Randle has seen an increase in minutes at the position. He goes into Monday night's game against the Timberwolves who allow an average of 54.50 FPPG per 48 minutes to centers this season. Randle has been effective offensively of late, scoring double digit points in 8 of his last 9 games with that one game being one where he only logged 8 minutes of action. When logging at least 20 minutes Randle has scored double digit points in 13 straight games. With a small price tag, Randle seems worth the risk in this small five game slate.