NBA Daily Fantasy Basketball Lineup Picks for 10/23/17

Point Guard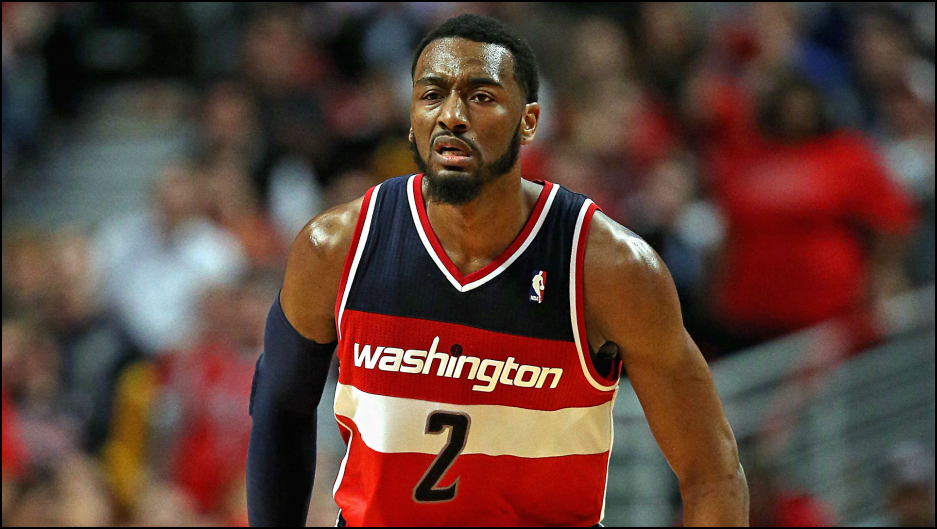 John Wall
FD $10,300 DK $10,100
John Wall is a quality play in 90% of the games he plays. Because the ball is in his hands so much, he is very safe, regardless of matchup. However, when he runs into a team like the Nuggets, who play at a top 6 pace, things can get interesting. Vegas currently has this game with a 223 over/under and 3 spread. That's ideal. Jamal Murray and Emmanuel Mudiay will split time at PG and try to figure out how to slow Wall. They shouldn't have much success, as long as the game stays close and Wall gets the minutes. They won't be able to switch either, because Bradley Beal has no problem dipping 40 with a small PG on him. I don't see a way around 50 fantasy points and the upside in tournaments is close to 80. Wall is one of the top NBA orchestrators and you will very rarely see him against a fast-paced, Western Conference team. This should be a game you pay a lot of attention to, and John Wall is by far the best player in it. Don't get cute with some of the expected PG value.
George Hill
FD $5,600 DK $5,100
This affair between the Kings and Nuggets isn't expected to be as high scoring as the Wizards game, but a 211 total isn't far off. It's a difference of 5 points for each team. Here we have George Hill at just way too cheap. He was rested in the 2nd half of a B2B 2 nights ago, so should be fully rested and ready to go another 35. He'll match up with Eric Bledsoe and Devin Booker, who are both quality defenders, but have given up the 24th most fantasy points to guards. How? Pace. The Suns play super fast and no matter how good of a 1-on-1 defender you are, you can't stop a fast break or transition bucket very often when you're shooting with 15-20 seconds left on the shot clock and forcing the big men to labor back into the play. George Hill is a very good PG and one that should certainly be more expensive. The match-up is absolutely perfect and I see no reason to go elsewhere in this price range.
Shooting Guard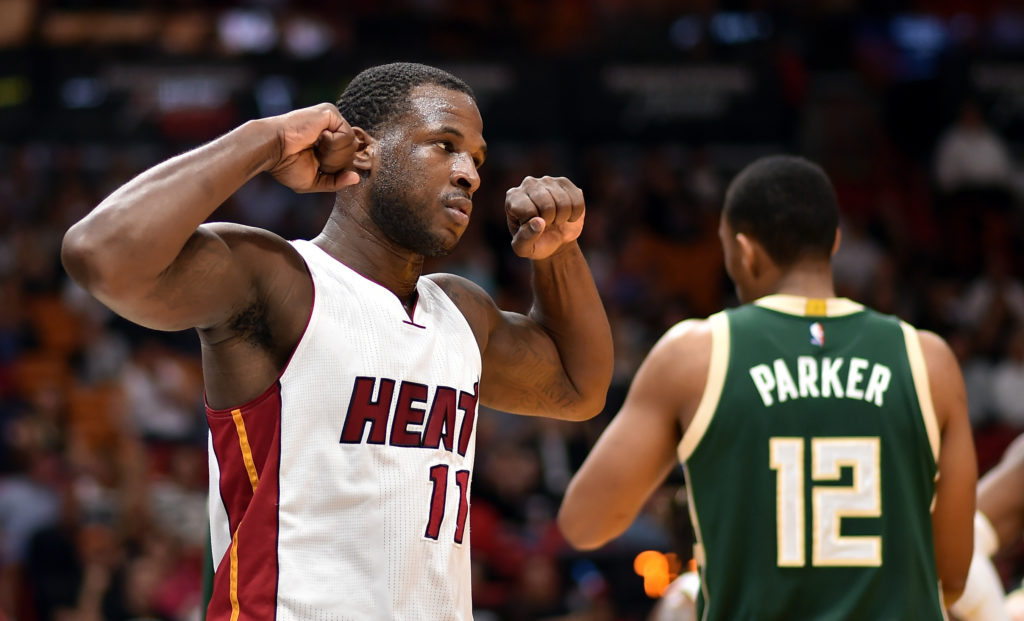 Dion Waiters
FD $6,400 DK $5,600
It's fair to say that Dion Waiters is a matured player. It's not fair to say, however, that he's completely different. He still chucks the ball as much as you possibly can and we saw It just 2 nights ago with 16 shots against the Pacers. He finished the night with 32 FP on 50% shooting. Waiters can and will get hot, and when he does, there will be some 40 FP performances. Hassan Whiteside is expected to miss his 2nd straight game as well, so there are some shots to be taken that aren't usually there. Waiters always comes with a great amount of risk, but I'm not sure he can get any safer than tonight. Waiters will be one of the guys I'm way overboard on, but it's Dion Waiters and I know all too well what can happen.
Jeremy Lamb
FD $5,500 DK $5,700
After a worrisome 28 minutes out of Lamb in the opener, he backed it up with 38 in his last contest. That's what we expected out of a guy who routinely filled in with those types of minutes in 2016. With Batum and Kidd-Gilchrist still out, they'll need Alan to step up on the wing once again. This Bucks team is pretty bad on defense and as long as Lamb doesn't somehow end up on Giannis, he will blister value. This is a guy who was at 1.3 FP/ min last season, so don't let 2 games of mediocrity worry you. He's primarily a scorer, but averaged close to 5 boards a game over the last 3 months of 2016. Shooting guard is ugly and Lamb gives you an option with some real safety and upside. It's tough to find both under his price.
Small Forward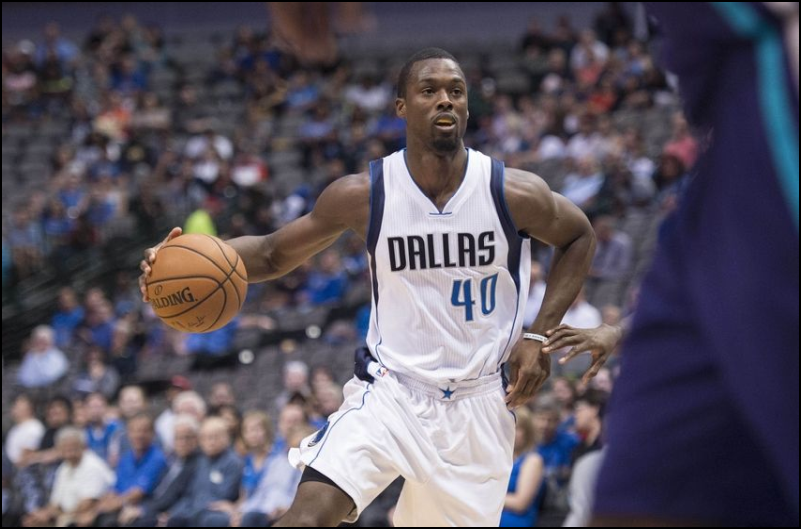 Harrison Barnes
FD $6,100 DK $5,600
Getting back to a bit of safety, we'll set our sights on Harrison Barnes. Barnes and the Mavs will face the Warriors, who come in after a loss as look to prove themselves. If the Warriors want any chance of keeping the contest close, they'll need Harrison Barnes to have a career night. Either way, the ball will run through him on most possessions. Even if the Warriors do blowout the Mavs, I think you can expect 32 minutes and 30 fantasy points out of Barnes. The Warriors play at a top 5 pace compared to the Mavs' bottom 5, so they'll be playing way quicker than usual. With that, comes more possessions and more opportunities to gather fantasy points. Barnes is going to get you 1 FP/minute as long as he's on the court. He's cheap enough on both sites where I'm comfortable in even cash games. If the Warriors obliterate the Mavs, he should still keep you afloat. That can't be said for most of the SF in this price range. Let's touch on a guy who's a bit more risky with some upside.
T.J. Warren
FD $5,600 DK $5,300
T.J. Warren had a typical game against the Lakers. He then garnered almost 40% ownership against a Clippers team that stepped on the Suns throat. He's a guy who needs the game to stay close, as he will just sit in the corner if not. When getting involved, Warren looks like an all-star. He can shoot, penetrate, and has the brains to break a defense down and hit an open shooter. He's also a big reason that the Suns play so fast. Behind LeBron and Durant, Warren moved the most of any SF in 2016, showing his urge to space the floor and create. The Kings don't really have a real solid SF, so Warren will have an advantage over whatever small or big they throw at him. This game is very nice from a fantasy perspective and it'll be very intriguing to see how things turn out. Warren, in particular, is an excellent option in all formats where his price is still low.
Chandler Parsons is definitely an insane flier, but I like the idea of it. He's dirt cheap, making 24 million dollars this year, and should start to see closer to 20 minutes per game. He's facing his former team and should want to shoot when in there. He's a VERY good player, so if he sees those minutes, he'll bash value. I don't know if I'll pull the trigger, but it's interesting.
Power Forward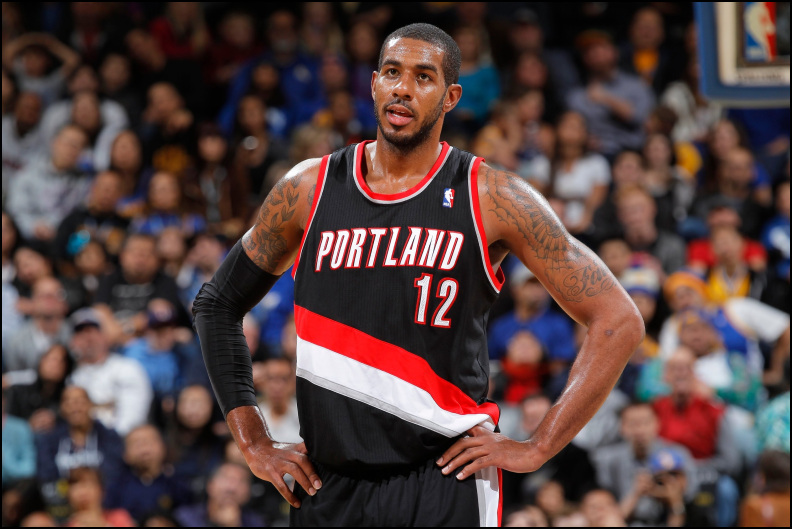 James Johnson and Kelly Olynyk
FD $5,900 – $5,200 DK $6,300 – $5,800
Power Forward is one of my favorite positions of the night and these 2 guys have to do with it. With Hassan Whiteside presumably out 1 more game (keep an eye out), Johnson and Olynyk will see big minutes. The Heat played small last game and were allowed to, which won't happen against the Hawks. They don't have great big guys, but they are 7 foot and if you have James Johnson on them, it won't end well. Olynyk should get close to 30 minutes at the C and another 10 or 20 at PF. Johnson will see most of his at PF with a few point forward minutes when Dragic/Waiters is out. He's a do it all player who has no problem getting on the floor for a loose ball. He always makes sure he gets involved 1 way or another, which is comforting from a DFS perspective. There is nothing worse than rostering a guy who loves sitting in the corner. It's a big reason why I'll have a tough time playing Kyle Anderson. He's a strong value, but the guy stinks. He's not very good at basketball, compared to his compadres. Johnson and Olynyk should both demolish value if given the expected minutes. Don't get cute here.
LaMarcus Aldridge
FD $8,800 DK $8,500
If paying up at PF, I think most will go Giannis Antetokounmpo. He's undoubtedly a great play that could go for 75 FP on any night. However, with his recent boost in production has come with a price rise. Now, Giannis will need to get you at least 60. That's tough and not going to happen. He will still have his usual 45 FP games where he spreads it around and struggles from the field. I'm willing to bet it happens against the pace-down Hornets on the road. Don't let me take you off of Giannis, because I'll have exposure in tournaments, but he's simply not safe at this crazy price tag. If he had 5 fewer shots fall in last game, the entire narrative would have been different here. Instead, I look towards LaMarcus Aldridge. The Spurs have been running the offense through LMA with Kawhi Leonard on the pine with an injury. It's resulted in 46 and 52 fantasy points. When LMA is touching the ball like this, he's as an elite of a big man as you'll find. If you're an NBA fan, you know this. He can put up 40 real-life points and the 10 rebounds is a lock against the Raptors weak interior. He's going to cost you a pretty penny, but not nearly as much as Giannis and you can still get 40 FP rather easily.
Center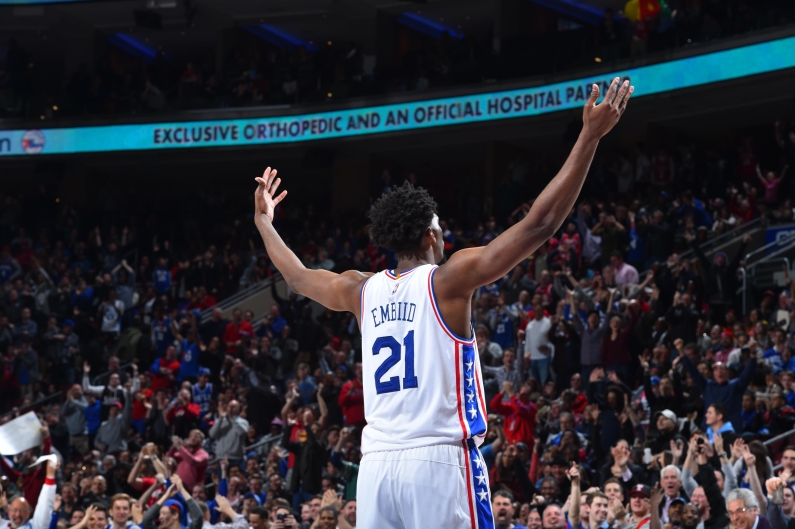 Joel Embiid
FD $8,500 DK $8,200
It looks like the 76ers are getting a bit more liberal with Embiid and his minutes and instead just allowing him to sit out when sore. I like the idea a lot more than throwing a superstar on the court for 16 minutes and then leaving the team to dry when the playmaker suddenly disappears for 70% of the game. It's tough to get in a groove that way. Instead, he's getting close to 30 minutes when he plays and backing it up with production, as everyone expected. He faces a Pistons team that has no shot at staying with him. I don't know if Van Gundy will try to stick with Drummond, but he shouldn't. Joel Embiid is just going to take him to the perimeter and demolish/break both of his ankles. Drummond can pave his way in the paint, but there's no shot he contests a single jumper. If Embiid is feeling it, he will have a huge game. The Pistons have ranked in the bottom 1/3 against Centers for 4 years now and unless Drummond dramatically improved in the offseason, I see no changes.
Nerlens Noel
FD $5,000 DK $5,200
Being clear, this is a GPP only play. DO NOT play Nerlens Noel in a cash game unless just about every single Maverick is injured. He could see 8 minutes tonight and I wouldn't be all that surprised. However, if the Mavs want to match-up with the Warriors, Noel is a way they can do it. He's a big man that can run the floor and won't get tired from the Warriors tireless attack. He's a fantastic fantasy player as well, averaging well over 1.4 FP per minute when on the floor. It's not too tough to figure out with him. Except it is. When the minutes are there, so is the production. We have just to get in the mind of a coach who doesn't have much of an idea of what's going on. On the off chance that Noel sees the floor for an extended period of time, he could win you a tournament. He has legitimate 50 fantasy point upside every time he sees 30 minutes.