NBA Daily Fantasy Basketball Lineup Picks for 10/24/17
Point Guard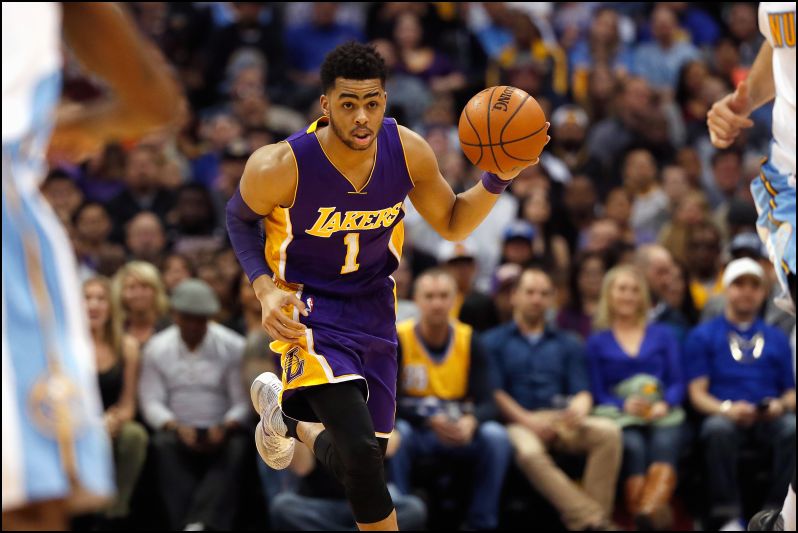 D'Angelo Russell
FD $7,800 DK $7,800
We expected D'Angelo to play like he has, but the absence of Jeremy Lin has only helped. He now has the ball in his hands for every minute he's on the court and is already showing his per minute effectiveness. The Nets and Magic will face off for the 2nd time in a week, after these 2 teams combined for 247 points on the 20th. Russell ended up with 34 fantasy points in just 25 minutes of work. He should be back up to the 35-ish minute total here and see a similar FP per min, putting him well over 40. The Magic are without Elfrid Payton, who's a pretty good defender. Especially compared to D.J. Augustin and Evan Fournier, who will take turns on Russell. Point guard may be pretty deep, but Russell is both safe and has upside in a match-up featuring a 229 over/under. You'll need exposure to this game and Russell is the safest way to do it on the Nets.
Jrue Holiday
FD $6,900 DK $6,500
With Rajon Rondo out for the first few weeks, Jrue Holiday will step back into his PG role for the time being. He's been a point guard his entire career, so it's not much of a change. The switch to SG might take a few weeks, but there's nothing to worry about with him at the 1. He's been consistent to start the season, but hasn't exploded yet. Anthony Davis and DeMarcus Cousins are getting all the shots, and rightfully so. Holiday does have an excellent match-up with Damian Lillard, however, so he should try to get it going on offense a bit. This affair between the Blazers and Pelicans should be close, high-scoring and full of fantasy goodness. Don't shy away from the guards or big men.
Shooting Guard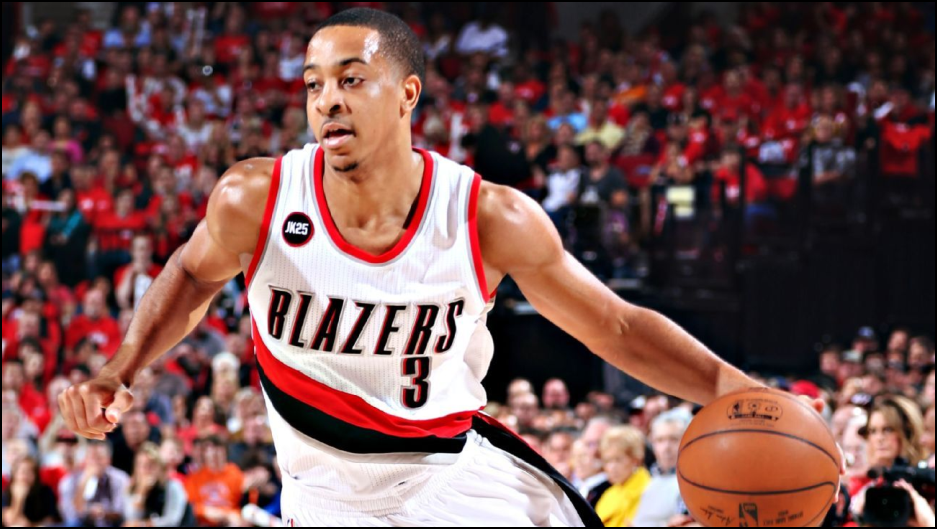 C.J. McCollum
FD $7,800 DK $7,100
We'll stay in Portland and take a look at the backcourt mate of Damian Lillard. McCollum missed the first game of the year, but returned with no hiccup. He's been over 26 real-life points in each of the first 2 contests and has contributed plenty of peripherals.  This match-up with the Pelicans is prime and I'm not sure who plans on covering him. E'Twaun Moore is starting at SG, but he's just nowhere near good enough to cover McCollum. The Pelicans allowed the 4th most FP's to guards in 2016 and have similar guys manning the spots. McCollum is going to shoot at least 15-20 times and if he's hot, value is no problem. His price is fair across the industry and with SG being pretty weak, he should be popular. He's a fair play in both cash games and tournaments.
Tim Hardaway Jr.
FD $4,700 DK $5,000
Looking at the box scores, you probably don't have interest in Tim Hardaway Jr. If you're looking at what you should be, you probably love him. He shot 16 times last game and dropped just 4 buckets. He shot closer to 50% in 2016 and is a very good shooter in general. His numbers will certainly go up and I don't think the general public will be on him. The Boston Celtics play fast and don't love defense. They don't guard the paint and are extremely susceptible to SG's (If Marcus Smart is out). Hardaway is way too cheap on both sites and if he has a typical game, it will be around 25 fantasy points. If he gets hot, it can get to 40. He hit 40 fantasy points 3 times in the last month of 2016. Don't be short-sighted and ignore him because of a couple rough shooting nights.
Small Forward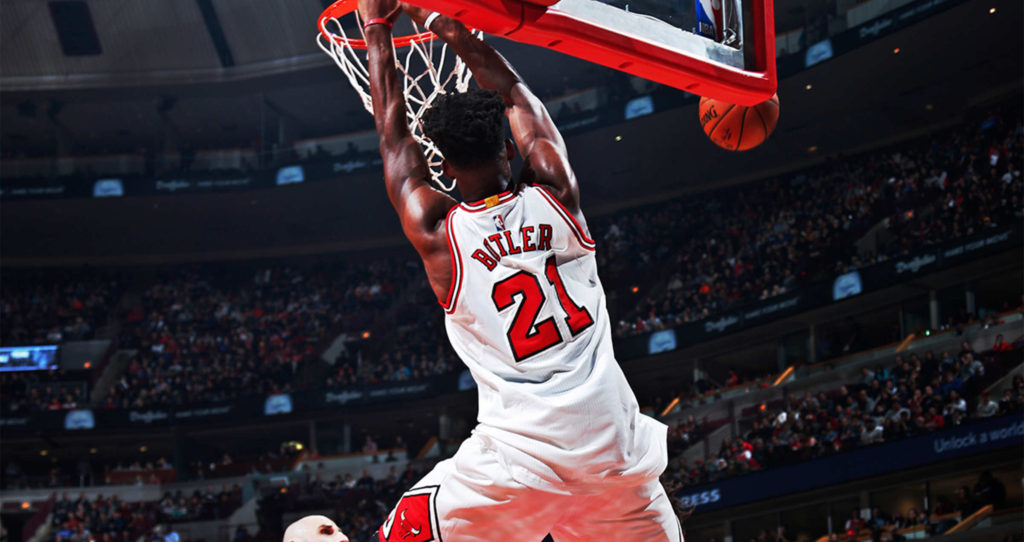 Jimmy Butler
FD $8,300 DK $7,000
On DraftKings, go ahead and plug Jimmy Butler into your cash games. I know he hasn't been amazing, but that is going to 1000% change. He is getting used to playing with these guys and will be putting up 50 burgers in no time. Thibs is giving him the 38 minutes a game we expected and I'm willing to put my head on the line that production is coming soon. The Pacers are the 3rd fastest team in the last 2 years and it's why a slow team like the Wolves is in a 217 over/under. Butler has had 3 tough match-ups so far and now sees a Pacers team who has no true SF. Lance Stephenson and Bojan Bogdanovich will see the 48 minutes there and neither can guard Jimmy. Wiggins also has a pretty tough match-up with Oladipo, so the ball should get funneled towards Butler on the perimeter. He's the safest option in SF for his price and he'll  be locked into my cash games.
Evan Fournier
FD $7,000 DK $6,1oo
Fournier has exceeded expectations so far, which has led to his price going up just a little bit. On FanDuel, you don't have to get exposure outside of tournaments. He can still smash value, but there are some better values. On DK, however, $6,100 is perfect. Fournier has been phenomenal to start the season and without Elfrid Payton on the court, he is doing whatever he wants. He now sees the same Nets team that he put 44 fantasy points up on less than a week ago. He also saw just 25 minutes last game, so he's fully rested and ready to go once again. With a 229 over/under and some injuries to take advantage of, this is a game I want a lot of cash game exposure to. Fournier gives you a 30 point floor with a 50 point ceiling, as long as Payton remains out.
Power Forward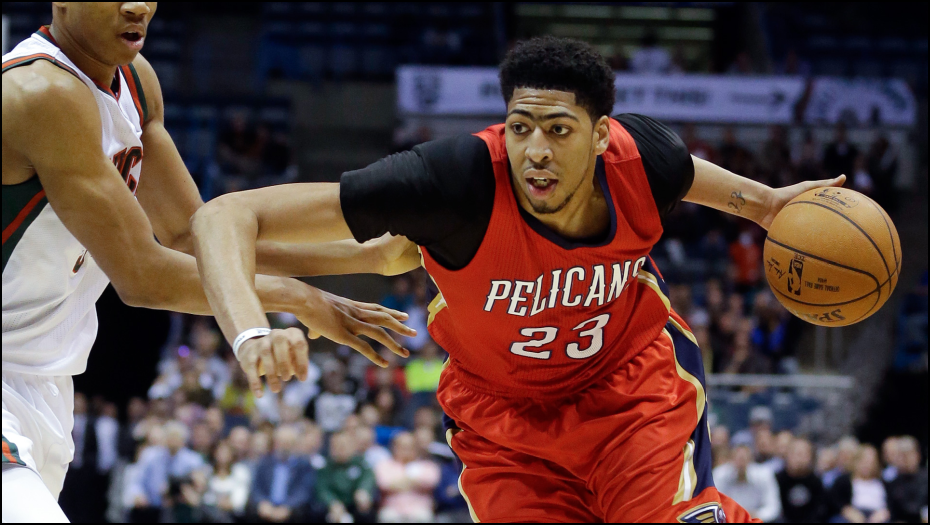 Anthony Davis
FD $12,200 DK $10,900
Alright, this is getting fun. Watching Anthony Davis and DeMarcus Cousins play next to each other is fun. There is no other team I can put my eye on when they are playing. Tonight, the Pelicans take on the Blazers and their non-existent interior. I guess the only guy you can give some credence to is Jusuf Nurkic, who at least has some size. He'll be on DeMarcus Cousins, so that leaves Aminu and Swanigan to cover Anthony Davis. Nope. No shot. Good luck. This, in my opinion, turns into a shootout between Lillard/McCollum and Cousins/Davis. If you're looking for a game to stack, this is as good of a candidate as any. Because they all are so expensive, Cousins is the 1 of the 4 I would fade. There are plenty of other options at center. Anthony Davis is my favorite superstar of the night and I'm not sure how close it is. The Blazers allowed over 60 FP per game to Davis in 2016 and he looks like he's turned the leaf that will hand him the MVP trophy this season. As for tonight, I'll do whatever I can to get the Brow in 100% of my lineups.
Kristaps Porzingis
FD $9,300 DK $8,500
Talking about turning over a leaf, here's Kristaps Porzingis. I don't know if Porzingis is much better or if it's because Melo is gone, but Porzingis is playing phenomenal. He has 46 and 47 fantasy points in each of the first 2 games and sees his best match-up yet against the Celtics. The Celtics are tossing Jaylen Tatum at PF, who has quite the disadvantage against Kristaps. They also have Horford at C, who's a pitiful rebounder and worse defender. His price is yet to get too high and I want to take advantage against one of the best match-ups possible. Power Forward is pretty deep, so let's take a look at another guy a bit cheaper.
Rondae Hollis-Jefferson
FD $6,200 DK $5,200
It was either Trevor Booker or Rondae Hollis-Jefferson here. With Aaron Gordon looking like he will return, I expect the Nets to match his athleticism with that of Hollis-Jefferson. RHJ has been damn good to start the year when given opportunity and he's actually taking initiative on a Nets team that needs some. I've said it enough, but this game is sitting at a 229 total, so we'll be all over it. RHJ is a concrete solid value play that will let you pay up for guys like Davis while still holding some upside. He's a lot better priced on DraftKings, so I may just find a way to pay up completely on FanDuel if no value emerges. All in all, power forward is a spot where you may need to hit the nuts in tournaments.
Center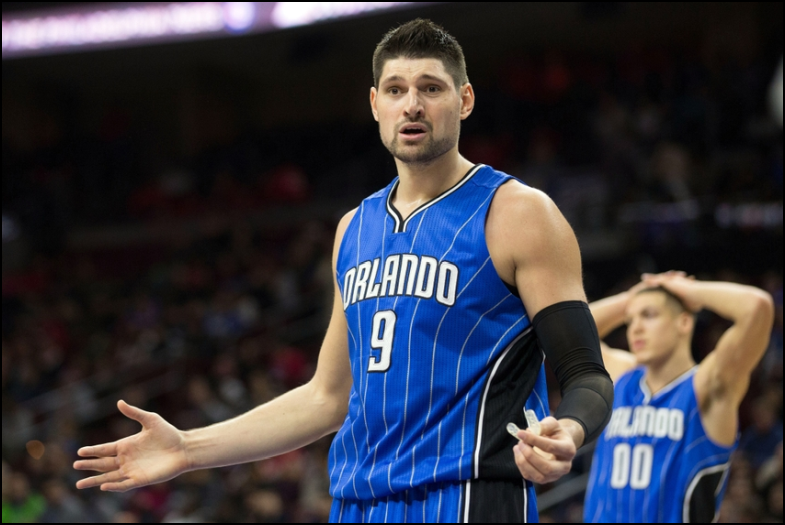 Nikola Vucevic
FD $9,800 DK $8,300
We've looked this game up and down, so let's top it off with the whipped cream, cherry, and fudge. Vucevic has been disgusting this year and it looks like this is finally a team he's locked down as his. He gets a touch on almost every possession and sees the best match-up possible. The Nets don't really have a center, but they throw Timofey Mozgov and Jarrett Allen there for the bulk of the game. If you were able to watch Vucevic face these guys a couple of days ago, you've already plugged him into your lineup. It was utter domination on every possession and the game had a total 15 fewer than tonight. There are a lot of solid high-priced options tonight, so it'll be tough to choose who you want to lead your squad. However, if you go with Vuc, there's a good shot you'll be in the mix. He, like a few other guys, see a much friendlier tag on DraftKings. He'll be tough to fade there.
Jusuf Nurkic
FD $7,900 DK $6,800
Both of the centers in this game are in play, but Nurkic is cheaper and we already looked at Vuc on top. Nurkic finally got things going last game with 41 fantasy points in 31 minutes. That's what we expect. He should see closer to 40 minutes tonight to match the Pelicans size and he should put up at least 30 with a 70 ceiling. Ya, I know that sounds crazy, but he did it twice last year and didn't look like he was having a fluke game either. Cousins is not a good defender and the Pelicans ranked 8th worst against centers in 2016. Lillard and McCollum should take most of the responsibility here, but they have no chance of winning unless Nurkic has a big game. He's very fairly priced on both sites and you can play him in all formats. There are 2 big games we like to target tonight and as long as they stay close, things should turn out. Good luck!!!