Daily Fantasy Picks – Pitchers and Teams to Stack in our Lineup Optimizer – 7/19/16
Nick Rodriguez … & some Coors ranting from Blake Pender
We have a full 15-game slate on our hands tonight and considering the struggling aces, Coors, and other stacking options today- this should make for an interesting day of baseball. Let's dive in!
Don't forget to check out our free MLB research tools as well as our Premium fanduel and draftkings lineup optimizer for MLB, complete with DFSR projections. Get started with the premium lineup optimizer here!
Pitching Targets
Jake Arrieta FD 10600 DK 12100
Opponent – NYM (Syndergaard) Park – @CHC
FD – 36.98 DK – 24.35
Arrieta has looked like doo doo the last 3 starts, but it may be time to buy low. But he's expensive you say? Compared to his average salary this is still a good play. We are definitely looking for him to bounce back tonight and expect his ownership wont be as high as he typically is. Look at what Jon Lester did last night. He was struggling before the break and started the second half with a [bang]. Remember, there are 3 seasons in baseball. Pre All-Star, Post All-Star, and Postseason.
He will be pitching at Wrigley where he owns a 1.65 ERA, 1.81 FIP and 23.0 K-BB%. He is a completely different animal at home and look for him to take advantage of a Mets' squad thats in the bottom half of the rankings against right-handed pitchers. The matchup is there for him — now it's time for him to prove to us why he is "one of the top pitchers in the game."
Danny Salazar FD 10300 DK 11300
Opponent – KC (Young) Park – @KC
FD – 33.18 DK – 22.1
If you're looking for a guy with upside tonight, Danny Salazar is your guy. He owns a 27.6 K% to go along with a 82.6 LOB%. He is a tournament only play for me as he can have some control issues (10.8 BB%), but you can't deny his upside. He will be going up against the Royals, whose offense isn't as good as you may think. They own a .309 wOBA (20th in MLB) 90 wRC+ (22nd in MLB) and .131 ISO (29th in MLB) against right-handed pitchers. The matchup is there for him and will be pitching in a pitcher-friendly ballpark, so go ahead and do your thing, Mr. Salazar!
Cash Option
Looking for a cash-game play for tonight? Then Carlos Martinez may be your guy. Our system loves him!
Stack Targets
Lets start with the obvious. Coors is in play, and Tampa Bay and Colorado are projected by Vegas at the top of the list with 11 runs. Nothing new. The pitchers: Tyler Chatwood is an average guy, with almost 100 IP's logged and is pretty much down the middle regarding WHIP, xFIP, wOBA, but one of the lowest K/9's on the day (5th worst at 5.5). Snell's also very much down the middle but sports a 1.58 WHIP over his 32 innings in the majors. However, during his last 300 IP's in the minors, he's maintained a 1.0-ish WHIP and fanned batters at an impressive rate… roughly 11/K9. Yes this is in the minors and spans A-AAA, but his last 100 IPs in AAA were low 12's K/9.
To further complicate things, wind is blowing in & to the right at double digits at game start, and then slowing down and moving sideways as the game continues. Rain chances are around 15%-20%. But it is still a bit early to be worrying about wind and rain at Coors. Keep an eye on it with our MLB weather page here.
In the end, I'm just not excited about Coors. Hell the degenerate in me just wants to play Snell in a single lineup tonight so I can screenshot it. Have fun with your Coors-ing.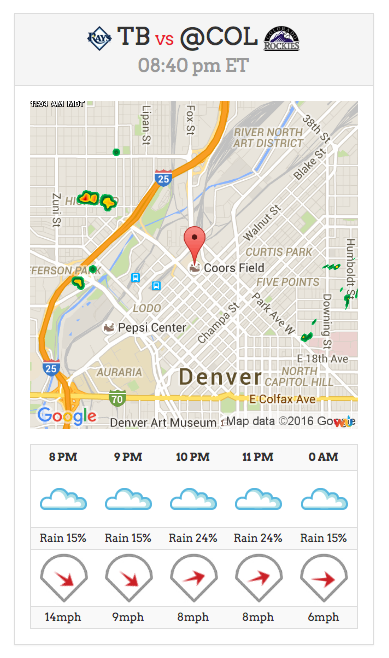 Toronto Blue Jays vs. Zack Godley (MIN)
Chase Field
The Blue Jays will be playing at "Baby Coors" (Chase Field) and will be going up against right-hander, Zack Godley. You gotta love it! Godley has a lot of control issues (10.3 BB%) to go along with a 1.50 WHIP.
The Jays' are one of the top teams when it comes to facing right-handed hitters. They own a .334 wOBA (6th in MLB) 106 wRC+ (6th in MLB) and .192 ISO (4th in MLB). Yes they are expensive, but they have one of the best offenses in the league and will be going up against a guy with an ERA over five.
Los Angeles Angels vs. Kyle Loshe (TEX)
Angel Stadium
Let's be honest: Kyle Lohse isn't the same pitcher he once was, so I'm going to be picking on him today. Since, 2014, Loshe owns a 4.63 ERA, 4.51 FIP and 34.2% hard contact rate. He's 37 years old; and his velocity is down, so look for Mike Trout and company to take advantage.
Not only do the Angels draw a favorable matchup, but they are also coming into this contest red-hot. They own a .325 wOBA (8th in MLB) and .106 wRC+ (7th in MLB) in their last 14 contests. I just see the Angels devouring Loshe tonight and this is an excellent late-night stack.