Daily Fantasy Pitchers and Stacks – 7/26/16
Nick Rodriguez and Blake Pender
We have a full 15-game slate on our hands tonight and no clear-cut cash game pitcher taking the mound. Combine that with quite a few stacking options and we just might have ourselves an interesting Rage-Tweet-Tuesday.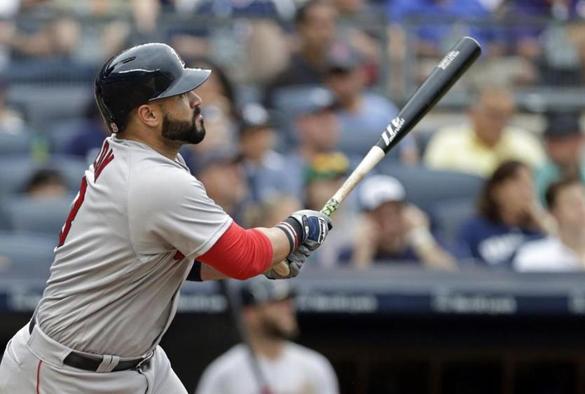 If Leon gets the start, we are interested
Danny Salazar FD 10100 DK 9500
Opponent – WSH (Gonzalez) Park – @CLE
FD – 35.47 DK – 23.4
Yes, Danny Salazar has to face Bryce Harper and Daniel Murphy, but besides those two guys, no one on that squad devours right-handed pitchers. They are in the middle-of-the-pack when it comes to facing righties, which puts Salazar in a great position.
Besides a solid matchup, Salazar is one of the top pitchers on the slate (if not the top pitcher), when it comes to raw talent. He owns a 27.4 K% (upside!) to go along with a 2.75 ERA. It's not the best of days for pitchers, but Salazar is very affordable and you have to love his upside. He has the highest ceiling on today's slate along with, Chris Archer.
Kyle Hendricks FD 9200 DK 10900
Opponent – CHW (Shields) Park – @CHW
FD – 29.93 DK – 19.39
I gave you a guy with a whole lot of upside, and now I present to you a "safe play" in, Kyle Hendricks. Besides being the "safest" option on today's slate, he has also been one of the most consistent pitchers this season. He owns a 2.27 ERA to go along with a 3.32 FIP. A little luck but watching him I am pulling for a no-regress day. Not only does he have one of the best ERAs this season, but he also draws a favorable matchup going up against the White Sox, who are in the bottom half of the spectrum when it comes to facing right-handed pitchers. So go ahead and use Hendricks in cash games tonight.
Arizona Diamondbacks vs. Matt Garza (MIL)
It's another day with Garza on the bump! Which means the D'backs are going to make it into at least a few of my stacks tonight.
Matt Garza has had a rough going this season and I see that trend continuing tonight. He is coming into this contest sporting a 1.76 WHIP, 5.94 ERA and 4.96 xFIP. All of those numbers are terrible, but there are even more reasons on why you should pick on the veteran. The other thing that stood out to me, besides his high ERA and WHIP, was the fact that opponents own a 39.3% hard contact rate along with a .325 AVG against him. Sure the D'backs don't have the same firepower as some of the offenses in the league, but if you're looking to be different with your stack tonight, then go with Goldy and company in the optimizer.
Houston Astros vs. C.C. Sabathia (NYY)
C.C. Sabathia sure looked good in the beginning of the year, but he's been struggling as of late. In his last five starts, he owns a 7.04 ERA to go along with a 1.57 WHIP. He's had trouble keeping opposing batters off base, which is why I will go ahead and stack the Houston Astros. Besides the fact that they are facing a pitcher that has had a tough time on the mound as of late, we all know the type of upside this offense has, especially against a left-handed pitcher. So guys don't be shy and get some exposure to the Houston Astros in our optimizer tonight.
Boston Red Sox vs. Mike Pelfrey (DET)
This stack target probably has the most raw data going for it. Which is why we are listing it last. It almost seems too obvious and so we expect to see plenty of sox batters in use tonight. Pelfrey is the cheapest option on Fanduel, so even Fanduel agrees with DFSR's projection, which is the lowest of the day across all pitchers. With 100+ innings pitched, he is still rocking a 1.76 WHIP, he cant strike guys out at 4 K/9, and his ERA is hovering around 5. wOBA allowed is .385 which is the 3rd highest of the day. Vegas has the game at 10 runs. This just screams crowded play so I'm not too excited. But if you can snag 1-2 of the less obvious guys then you might be able to make BOS part of a winning GPP lineup.
Personally, I like the prices, hand matchups, and wOBAs of Jackie Bradley J.R. in OF and I like Sandy Leon at Catcher if he gets the start, with his .470 wOBA and 1.1 OPS. He only has 80 AB's so so keep that in mind. But if the confidence continues and Pelfrey gives him meat on the plate, we will all be happy we played him. As usual, Ortiz looks super beastly as well. Go look at his numbers in Player Lab. Those stats, .330 batting average, and slugging .664, and nearly a 1.1 OPS…. all this at 327 at-bats into the season?


Gah, don't retire bro.
Honorable Mentions, OAK & SF/CIN
Finally, OAK, and both sides of the SF/CIN game deserve mentioning. With OAK, Nick Martinez is still looking for his stride, with a 2+ WHIP in the last 20 Innings pitched. The reason I'm bullish though is his almost 5 xFIP. So I'll be mixing in some OAK in the lineup optimizer when I throw together a few double stacks tonight. With SF/CIN, we have 2 pitchers at the bottom of the pile, with Matt Cain being a tad lower with more sample size and a higher xFIP. IF and only IF the wind continues to blow in the double digits out to center, I will keep this one on my radar. After all, AT&T isn't the most hitter friendly park.
Told you there were quite a few interesting stacks tonight! Good luck everyone!