Fanduel MLB Lineup for 06/02/17
*Chris Durell*
Fanduel MLB Lineup for 06/02/17
Welcome back for another fantastic Friday in daily fantasy baseball. We have an elite core of starting pitchers tonight, probably the best since opening day. Beware as lineup lock approaches, however, as there is a slight weather concern in the Astros vs. Rangers game that features Keuchel vs. Darvish.
Put your favorite stacks from the article below in our lineup optimizer and hit calculate. You can let it fill in the rest of the spots for you or choose your personal favorites from the MLB Player Lab.
**STARTING PITCHERS**
Clayton Kershaw
Opponent – @ MIL
Park – Miller Park(Hitter Positive)
Vegas Favorite (LAD -230)
Vegas Total (7.5)
Happy Kershaw day my friends. While the park is a downgrade going into Milwaukee tonight, this is the best pitcher in the game today and you should not worry at all. The good news is that the salary has settled back down into somewhat normal territory as he is at his lowest in four starts on FanDuel and reasonable on DraftKings as well considering he has been over $13.5K in four of his last five starts. The strikeouts are slightly down early in the season (9.9 K/9 rate) but nothing to concern yourself about as he faces a Brewers team that is currently striking out over 25% of the time vs. left-handed pitching and have their best hitter on the 10-day disabled list(Braun). Kershaw is the top overall pitcher tonight and safe in all formats.
German Marquez
Opponent – @ SD
Park – Petco Park(Pitcher Positive)
Vegas Favorite (COL -120)
Vegas Total (7.5)
Next, we will turn our attention to one of the best pitchers park in the big leagues. The Rockies travel to San Diego tonight to take on the Padres in Petco and will throw young German Marquez on the bump. The 22-year-old had some struggles early on giving up 5+ earned runs in his first two Coors starts but has been locked in every since. In his last four starts, including two in Coors, he has limited opponents to three total earned runs while striking out 22 and walking seven. Tonight he gets a start vs. a Padres team that has scored the third-fewest runs in the league and rank 27th in wOBA and wRC+ vs. right-handed pitching. He isn't likely going to win you a tournament on his own but makes a tremendous SP2 on DraftKings if you are rostering Kershaw or Strasburg.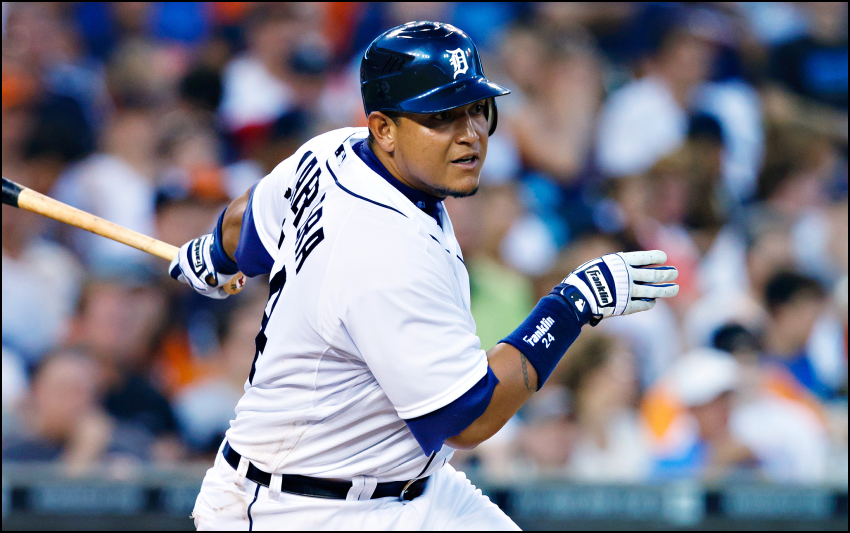 **OFFENSIVE STACKS**
Detroit Tigers vs. Derek Holland (CWS)
Park – Comerica Park (Neutral)
Vegas – (DET -185)
Vegas Total (8.5)
The Tigers lead the way tonight as they currently sit with the highest implied run total. They sit in the middle of the pack when it comes to runs scored and has been a sub .500 team in 2017 but still pack a lot of punch in the middle of that lineup, especially against left-handed pitching. The implied total comes from a combination of the Tigers loaded with right-handed bats and their matchup vs. Derek Holland. He has actually performed above expectation to this point with a 2.37 ERA but with ground ball rate under 40% and a swing and miss rate under 9% he is likely to regress sooner than later. The xFIP(4.75) that is more than double the ERA also points to this and the best part, from a stacking against perspective, is that he is giving up just over 37% hard contact.
Top Stack: Miguel Cabrera, Victor Martinez, J.D. Martinez, Justin Upton
Cincinnati Reds vs. Mike Foltynewicz (ATL)
Park – Great American Ballpark(Hitter Positive)
Vegas – (CIN -108)
Vegas Total (10.0)
Next up, we are going to head to Great American Ballpark and stack the home team tonight. The Reds sit with the second highest implied run total behind the Tigers tonight so I am not getting crazy, by any means, but targeting the high upside teams in great matchups. The Big Red Machine not only ranks inside the Top 10 in hitting vs. right-handed pitching but they have also been on a tear lately with 14 home runs over the last seven days. Tonight they will face the Braves and Mike Foltynewicz who has been wildly inconsistent this season. He has shown flashes of being a serviceable option but has taken advantage of weaker hitting teams. He isn't a complete gas can but sits with just an average K rate(7.3 K/9) and has given up eight home runs in his last six starts. Two of those starts resulted in five and seven earned runs against so the upside is most definitely there vs. the high-powered Reds.
Top Stack – Billy Hamilton, Zach Cozart, Joey Votto, Adam Duvall