NBA Daily Fantasy Basketball Lineup Picks for 11/30/17
*Mike Barner*
NBA Daily Fantasy Basketball Lineup Picks for 11/30/17


Use Code "LLNBA17" at checkout for 20% off Seasonal Package
POINT GUARDS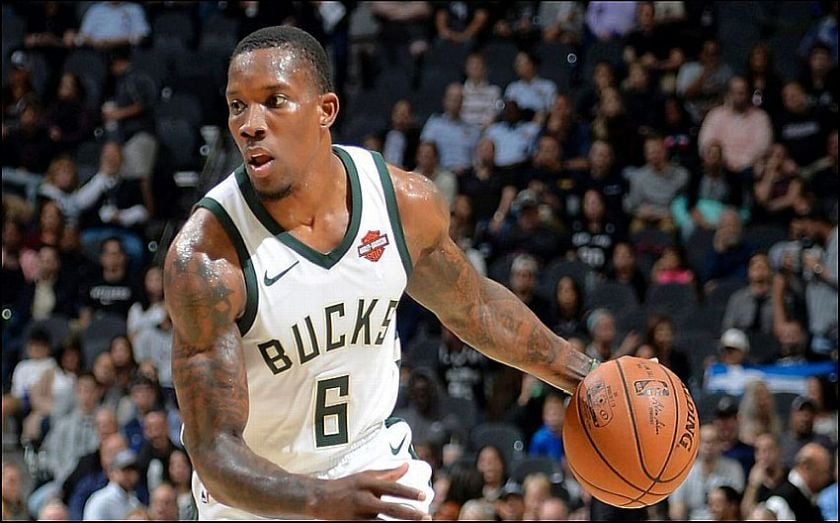 Eric Bledsoe, MIL at POR
FanDuel = $7,500
DraftKings = $6,800
Bledsoe has played well since being traded to the Bucks as he's averaging 15.8 points, 4.3 rebounds, 5.1 assists, 2.1 steals and 1.1 three-pointers per game with his new squad. Now the second best offensive weapon on the team, he's posting a 27.9% usage rate. His numbers are going to continue to get better as he gets accustomed to his new teammates and he's already showing signs of that as he has averaged 23.0 points, 4.3 rebounds and 6.3 assists over his last three games. On a night with only five games on the schedule, Bledsoe presents an excellent option for your entry.
Jamal Murray, DEN vs. CHI
FanDuel = $5,100
DraftKings = $5,000
Murray doesn't provide much outside of scoring, but he has managed to average 13.9 points and 1.2 three-pointers in only 27 minutes per game. He still has a significant role in the offense as his 24.4% usage rate is the highest on the team. Thursday's matchup against the Bulls is favorable for Murray as the Bulls struggle to defend point guards. They have been especially poor of late, allowing an average of 23.6 points per game to opposing starting point guards over their last three contests. At this price, Murray can provide value.
SHOOTING GUARDS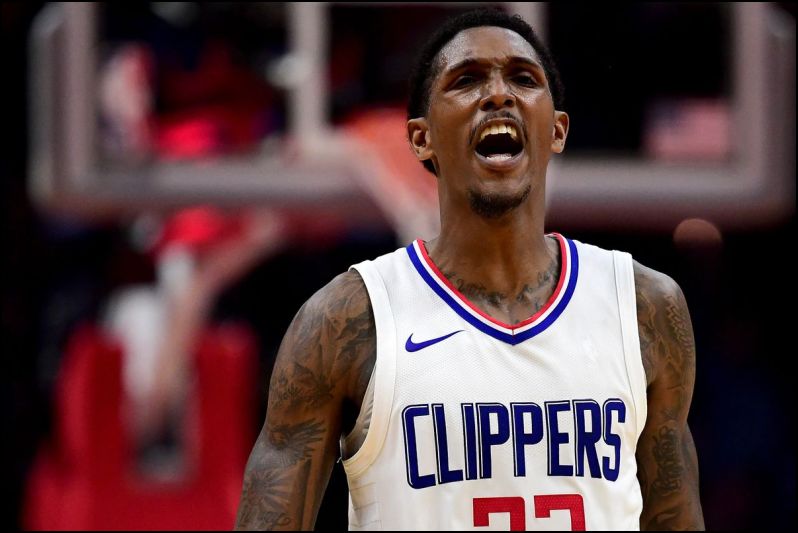 Lou Williams, LAC vs. UTA
FanDuel = $8,000
DraftKings = $7,300
The Clippers are absolutely decimated by injuries and will be without Blake Griffin, Patrick Beverley, Danilo Gallinari and Milos Teodosic on Thursday. When you think about how much offense the Clippers were counting on from Griffin and Gallinari, that's a lot of scoring to make up for. Enter Williams as he is never afraid to shoot the rock. He is currently averaging a career-high 13.7 shot attempts per game to go along with a 27.8% usage rate. Expect him to lead the Clippers offense Thursday, giving him value even at this expensive price.
Gary Harris, DEN vs. CHI
FanDuel = $6,100
DraftKings = $5,600
One thing you get with Harris is consistent playing time as he has played at least 30 minutes in all but three games this season, one of which he played 29 minutes. He's not going to give you much in the way of rebounds or assists, but he makes up for it by averaging 1.8 steals to go along with 14.3 points per game. He has actually had at least three steals in three of his last four games. With plenty of minutes and shots on tap for Thursday's matchup against a bad Bulls defense, consider adding Harris into your lineup.
SMALL FORWARDS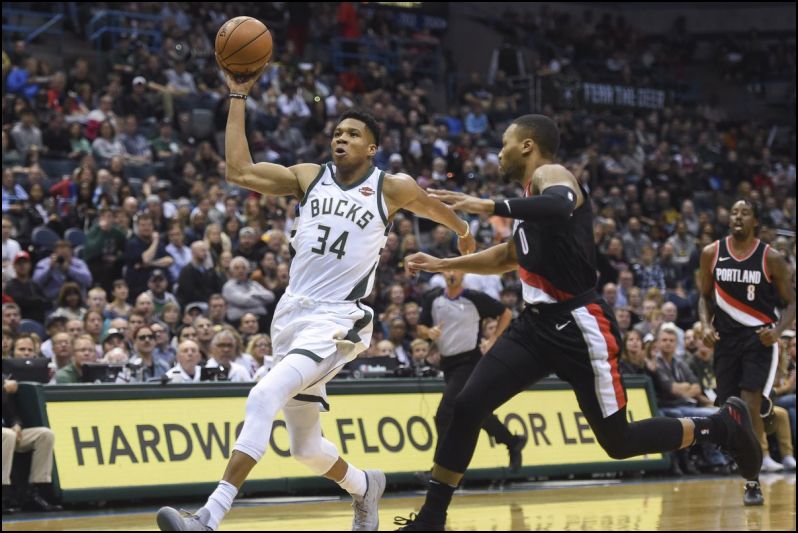 Giannis Antetokounmpo, MIL at POR
FanDuel = $11,800
DraftKings = $11,100
Not much needs to be said to make a case to start Giannis on Thursday. His 33.5% usage rate is fifth-best in the NBA, which is even better when you take into consideration he leads the league with 37 minutes per game. He also crushed the Trail Blazers earlier this season when he scored 44 points to go along with eight rebounds, four assists, two steals and one block. He and LeBron James are the two best options at small forward for the evening, but I'd lean towards Giannis as this game should be more competitive than the Cavaliers taking on a bad Atlanta Hawks team.
Juan Hernangomez, DEN vs. CHI
FanDuel = $4,000
DraftKings = $3,700
While the Nuggets aren't as injury-riddled as the Clippers, they are dealing with problems of their own with Paul Millsap out for three months and Wilson Chandler already ruled out for this game with a back injury. Chandler missed the Nuggets last game Tuesday, leading to a start for Hernangomez. He came through with seven points, 10 rebounds and one block in 28 minutes, marking his best game of the season. With the expectation that he will see increased minutes again Thursday, he could provide significant value at this cheap price.
POWER FORWARDS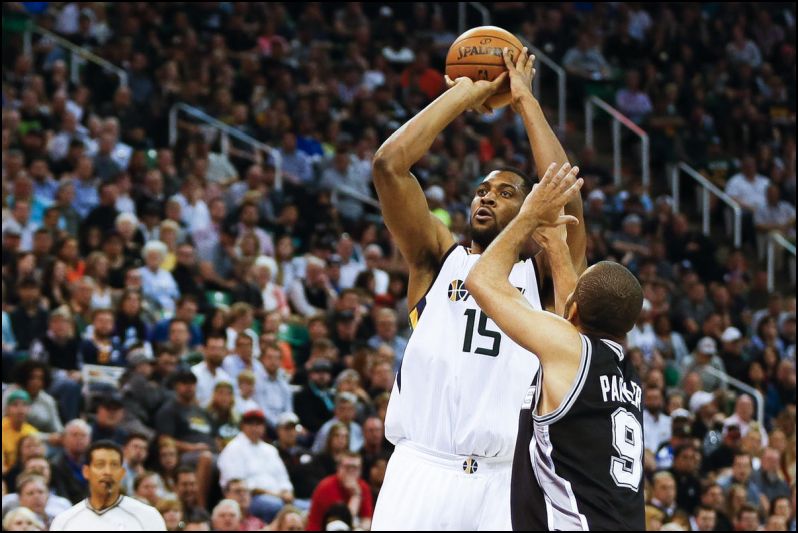 Derrick Favors, UTA at LAC
FanDuel = $7,400
DraftKings = $6,600
Favors is in the midst of his best stretch this season as he is averaging 19.4 points, 8.0 rebounds and 1.8 blocks over his last five games. With so little depth behind him up front due to Rudy Gobert's injury, he is going to continue to see extended playing time. This should be a fun matchup against DeAndre Jordan, one of the few quality big men still healthy on the Clippers. With Jordan likely to get heavy minutes, the Jazz will need Favors to come through again. Without a lot of great options at power forward for your entry, Favors provides one of the safer bets to produce.
Marcus Morris, BOS vs. PHI
FanDuel = $4,600
DraftKings = $4,700
Morris has taken a big step backward in terms of playing time as his 24 minutes per game is his lowest average since the 2013-14 season. With the talent Boston has up front, that shouldn't come as much of a surprise. The good news is that he has done more with less as his 23.9% usage rate is the highest of his career. With Joel Embiid resting for the Sixers Thursday, they could use some smaller-than-usual lineup combinations. The Sixers play at the fourth-fastest pace (104.8) in the NBA already, so this could be one of the more uptempo games you see the Celtics play. Take a chance on Morris to have a big game based on his opponent and his reasonable price.
CENTERS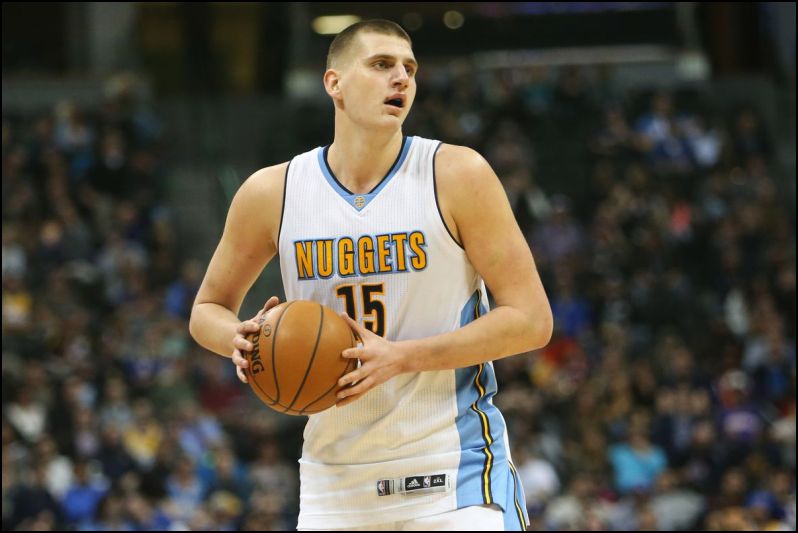 Nikola Jokic, DEN vs. CHI
FanDuel = $9,500
DraftKings = $9,100
With Embiid resting Thursday, Jokic becomes the center with the highest upside. While his scoring is slightly down, his overall numbers are even better than last year as he's averaging 15.9 points, 11.0 rebounds, 4.6 assists, 1.5 steals and 1.4 three-pointers per game. One of the best passing centers in the league, his ability to contribute in multiple categories gives him the potential to provide massive production any given night. With a matchup against the Bulls on the slate, this could be one of those evenings when Jokic leads you to some money in DFS.
DeAndre Jordan, LAC vs. UTA
FanDuel = $7,400
DraftKings = $7,100
With Jordan approaching last-man-standing status in the Clippers frontcourt, he could put up some big numbers going forward. His scoring is down at 10.0 points per game, but he may get a few extra shot attempts with Griffin now on the sidelines. Always a valuable contributor on the glass, he should get all the minutes he can handle Thursday. If you can't pay up for Jokic, Jordan can provide value at a more budget-friendly price.