NBA Daily Fantasy Basketball Lineup Picks for 11/22/17
*Mike Barner*
NBA Daily Fantasy Basketball Lineup Picks for 11/22/17


Use Code "LLNBA17" at checkout for 20% off Seasonal Package
POINT GUARDS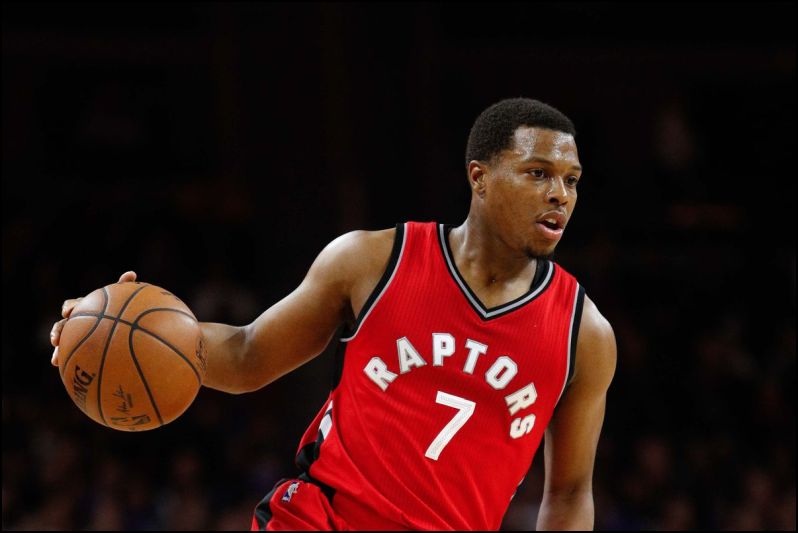 Kyle Lowry, TOR at NY
FanDuel = $8,000
DraftKings = $8,200
Lowry's scoring is down significantly this season at only 14.6 points per game, However, most of that is due to a poor start as he has scored at least 17 points in six of his last seven games. Wednesday brings a rematch against the Knicks, a team that posted 22 points, eight rebounds, 10 assists and five-three pointers against last week. That should come as no surprise as the Knicks struggle to defend opposing point guards, so roll with Lowry again in this game.
Mario Chalmers, MEM vs. DAL
FanDuel = $5,600
DraftKings = $5,000
Chalmers has played well as a member of the starting five for the Grizzlies, averaging 10.5 points, 4.3 rebounds, 6.3 assists and 2.3 steals in four starts this season. While his usage rate is about the same whether he starts or comes off the bench, he's averaging seven more minutes per game as a starter, leading to the added value. The Mavericks are in the top-10 in terms of most fantasy points allowed to opposing point guards this season, making Chalmers an excellent value play.
SHOOTING GUARDS
Bradley Beal, WAS at CHA
FanDuel = $7,700
DraftKings = $7,800
Beal has been an offensive force again this season, averaging 24.2 points and 2.2 three-pointers per game. Throw in averages of 4.9 rebounds, 3.4 assists and 1.2 steals per game and you get an excellent all-around option. His 28.8% usage rate is the highest on the team and puts him inside the top-20 in the NBA. The Hornets are allowing the fifth-most points per game (24.6) to opposing shooting guards this season, making Beal a strong option for your entry.
Troy Daniels, PHO vs. MIL
FanDuel = $3,400
DraftKings = $3,300
With so many elite players in action Wednesday, you want to try and find a couple of really cheap tournament plays to help with your budget. Daniels has surprisingly been a big part of the Suns' offense of late, averaging 15.7 points and 4.3 three-pointers over his last three games. The Suns play at the second-fastest pace (106.6) in the NBA, so Daniels has opportunities to produce even in limited minutes. He won't cost you much, so take a chance on him in tournament play if you need to save some money.
SMALL FORWARDS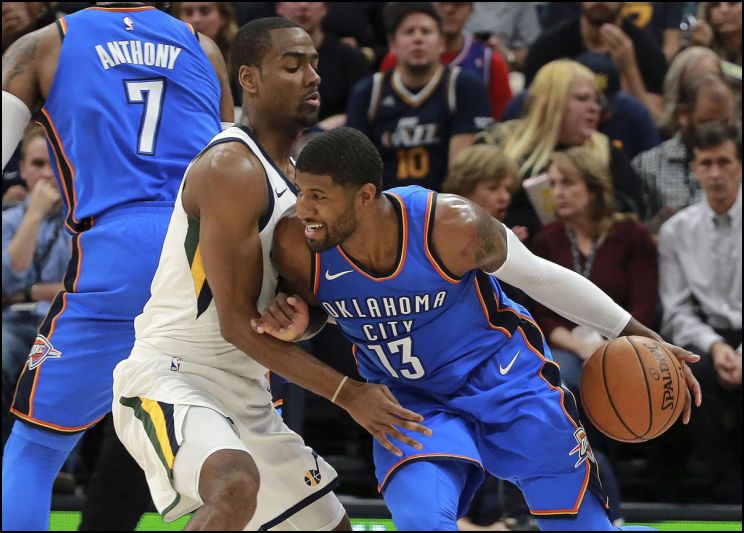 Paul George, OKC vs. GS
FanDuel = $8,500
DraftKings = $8,500
This will be a fun game to see how the Thunder's new "big 3" hold up against the loaded Warriors. While the Thunder are only 7-9 to start the season, George is still averaging 21.9 points, 5.9 rebounds, 2.8 assists, 2.6 steals and 3.4 three-pointers per game. The Thunder have so little depth that even with two other superstars on the team, George can still put up lofty numbers. This has the potential to be a high-scoring contest Wednesday, resulting in George having significant value.
Denzel Valentine, CHI at UTA
FanDuel = $5,100
DraftKings = $4,800
The rebuilding Bulls brought Valentine off the bench to start this season, but have finally moved him to the starting small forward in place of Paul Zipser. Valentine appears to have grabbed hold of the position, averaging 14.7 points, 7.0 rebounds, 4.3 assists and 4.0 three-pointers in his last three games. Without the injured Rudy Gobert anchoring their defense, the Jazz aren't the same team defensively. Valentine has the potential to be one of the best value plays for the evening.
POWER FORWARDS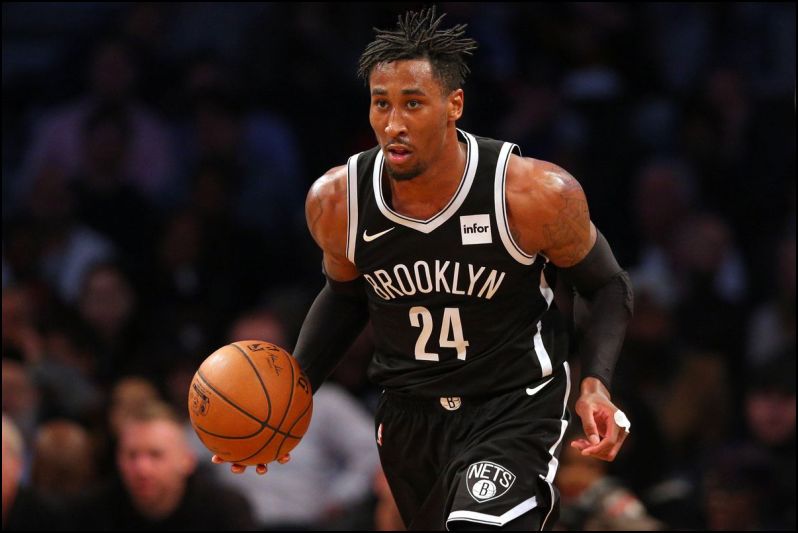 Rondae Hollis-Jefferson, BKN at CLE
FanDuel = $7,200
DraftKings = $6,400
Hollis-Jefferson is coming off one of his best games of the season when he scored 16 points to go along with 12 rebounds, five assists and one steal Sunday against the Warriors. The Cavaliers present a similar opponent in style of play as they too tend to use a lot of small lineups, which is ideal for Hollis-Jefferson. The Nets play at the fastest pace (107) in the NBA, leaving Hollis-Jefferson with plenty of opportunities to provide production. Get him in your lineup at this reasonable price.
Lauri Markkanen, CHI at UTA
FanDuel = $6,200
DraftKings = $6,600
The Bulls continue to struggle this season, but Markkanen has been one of the bright spots on their depleted roster. The rookie is averaging 15.4 points, 8.4 rebounds, and 2.5 three-pointers in 31 minutes per game. The fight between Bobby Portis and Nikola Mirotic opened up a starting spot for Markkanen and it appears he is now going to hold onto it for the rest of the season. As one of the few quality scoring options on the team, he should continue to see heavy minutes again Wednesday. Based on his production and role on the team, this is a very reasonable price for Markkanen on both sites.
CENTERS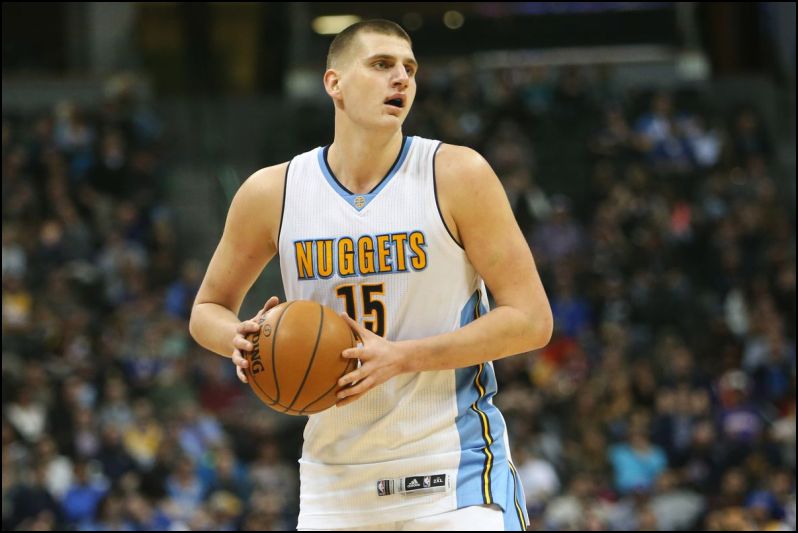 Nikola Jokic, DEN at HOU
FanDuel = $9,000
DraftKings = $8,900
The Nuggets were dealt a significant blow Wednesday when it was announced Paul Millsap needs surgery on his injured wrist and will be out indefinitely. Millsap had the second-highest usage rate (23.7%) on the team, leaving a lot of opportunities for others to produce now that he is out. Jokic was already one of the focal points of the team as he had a 21.1% usage rate himself, but he could see increased production going forward. Both the Nuggets and Rockets and are in the top-12 in the NBA in terms of pace, so this could be a huge night for Jokic.
Thon Maker, MIL at PHO
FanDuel = $3,400
DraftKings = $3,300
The Bucks are going to be thin up front Wednesday as John Henson has already been ruled out for this game with an eye injury. That's not good news because even though the Suns are horrible, they have a lot of size up front in Tyson Chandler, Alex Len, and Greg Monroe. Maker is only averaging 18 minutes per game this season but could see significantly more playing time in this contest. If you want to take a chance on a cheap center in tournament play, Maker could be in line for a decent performance.