NBA Daily Fantasy Basketball Recommendations for January 1 2020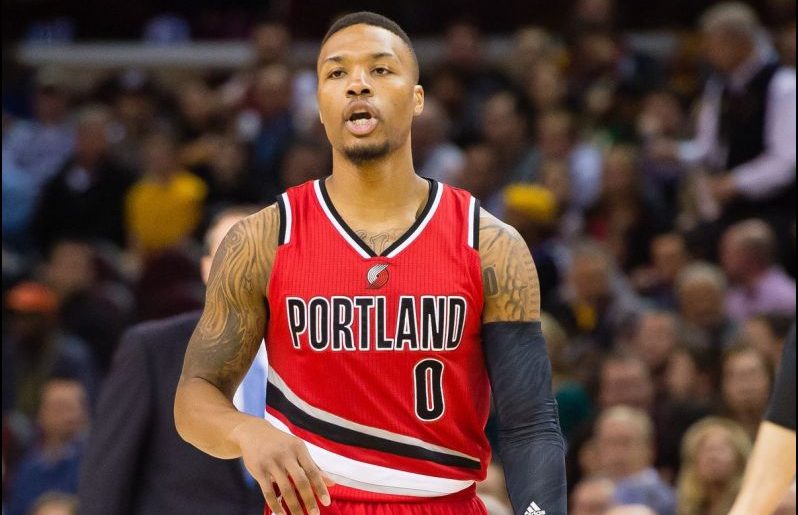 As we ring in the New Year, we have a light four-game schedule in the NBA on Wednesday. Both sites are handling things a little differently with DraftKings including all four games in their main slate while FanDuel only has the three later games in theirs. For the purpose of this article, let's only examine some players to target in the three games that will be included on both sites. Don't forget to sign up for our Newsletter and try our NBA Lineup Optimizer to help build a winning entry on FanDuel and DraftKings.
POINT GUARDS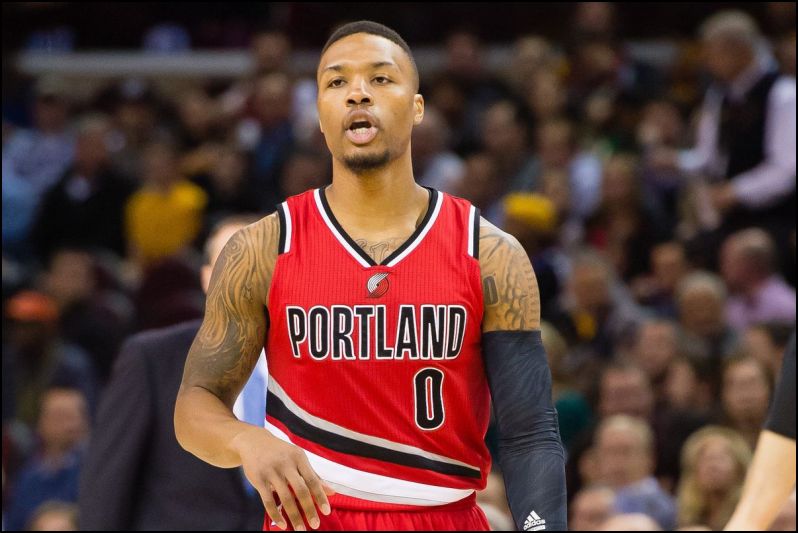 Damian Lillard, POR at NY
FanDuel = $9,300
DraftKings = $9,200
Lillard is on some kind of heater right now. Across his last seven games, he's averaged 30.3 points, 3.6 rebounds, 8.1 assists and four three-pointers. He's averaged a whopping 20.7 shot attempts per game during that stretch and his 28.9 percent usage rate now ranks inside the top-20 in the league. This might seem like it has the potential to be a lopsided affair based on the Knicks' poor record, but the Blazers have not played well on the road, so this might remain close for most of the game. If Lillard plays his normal allotment of minutes, he has the potential to put up a monster stat line.
Shabazz Napier, MIN at MIL
FanDuel = $4,800
DraftKings = $5,800
The Timberwolves are going to be really shorthanded for this game. Among the players who will impact Napier are Andrew Wiggins (illness), who has already been ruled out, and Jeff Teague (knee), who is listed as doubtful. Napier has been a bit up and down since entering the starting lineup, but he showed his upside Monday against the Nets when he recorded 24 points, three rebounds, eight assists and two steals across 34 minutes. Both the Timberwolves and Bucks rank inside the top-four in the league in pace of play, so Napier has plenty of potential, especially at his price on FanDuel.
SHOOTING GUARDS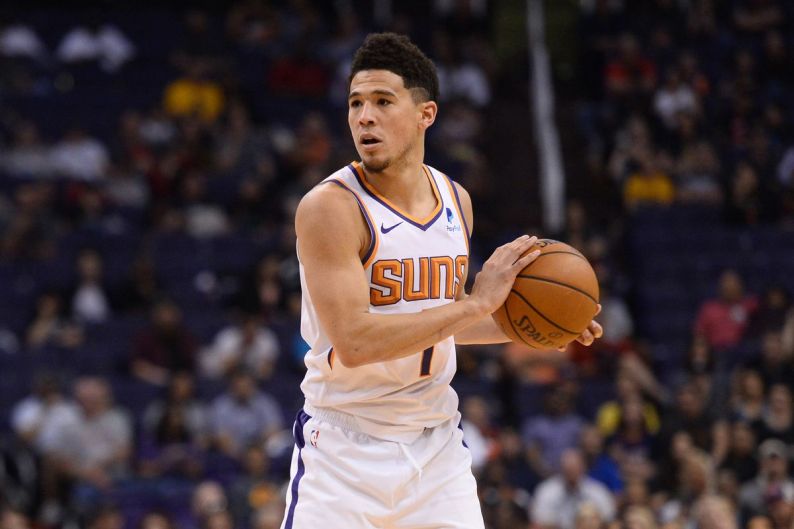 Devin Booker, PHO at LAL
FanDuel = $7,200
DraftKings = $7,400
The Lakers have allowed the fourth-fewest points per game in the league, so this might not seem like a great matchup for Booker. However, he produced 21 points, three rebounds and nine assists the last time these two teams met. With his 28.3 percent usage rate that ranks inside the top-25 in the league, he should once again carry a high floor into this matchup. It also helps that Deandre Ayton is back, leaving another offensive threat for the Lakers to try and slow down.
C.J. McCollum, POR at NY
FanDuel = $7,100
DraftKings = $6,800
Lillard isn't the only member of the Blazers' backcourt who is running hot right now. McCollum is right on his heels, averaging 25.6 points, 4.1 rebounds. 3.9 assists and 2.9 three-pointers over his last eight contests. He averaged 20.5 shot attempts during that stretch, shooting 48.8 percent from the field and 36.5 percent from behind the arc. While I feel more comfortable about Booker's prospects Wednesday, McCollum is also at least worth considering.
SMALL FORWARDS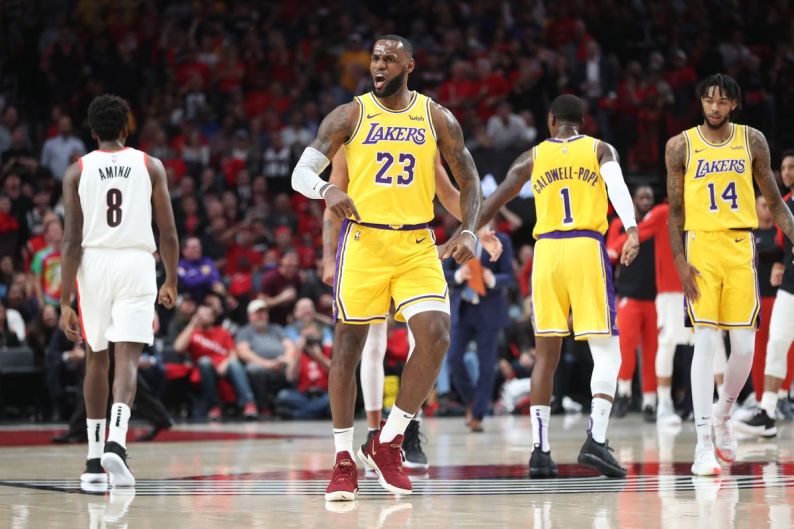 LeBron James, LAL vs. PHO
FanDuel = $11,000
DraftKings = $10,300
James had an off scoring performance in his last game Sunday against the Mavericks, providing just 13 points on 3-for-10 shooting from the field. However, he didn't have a poor performance, overall, with his six rebounds, 13 assists and two steals. The move to point guard has done wonders for his production, leaving him with averages of 25.1 points, 7.5 rebounds and 10.8 assists. With the Suns playing at the 10th-fastest pace in the league, James should once again have plenty of opportunities to stuff the stat sheet.
Jarrett Culver, MIN at MIL
FanDuel = $4,100
DraftKings = $4,800
Culver is another player on the Timberwolves who stands to see more playing time due to their laundry-list of injuries. They leaned on him to play 38 minutes against the Nets on Monday and he came through with 21 points, five rebounds, three assists, three steals and a block. Don't be surprised to see him play at least 30 minutes in this game, as well. Of note, he is only eligible at small forward on FanDuel since he is listed at point guard and shooting guard on DraftKings.
POWER FORWARDS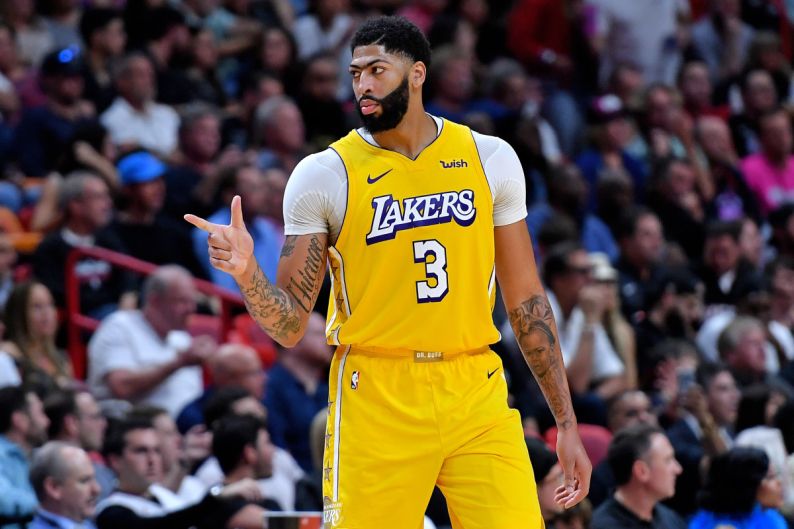 Anthony Davis, LAL vs. PHO
FanDuel = $10,800
DraftKings = $9,900
Davis and James have formed one of the scariest duos in the league. Not only is Davis playing extremely well with his new squad, but he's only missed two games all season. That's important given his checkered injury history. With his averages of 27.3 points, 9.3 rebounds, 3.3 assists, 1.5 steals and 2.5 blocks, he has one of the highest floors of any player on this slate.
Robert Covington, MIN at MIL
FanDuel = $5,100
DraftKings = $5,700
On top of the injuries already mentioned in the Timberwolves' backcourt, Karl-Anthony Towns (knee) has been ruled out while Trevor Graham (illness) is listed as questionable. The Towns injury is obviously the most newsworthy out of those two given his 28.5 percent usage rate. Covington has largely had a disappointing season, part of which can be attributed to him playing just 28 minutes a night. However, he's logged at least 35 minutes in three straight contests, averaging 15.7 points, 7.3 rebounds, 1.7 steals and 1.7 blocks during that stretch.
CENTERS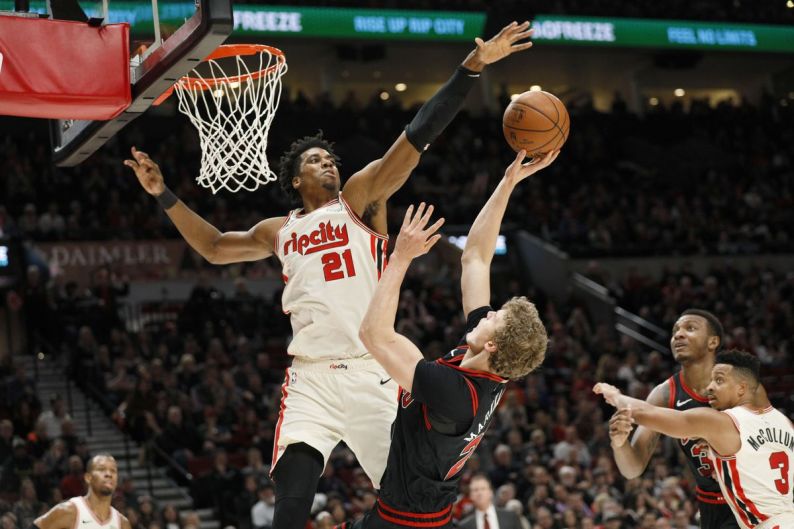 Hassan Whiteside, POR at NY
FanDuel = $9,100
DraftKings = $8,300
After getting worked over by Rudy Gobert last week, Whiteside has bounced back in a big way. First, he posted 19 points, 16 rebounds and four blocks against the Lakers on Saturday. Then he handled the Suns on Monday, recording 16 points, 22 rebounds and three blocks. The Knicks certainly don't have anyone near the caliber of Gobert to throw at Whiteside, leaving him with tremendous upside.
Gorgui Dieng, MIN at MIL
FanDuel = $6,200
DraftKings = $6,400
The normally-healthy Towns is actually set to miss his eighth straight contest. Dieng has started each of the first seven games that Towns has missed, averaging 13.4 points, 10.9 rebounds and two steals along the way. The key is that he averaged 30 minutes a night during a stretch. With their limited depth chart, Dieng should receive all of the playing time that he can handle here, as well.
Author Bio: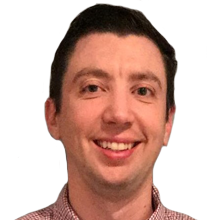 Mike has been covering fantasy sports since 2007, joining Lineup Lab in 2017. An avid player of both season-long fantasy leagues and DFS, Mike's work has appeared on numerous sites, including RotoWire, SportsLine and Sports Illustrated. He's also been featured on DraftKings' nightly show, The Sweat, and was a finalist for the 2018 FSWA Basketball Writer of the Year award. Follow Mike on Twitter @rotomikebarner.