NBA Daily Fantasy Basketball Recommendations for October 30 2019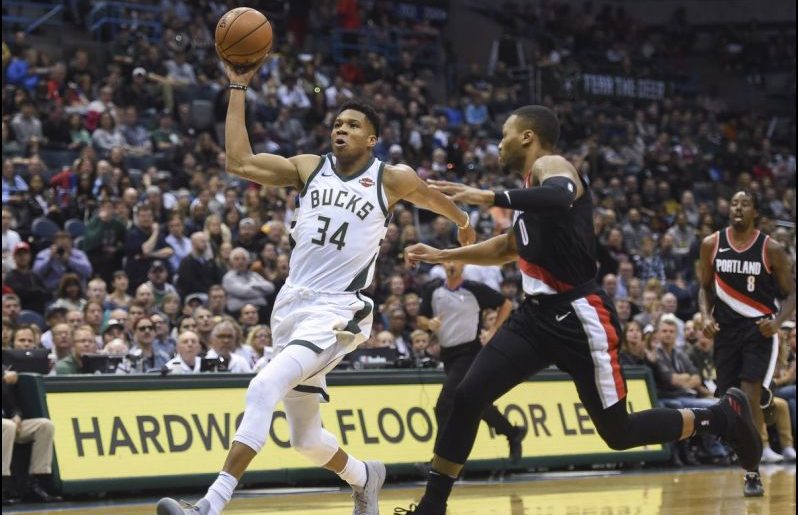 Buckle up for a wild Wednesday with 11 games on the NBA schedule. There are stellar matchups galore, so let's get right to it and discuss a couple of players to target at each position. Don't forget to sign up for our Newsletter and try our NBA Lineup Optimizer to help build a winning entry on FanDuel and DraftKings.
POINT GUARDS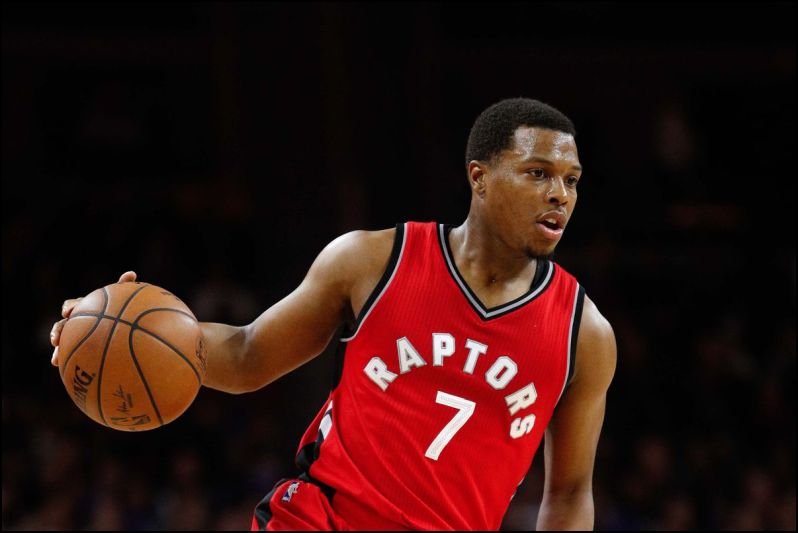 Kyle Lowry, TOR vs. DET
FanDuel = $8,000
DraftKings = $7,400
With Kawhi Leonard gone, Lowry has once again assumed a huge offensive role on the Raptors. He averaged only 14.2 points per game with a 19.6 percent usage rate last season, but he's averaging 22 points with a 22.4 percent usage rate through four games this year. The Pistons have been torched by opposing point guards, most notably Malcolm Brogdon hanging two double-doubles on them. Reggie Jackson (back) will once again be sidelined, leaving Lowry with plenty of upside.
Ricky Rubio, PHO at GS
FanDuel = $6,500
DraftKings = $6,200
In dire need of a point guard after last season, the Suns made a splash by bringing in Rubio. His assist totals were underwhelming with the Jazz, but they didn't play at a fast pace and limited him to 28 minutes a night last season. That's all changed with the Suns, leaving Rubio to average 10 points, eight rebounds, 9.3 assists and two steals in 31 minutes a night through three games. The Warriors haven't been able to slow anyone down with their defense, so look for Rubio to provide another well-balanced line here.
SHOOTING GUARDS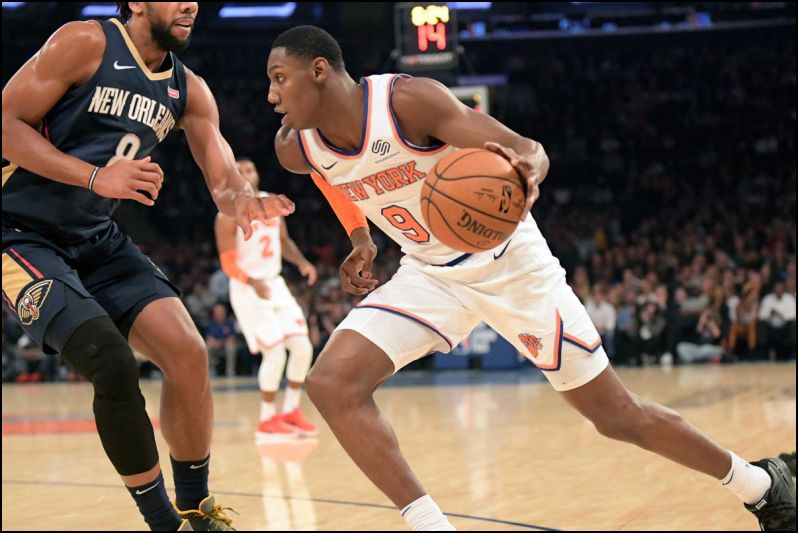 RJ Barrett, NY at ORL
FanDuel = $7,200
DraftKings = $6,500
The Knicks are going to be thin at point guard for this game with Elfrid Payton (hamstring) out and Dennis Smith Jr. (personal) also possibly sidelined. That would leave Frank Ntilikina as the their primary point guard. In other words, Barrett will likely have the ball in his hands a lot. With averages of 20.5 points, 7.5 rebounds, 3.3 assists and two steals out of the gate, the Knicks really couldn't ask for any better of a start from their prized rookie.
Damion Lee, GS vs. PHO
FanDuel = $3,900
DraftKings = $3,000
The Warriors depth chart is a mess. They are still trying to work through rotations, which resulted in them giving Lee extended run in their last game versus the Pelicans. He didn't let his opportunity go to waste, scoring 23 points to go along with 11 rebounds and two assists across 28 minutes. Even if he's not starting, a performance like that has likely at least earned him substantial playing time for this contest. At this price, he could be worth a look in tournament play.
SMALL FORWARDS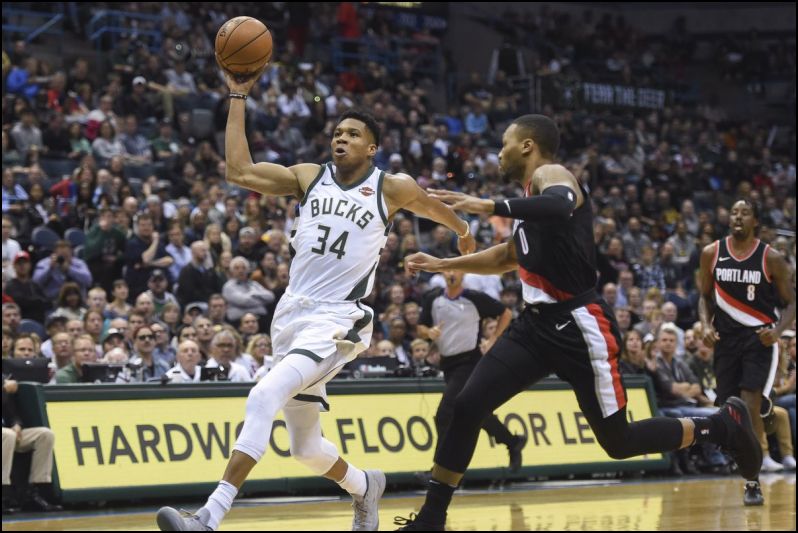 Giannis Antetokounmpo, MIL at BOS
FanDuel = $11,600
DraftKings = $10,800
Giannis owned the Celtics during the playoffs last season, averaging 28.4 points, 11 rebounds, 5.2 assists, 1.4 steals and 1.6 blocks across five games. Now the Celtics don't even have Al Horford to be their defensive anchor in the middle. To make matters worse, the Celtics are also dealing with an injury to Enes Kanter (knee), who is set to sit this one out. Don't expect them to be able to slow down Giannis.
Davis Bertans, WAS vs. HOU
FanDuel = $4,000
DraftKings = $3,700
With so many high-priced players carrying massive upside, taking a chance on a really cheap player or two could be essential for your budget. The Wizards don't have much talent to speak of up front outside of Thomas Bryant and Rui Hachimura, which has enabled Bertans to log at least 27 minutes in each of their three games. He exploded in their last contest against the Spurs, scoring 23 points over 32 minutes. Don't expect that kind of offensive showing again, but that doesn't mean he still can't provide value.
POWER FORWARDS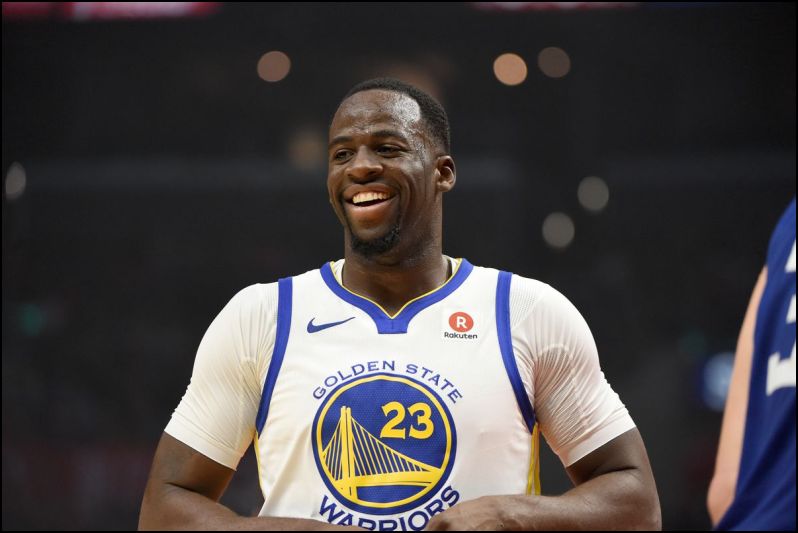 Draymond Green, GS vs. PHO
FanDuel = $8,000
DraftKings = $7,500
The Warriors needed their stars to step up in their last game to finally get their first win. Green was up to the task, finishing with 16 points, 17 rebounds, 10 assists and two steals. As crazy as this might sound, with the way this roster has been built, Green is probably going to need to at least approach a triple-double more often than not if they are going to be successful. With the Suns missing Deandre Ayton (suspension) up front, this is another great spot for Green to shine.
Anthony Tolliver, POR at OKC
FanDuel = $3,700
DraftKings = $3,200
In their first game without Zach Collins (shoulder), the Blazers turned to Tolliver to enter the starting five. Not only did he start, but he played 29 minutes, finishing with five points, 10 rebounds, three assists and a steal. The Thunder don't have a lot of size outside of Steven Adams, so this isn't a bad matchup for Tolliver getting to deal with the likes of Danilo Gallinari and Mike Muscala at the four.
CENTERS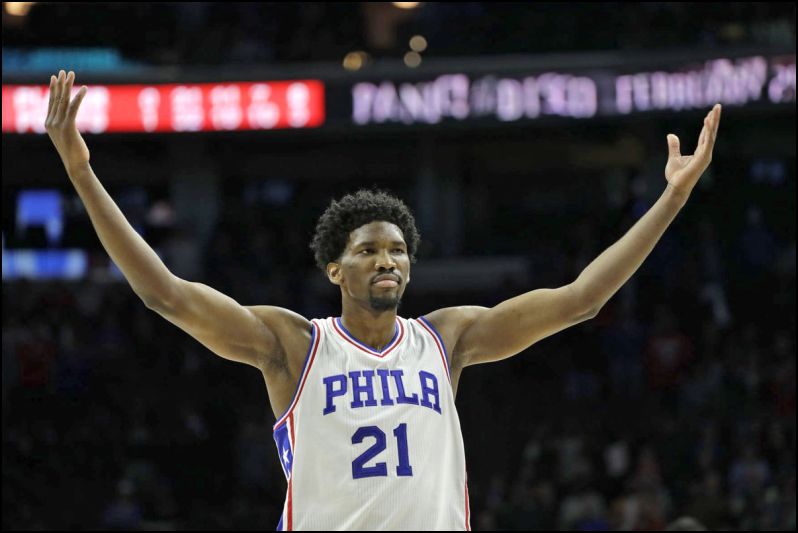 Joel Embiid, PHI vs. MIN
FanDuel = $11,200
DraftKings = $10,000
I couldn't be more excited for this matchup between Embiid and Karl-Anthony Towns. Both have been DFS-monsters and carry tremendous upside. While I wouldn't disparage you for using Towns for this slate, I'll roll with Embiid. After missing one game with an ankle injury, he roared back to provide 36 points, 13 rebounds, five assists, three steals and a block against the Hawks. Making him work within your budget might be difficult, but it could also be well worth it.
Willie Cauley-Stein, GS vs. PHO
FanDuel = $5,500
DraftKings = $4,700
The Warriors should finally receive some much-needed reinforcements up front with Cauley-Stein (foot) expected to make his season debut. He was stuck in a bit of a log jam up front with the Kings last season, but he won't face much of a challenge for playing time here, especially with Kevon Looney (hamstring) out. With the Suns issues up front already discussed, Cauley-Stein has a favorable opportunity to make a good first impressive with his new team.
Author Bio: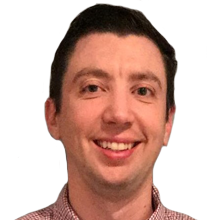 Mike has been covering fantasy sports since 2007, joining Lineup Lab in 2017. An avid player of both season-long fantasy leagues and DFS, Mike's work has appeared on numerous sites, including RotoWire, SportsLine and Sports Illustrated. He's also been featured on DraftKings' nightly show, The Sweat, and was a finalist for the 2018 FSWA Basketball Writer of the Year award. Follow Mike on Twitter @rotomikebarner.