NBA Daily Fantasy Basketball Sleeper Lineup Picks for 1/24/19
*Mike Barner — @rotomikebarner*
There are only four games in the NBA on Thursday, but the evening is full of star power with the Warriors, Thunder, and Blazers all set to take the floor. If you want to get some of the studs into your DFS lineups, you'll need to find some cheaper value plays to help with your budget. Let's examine two players are each position that fit that mold. Don't forget to sign up for our Newsletter and try our NBA Lineup Optimizer to help build a winning entry on FanDuel and DraftKings.
POINT GUARDS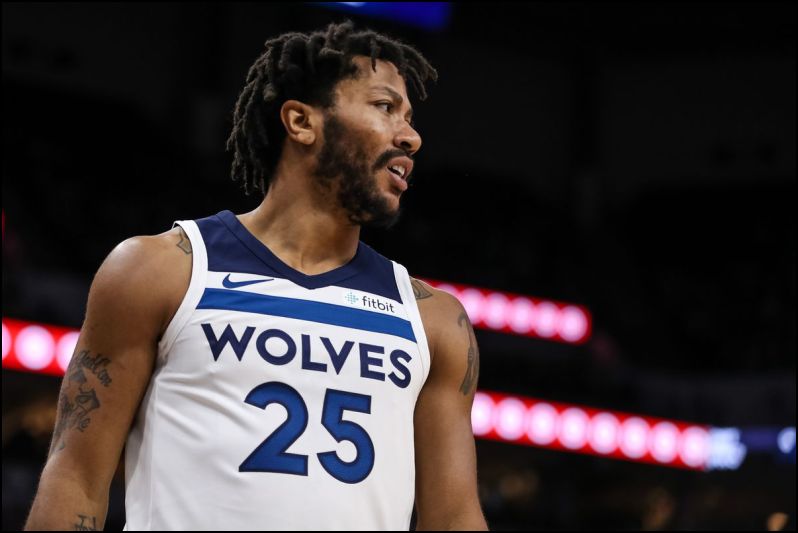 Derrick Rose, MIN at LAL
FanDuel = $6,600
DraftKings = $6,500
The Timberwolves blew out the Suns on Tuesday, leaving Rose to play just 23 minutes. He only attempted nine shots, his fewest in a game in over a month. This matchup is set up for him to have a nice rebound performance considering the Lakers play at the third-fastest pace (104 possessions per game) in the league. Jeff Teague (foot) is listed as questionable and Tyus Jones (ankle) might not be able to play again Thursday, either, which could leave Rose with plenty of playing if this game stays close.
Tomas Satoransky, WAS vs. GS
FanDuel = $6,000
DraftKings = $5,400
Satoransky continues to receive significant playing time with John Wall (heel) out, logging at least 30 minutes in eight of his last 11 games. That's an important threshold for him to reach since he has averaged 12.6 points, 5.5 rebounds, 5.9 assists and 1.7 steals across 11 games in which he's played at least 30 minutes. This has the potential to be a high scoring game between two teams that are both in the top-10 in the league in pace of play, making Satoransky an intriguing option.
SHOOTING GUARDS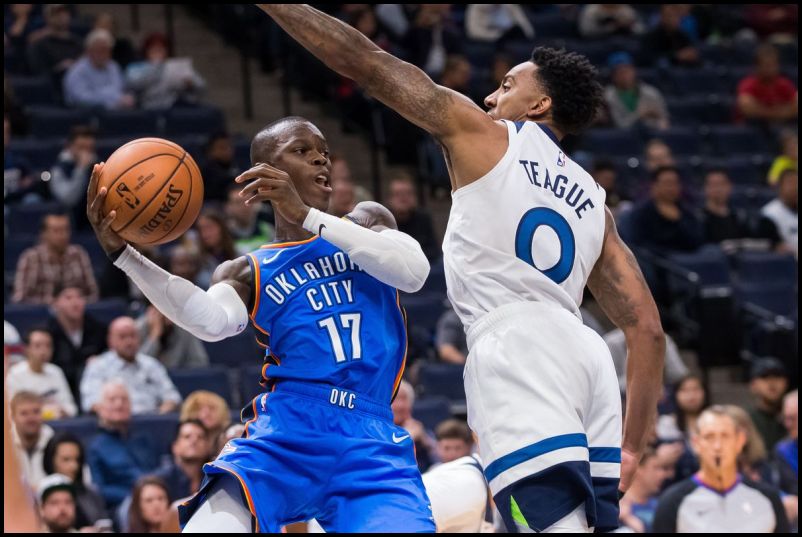 Dennis Schroder, OKC vs. NO
FanDuel = $5,700
DraftKings = $4,800
Schroder had a lofty 30.4 percent usage rate on a bad Hawks team last year, so there was no question that number was going to decline this season playing with Russell Westbrook and Paul George. While that has come to fruition, he's still one of the Thunder's main scoring options with his 25.5 percent usage rate. This is another great opportunity for him to be productive with the both the Thunder and the Pelicans inside the top-six in pace of play. In his first two meetings with the Pelicans, he's averaged 23 points, three rebounds, and three assists.
Josh Hart, LAL vs. MIN
FanDuel = $4,600
DraftKings = $4,600
Hart returned to the starting five Tuesday, but only played 20 minutes due to the lopsided score. There's a chance he could return to the bench for this contest if Rajon Rondo (hand), who is listed as questionable, is able to play. Even if Rondo does return, the Lakers will still be playing shorthanded without LeBron James (groin) and Lonzo Ball (ankle). There should be enough available minutes for Hart to at least be worth considering at this cheap price.
SMALL FORWARDS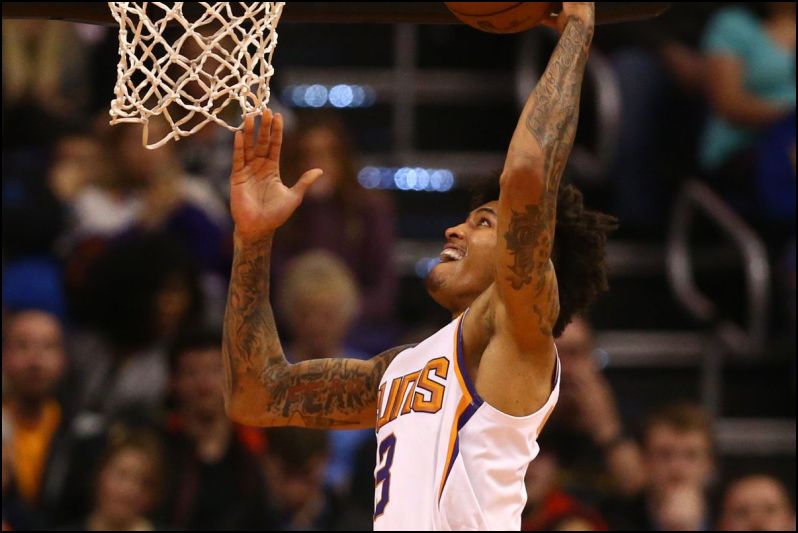 Kelly Oubre Jr., PHO vs. POR
FanDuel = $6,000
DraftKings = $5,700
Yet another injury has impacted the Suns with T.J. Warren (ankle) being their lastest player to go down. He's already been ruled out for Thursday, which is significant considering he's averaging 32 minutes a game and has a 22.9 percent usage rate. Oubre is one of the players who should see increased playing time as a result of Warren's absence. Oubre is already rolling with averages of 19.8 points, 5.6 rebounds and 1.5 steals across his last eight games, so any added minutes could be huge for his upside.
Jeff Green, WAS vs. GS
FanDuel = $4,500
DraftKings = $4,300
Otto Porter Jr. is starting to come on strong for the Wizards but they continue to bring him off the bench. Green has been the one in the starting five and has averaged 12.4 points, 4.8 rebounds and 2.2 assists across 22 games in that role. Based on the pace at which this game should be played, Green is a viable option at his cheap price on both sites.
POWER FORWARDS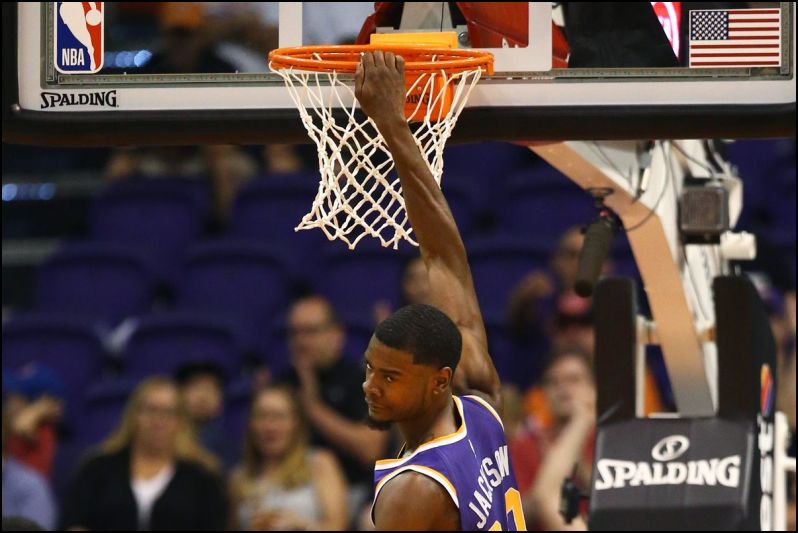 Josh Jackson, PHO vs. POR
FanDuel = $5,300
DraftKings = $5,300
The other player who should benefit from the absence of Warren is Jackson, who could even move into the starting five. Regardless of whether he starts or not, the potential for added playing time makes Jackson very appealing. Over the nine games in which he has played at least 30 minutes, he's been very productive with averages of 15 points, 5.9 rebounds, 4.2 assists, and 1.1 steals.
Dragan Bender, PHO vs. POR
FanDuel = $4,600
DraftKings = $4,600
The Suns' frontcourt could be extremely thin in this game with Deandre Ayton (ankle) and Richaun Holmes (foot) listed as questionable. Ayton and Holmes have missed back-to-back games, which left Bender to start. He came through with a double-double in both games, so it's hard to argue against rolling with him at this price if he starts despite the Blazers being tough on opposing centers.
CENTERS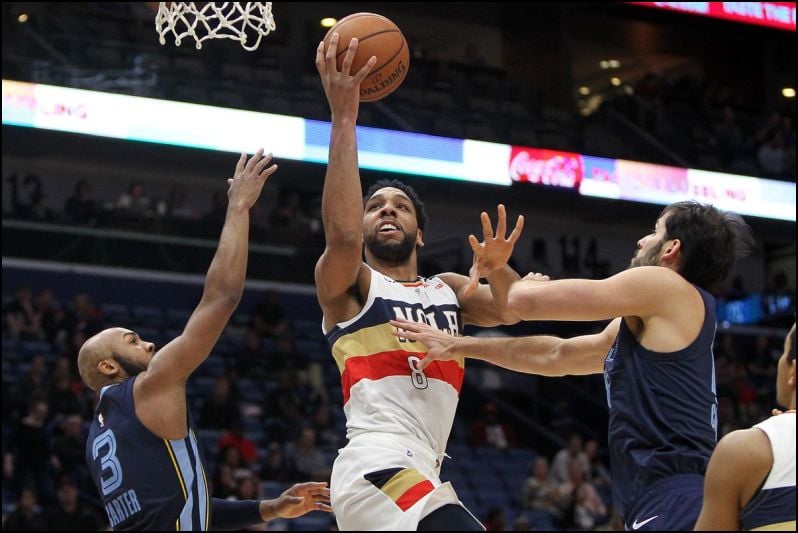 Jahlil Okafor, NO at OKC
FanDuel = $5,500
DraftKings = $4,900
Okafor hasn't had many opportunities to take the floor with the Pelicans. However, they decided to move him into the starting five due to the injury to Anthony Davis (finger). To say that the experiment has gone well is an understatement. He played at least 31 minutes in both games, averaging 18.5 points, 10 rebounds, and four blocks. Expect him to start again Thursday, leaving him with plenty of upside if you're looking to save some money at center.
Ivica Zubac, LAL vs. MIN
FanDuel = $4,800
DraftKings = $4,700
Zubac is heating up again. He's played at least 20 minutes in each of the last three games, which helped him average 20.3 points and 7.7 rebounds during that stretch. Tyson Chandler is starting to see his playing time trail off, so don't be surprised if Zubac continues to hang onto an expanded role. His upside isn't as high as Okafor's, but Zubac is not someone to overlook if you can't make Okafor's price work within your budget.
Author Bio: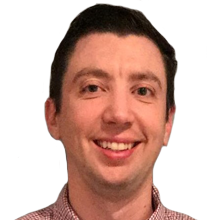 Mike has been covering fantasy sports since 2007, joining Lineup Lab in 2017. An avid player of both season-long fantasy leagues and DFS, Mike's work has appeared on numerous sites, including RotoWire, SportsLine and Sports Illustrated. He's also been featured on ESPN Radio and DraftKings' nightly show, The Sweat.