NBA Daily Fantasy Basketball Sleeper Lineup Picks for 10/16/18
*Mike Barner — @rotomikebarner*
After an eventful summer that saw stars like LeBron James and Kawhi Leonard change teams, the NBA season tips off with a two-game slate Tuesday. Normally we highlight cheaper sleeper plays that could help you cash in DFS. However, since there are only two games to select from, we'll take a look at some of the better options available across the entire price scale. Don't forget to sign up for our Newsletter and try our Playerlab tool, where you can filter the stats that matter the most and help build a winning entry on FanDuel and DraftKings.
POINT GUARDS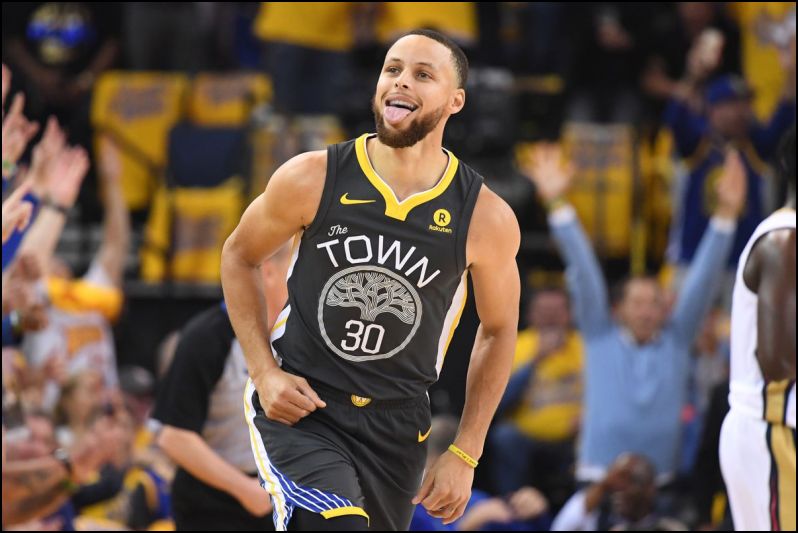 Stephen Curry, GS vs. OKC
FanDuel = $9,600
DraftKings = $8,600
The Warriors made a big splash in free agency by signing DeMarcus Cousins. Cousins has traditionally been among the league leaders in usage rate, but he's obviously never been surrounded by such elite scoring talent. It will be interesting to see how his addition impacts the rest of the All-Stars on the team, but that's of no concern Tuesday as Cousins continues to work his way back from a torn Achilles. Curry's 30.6% usage rate was 10th-highest in the league last season and the Warriors played a the fifth-fastest pace (100.4 possessions per game), so expect him to have plenty of opportunities to contribute in their opener.
Markelle Fultz, PHI at BOS
FanDuel = $5,700
DraftKings = $5,000
Fultz's rookie campaign was nothing short of a disaster. The top pick in the draft played only 14 games due to injury and worked extensively to try and correct his shooting woes. In something you don't really see in the NBA, the Sixers used Fultz in the starting lineup to begin games during the preseason but brought him off the bench in the second half. They have confirmed they will also deploy this strategy Tuesday, so expect Fultz to play somewhere around the 23 minutes per game that he averaged across the preseason. His upside isn't very high, but if you want to go cheap at point guard, he's at least someone to consider based on his new role.
SHOOTING GUARDS
Dennis Schroder, OKC at GS
FanDuel = $6,100
DraftKings = $6,300
The addition of Schroder could prove to be significant for the Thunder. He was stellar for the Hawks last year, averaging 19.4 points, 3.1 rebounds, 6.2 assists, 1.1 steals and 1.1 three-pointers per game. Expect those numbers to decline playing alongside Russell Westbrook and Paul George, but Westbrook might not play in this contest as he recovers from knee surgery. If he indeed sits, George is going to need all the help he can get to keep up with the Warriors high-scoring offense, so expect Schroder to be productive.
Andre Iguodala, GS vs. OKC
FanDuel = $4,300
DraftKings = $4,000
The Warriors could be forced to play a lot of small lineups Tuesday. Not only is Cousins out, but Draymond Green is likely going to be on a minutes limit as he battles a knee injury. The Warriors don't have much size behind Green, so expect Iguodala to be heavily involved. Although Iguodala likely won't be counted on to provide much scoring, that doesn't mean he can't provide value at this price in tournament play.
SMALL FORWARDS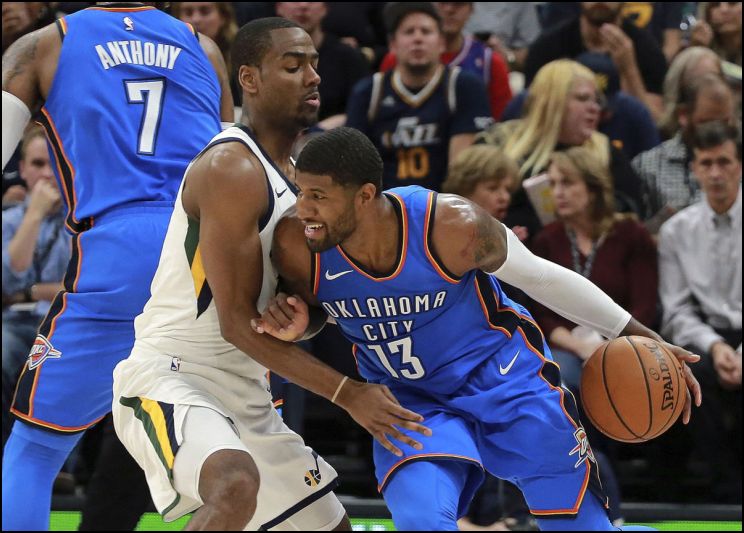 Paul George, OKC at GS
FanDuel = $9,000
DraftKings = $8,000
The star trio of George, Westbrook and Carmelo Anthony didn't work for the Thunder last year. With Anthony now a member of the Rockets, George and Westbrook will have to shoulder even more of the scoring load. George was already extremely productive last year by averaging 21.9 points per game, but his 25.7% usage rate was his lowest mark since the 2012-13 season. He's going to get all the shots he can handle if Westbrook is sidelined, but he's a great option even if Westbrook manages to take the floor.
Robert Covington, PHI at BOS
FanDuel = $6,500
DraftKings = $4,700
Covington sometimes gets lost behind Ben Simmons and Joel Embiid, but his ability to shoot three's and play defense are critical for the Sixers. His offensive ceiling is capped playing with those two stars, but he did average 12.6 points and 2.5 three-pointers per game last season. The Sixers are going to be somewhat thin at small forward with Wilson Chandler out due to a hamstring injury, which opens up the door for Covington to provide added value.
POWER FORWARDS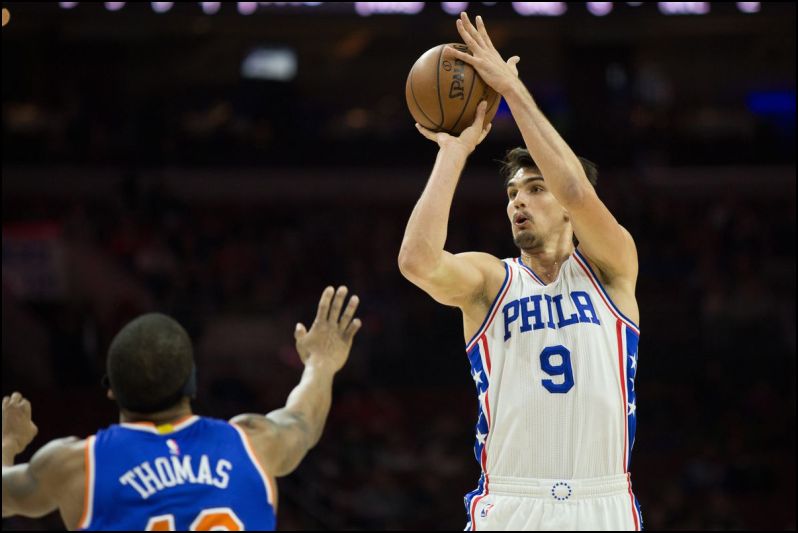 Dario Saric, PHI at BOS
FanDuel = $6,400
DraftKings = $5,500
Saric made significant improvements offensively last season. After shooting 41.1% from the field and 31.1% from behind the arc during his rookie season, he shot 45.3% from the field and 39.3% on three-pointers last year. His ability to create spacing is key, especially with Simmons' limited range. He averaged 30 minutes a night and should have a similar role this season, leaving him one of the better options at possibly the thinnest position of the night.
Jerami Grant, OKC at GS
FanDuel = $4,700
DraftKings = $4,300
The loss of Anthony has created a hole at power forward for the Thunder that will be filled by the combination of Grant and Patrick Patterson. Neither played heavy minutes consistently last year, but Grant possessed the better per-36 minutes averages of 14.9 points, seven rebounds, and 1.7 blocks. He may be better suited in this game to play against the lengthy, athletic wings for the Warriors and won't cost much more than the minimum on both sites, so he might be worth taking a flier on.
CENTERS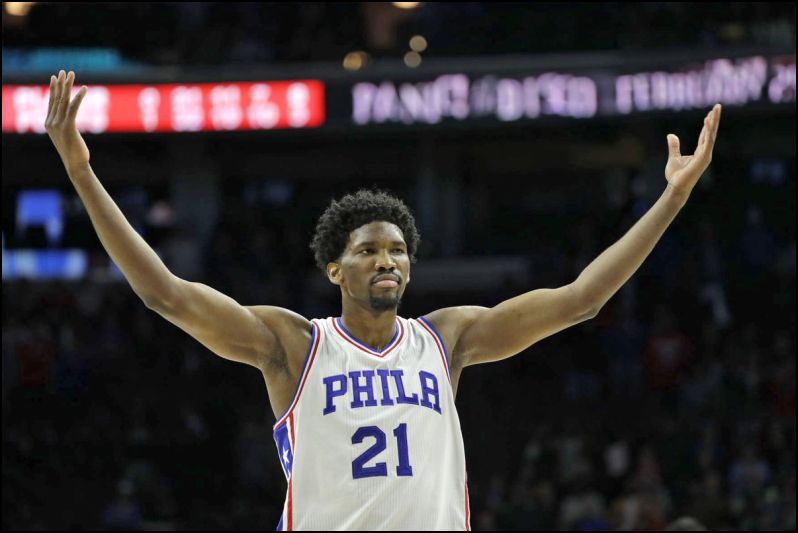 Joel Embiid, PHI at BOS
FanDuel = $10,400
DraftKings = $8,800
Embiid only played in 63 games during the regular season last year, but he was a monster when he was on the court. His 33.5% usage rate was not only the highest on the team, but it was the third-highest in the league behind only James Harden and Westbrook. He wasn't just about scoring, though, averaging 11 rebounds, 3.2 assists and 1.8 blocks per contest. The Celtics are a tough defensive team, but Embiid averaged 23 points, 14 rebounds and 3.6 assists per game against them in the playoffs last year.
Steven Adams, OKC at GS
FanDuel = $6,900
DraftKings = $5,800
The Thunder had very little size outside of Adams last year, leading to him averaging a career-high 33 minutes per contest. He cashed in his opportunity, averaging 13.9 points, nine rebounds, 1.2 steals and one block. His 55.9% free-throw percentage left a lot to be desired if you played in a season-long league, but that's of no concern in DFS. This could be a matchup to exploit against the Warriors with Green potentially limited and few quality options behind him at center, although you will need to monitor Adams' status since he is listed as questionable with a stiff lower back. If he doesn't play, pivot to Nerlens Noel.