NBA Daily Fantasy Basketball Sleeper Lineup Picks for 11/20/18
*Mike Barner — @rotomikebarner* 
There's not a ton of action with just four games in the NBA on Tuesday. That doesn't leave us with many value play options, but that doesn't mean there still aren't some great ones to consider. Here are some players at each position that stand out for the slate. Don't forget to sign up for our Newsletter and try our Playerlab tool, where you can filter the stats that matter the most and help build a winning entry on FanDuel and DraftKings.
POINT GUARDS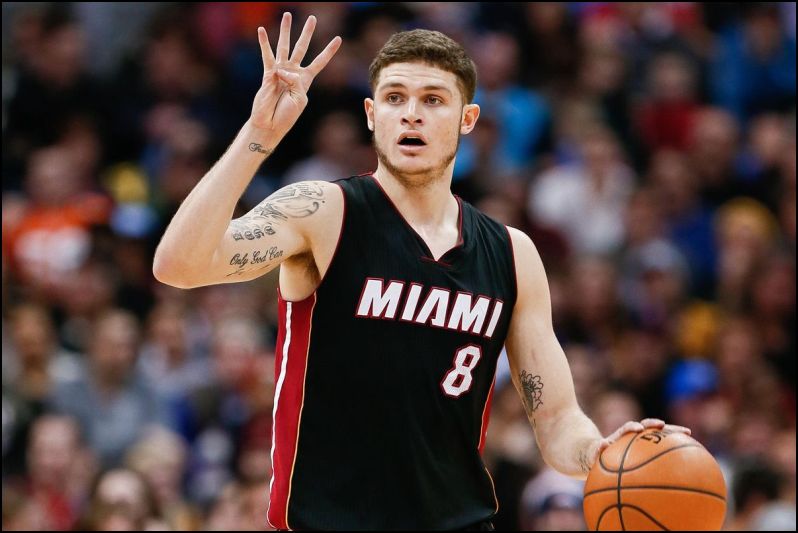 Tyler Johnson, MIA vs. BKN
FanDuel = $5,600
DraftKings = $5,400
The Heat will be without Goran Dragic (knee) on Tuesday, marking the fifth game in which he has missed this season. Across the previous four contests, Johnson averaged 14.5 points, 3.5 assists, and 1.3 steals. The key is that he logged at least 32 minutes in three of those contests. Don't expect him to start against the Nets, but he's still likely going to receive enough playing time to be a great option at this price.
D.J. Augustin, ORL vs. TOR
FanDuel = $4,700
DraftKings = $4,300
Augustin has racked up at least seven assists in each of his last three games as he continues to run the point for the Magic. He hasn't just been stockpiling assists, either, scoring at least 12 points in back-to-back contests. His overall upside is limited based on his 15.5 percent usage rate, but the Magic have little choice but to give him the bulk of the minutes at point guard, making him a viable option for such a small slate.
SHOOTING GUARDS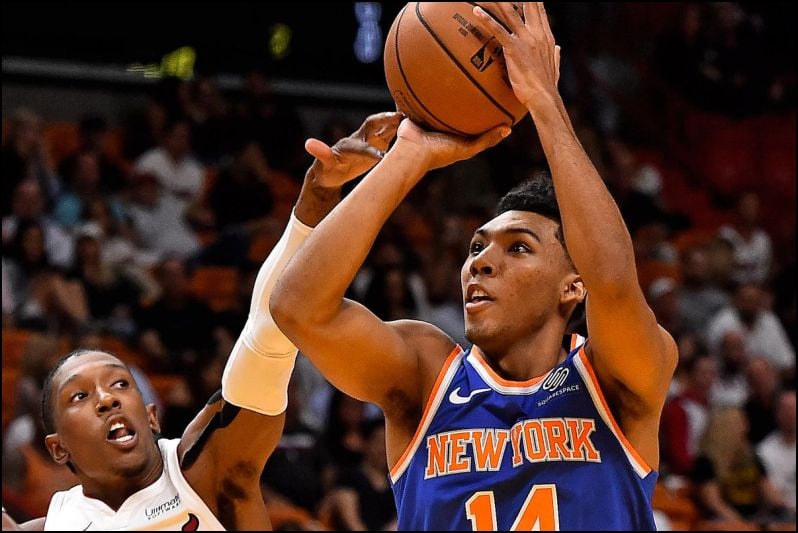 Allonzo Trier, NY vs. POR
FanDuel = $4,200
DraftKings = $4,000
The Knicks are trying anything and everything right now in terms of rotations. In their last game against the Magic, they started Trier, Kevin Knox, Emmanuel Mudiay and Mitchell Robinson alongside Tim Hardaway Jr. It was a disaster, which led to Enes Kanter, Noah Vonleh and Trey Burke logging significant minutes off the bench. Trier only had seven points and two rebounds across his 13 minutes after logging at least 32 minutes in back-to-back contests. He's shown the ability to score when given the opportunity, making him a risk worth considering at this price.
Wayne Ellington, MIA vs. BKN
FanDuel = $4,200
DraftKings = $4,400
Johnson isn't the only player on the Heat who has benefited from Dragic missing time this year. In those four games that Dragic was previously unable to play, Johnson scored at least 19 points twice. It's hard to count on Ellington for much outside of points and steals, but he can get hot in a hurry from behind the arc. The return of Dwyane Wade (personal) does hurt Ellington's upside some, but he should still receive added playing time.
SMALL FORWARDS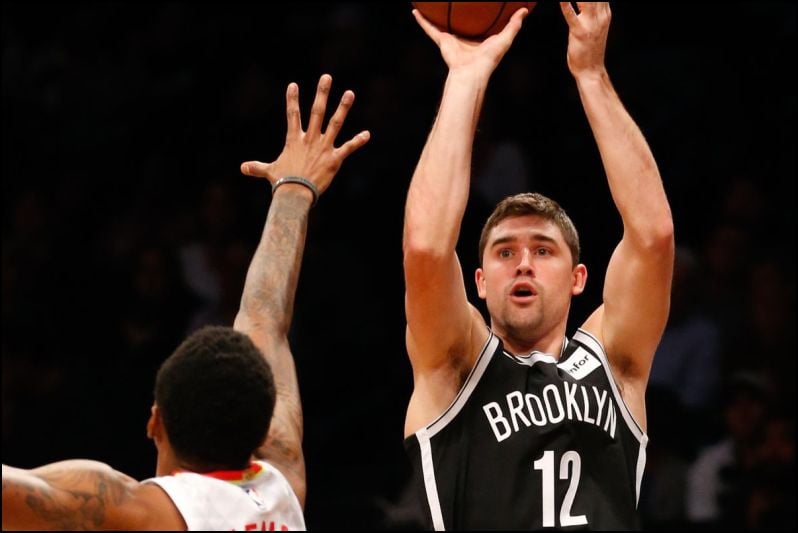 Joe Harris, BKN at MIA
FanDuel = $4,700
DraftKings = $4,600
Harris has started all 17 games for the Nets this season, averaging 13.5 points, 3.4 rebounds, and 2.2 assists across 29 minutes a game. He's one of their most lethal three-point shooters, averaging 2.5 a game while shooting 50.6 percent from behind the arc. This could be an opportunity for him to shine against a Heat team that has allowed the third-highest three-point shooting percentage (37.9 percent) in the league.
Jeff Green, WAS vs. LAC
FanDuel = $4,200
DraftKings = $4,200
The Wizards have certainly dug themselves an early hole at 5-11. The locker room appears to be a mess and there are already rumors of them looking to make trades. One player who has quietly performed well is Green, who is averaging 10.4 points and 5.3 rebounds per game. The Wizards could be without Dwight Howard (back) for this game, which would likely force them to play a lot of small lineups. Green would likely see added minutes in that scenario, so keep an eye on Howard's status leading up to tip-off.
POWER FORWARDS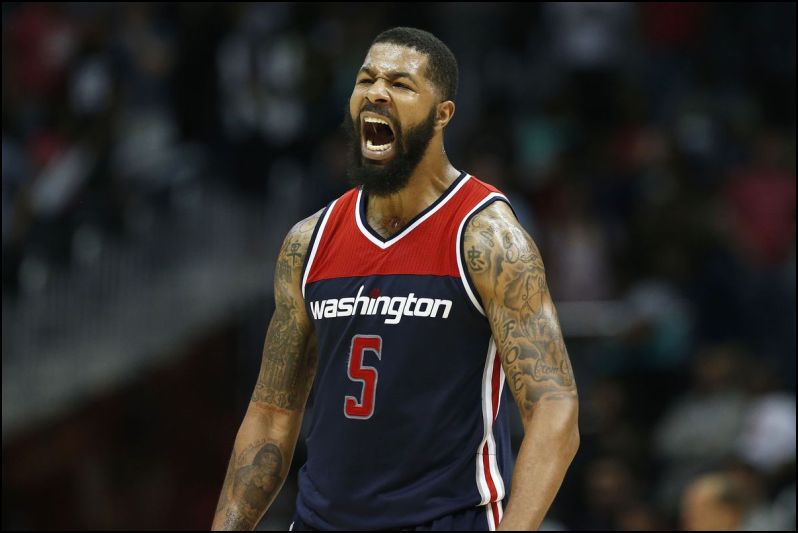 Markieff Morris, WAS vs. LAC
FanDuel = $4,400
DraftKings = $4,900
Another player who would benefit greatly if Howard can't play is Morris. With Howard sidelined for the first six games of the season, Morris averaged 12.7 points, 5.5 rebounds, and 1.2 blocks. Over nine games since Howard made his debut, Morris has averaged just 7.7 points, 3.6 rebounds, and 0.3 blocks. Both of these teams are in the top-eight in the league in pace of play, so any added role could provide significant returns for Morris.
Ed Davis, BKN at MIA
FanDuel = $4,000
DraftKings = $3,900
If there is one thing you can count on from Davis, it's that he's going to attack the glass. He only averaged 19 minutes a game last year with the Blazers, but still grabbed 7.4 rebounds a night. Despite logging just 17 minutes a game since joining the Nets, he's actually been even better with 8.3 rebounds per contest. The Nets are going to need Davis to battle with Hassan Whiteside and Bam Adebayo, making him a viable target at this price.
CENTERS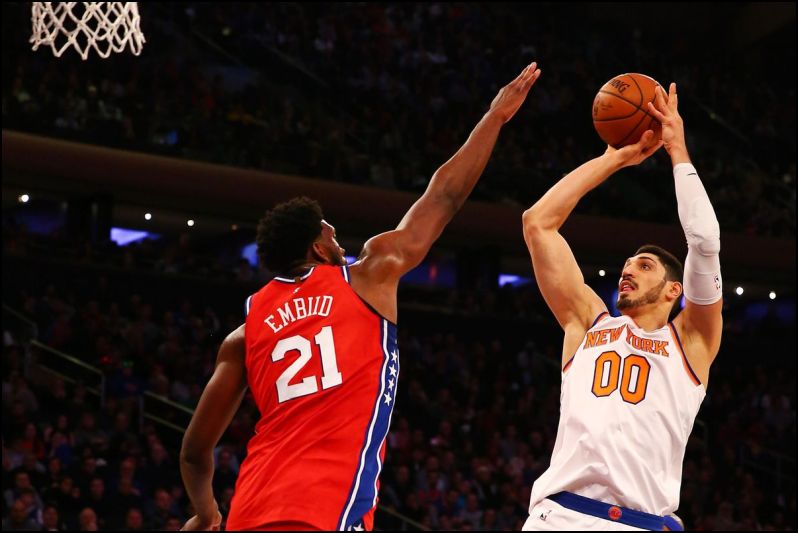 Enes Kanter, NY vs. POR
FanDuel = $6,500
DraftKings = $6,300
Kanter played 38 minutes off the bench Sunday against the Magic, posting 21 points and 19 rebounds. The Knicks continue to play him with their second unit, but they've lost five straight, so it's fair to question why he isn't starting. Luckily, his 25.9 percent usage rate off the bench has still enabled him to average 15 points and 12.1 rebounds per game in that role. Look for him to at least be a double-double threat again Tuesday.
Mitchell Robinson, NY vs. POR
FanDuel = $4,200
DraftKings = $3,600
Robinson is certainly someone you only want to consider in tournament play. Even then, he's awfully risky. He had five fouls in just nine minutes against the Magic, leaving him with 14 fouls across his last three games. His offensive game is still very raw, but he can pile up rebounds and blocks in a hurry due to his athleticism. With so few quality cheap centers on the board, Robinson should at least be in the discussion if you want to save money at the position.