NBA Daily Fantasy Basketball Sleeper Lineup Picks for 11/21/18
*Mike Barner — @rotomikebarner* 
There are no games in the NBA on Thursday because of Thanksgiving, but Wednesday brings a packed slate of 13 games. Let's try to go into the off day on a high note with a winning DFS entry. Here are some cheap value plays that could help lead you to a successful evening. Don't forget to sign up for our Newsletter and try our Playerlab tool, where you can filter the stats that matter the most and help build a winning entry on FanDuel and DraftKings.
POINT GUARDS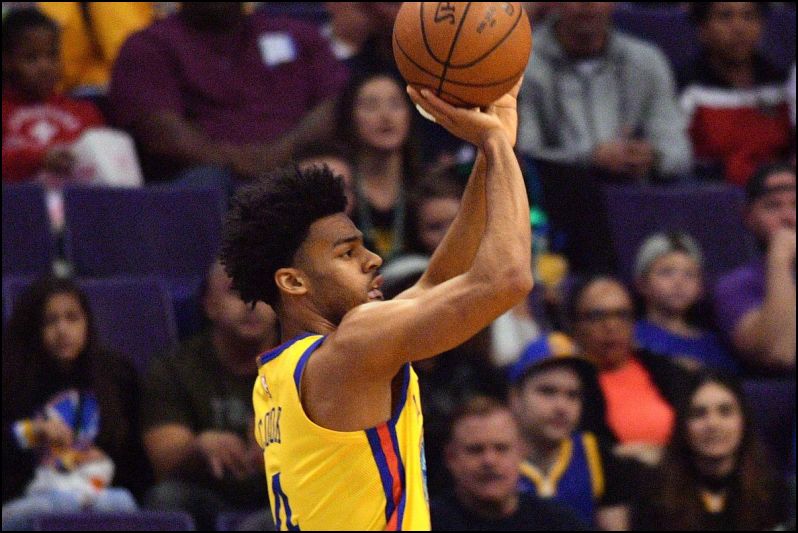 Quinn Cook, GS vs. OKC
FanDuel = $5,600
DraftKings = $5,300
The Warriors will continue to have their depth tested Wednesday with Stephen Curry (groin) and Draymond Green (toe) out. Cook has played an increased role since Curry went down, but his upside really increases when Green is out, as well. Across four games that both Curry and Green have missed, Cook averaged 19 points, 3.8 rebounds, and four assists. His price has climbed since taking on a more significant role, but Cook is still cheap enough to consider for your entry.
Fred VanVleet, TOR at ATL
FanDuel = $4,500
DraftKings = $4,900
The Raptors could have depth issues of their own Wednesday. Playing in the second game of a back-to-back set, it wouldn't be surprising to see Kawhi Leonard sit since he hasn't played two straight days yet this season. Kyle Lowry also entered Tuesday's game with an ankle injury and even though he played, there could be a chance he is rested against a far inferior Hawks team, as well. VanVleet started with Leonard out Saturday against the Bulls and scored 18 points to go along with four rebounds, four assists, one steal, and one block. This could be a great opportunity for him to shine.
SHOOTING GUARDS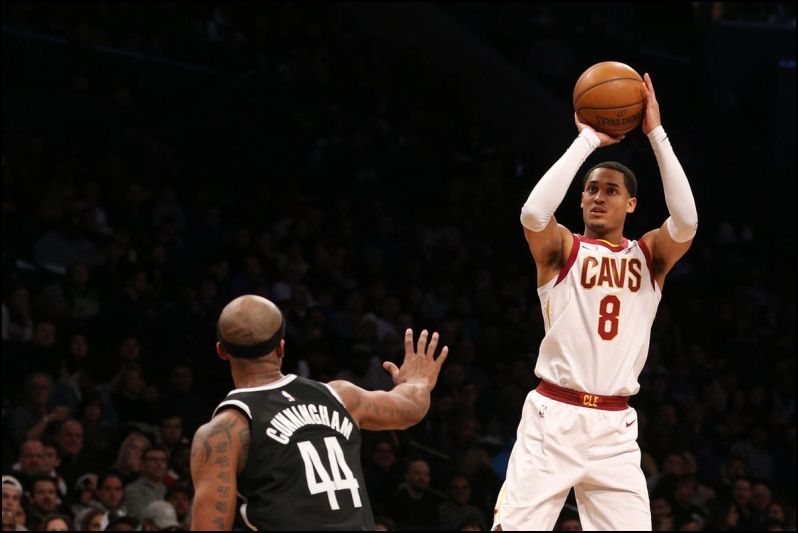 Jordan Clarkson, CLE vs. LAL
FanDuel = $5,600
DraftKings = $5,200
The Cavaliers are not only running out of healthy players but now J.R. Smith is away from the team as they work on trading him. They don't have many offensive weapons left, resulting in them averaging the fourth-fewest points per game (103.3) in the league. Clarkson does a lot of the heavy lifting on offense with a 28.5 percent usage rate, which is by far the highest mark of his career. The Lakers play at the fourth-fastest pace (104.9 possessions per game), so Clarkson could receive even more opportunities to fill up the scoring column Wednesday.
Bogdan Bogdanovic, SAC at UTA
FanDuel = $4,600
DraftKings = $4,100
After missing the start of the season due to injury, Bogdanovic has come off of the bench in all six games since his return. After a quiet couple of first performances, Bogdanovic is averaging 16 points, 2.3 rebounds, and 3.3 assists across his last four games. He hasn't played more than 25 minutes in any of those contests, but the Kings play at the second-fastest pace (106.5), which provides a boost to his upside.
SMALL FORWARDS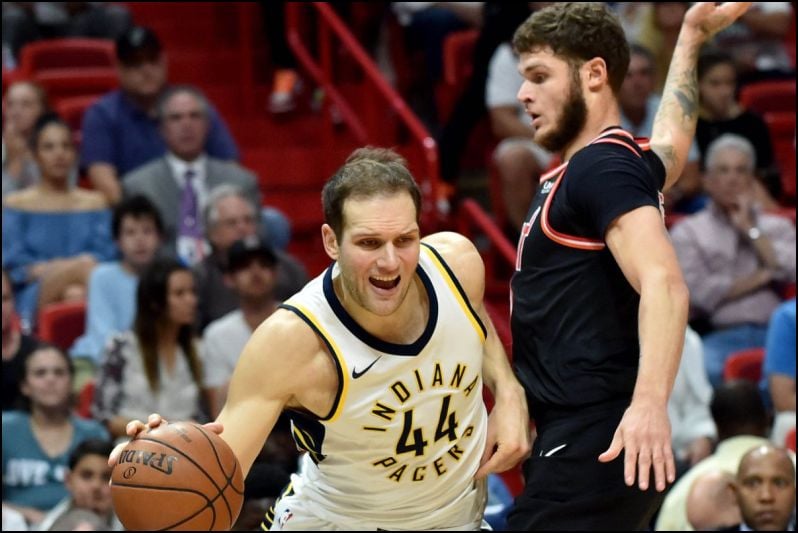 Bojan Bogdanovic, IND at CHA
FanDuel = $4,900
DraftKings = $4,800
Victor Oladipo (knee) was unable to play Monday against the Jazz, which helped Bogdanovic tie his season high with 14 shot attempts. Oldaipo is listed as questionable for this contest, so if he is ruled out, Bogdanovic could be a steal at this price. Even if Oladipo does play, Bogdanovic is worth considering since he is averaging 15.1 points, 3.8 rebounds, and 0.9 steals for the season, overall.
Dorian Finney-Smith, DAL vs. BKN
FanDuel = $4,200
DraftKings = $3,800
Injuries are the theme of the day Wednesday with the Mavericks being no exception. Wesley Matthews (hamstring) has already been ruled out, marking the third straight game that he will miss. Finney-Smith started the first two games with Matthews sidelined, logging at least 34 minutes in both contests. His numbers didn't jump off the page, but he averaged 13 points, four rebounds, and two steals in those starts, making him an option in tournament play.
POWER FORWARDS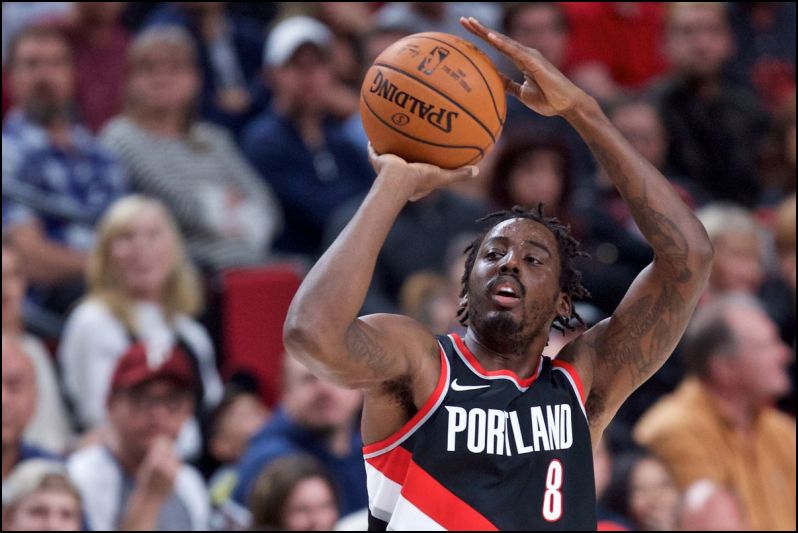 Al-Farouq Aminu, POR at MIL
FanDuel = $5,100
DraftKings = $4,500
If there's one thing you can count on with Aminu, it's that he's going to gobble up rebounds. He has at least seven rebounds in six of his last seven games and is averaging 8.4 boards for the season, overall. His 12 percent usage rate illustrates how few opportunities he receives to score, but he' been able to average 8.7 points per game because of his ability to shoot from behind the arc. The Bucks play at the fifth-fastest pace (104.1), which should work in his favor Wednesday.
Jonas Jerebko, OKC at GS
FanDuel = $4,600
DraftKings = $4,100
Not only will the Warriors be without Green, but Alfonzo McKinnie (foot) will miss his third straight game Wednesday. Jerebko started both of the first two contests, averaging 6.5 points, 10 rebounds, and three assists. Don't expect Jerebko to score much, but that doesn't mean he can't provide value at this price, especially when the other options the Warriors have up front are Kevon Looney, Jordan Bell and, Damian Jones.
CENTERS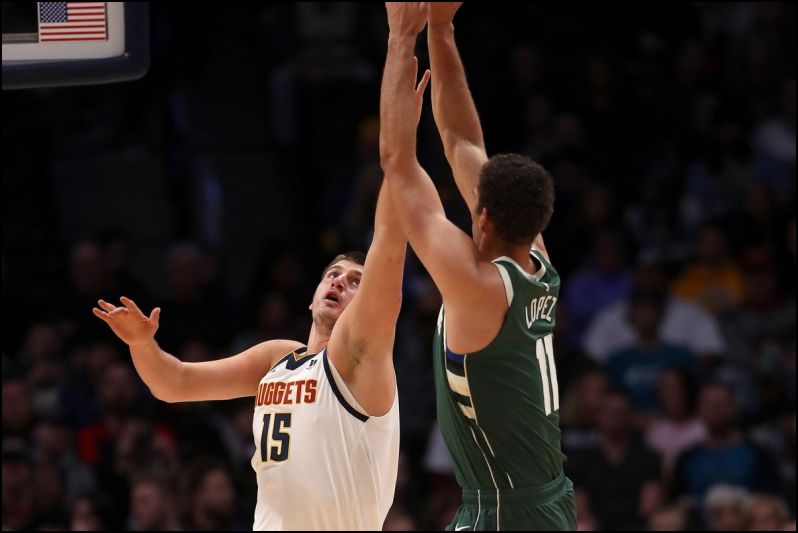 Brook Lopez, MIL vs. POR
FanDuel = $5,600
DraftKings = $5,300
The Bucks needed a boost in perimeter shooting and a center heading into this season and brought in Lopez to fill both of those voids. He's been stellar from behind the arc, averaging a career-high 2.9 three-pointers per contest. Although he might not provide the traditional rebounding numbers that we expect from centers, Lopez is averaging 1.8 blocks per contest. After scoring 22 points to go along with four rebounds and one block when these two teams met earlier this season, Lopez is someone to also consider for their rematch.
Cody Zeller, CHA vs. IND
FanDuel = $5,200
DraftKings = $4,100
The Hornets like to deploy a lot of small lineups, but there are two factors working against that Wednesday. First, the Pacers have a lot of size and depth at center. Second, Michael Kidd-Gilchrest (ankle), who they like to play up front when they go small, will be missing his fourth straight contest. Across the previous three games that he missed, Zeller averaged 8.7 points, 5.7 rebounds, 3.3 assists, and 1.3 steals. That's not overly impressive, but it at least brings him into the discussion if you want to go really cheap at center.