NBA Daily Fantasy Basketball Sleeper Lineup Picks for 2/27/19
*Mike Barner — @rotomikebarner*
Wednesday will be action-packed in the NBA with 11 games on the schedule. That leaves us with a ton of cheap value play options to wade through. Without further ado, here are a couple that stand out as great options at each position. Don't forget to sign up for our Newsletter and try our NBA Lineup Optimizer to help build a winning entry on FanDuel and DraftKings.
POINT GUARDS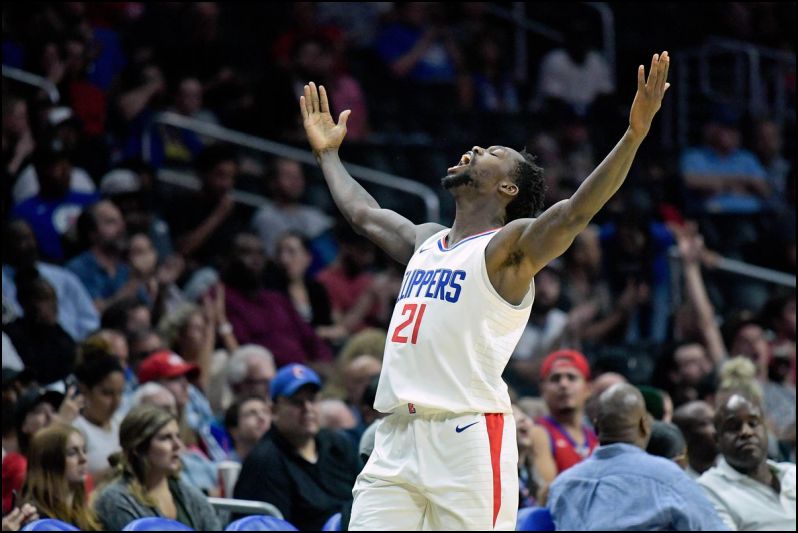 Patrick Beverley, LAC at UTA
FanDuel = $5,600
DraftKings = $4,900
Beverley finally broke out of his offensive slump by scoring 17 points against the Mavericks on Monday. He attempted 13 shots from the field after having attempted exactly that many over his previous four games combined. Despite his limited offensive output, Beverley still averaged six rebounds. 3.5 assists, 1.5 steals and 1.5 blocks during that four-game stretch. With a secure starting role and the Clippers playing at the ninth-fastest pace (102.3 possessions per game) in the league, Beverley has enough overall upside to warrant considering Wednesday.
Tyus Jones, MIN at ATL
FanDuel = $5,300
DraftKings = $4,500
Jeff Teague (knee) was unable to play Monday against the Kings, which opened up a starting spot for Jones. He didn't disappoint with 16 points, eight assists, three steals and a block across 31 minutes. With how well Derrick Rose has been playing off of the bench, it would seem likely that Jones would start again in this matchup is Teague remains sidelined. That would leave him with a ton of upside against a Hawks team that plays at the fastest pace (104.5).
SHOOTING GUARDS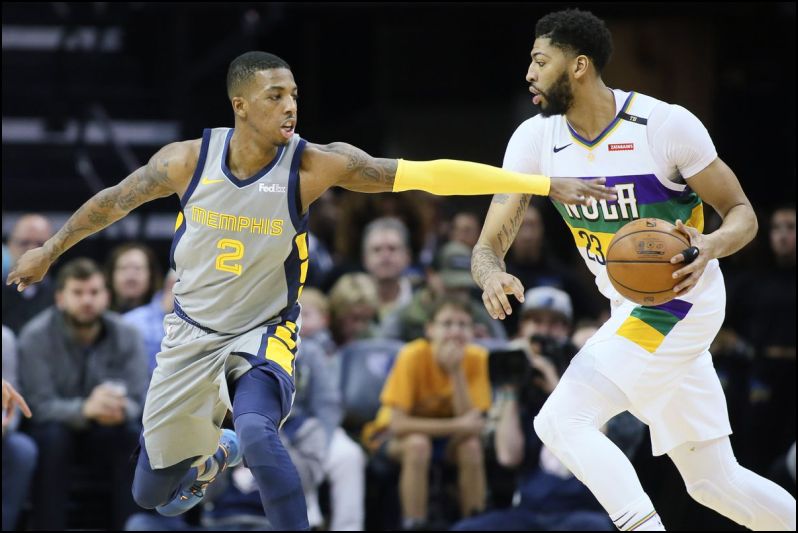 Delon Wright, MEM vs. CHI
FanDuel = $5,400
DraftKings = $4,100
With the Grizzlies working their way towards a rebuild, it makes a lot of sense for them to see what they have with Wright down the stretch. He's averaging 29 minutes across his last five games, which have helped him log solid overall numbers of 9.2 points, 5.4 rebounds, 3.8 assists and one steal a night. He just faced the Bulls two weeks ago and came through with 12 points, two rebounds, five assists, two steals and a block. The Bulls are not a good defensive team, so Wright at least has similar upside in their rematch.
Wesley Matthews, IND at DAL
FanDuel = $4,400
DraftKings = $4,500
Matthews has settled in nicely to average 17.3 points and four three-pointers across his last three games. The Pacers weren't a great offensive team, to begin with, then they lost Victor Oladipo (knee) for the season. If Matthews can stay hot, he should receive all of the scoring opportunities that he can handle against his former team. It also helps that he's logged at least 30 minutes in all five games since joining the Pacers.
SMALL FORWARDS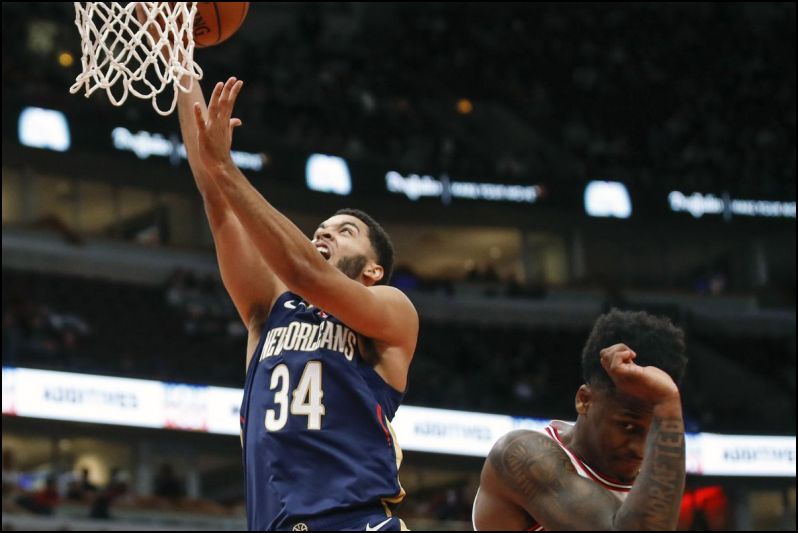 Kenrich Williams, NO at LAL
FanDuel = $5,800
DraftKings = $5,300
Williams hasn't been a great source for offense considering he's scored nine points or fewer in four of his last five games. The only time he topped that threshold during that stretch was when he scored 11 points against these same Lakers on Saturday. The good news is that he's remained productive, overall, with averages of 6.6 rebounds, 2.4 assists and 1.2 steals across those five games. The Lakers have allowed 122.4 points per game across their last 10 contests, so don't be surprised if Williams excels against them during their rematch.
Joe Harris, BKN vs. WAS
FanDuel = $5,200
DraftKings = $4,500
Harris doesn't receive enough credit for how well he's played this season. He's been especially hot of late, averaging 18.9 points, 2.9 rebounds and 2.9 assists across his last seven games. Harris is known for his stellar shooting from behind the arc, so he could really explode Wednesday since the Wizards allow the highest three-point shooting percentage (37.7 percent) in the league.
POWER FORWARDS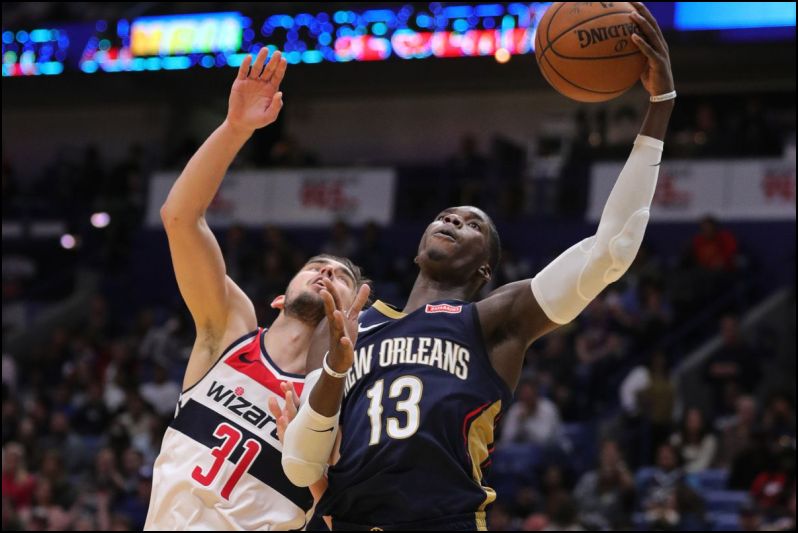 Cheick Diallo, NO at LAL
FanDuel = $5,100
DraftKings = $4,800
This is a fantasy-friendly matchup with both the Pelicans and the Lakers inside the top-five in the league in pace of play. The Lakers are also lacking size up front, which makes Diallo especially appealing. He's spent more time on the floor of late due to Anthony Davis' minutes limit and just steamrolled the Lakers for 18 points, 10 rebounds, two blocks and a steal across 19 minutes Saturday.
Dario Saric, MIN at ATL
FanDuel = $4,500
DraftKings = $4,300
After posting three strong stat lines as the new starting power forward for the Timberwolves, Saric has cooled off over his last two games. He still attempted 11 shots and played 30 minutes against the Bucks on Saturday, but he followed that up with only five shot attempts over 23 minutes against the Kings on Monday. I'm not giving up on him yet, especially with his price coming down and a matchup on tap against the horrible Hawks defense.
CENTERS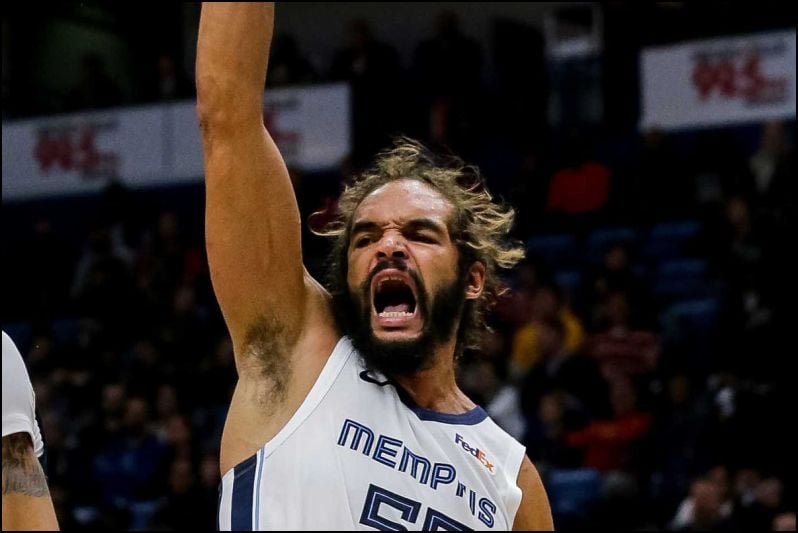 Joakim Noah, MEM vs. CHI
FanDuel = $5,700
DraftKings = $4,800
It's not always pretty with Noah, but it's great to see him playing well again. The Grizzlies took a chance on him after he bombed out with the Knicks and he's rewarded them with averages of 12.6 points, 7.9 rebounds, 3.1 assist and 1.1 blocks across his last eight games. Jaren Jackson Jr. (thigh) is still out and Ivan Rabb (heel) is listed as doubtful, so Noah could play plenty of minutes and provide value against his former squad.
Robin Lopez, CHI at MEM
FanDuel = $5,600
DraftKings = $4,500
On the other end of this matchup is Lopez, who it appears won't be bought out by the Bulls. That's probably a good thing for Chicago since he only has Cristiano Felicio behind him at center. Not only has he remained on the team, but he's thriving right now with averages of 20.2 points, 4.5 rebounds and 1.5 blocks across his last six games. Playing time should not be hard for him to come by in this matchup since the Bulls will need him to battle with Noah and Jonas Valanciunas.
Author Bio: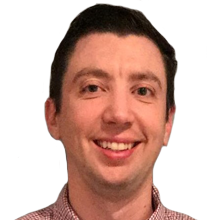 Mike has been covering fantasy sports since 2007, joining Lineup Lab in 2017. An avid player of both season-long fantasy leagues and DFS, Mike's work has appeared on numerous sites, including RotoWire, SportsLine and Sports Illustrated. He's also been featured on DraftKings' nightly show, The Sweat, and was a finalist for the 2018 FSWA Basketball Writer of the Year award.