NBA Daily Fantasy Basketball Sleeper Lineup Picks for 3/5/19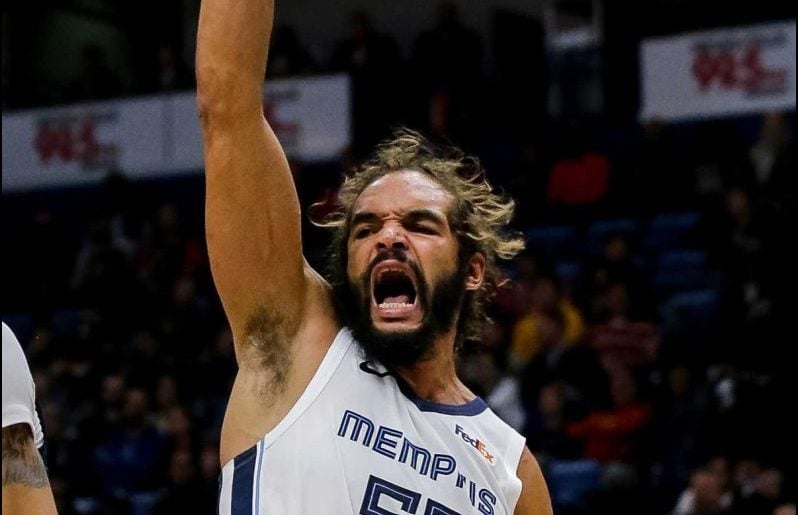 *Mike Barner — @rotomikebarner*
Tuesday's limited six-game slate in the NBA doesn't leave a ton of viable cheaper value play options in DFS. However, there are still a couple at each position worth highlighting due to favorable matchups. Don't forget to sign up for our Newsletter and try our NBA Lineup Optimizer to help build a winning entry on FanDuel and DraftKings.
POINT GUARDS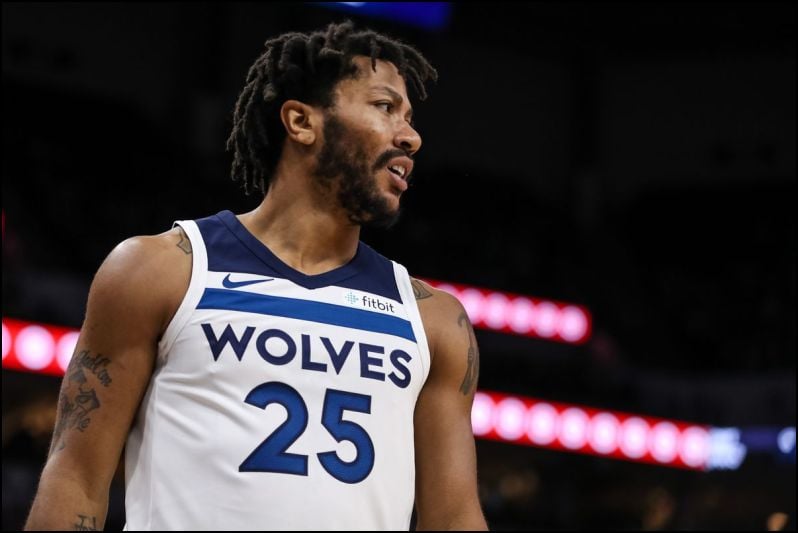 Derrick Rose, MIN vs. OKC
FanDuel = $5,600
DraftKings = $5,200
The Timberwolves have dealt with their fair share of injuries at point guard this season, but Rose, Jeff Teague and Tyus Jones are finally all healthy. While that does somewhat cap Rose's upside, he still posted 18 points, two rebounds and three assists Sunday against the Wizards. While this isn't as juicy of a matchup, it's still one that warrants possibly adding Rose to your entry since the Thunder play at the third-fastest pace (104.1 possessions per game) in the league.
D.J. Augustin, ORL at PHI
FanDuel = $5,100
DraftKings = $4,600
Augustin ended up not missing any time after injuring his ankle Saturday against the Pacers. He certainly didn't look the worse for wear against the Cavaliers on Sunday, scoring 19 points to go along with five rebounds and five assists. Although he's not a sexy name, his role as the starting point guard leaves him with a relatively high floor at this price. It also helps his cause Tuesday that the Sixers play at the seventh-fastest pace (102.9).
SHOOTING GUARDS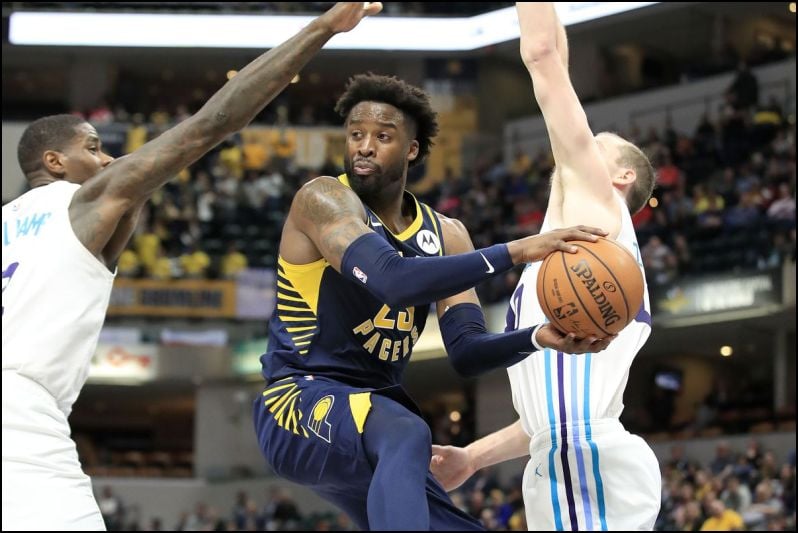 Wesley Matthews, IND vs. CHI
FanDuel = $5,100
DraftKings = $4,100
It's pretty amazing that the Pacers enter the night as the third seed in the Eastern Conference despite the loss of Victor Oladipo (knee) for the season. One of the main reasons for their continued success has been the addition of Matthews. He immediately stepped into a starting role after being signed and has averaged 16 points, 2.2 rebounds, two assists and 1.2 steals across his last six games. Even if you take out the Bulls' quadruple-overtime game against the Hawks on Friday, they've still allowed an average of 115.9 points across their previous 10 games. This sets up nicely for another strong offensive showing from Matthews.
Terrence Ross, ORL at PHI
FanDuel = $5,000
DraftKings = $4,700
Make no mistake about it, Ross is a risky option. He's scored three points or fewer in three of his last eight games. However, he showed his tremendous upside by averaging 20.6 points across the other five games during that stretch. His 24 percent usage rate is second-highest on the Magic, so he's going to continue to receive plenty of scoring opportunities. Considering the up-tempo pace at which the Sixers play, rolling with Ross in tournament play might be a risk worth taking.
SMALL FORWARDS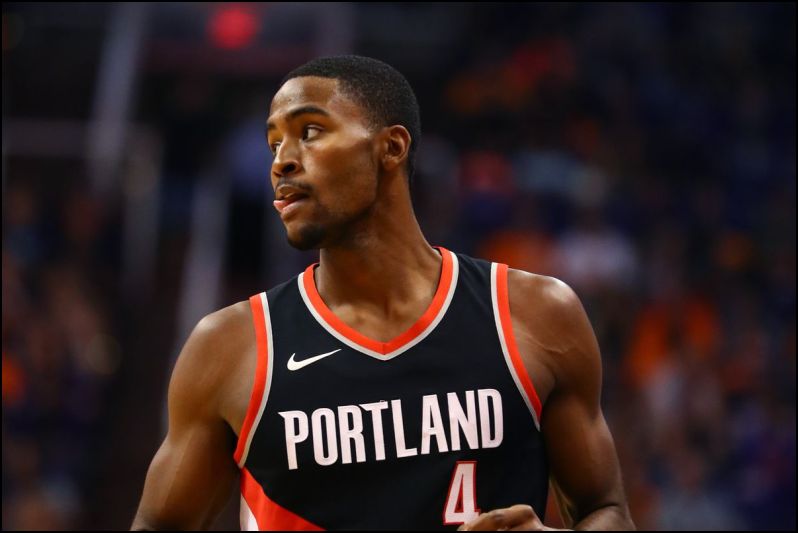 Moe Harkless, POR at MEM
FanDuel = $5,600
DraftKings = $4,000
Harkless is quietly a very important player for the Blazers. He's finally been able to stay healthy lately, which has propelled him to averages of 11.3 points, 6.9 rebounds, 2.3 assists and two steals across his last seven games. The key is he averaged 26 minutes a night during that stretch, which is up from his season average of 22 minutes a game. This isn't the greatest of matchups, but Harkless is still a viable option to consider based on his recent run of added playing time.
Jonathan Isaac, ORL at PHI
FanDuel = $5,600
DraftKings = $5,100
The comforting part about deploying players on the Magic is that since they are tied for the eighth seed in the Eastern Conference, they aren't going to rest players or deploy any strange rotations. Isaac has been locked into a prominent role during their push for the playoffs by averaging 12.9 points, 6.4 rebounds, 0.9 steals and two blocks across his last 15 games. He's yet another player on the Magic who could prove to be productive in this contest.
POWER FORWARDS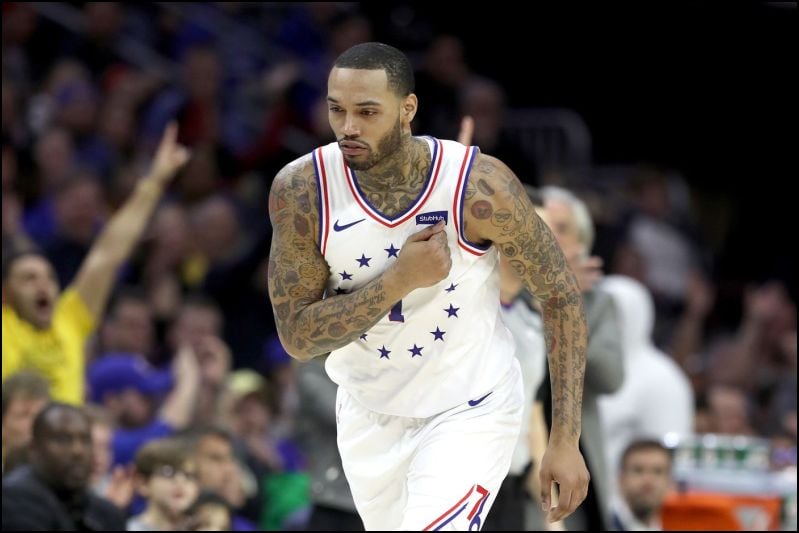 Mike Scott, PHI vs. ORL
FanDuel = $4,500
DraftKings = $4,000
The Sixers are running out of healthy players up front. Joel Embiid (knee) and Boban Marjanovic (knee) have already been ruled out and Amir Johnson (back) is questionable. With so few players left, Scott has been forced to log added time on the floor. He's shown he can be a viable option in DFS by averaging 14.5 points, 3.3 rebounds and 1.3 assists across his last four games.
Jonah Bolden, PHI vs. ORL
FanDuel = $4,300
DraftKings = $3,900
To make things even worse for the Sixers, Bolden is questionable with an illness. They've been forced to lean on him with Embiid and Marjanovic out, which helped him average 11.7 points, four rebounds and 1.3 blocks across his last three games. His upside isn't off the charts, but if he's healthy enough to play, he makes for a great option in tournament play based on his dirt cheap price on both sites.
CENTERS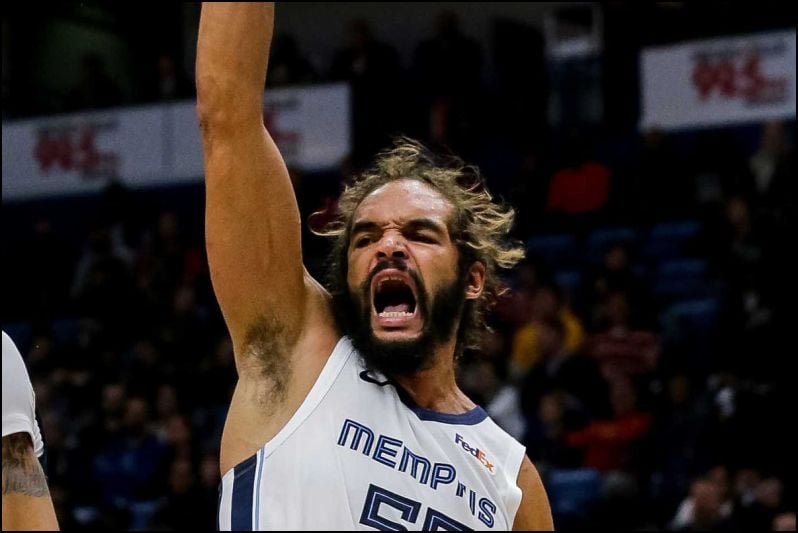 Joakim Noah, MEM vs. POR
FanDuel = $5,500
DraftKings = $4,700
Noah had his first bad game in a while when he scored two points and grabbed three rebounds against the Thunder on Sunday. Before that, he had averaged 15.2 points, 9.4 rebounds, 3.8 assists and 1.8 blocks across his previous five games. While that scoring average is likely unsustainable, he's one of the better passing big men in the league and can be a reliable contributor of both rebounds and blocks despite coming off the bench for the Grizzlies.
Robin Lopez, CHI at IND
FanDuel = $5,500
DraftKings = $5,000
A lot of the Bulls' recent run of success can be attributed to the addition of Otto Porter Jr. However, don't overlook what Lopez has done. He's locked into heavy minutes now that Bobby Portis is gone, resulting in him averaging 16.8 points, 5.5 rebounds and two blocks across his last 10 games. With the atrocious Cristiano Felicio as his backup, expect Lopez to continue to play plenty of minutes despite the Bulls' tanking aspirations.
Author Bio: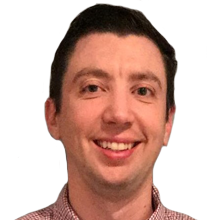 Mike has been covering fantasy sports since 2007, joining Lineup Lab in 2017. An avid player of both season-long fantasy leagues and DFS, Mike's work has appeared on numerous sites, including RotoWire, SportsLine and Sports Illustrated. He's also been featured on DraftKings' nightly show, The Sweat, and was a finalist for the 2018 FSWA Basketball Writer of the Year award.