NBA Daily Fantasy Basketball Sleepers for 2/2/18
*Mike Barner*
NBA Daily Fantasy Basketball Sleepers for 2/2/18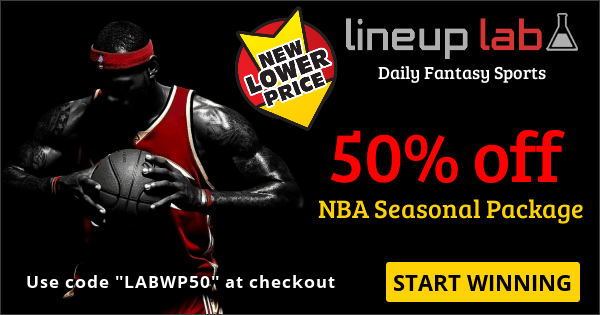 Use Code "LABWP50" at checkout for 50% off Seasonal Package
POINT GUARDS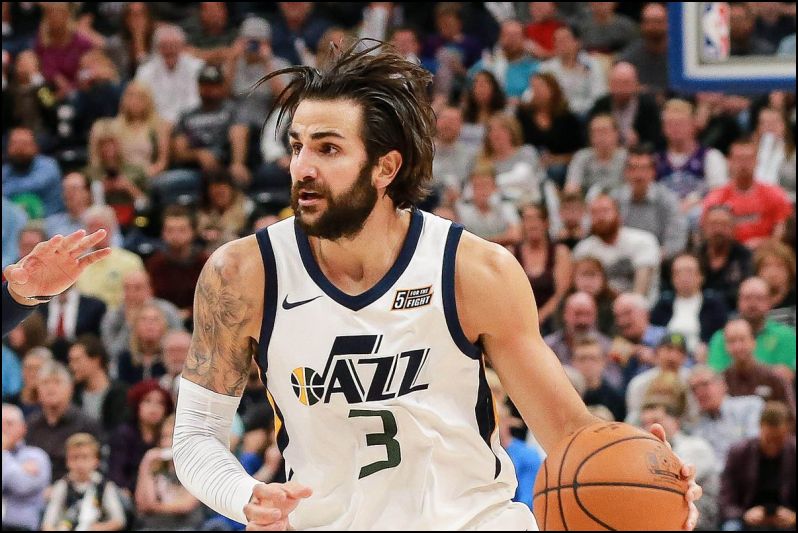 Ricky Rubio, UTA at PHO
FanDuel = $5,900
DraftKings = $6,200
Rubio's first season with the Jazz has been a struggle, resulting in him averaging a career-low 5.0 assists per game. His overall numbers lately have been better though, averaging 13.2 points, 6.0 rebounds, 6.5 assists and 1.2 steals in his last six games. Friday brings an excellent matchup against the Suns who play at the third-fastest pace (102.1 possessions per game) and allow the most points per game (111.8) in the league. You shouldn't expect Rubio to put up a ton of points, but he can contribute enough across the board to provide value.
De'Aaron Fox, SAC vs. GS
FanDuel = $5,900
DraftKings = $5,900
Fox had possibly his best month of the season in January, averaging 14.1 points, 2.2 rebounds, 5.2 assists, 1.1 steals and 1.2 three-pointers in 14 games. It's no coincidence that he averaged 30 minutes per game during the month, which is at least three minutes more per contest than any of the previous three months. With the Kings declaring they are going to give their young players more minutes, this is a trend that should continue for Fox down the stretch. With added opportunities to produce against a Warriors team that plays at the second-fastest pace (102.4) in the league Friday, Fox is worth consideration for your entry.
SHOOTING GUARDS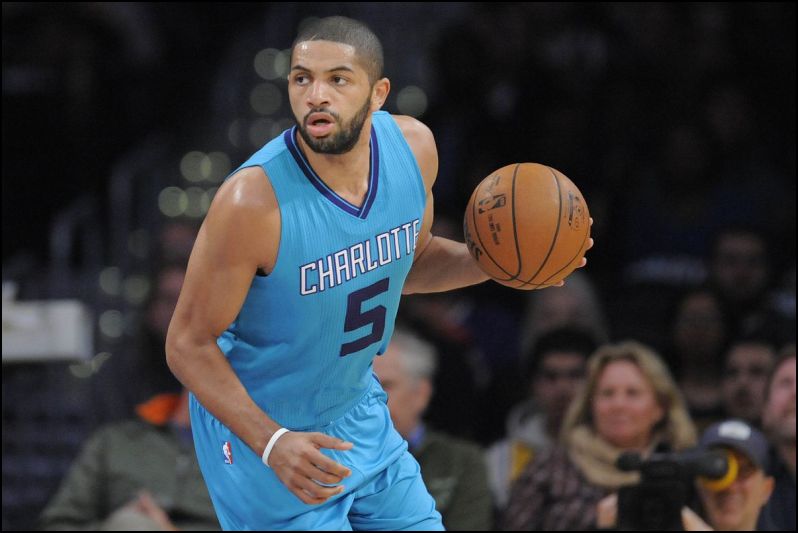 Nicolas Batum, CHA vs. IND
FanDuel = $6,100
DraftKings = $6,400
Batum has always had the ability to contribute excellent all-around numbers, but he's struggled to adjust to an elbow injury and the addition of Dwight Howard for much of this season. However, he's showing signs of coming out of his funk, even posting a triple-double Wednesday against the Hawks. He also played well against these same Pacers on Monday, scoring 22 points to go along with four rebounds, two assists, and five three-pointers. He's played at least 34 minutes in three straight games, which is great news considering he's more of a stat compiler as opposed to excelling in any one category. His price is climbing, but it's still low enough to make him a viable option Friday.
Tony Snell, MIL vs. NY
FanDuel = $4,000
DraftKings = #3,700
This could be an ugly game for the Bucks. Eric Bledsoe (ankle) was unable to play Thursday against the Timberwolves and Malcolm Brogdon (quad) also suffered an injury that should keep him out Friday at the very least. To make matters worse, Giannis Antetokounmpo twisted his ankle late in the game. If all three players are ruled out Friday, Snell is going to see a significant increase in playing time. Even if Bledsoe is able to return, Snell should play a lot if both Brogdon and Giannis can't take the floor. Keep an eye on the Bucks' injury updates leading up to this game because even though Snell is not a great offensive player, the added minutes alone can give him value at this dirt cheap price.
SMALL FORWARDS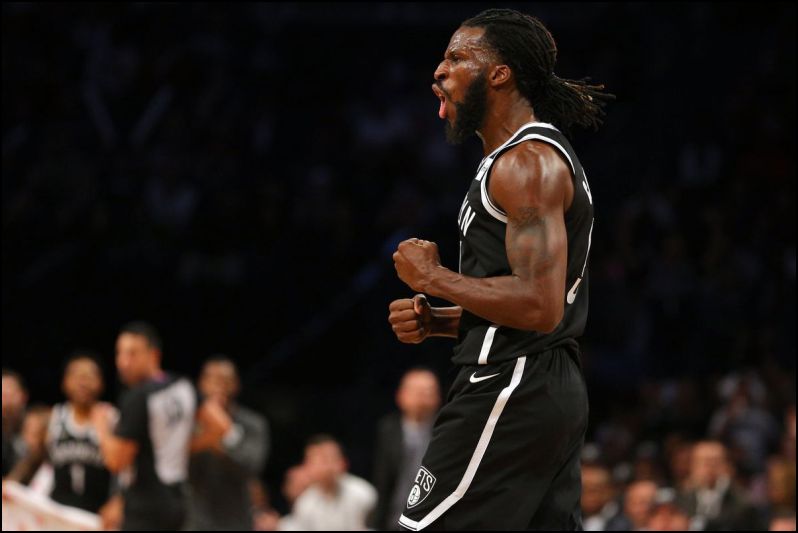 DeMarre Carroll, BKN vs. LAL
FanDuel = $5,800
DraftKings = $5,800
The Nets will continue to be thin up front Friday with Ronda Hollis-Jefferson (groin) still out. In the last three games that Hollis-Jefferson has missed, Carroll is averaging 13.3 points, 4.3 rebounds, 3.0 assists and 1.7 three-pointers per contest. He doesn't have a ton of scoring upside, but he does have a favorable matchup against the Lakers who play at the fastest pace (103.2) and are tied for the third-most points allowed per game (110.3) in the league. At this reasonable price, Carroll is worth consideration.
Josh Jackson, PHO vs. UTA
FanDuel = $5,300
DraftKings = $5,200
Jackson is starting to see more consistent playing time, logging at least 28 minutes in three of the last four games. He's made the most of his opportunity, averaging 19.7 points, 8.0 rebounds and 1.3 three-pointers in those three contests. The Suns just lost Isaiah Canaan (ankle) for the season, which should also help free up some minutes for Jackson. He has excellent upside, making him someone to strongly consider for your entry.
POWER FORWARDS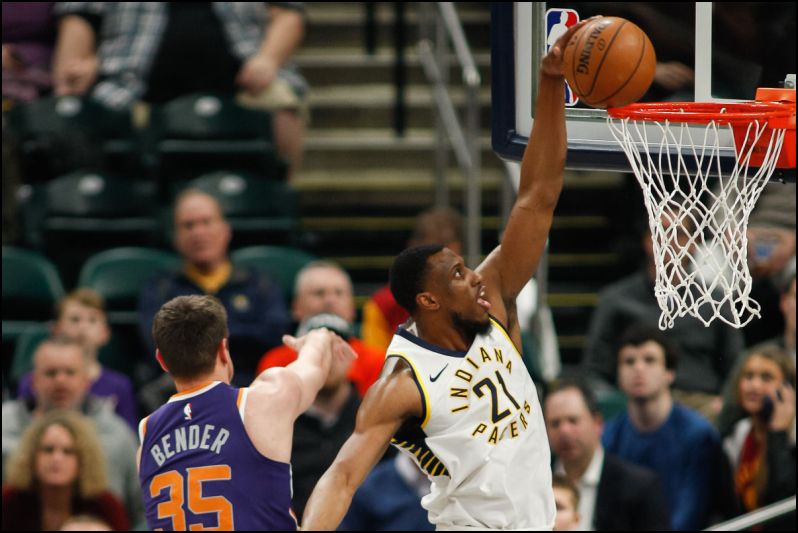 Thaddeus Young, IND at CHA
FanDuel = $6,200
DraftKings = $5,700
Young is getting plenty of playing time for the Pacers, logging at least 35 minutes in seven of his last nine games. He doesn't always score a lot, but he has managed to produce at least 16 points in three of his last five games. He's also provided a boost in value with his defensive contributions, recording at least two steals in seven of his last eight games. The Hornets don't have much depth at power forward with Marvin Williams (ankle) out, leaving Young with an opportunity to provide value Friday.
John Henson, MIL vs. NY
FanDuel = $5,500
DraftKings = $4,800
Henson doesn't put up crazy numbers, but the Bucks have very little talent at center, leaving him with extended playing time.  He's not only scored at least 10 points in seven straight games, but he is also averaging 6.4 rebounds during that stretch. The Knicks have a lot of size up front, likely leaving Henson with another significant role Friday. His upside isn't that high, but that doesn't mean he's not someone to consider at this cheap price. Of note, Henson is only power forward eligible on FanDuel as he is eligible only at center on DraftKings.
CENTERS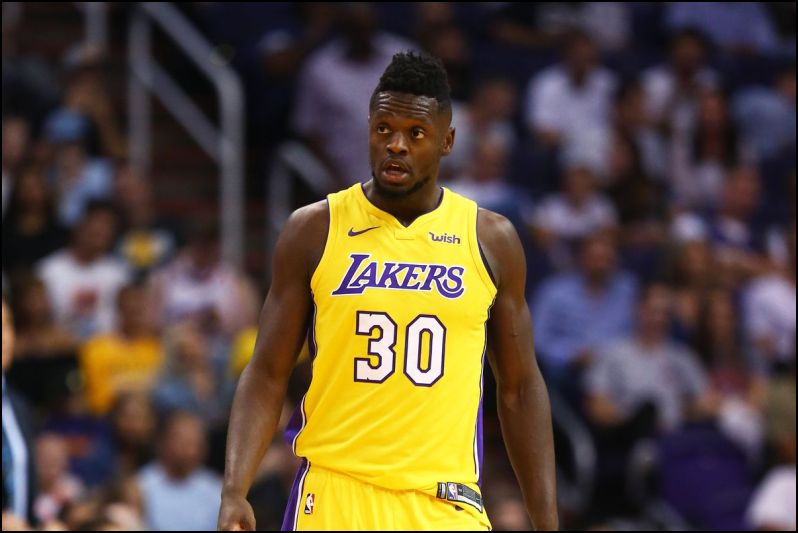 Julius Randle, LAL at BKN
FanDuel = $6,600
DraftKings = $6,700
Randle enters Friday averaging 18.4 points, 10.2 rebounds, and 3.0 assists in his last five games. Brook Lopez has logged 15 minutes or less in three of those five contests, leaving Randle with added playing time. Randle has the third-highest usage rate (24.7%) on the team, so the added playing time is significant for his upside. The Nets allow the most points per game on both FanDuel and DraftKings to opposing centers, so don't hesitate to play Randle.
Jahlil Okafor, BKN vs. LAL
FanDuel = $4,000
DraftKings = $3,800
After playing at least 24 minutes in back-to-back games, Okafor took a back seat to Jarrett Allen on Wednesday, playing just 14 minutes. Although Allen played well in that game, he too has been inconsistent this season. Okafor actually has a 20.5% usage rate since being traded to the Nets, so he does have upside when he gets playing time. It's tough to go with a player in an uncertain role like Okafor's, but he might be worth the risk if you are looking for a really cheap center.