NBA Daily Fantasy Basketball Lineup Picks 1/5/18
NBA Daily Fantasy Basketball Lineup Picks 1/5/18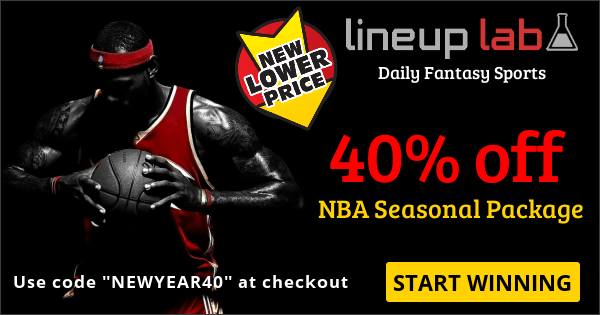 BRING in 2018 with code "NEWYEAR40" at checkout for 40% off Seasonal Package
POINT GUARDS: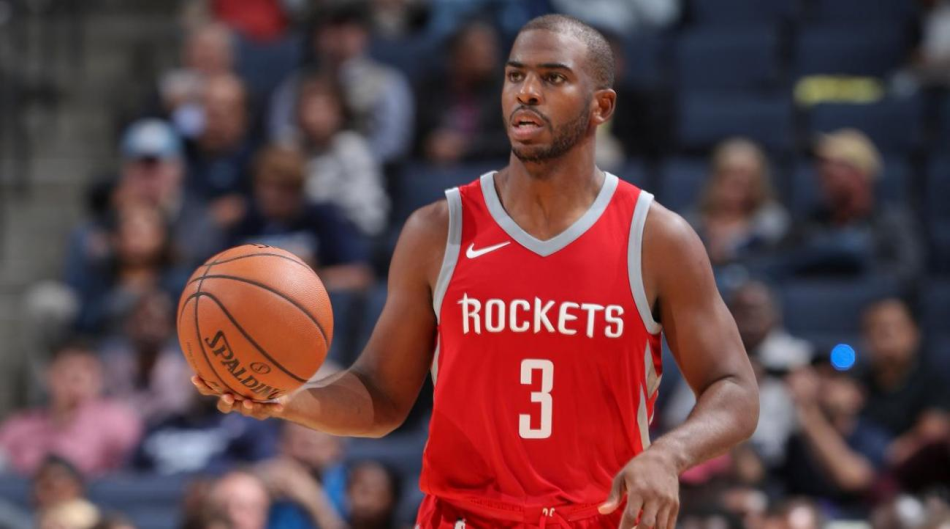 Chris Paul ($10,100 FD/$10,000 DK) – 
With the absence of James Harden, it is up to Chris Paul to run the Rockets rapid offense. In his first two games since Harden's injury, Paul posted an average of 41.9 FanDuel PPG between both contests. Although the Pistons defend the position fairly well, it shouldn't affect Paul too much as somebody will need to be a primary source of offense. He may be a bit pricey considering the superstars he shares the slate with, but if you are paying up at point guard Chris Paul is definitely your guy.
Darren Collison ($6,100 FD/$5,900 DK) – 
Collison is a cheap, reliable option in this slate with a great match-up. He opposes the Chicago Bulls, who rank dead last in the NBA in defending point guards. He versed them just a week ago as well and posted 44.1 FanDuel points with a 30 point breakout game. His teammate, Victor Oladipo, is listed questionable for the contest and if ruled out Collison is in for an expanded role and usage. Regardless of Oladipo's status, Collison is a great play and has potential to be even greater of a play.
SHOOTING GUARDS:
Eric Gordon ($8,000 FD/$6,800 DK) – 
Alongside Chris Paul, Eric Gordon has benefited severely with Harden being sidelined. Gordon has been getting the starting bid in his place and has been doing more than the Rockets probably expected. In his two starts so far he has collected an average of 44.6 FanDuel PPG including a massive 55.1 point performance against the Golden State Warriors the other night. His price is steadily rising as he continues to thrive in filling the starting rotation void as he is now listed at $6,800/$8,000 on both platforms. His production should stay on track, although consistent 50 point outings seem unlikely.
Justin Holiday ($5,800 FD/$5,300 DK) –
The SG options are a bit thin Saturday night with Harden out and Oladipo questionable. Justin Holiday is another cheap and reliable option. The Indiana Pacers rank in the bottom half of the league in defending SG's and Holiday posted 30.4 FanDuel point against them just a week ago. He has also posted 30 or more FanDuel points in three of his last four games, giving him great value at a very cheap price tag. He has also seen 30 or more minutes in six straight games. If that continues Saturday night, he has great potential.
SMALL FORWARDS: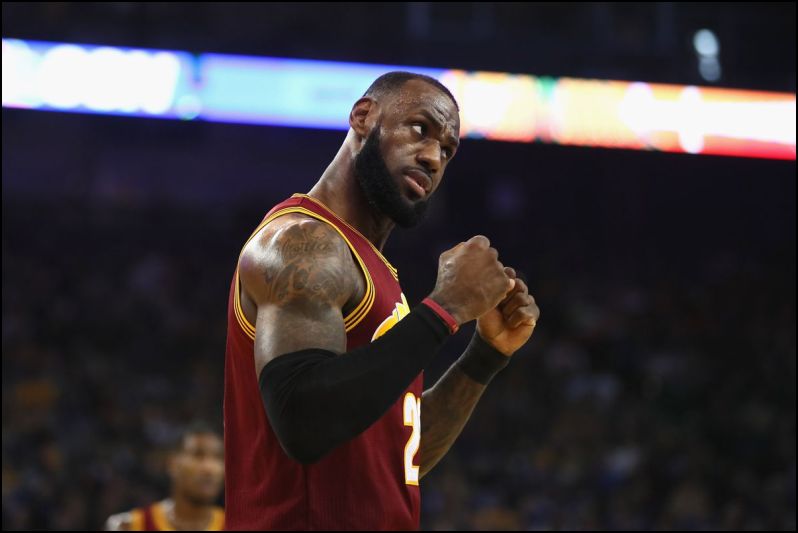 LeBron James ($11,700 FD/$11,600 DK) – 
Who other than the King leads the SF position just about every night? He may be worth the high price tag in this one in his match-up with the Orlando Magic, who rank poorly against SF's. The only concern as per most nights is if the Magic can keep this game close to assure James gets his regular minutes which may be difficult without Center Nikola Vucevic. James is insanely consistent in fantasy value as he has posted 50 or more FanDuel points in 12 of his last 14 contests. His teammate Kevin Love is a GTD with an ankle injury he suffered last game, which could mean extended use of the King if he were to be sidelined.
Gerald Green ($5,700 FD/$5,100 DK) – 
Gerald Green has been a great asset for fantasy as of late, seeing a minutes increase due to James Harden as mentioned a couple times. He has posted around 35 FanDuel points in both games without him and has seen his minutes increase with his salary. He remains extremely affordable and a great plug-in play to help afford the superstars in this slate. A benefit to paying for Green is the possibility of a blowout generating more minutes for him, as the Pistons lost by over 30 to the Sixers just last night.
POWER FORWARDS: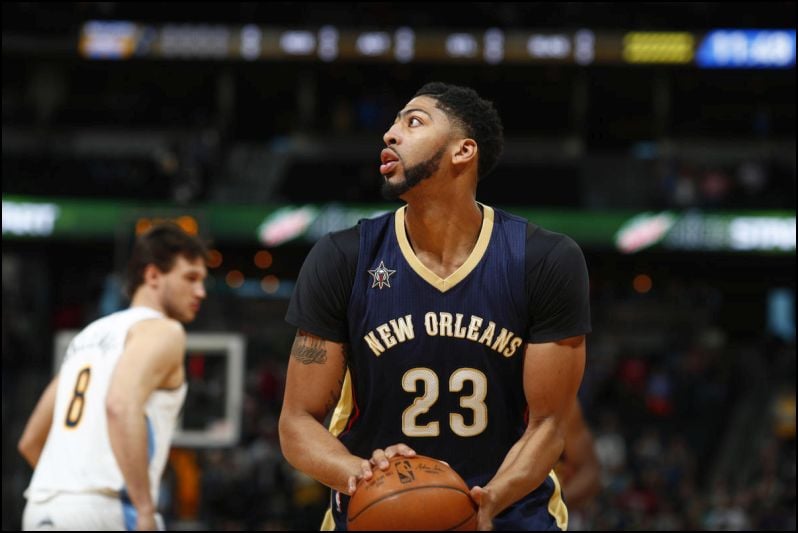 Anthony Davis ($11,200 FD/$9,900 DK) –
Davis is the lone stud on today's PF selection automatically making him a popular option. The big man has posted an average of 55.4 FanDuel PPG over his last five games. He's accompanied these fantasy points with 29 or more points in four straight games. He will be squaring up with the Timberwolves, who rank 21st in the league in defensive rating and are playing the second game of a back-to-back venture. '
Aaron Gordon ($7,900 FD/$8,000 DK) – 
Gordon is in a great match-up Saturday night against the defensively poor Cleveland Cavaliers. The Magic currently sit at 9.5 point underdogs, so they will definitely need Gordon to put on a show if they want to keep up. The Cavs don't play at the fastest tempo, but they do rank 13th to accompany the Magic's pace which ranks 7th. A slight boost in tempo could definitely benefit Gordon and increase his ceiling. His price appears to be a bargain that needs to be taken advantage of.
CENTERS: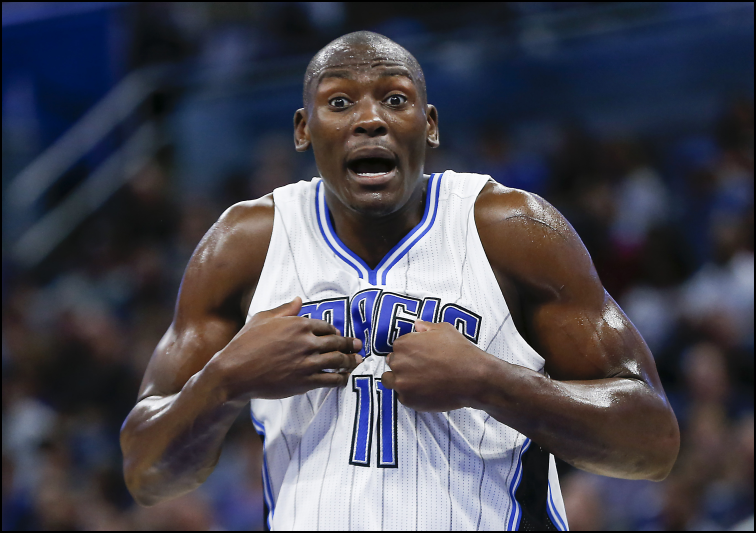 Bismack Biyombo ($6,200 FD/$5,700 DK) – 
Biyombo has been his best impression of Nikola Vucevic in his starts filling his void. When seeing 28 or more minutes he is averaging 34.7 FanDuel PPG over this current span of starts. Just like Gordon, Biyombo has a match-up that could help him exceed value in this slate. He only saw 18 minutes in his last start, but should see his usual workload since starting for Vucevic.
Mason Plumlee ($5,300 FD/$4,300 DK) – 
A bit of a risky play, but Mason Plumlee could be your secret weapon Saturday night. Sitting at just $5,300 on FanDuel and only $4,300 on DraftKings he plays the Kings who rank 22nd in defending centers. On top of that, Plumlee has been pretty consistent of late as he has scored 20 or more FanDuel points in four of his last five games. He is seeing minutes in the lower 20's about every night as he's only played less than 20 minutes once since December 8th.