NBA Daily Fantasy Basketball Lineup Picks 1/8/18
NBA Daily Fantasy Basketball Lineup Picks 1/8/18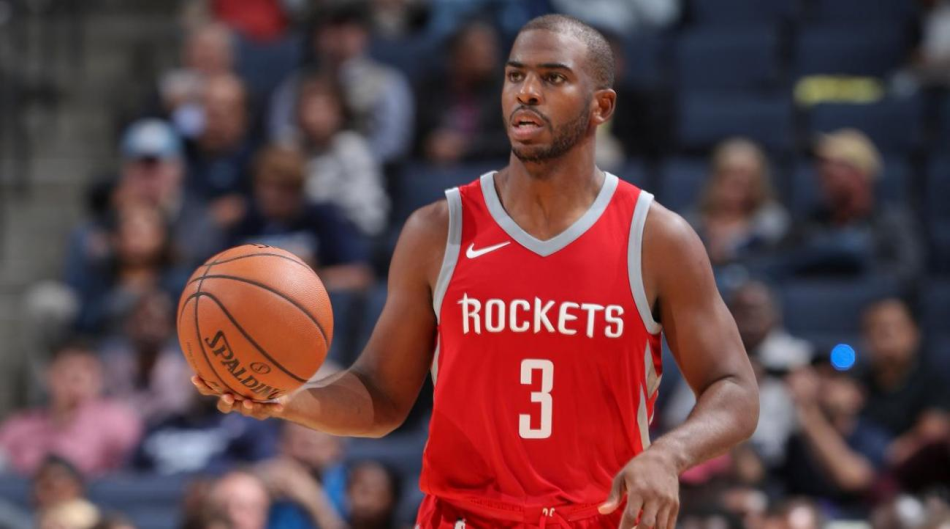 POINT GUARDS:
Chris Paul ($10,200 FD/$10,000 DK) – 
Chris Paul remains an essential fantasy asset with James Harden sidelined. He's a good play just about any night with the bearded dragon off the floor, however, Monday night he seems to be even more appealing. Paul will be opposing the worst point guard defending team in the Chicago Bulls and will have plenty of a workload to build himself a healthy score for DFS. The total is projected at 221.5 with a Houston -5 spread, indicating a high scoring game and that hopefully pans out to be a somewhat close game. He is now averaging 42.9 FanDuel PPG since Harden's recent injury occurred.
Delon Wright ($4,800 FD/$4,500 DK) – 
Delon Wright has been a pleasant surprise lately for the Raptor's second unit. He is averaging 36.4 FanDuel PPG over his last three contests including a dominant 61.1 point performance against the Chicago Bulls. He will be playing the Nets on Monday, who along with the Raptors rank top 10 in pace of play, so this match-up is locked in for an above average tempo. He may be a little bit of a risk as he isn't guaranteed to uphold his recent performance, but should definitely catch the eye of many in the DFS world at a great price. The Raptors are currently favored by 7.5 points and if the game leads towards a blowout victory, Wright will also pick up a few extra minutes.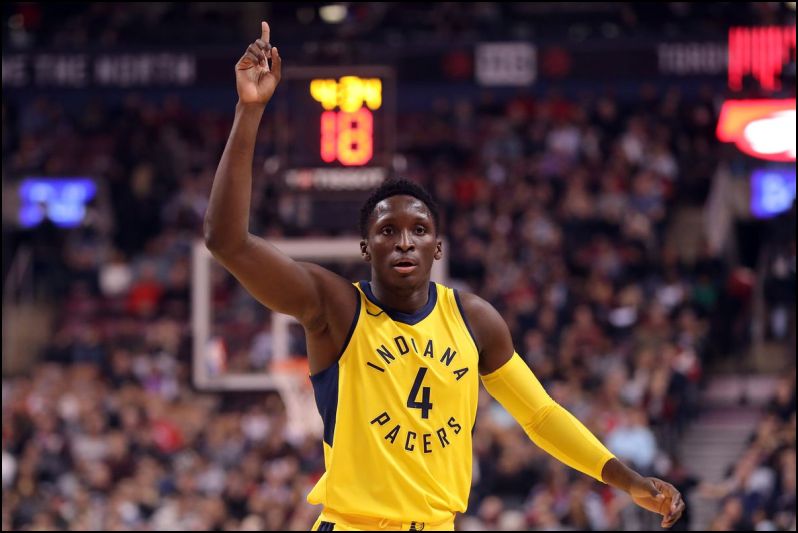 SHOOTING GUARDS:
Victor Oladipo ($9,400 FD/$8,600 DK) –
After a four game absence, Oladipo took no time getting back into rhythm in his first contest returning exploding for 57.7 FanDuel points in a blowout win against the Bulls which included a roughly 30 FPT first quarter. Due to the blowout victory, Oladipo was cut to 23 minutes and still exceeded value and projections by a landslide. He has a great match-up with the Milwaukee Bucks Monday night, who rank 22nd in defending the position. Oladipo is well rested and should easily exceed value in this bout as he's still the primary source of offense for this Indian team.
Malcolm Brogdon ($5,200 FD/$4,800 DK) – 
Malcom Brogdon has been fairly consistent for his price of late, scoring 20 or more FanDuel points in seven straight games. He's been rewarded a starting role recently, and for good reason. He's currently projected at 25 FanDuel points, giving him great value if that is the legitimate case. At an inexpensive cost, with a track record implying he will exceed value, Brogdon might be the plug-in play you need in this slate.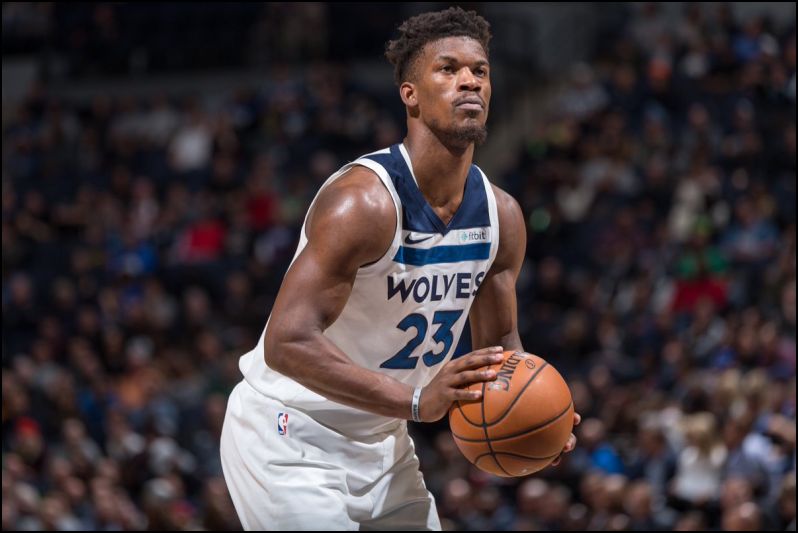 SMALL FORWARDS:
Jimmy Butler ($9,700 FD/$8,400 DK) – 
Butler simply doesn't get enough respect in the DFS world, making him a potential play on most nights. After a shaky start to the season he has found his usual form and has been more than the Timberwolves could have asked for when acquiring him. The Cavaliers defense is always a target this season in DFS, who he will be clashing with in this slate which is a major plus. He joins the company of LeBron and The Greek Freak as the only three small forwards on today's slate projected for 40 or more FanDuel points and is also the cheapest. He may deserve to be paid up for in this one.
Andre Iguodala ($4,300 FD/ $4,200 DK) – 
This play will only work out to it's full potential if a couple things go right as Iggy as well as Kevin Durant are questionable for this contest. Durant has missed the past two games, opening a starting role for Iguodala to fill his void. He's performed well for his salary, averaging 26.4 FanDuel PPG in those starts. One of them only nailed him for 22 minutes as the Warriors were up big against the Clippers, making that average a little more impressive. If Iggy was to be cleared for this contest and Durant was to be sidelined for a third straight game, expect Iguodala to keep up the recent play and exceed value for his practically dirt cheap price tag.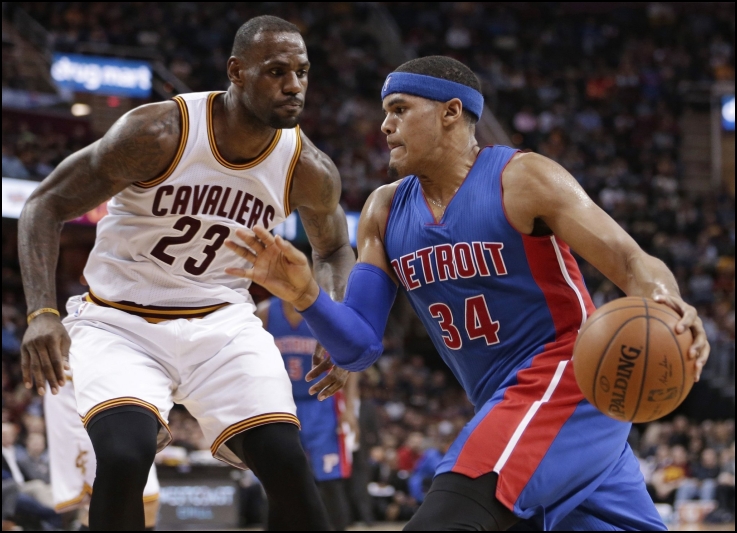 POWER FORWARDS:
Tobias Harris ($6,800 FD/$6,500 DK) – 
With Anthony Davis in an unfavorable match-up with the Pistons as well as Draymond Green & Blake Griffin listed as GTD's Monday night, we are going to focus on two smaller plays at PF, starting with Tobias Harris. His match-up isn't much better, but Harris has been providing effectively for the Detroit Pistons. He's coming off a 41.1 FanDuel point bout and has tagged double digit scoring in nine straight games, giving him a little bit of safety in this play. At a mediocre price tag Harris could be a great fit to your lineup to save a little salary without taking too much of a gamble on a low salary play.
Serge Ibaka ($5,900 FD/$5,700 DK) – 
That leaves the second smaller play: Serge Ibaka. Ibaka has been hot of late, averaging 33.8 FanDuel PPG over his last three games while remaining sub-$6,000 on both platforms. He has a decent match-up with the high paced Brooklyn Nets, who he scored nearly the same as that average against just a couple weeks ago. His is pinned to score 29.4 FanDuel points in this contest, giving him a projected value of nearly 5. (4.99 to be exact.) Plugging in Ibaka will not stop you from obtaining those high salary plays, and has the upside to tack on to your superstar's performances with a good amount of points of his own. Keep an eye out for this guy tonight.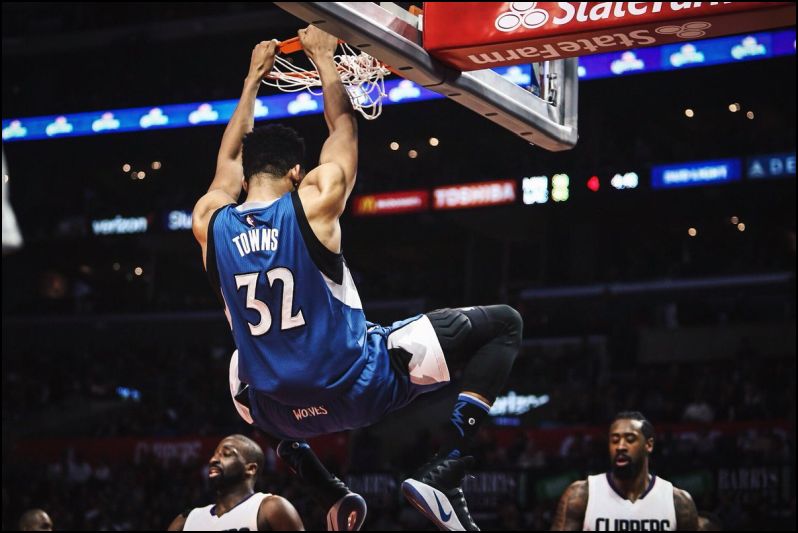 CENTERS:
Karl-Anthony Towns ($9,600 FD/$9,200 DK) – 
Towns always seems to linger in the $9,000 range no matter what, always making him a decent option. The big man has came up with a double-double in nine of his last ten games. He has also gone for 20 or more points in back-to-back contests in hopes of a third Monday night against the defensively weak Cleveland Cavaliers. With the total projected at 222.5 and only a spread of -1 in favor of Minnesota, expect a high scoring intense game (hopefully) for KAT to stuff the stat sheet.
Willie Cauley-Stein ($6,900 FD/$6,200 DK) – 
Remaining at an affordable price, Cauley-Stein continues to be consistent for the Sacramento Kings. He has scored 30 or more FanDuel points in six of his last seven games. Although opposing a top defensive team in the Spurs, Cauley-Stein has a decent math-up considering the Spurs defend the Center position averagely, allowing 50.02 FPPG per 48 minutes to the position. He is a great play at Center if you'd prefer to spend a majority of your salary elsewhere, which a lot of users are likely to do in this slate. He is currently projected at 30.8 FanDuel points in this game, meaning he would stay consistent with his recent play.