NBA Daily Fantasy Basketball Lineup Picks 12/31/17
NBA Daily Fantasy Basketball Lineup Picks 12/31/17
Sunday night presents the last NBA DFS slate of 2017 so let's end the year right.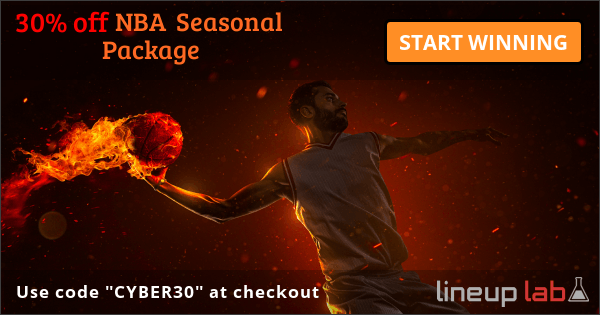 Use Code "CYBER30" at checkout for 30% off Seasonal Package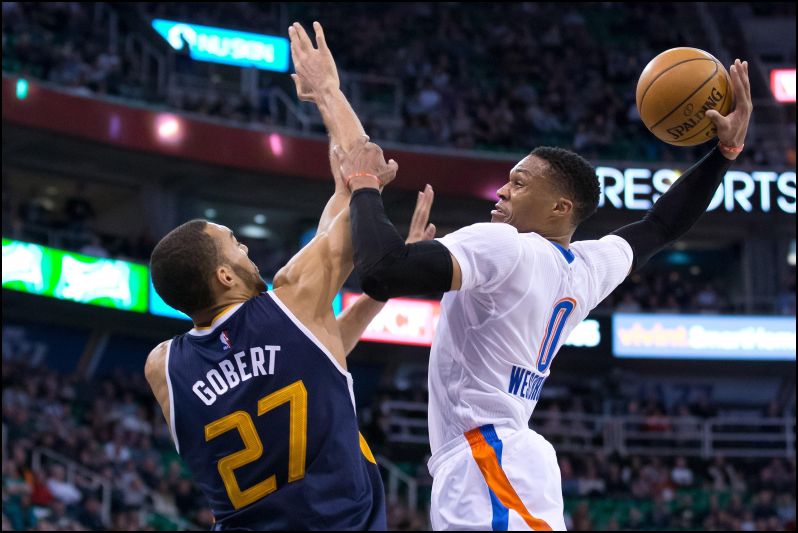 POINT GUARDS:
Russell Westbrook ($11,900 FD/$11,600 DK) –
With Sunday being a small five game main slate, Russell Westbrook almost seems to be a necessity with very little "superstars" available and Harden coming off a poor performance. Westbrook is currently riding a very impressive 7 game streak in which he has provided 55+ FanDuel points. He will be opposing the Mavs Sunday, who rank mediocre in defending the position. Needless to say, defensive rankings don't really matter when dealing with the animal Westbrook has been. In his last meeting with the Mavs he nearly dropped a triple double, falling one assist short. That game was in Dallas and now will be in Oklahoma City, with the cheer of thousands backing his dominance.
Jordan Clarkson ($7,200 FD/$6,500 DK) – 
With Lonzo Ball sidelined with a shoulder injury for the last three games, Jordan Clarkson has been effectively filling the starting PG void that was left. In these three games Clarkson has averaged 37.5 FanDuel PPG. He has an interesting match-up Sunday against the Houston Rockets, who rank in the bottom third tier of the league in defending point guards. The Lakers and Rockets both rank top 10 in pace of play, making it seem a beneficial spot for Clarkson. One major concern is that the current line sits at Houston -15, raising concern for a blowout. With a small slate, Clarkson may be the play you need regardless of game score.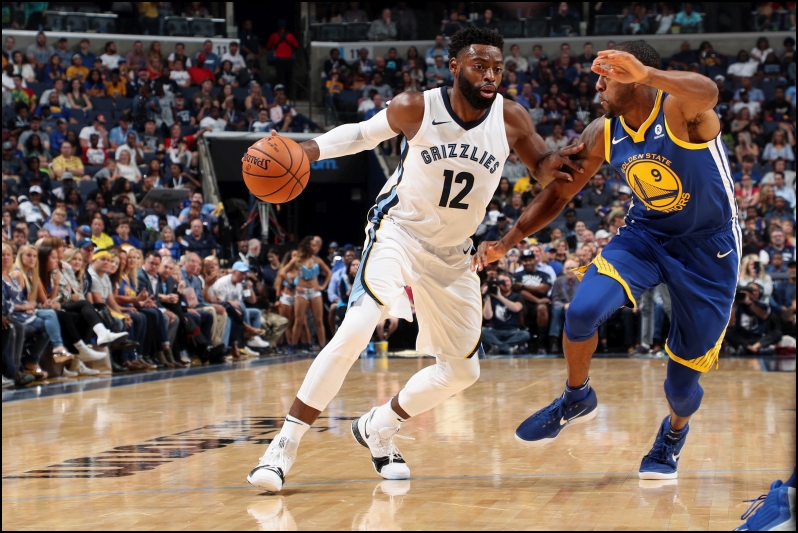 SHOOTING GUARDS:
Tyreke Evans ($8,600 FD/$7,900 DK) – 
Speaking of hot streaks, it's hard to ignore what Tyreke Evans has been doing lately. He has scored 20 or more points in 7 of his last 8 games, accumulating to an average of 42.6 FanDuel PPG in those games. For this type of production, he seems to be too cheap, especially in this match-up with the struggling Sacramento Kings. Although this game is the second of a back-to-back venture for Evans, it shouldn't be too big of an issue as he only went for 30 minutes in the first game.
Josh Hart ($3,900 FD/$4,900 DK) – 
Due to legal issues, Lakers SG Kentavious Caldwell-Pope cannot leave the state of California for the meanwhile, which draws Josh Hart a start whenever the Lakers are on the road. He has also been benefiting off the injury to teammate Lonzo Ball. Luckily for Hart, Lakers take a road trip with Lonzo Ball ruled out. Hart is dirt cheap, especially on FanDuel and to afford a player like Westbrook or Harden in this small slate he may be your perfect cheap play and provide you great value.
SMALL FORWARDS:
Brandon Ingram ($7,000 FD/$6,400 DK) – 
The small forward options on this slate seem very thin, with no players who are active costing more than $7,600 on FanDuel. Ingram seems to be a great play to meet ends on the SF portion of your lineup. Ingram has played fairly well in his two previous meetings with the Rockets, with an average of 35.8 FanDuel points. The Rockets rank 25th in the league in defending small forwards as they allow 43.80 fantasy points per 48 minutes to SF's. With the game having a pretty high total at  226.5 it appears Ingram will be a main source of the Lakers offense.
Trevor Ariza ($5,200 FD/$5,600 DK) – 
Ariza is a very cheap and consistent option in this slate. He has scored at least 20 or more FanDuel points in 11 of his last 12 games, averaging a healthy amount of minutes per game in that span. The last time Ariza met with the Lakers he managed to put up 48.7 FanDuel points in a double-double effort that included 4 steals. He most likely won't produce that tonight, however, he is  great cheap option you can count on to get you a mediocre amount of points or even more. Trevor Ariza is currently projected to score 28.5 FanDuel points tonight.
POWER FORWARDS:
Kyle Kuzma ($6,500 FD/$7,100 DK) – 
Although not very impressive his last two games, Kyle Kuzma has great upside Sunday night. Kuzma is opposing the same team he slaughtered just about 2 weeks ago, posting 38 points and 7 rebounds. The Rockets rank poorly defending forwards this season. (Ranked 25th) For a relatively cheap price tag Kuzma seems worth the risk considering his peaks and potential he's shown throughout this season. He's averaging 37 minutes per game over his last 5, which most likely will uphold so expect Kuzma's workload Sunday night to be a little heavy.
Blake Griffin ($8,500 FD/$7,600 DK) – 
Griffin recently played his first game back from injury and looked as if he didn't miss any time, posting a stat line of 24-6-6 against the Lakers in 32 minutes. Griffin could be a risky play as he isn't guaranteed to see 30+ minutes again tonight but he has a great match-up against the Hornets who rank 22nd in defending the position. Griffin's teammate Austin Rivers is questionable for this game and if ruled out, Griffin could see his first small boost in usage since returning. I don't project Griffin's ownership tomorrow to be high at all considering he is coming off an injury, which could make him very valuable in this small five game main slate.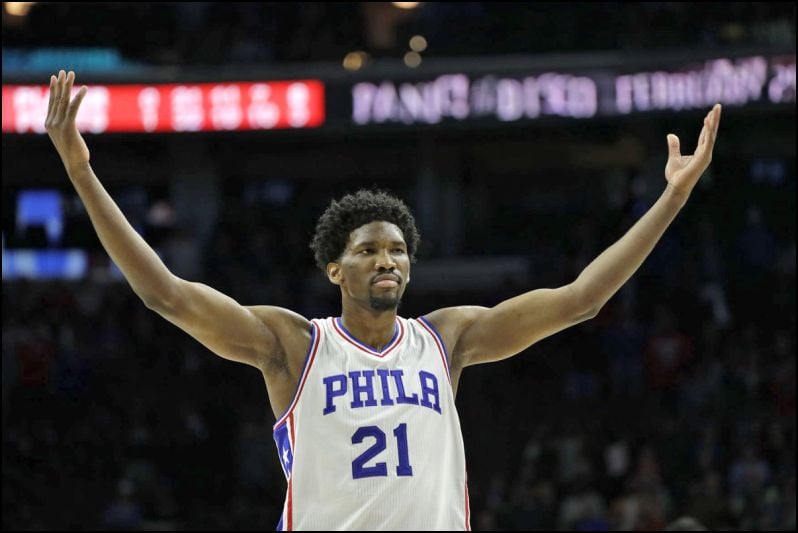 CENTERS:
Joel Embiid ($10,500 FD/$9,900 DK) – 
One of the only three players costing more than $10,000 on FanDuel is Joel Embiid in this small slate, and he seems beyond worth paying up for. The big man for the 76ers has an amazing match-up with the defensively struggling Phoenix Suns. He is also well rested as he sat last night's game to preserve his health. For 9 straight games, Joel Embiid has scored 20 or more points when logging 30 minutes or more. With teammate Ben Simmons struggling, Joel may have an increased workload solely trying to pick up the slack, although his other teammates do a fine job at doing so also. Embiid may be the play to pay up for.
Dwight Howard ($8,400 FD/$7,400 DK) – 
The Center position is one of the most stacked tonight, sporting a few solid options to play. Dwight Howard seems very appealing with his current price tag. He has been electric of late, averaging 48.4 FanDuel PPG over his last three. He exploded for 29 points and 13 rebounds in his last game accumulating to 57.1 FPTS. If there is one thing we know about modern day Dwight Howard it's that he is inconsistent and nothing good lasts forever with him, always making him somewhat of a risk. It seems tonight will not be the night he slows down.