NBA Fantasy Basketball Schedule Analysis for Week 10
*Mike Barner*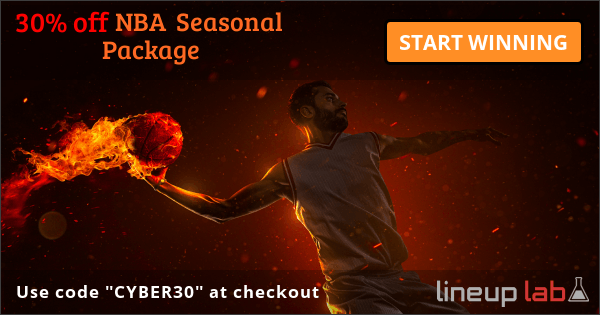 Use Code "CYBER30" at checkout for 30% off Seasonal Package
NBA Fantasy Basketball Schedule Analysis for Week 10
If you've dug yourself into a hole through the first nine weeks of your season-long league, it's not too late to get out of it. The time is now to start making up ground. It's important to know the intricacies of the schedule to gain an advantage over your opponent in a head-to-head league as starting your best players might not always give you the best chance to win. Here are the moves you want to consider for your team based on the week ahead.
Teams With The Most Games – 4 Games Each
Atlanta Hawks, Boston Celtics, Charlotte Hornets, Chicago Bulls, Dallas Mavericks, Denver Nuggets, Golden State Warriors, Los Angeles Clippers, Los Angeles Lakers, Miami Heat, Oklahoma City Thunder, Philadelphia 76ers, Phoenix Suns, Portland Trail Blazers, San Antonio Spurs, Utah Jazz
There are 16 teams that each play four games this week, so you might already have several players on your roster that are set up nicely. If you still need some help rounding out your starters, consider adding the below players who can all provide value based on their schedule.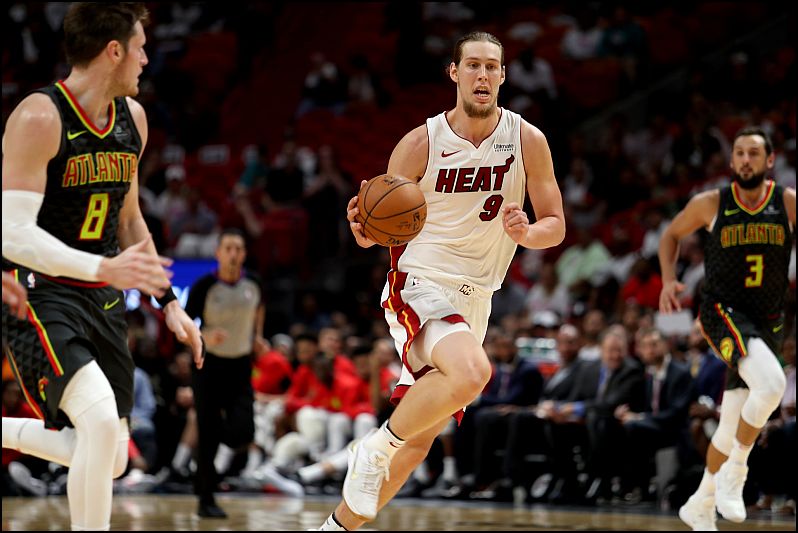 Kelly Olynyk, Miami Heat
Olynyk makes the add list for the second consecutive week as the Heat continue to play a lot of games early on. Not only has Hassan Whiteside (knee) been ruled out for at least the Heat's first two games Week 10, but James Johnson (ankle) is now out for 7-to-10 days. Things are really getting thin up front, so expect Olynyk to play a big role this week. He's provided consistent production of late, averaging 10.7 points, 5.3 rebounds, 2.3 steals and 1.0 three-pointer in his last three games. With all the minutes he can likely handle, Olynyk has a lot working in his favor. He's still available in 55% of Yahoo! league, so pick him up if you need help up front.
David Nwaba, Chicago Bulls
The Bulls are rolling right now, mainly because this is the healthiest they have been all season. Nwaba is one of those players who missed time earlier this season as he battled an ankle injury. His energy off the bench has been key and he's played more minutes than starting small forward Denzel Valentine in three of the last five games. Nwaba hasn't let the playing time go to waste, averaging 11.0 points, 6.6 rebounds and 1.0 steal over those five games. Outside of one tough game against the Celtics, the Bulls are playing teams who can give up points in the Sixers, Magic, and Cavaliers this week. Still available in 85% of Yahoo! leagues, Nwaba can provide help if you need it.
Maxi Kleber, Dallas Mavericks
Kleber has been on a bit of a rollercoaster ride of late, scoring seven points or less three times in his last six games. He was great in the other three though, averaging 16.7 points. The key is he's been getting consistent playing time, logging at least 24 minutes in all six games. If you are looking for a three-pointer shooter, Kleber should be on your radar as he's hit seven three's over the last four games. The Mavericks play three teams who like to go small this week in the Suns, Heat, and Hawks, which is a good fit for Kleber. The Suns and the Hawks are two of the worst defensive teams in the league as well. Kleber is still available in 93% of Yahoo! leagues and is someone to consider if you play in a deep league.
Teams With The Fewest Games – 2 Games Each
Cleveland Cavaliers, Detroit Pistons
With only two teams playing two games this week, players on these squads will see a significant decrease in value. Consider benching the below players who would normally be in your starting lineup otherwise.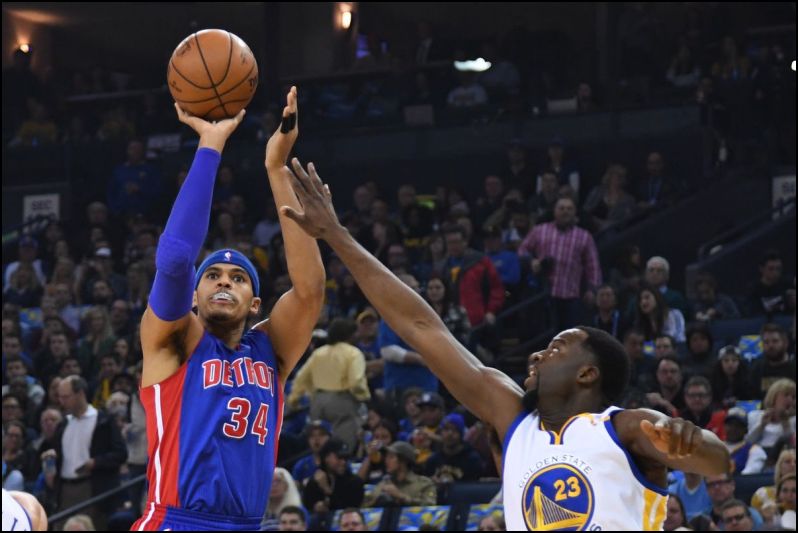 Tobias Harris, Detroit Pistons
Harris has been excellent offensively for the Pistons, averaging career-highs in points (17.8) and three-pointers (2.7) per game. He's shooting 44.0% from behind the arc, far surpassing his previous career-high of 36.4%. It's not like he's being more selective as he's taking a whopping 6.1 three-pointers per game. That being said, he doesn't provide hardly anything in the way of assists, steals or blocks and is only averaging 5.4 rebounds per game. In a week with only two games, his scoring alone might not be enough to warrant a start.
Dwyane Wade, Cleveland Cavaliers
Wade is nowhere near the player he once was, but he's still provided value this season. He's played well coming off the bench for the Cavaliers, averaging 11.3 points, 3.6 rebounds, 4.0 assists, 0.9 steals and 0.8 blocks per game. Considering his main value is that of a stat compiler across multiple categories as opposed to excelling in a couple of areas, this week is not ideal for his value. Keep him anchored to your bench.
Reggie Jackson, Detroit Pistons
Jackson is slumping right now, scoring 12 points or less in four of his last five games. He shot only 29.2% from the field in those four games, so to say he was cold is an understatement. The Pistons play the Knicks and the Mavericks this week, two teams in the bottom half of the league in terms of pace of play. He's not going to get many opportunities to contribute to your team in the first place with only two games, making the matchups even worse for his value. He should right the ship offensively sooner rather than later, but you still may want to bench him this week.