*James Leer*
Welcome to Lineup Lab's MLB Daily Fantasy Stacks article, where we feature our top stacks for our MLB Lineup Optimizer on Fanduel and Draftkings. Put your favorite stacks from the article below in our lineup optimizer and hit calculate. You can let it fill in the rest of the spots for you or choose your favorite players from the MLB Player Lab.
This season, new with our MLB Subscription Package we offer Daily Fantasy Graphs. We wanted to create a tool that gives users the ability to visualize data points for Hitters and Pitchers by showing DFS salaries/fantasy points over time. If any of you come from the world of Stocks or Equities Trading, you will immediately understand the usefulness of these charts. Just as price and volume are essential in understanding a stocks movement, points and salary are core for DFS.
**STARTING PITCHERS**
Jason Vargas vs. Chicago White Sox
Park – Guaranteed Rate Field
Jason Vargas has been the most impressive pitcher on the Royals this season, winning all of his three starts with over 20.2 IP while only giving up 1 earned run. He currently leads the league with a low ERA of just .44 and his whip is only .77 (5th best in the league). Over the course of his last two starts, he has struck out 17 over 14 2/3 scoreless innings. Over his last three starts, he has averaged an insane 52.7 Fanduel points. The only question is, does he still continue to get the run support that he needs? Kansas City currently sits last in total runs with only 46 over 18 games, the team that's second to last… you guessed it the Chicago White Sox.
 
Zack Greinke vs. San Diego Padres
Park – Chase Field
Greinke against the Padres at home? Super chalky, right? More than likely. Does he come through and become the top pitching point-getter for the night? I'm leaning 81.4%, yes. The Arizona Diamondbacks currently lead the league in runs scored while San Diego is sitting 4th to last. In his last start (which was oddly enough vs. the Padres) Greinke ended up hurling an eight-inning complete game while only giving up one run. Total domination for the win, right? No. It results in a tough-luck loss for Greinke who gave up the games only run on an Aybar homer in the 8th inning. However, he did score 43 Fanduel points in the process, certainly not something to turn your head at.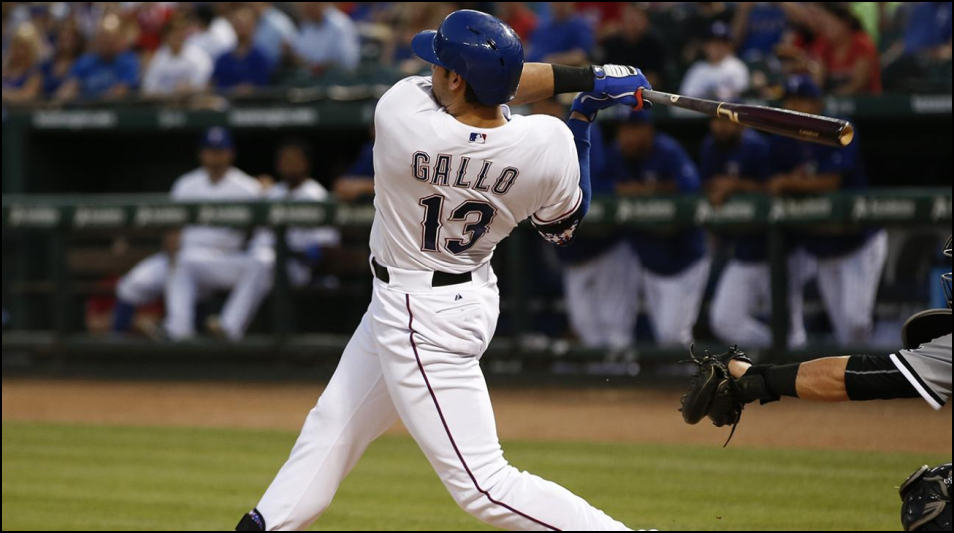 **STACKS**
Texas Rangers vs. Phil Hughes (Minnesota Twins)
Park – Globe Life Park in Arlington
The Rangers, currently sitting 3rd in the league in homeruns (28) are on most nights boom or bust. Against Phil Hughes, I'll be taking the boom. Hughes, in his last outing versus Cleveland only pitched 3 1/3 innings and gave up four earned runs. So far in 2017, he has 15 innings pitched and has given up nine earned runs with a WHIP of 1.40. Hughes curveball is the kind of pitch that Rangers star Joey Gallo will mash. Currently tied for 3rd in most home runs in the league (6), Gallo can hit the ball way out of the park as we've seen this year. Averaging 11.70 Fanduel Points per game in the last 15 home games, I'm expecting big things from him tonight.
Possible Players to Stack: Joey Gallo, Robinson Chirinos, Carlos Gomez.
 
San Francisco Giants vs. Hyun-Jin Ryu (Los Angeles Dodgers)
Park – AT&T Park
I'll start with a heed of warning; the Giants are not the same team that they were a couple of years ago. Having said that, this could be a relatively low-owned stack. With the wind blowing out 12 MPH at AT&T Park the Giants lineup when on their game, can certainly have a field day against the unimpressive Hyun-Jin Ryu. Things could get awry for Ryu quickly, so far this season opponents have hit six homers off of him in 15 1/3 inning.
Possible players to stack: Joe Panik, Brandon Belt, Nick Hundley.