Fantasy Football Season Preview: Wide Receivers 2017
**Mike Barner**
Fantasy Football Season Preview Wide Receivers 2017
The long journey through the NFL season is rapidly approaching, meaning it's one of the most exciting times of the year: drafting your fantasy football team. While you need your players to stay healthy and have a little luck go your way, having a strong draft can go a long way to determining the fate of your season.
Lineup Lab is here to help you come away a winner. In the third of our season previews, we'll break down the wide receiver position. With the creation of PPR scoring, wide receivers are more valuable now than ever before. Even in standard scoring, creating a stable of quality receivers can help separate you from your competition. Teams are throwing the ball a lot now and using three-receiver sets more often, creating tremendous depth at the position for fantasy owners.
Whether you want to draft elite wide receivers early or select a sleeper or two in the later rounds, we'll examine some players to target and avoid as you navigate your way through your draft.

Old Faces In New Places
Brandin Cooks – New England Patriots
Cooks is coming off back-to-back seasons with at least 1,138 receiving yards and at least eight receiving touchdowns. He has increased his yards per reception in each season of his career, culminating in 15 yards per reception last season. The Saints threw plenty of passes his way as he had 78 receptions on 117 targets last season.
He moves on to the defending champion Patriots this year after being acquired for a first round draft pick. The Patriots are now loaded at wide receiver with Cooks joining the returning cast of Julian Edelman, Chris Hogan and Malcolm Mitchell. Throw in tight ends Rob Gronkowski and Dwayne Allen to go along with running backs who can also catch the ball out of the back field and the result is one scary offense.
While quarterback Tom Brady must be excited about all the talent around him, the move to New England did not helps Cooks fantasy value. Edelman had 98 receptions last season, but the receiver with the next most catches was Hogan with only 38. While Edelman might lose some of his workload to Cooks, it's hard to imagine Cooks getting the same amount of targets he did in New Orleans. He can still have a valuable season, but don't expect him to be more than a WR2 this season.
Brandon Marshall – New York Giants
The Giants now have a scary wide receiver trio consisting of Marshall, Odell Beckham Jr. and Sterling Shepard. While Victor Cruz carried significant name recognition, he didn't fit well with the Giants scheme last season. Cruz is better suited to play in the slot, a position that was occupied by Shepard the majority of the time.
While Cruz wasn't able to produce on the outside, that is where Marshall has thrived over the course of his career. He had a down year with the New York Jets last season as he only recorded 59 receptions for 788 yards and three touchdowns. However, it's no secret that the Jets had some of the worst quarterback play in the league.
One stat that jumps out is that Marshall only had a 46.1 catch percentage last season. That was by far the worst percentage of his career and was more than 10 percent worse than every season outside of his rookie campaign.
Marshall's fantasy prospects have improved with the Giants as although he is clearly their number two receiver, he should see plenty of red zone targets. The Giants use a lot of three-receiver sets and attempted 598 passes last season, good for eighth most in the NFL.
Marshall hold's more value in standard leagues than in PPR, but expect him to bounce back and  be in the WR2 discussion with Big Blue.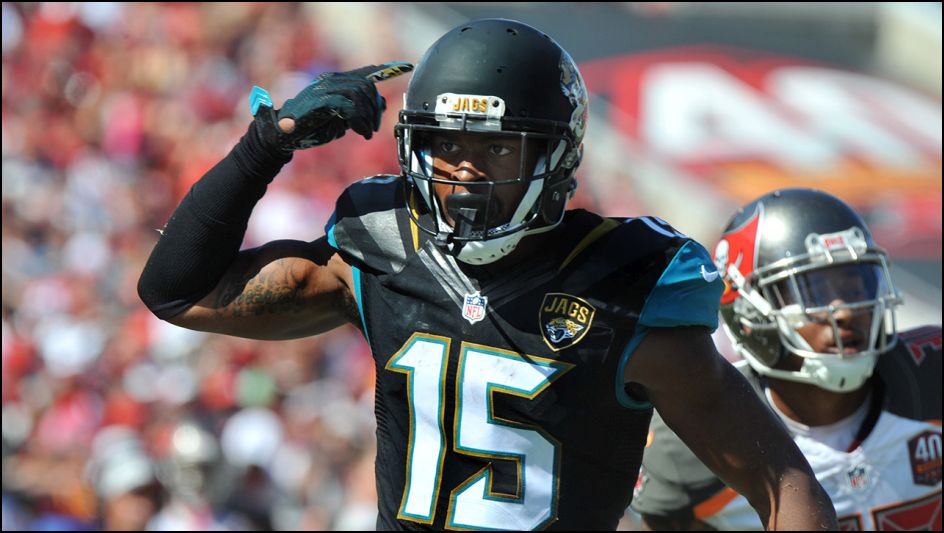 Overrated Players
Allen Robinson – Jacksonville Jaguars
Robinson took the fantasy world by storm in 2015 when he had 80 receptions for 1,400 yards and a whopping 14 touchdowns. He averaged 87.5 yards per game and an impressive 17.5 yards per reception. Big things were expected from Robinson again in 2016, making him a selection among the first group of wide receivers taken in most fantasy drafts.
Unfortunately for those who drafted Robinson early, he took a significant step back in 2016. He finished the season with 73 receptions for 883 yards and six touchdowns. His targets were identical in both 2015 and 2016 at 151, but the big difference was his yardage and touchdown totals. Players taken far later than him in most drafts who had more receiving yards last season include Mike Wallace (1,017 yards), Michael Crabtree (1,003 yards)and Rishard Matthews (945 yards).
The main reason for Robinson's regression was the struggles of quarterback Blake Bortles. Bortles had 35 touchdowns and averaged 12.5 yards per completion in 2015, but only had 23 touchdowns and averaged 10.6 yards per completion in 2016. Things have been so bad for him during the preseason that he could possibly lose the starting job to Chad Henne.
While some owners still remember Robinson's insane 2015 season and think he could bounce back in a major way this season, I'm not one of them. The struggles at the quarterback position will continue to limit his value, making him a low end WR2 at best. Don't be surprised is Marshall has a better season than Robinson.
Sammy Watkins – Los Angeles Rams
Watkins got off to a great start to his career, hauling in 65 receptions for 982 yards and six touchdowns in his rookie season in 2014. He followed that up with 60 receptions, 1,047 yards and nine touchdowns while playing in only 13 games in 2015. However, injuries limited him even more in 2016 as he played only eight games. The end result was only 28 receptions, 430 yards and two touchdowns.
The Buffalo Bills have moved on from Watkins, sending him to the Rams as Los Angeles attempts to surround Jared Goff with some talent. Kenny Britt lead the team with 68 receptions for 1,002 yards last season, but he has moved on to the Cleveland Browns. Goff struggled in his seven starts last season, completing only 54.6 percent of his passes and throwing only five touchdowns compared to seven interceptions.
The problem with Watkins from a fantasy perspective is his name still carries more value than his numbers. He has a lot of talent, but injuries have put a major damper on the start of his career. It should not be overlooked that he also had a very solid quarterback with the Bills in Tyrod Taylor. Taylor had a 61.7 percent completion percentage and 17 passing touchdowns compared to only six interceptions in 15 games last year.
When you factor in his injury history and having Goff as his QB, Watkins becomes a risky fantasy option. Let someone else take the risk.

Undervalued Players
Cameron Meredith – Chicago Bears
Meredith broke out in 2016 as he hauled in 66 receptions for 888 yards and four touchdowns. He averaged 13.5 yards per reception and caught 68 percent of the passes thrown his way. All this production came in only 14 games as he did not play until Week 3. Meredith finished last season on a high note as he had at least 104 yards in two of his last three games and at least 61 yards in each of his last five games.
The Bears lost Alshon Jeffery to the Philadelphia Eagles this off season, dealing a significant blow to their receiving unit. They did bring in Victor Cruz and Kendall Wright, but neither player is in the same class as Jeffery. Their other main receiver is Kevin White, who can't seem to stay healthy during his young career. He was limited to only four games last year, recording 19 receptions for 187 yards.
The Bears should also have improved quarterback play this season. They used the trio of Jay Cutler, Brian Hoyer and Matt Barkley last year, which combined for 18 touchdowns and 19 interceptions. This season they signed Mike Glennon away from the Tampa Bay Buccaneers and draft Mitchell Trubisky with the second overall pick. Although Glennon is the presumed starter for at least the beginning of the season, you would have to figure either he or Trubisky can't do much worse than last season's quarterbacks.
Meredith is going far too late in drafts based on his potential. A 1,000 yard season is not out of the question, making him someone to keep your eye on for the later rounds of your draft.
Willie Snead – New Orleans Saints
Snead is coming off a very solid 2016 campaign as he posted 72 receptions for 895 yards and four touchdowns in only his second season in the NFL. He has had at least 100 targets and averaged at least 12.4 yards per catch in both seasons of his career.
The most significant loss for the Saints this off season was trading Cooks to the Patriots, leaving his 117 targets up for grabs. Some of those targets will be taken by Michael Thomas, but he already had 121 targets and 92 receptions in his rookie campaign last year. They also signed Ted Ginn Jr., but he has never had more than 56 receptions in any season of his career.
Drew Brees continues to put up big numbers as the Saints were first in passing yards, second in completion percentage and tied for second in passing touchdowns in the NFL last year. With Brees showing no signs of slowing down and Cooks gone, this has the makings of a big season for Snead. While he may not be a big contributor in the touchdown department, look for him to reach 1,000 receiving yards for the first time in his career.

A Look At The Fantasy Playoff Schedule
Another key part of your research is to know who has favorable match ups during the fantasy football playoffs, generally weeks 15 and 16 in most leagues. Let's dive in and see where you can gain that edge.
Favorable Schedules
Julio Jones – Atlanta Falcons
There is no question that Jones is one of the best wide receivers in the league. He finished last season with 83 receptions, 1,409 yards and six touchdowns in only 14 games. Big things are expected from him again this season and he has great match ups during the fantasy playoffs. Week 15 brings a match up against the Tampa Bay Buccaneers who he had 12 receptions, 177 yards and two touchdowns against in two games last season. Week 16 brings the Saints who allowed the most passing yards in the league last season. Jones is primed to put up some of his best numbers when it matters the most this year.
Demaryius Thomas – Denver Broncos
Thomas may not have great quarterbacks throwing him the ball, but that didn't stop him from recording his fifth straight season with at least 1,000 receiving yards last year. He gets an excellent match up in Week 15 against the Indianapolis Colts who allowed the sixth most passing yards and tied for the second fewest interceptions last season. Week 16 isn't that difficult either as he gets to face the Washington Redskins. The Redskins allowed the eighth most receiving yards and were in the bottom four in completion percentage last year. Look for Thomas to cash in during these two games.
Difficult Schedules
Terrelle Pryor – Washington Redskins
Although big things are expected from Pryor his season, his fantasy playoff schedule is a nightmare. Week 15 brings a contest against the Arizona Cardinals who allowed the fourth fewest passing yards and were tied for the eighth fewest passing touchdowns allowed. Week 16 brings the worst match up of them all against the Broncos as they allowed the fewest passing yards and fewest passing touchdowns last season. If you are lucky enough to make your fantasy playoffs, your hopes better not rest on Pryor or you are bound to be disappointed.
T.Y. Hilton – Indianapolis Colts
While Pryor gets the Broncos in Week 16, Hilton has to face them in Week 15. One more great stat for the Broncos defense is they only allowed 5.8 yards per reception last year. Known for his big play ability, that's not good news for Hilton. He will play the Baltimore Ravens on the road in Week 16 who allowed the ninth fewest passing yards and tied for the most interceptions in the league last season. Hilton is an elite talent, but his value could be significantly limited in the final two games of the fantasy season.