NBA Daily Fantasy Basketball Recommendations for January 29 2020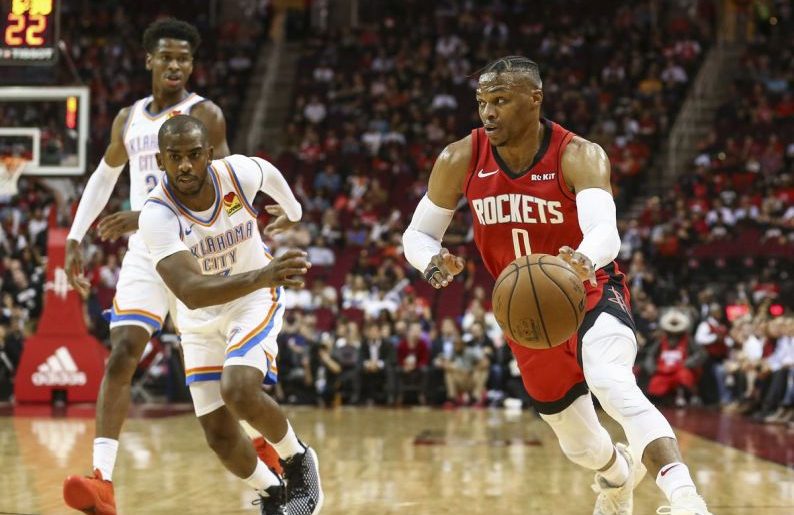 Although we only have six games in the NBA on Wednesday, injuries have the potential to make a major impact on several games. As things currently stand, here are some players to consider at each position. Don't forget to sign up for our Newsletter and try our NBA Lineup Optimizer to help build a winning entry on FanDuel and DraftKings.
POINT GUARDS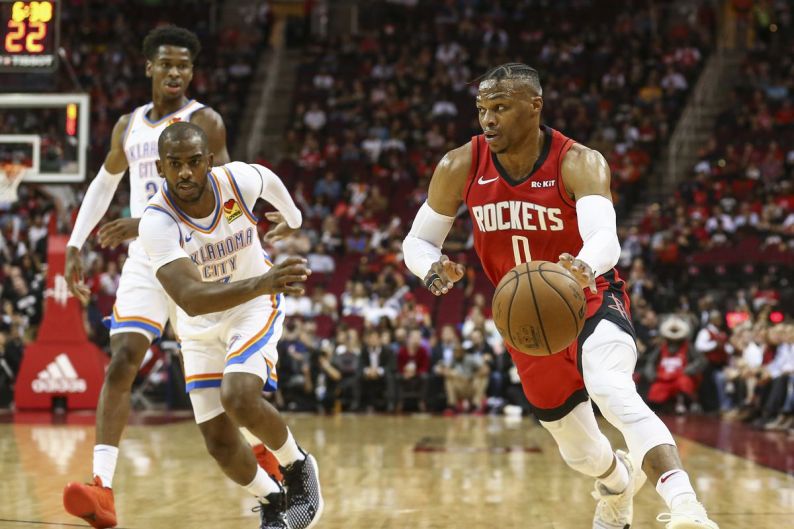 Russell Westbrook, HOU at POR
FanDuel = $11,000
DraftKings = $10,400
James Harden (thigh) is questionable for this game, so his status will be important to monitor. If he sits, Westbrook would take over as the primary scoring option for the Thunder against a Blazers team that has the fourth-worst defensive rating in the league. Even if Harden does play, this is a great spot to deploy Westbrook when you also consider that he has averaged 33.4 points, 8.5 rebounds, 8.9 assists and 1.9 steals over his last eight games.
Reggie Jackson, DET at BKN
FanDuel = $4,400
DraftKings = $4,500
The Pistons badly need a jolt of offense, so it's no surprise that Jackson has come back from being injured to be aggressive offensively. He's attempted at least 13 shots in each of his three games since returning, scoring at least 14 points each time. His playing time has steadily increased, topping out at 25 minutes against the Cavaliers on Monday. As he works his way back towards 30 minutes a night, he's a reasonable cost-effective option to consider.
SHOOTING GUARDS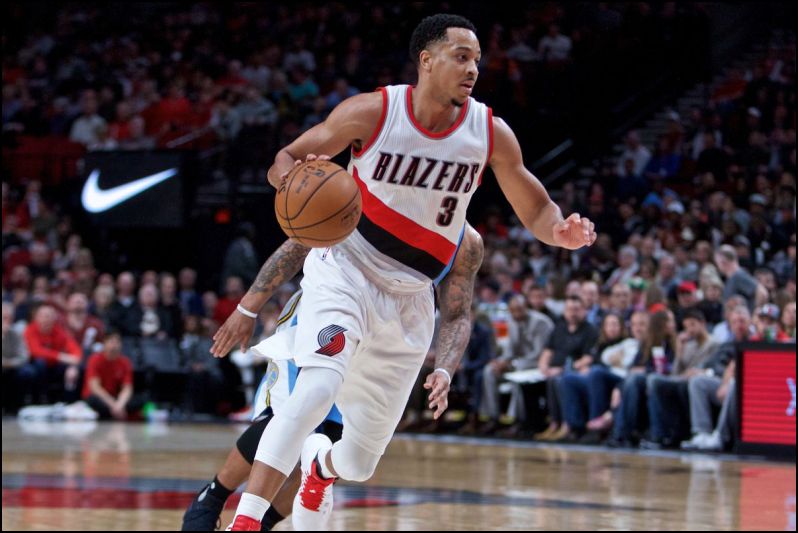 C.J. McCollum, POR vs. HOU
FanDuel = $7,400
DraftKings = $6,900
After sitting out three games with an ankle injury, McCollum returned to play 36 minutes against the Pacers on Sunday. He looked none the worse for wear, posting 28 points and five assists. The last time we saw him take the floor against the Rockets a couple of weeks ago, he scored 24 points to go along with six assists. With the Rockets playing at the second-fastest pace in the league, McCollum should once again have plenty of opportunities to provide value.
Dennis Schroder, OKC at SAC
FanDuel = $6,000
DraftKings = $7,000
The Thunder might not have a lot of depth, but they do have one of the best sixth men in the league this season in Schroder. He's made a huge improvement with his efficiency, shooting 47.1 percent from the field. That's even with him averaging a career-high 5.3 three-point attempts per game. He might not be a sexy option, but he's a reliable one who won't destroy your budget on either site.
SMALL FORWARDS
Marcus Morris, NY vs. MEM
FanDuel = $5,800
DraftKings = $6,500
Can you imagine how bad the Knicks would be offensively without Morris? Despite him averaging 19.3 points per game, they have averaged the third-fewest points per game in the league. Morris is logging heavy minutes and has the second-highest usage rate on the team, which sets him up favorably to produce another excellent stat line against a Grizzlies team that has allowed the fourth-most points per game.
Trevor Ariza, POR vs. HOU
FanDuel = $3,700
DraftKings = $4,900
Ariza couldn't follow up his strong debut with the Blazers, producing just seven points and four rebounds in his second game with the team. On the bright side, he did play 32 minutes. The Blazers' depth chart is ugly right now, so Ariza should be locked into heavy minutes moving forward. Considering the Rockets play at such a fast-pace, taking a chance on him having a bounce back performance could pay off given his cheap price.
POWER FORWARDS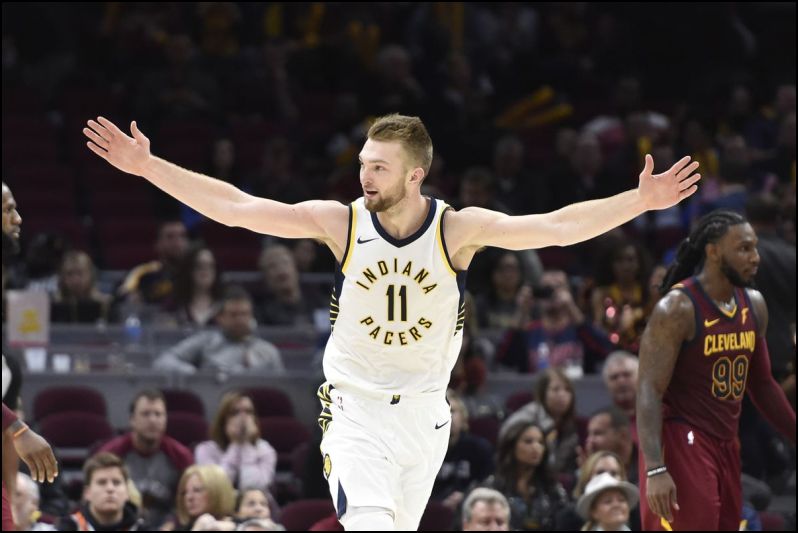 Domantas Sabonis, IND vs. CHI
FanDuel = $8,500
DraftKings = $9,400
This is a nightmare matchup for the Bulls. They have very little interior defense right now with Wendell Carter Jr. (ankle) and Daniel Gafford (thumb) out. Enter Sabonis, who has been a monster this season by averaging 18.1 points, 12.8 rebounds and 4.6 assists. I'm not worried about Victor Oladipo taking shot attempts away from him since he likely won't play much in this game, anyway. Deploy Sabonis with confidence.
Thaddues Young, CHI at IND
FanDuel = $5,500
DraftKings = $5,300
Not only are the Bulls missing Carter and Gafford, but Lauri Markkanen (pelvis) is also sidelined. That has left Young to start each of the last three games, averaging 11.3 points, 6.7 rebounds, two assists and 1.3 steals during that stretch. Playing time likely won't be hard for him to come by in this game, either, making him a viable option to pursue
CENTERS
Andre Drummond, DET at BKN
FanDuel = $10,200
DraftKings = $9,700
This one will require some follow up since Drummond (wrist) is listed as questionable. If he takes the floor, he carries tremendous upside against a Nets team that has allowed the third-most DraftKings points per game and the seventh-most FanDuel points per game to opposing centers. When he faced them Saturday, he recorded 21 points, 21 rebounds, two assists and two blocks. If he sits, then Christian Wood becomes an excellent cost-effective option.
Luke Kornet, CHI at IND
FanDuel = $4,500
DraftKings = $5,000
With the Bulls missing so many players up front, Kornet has worked his way into the starting five. The overall results haven't been great, but he did record 12 points, nine rebounds and three assists against the Spurs on Monday. He's risky, but he's cheap enough to be worth a look in tournament play. Of note, he is only eligible at center on DraftKings since he is listed at power forward on FanDuel.
Author Bio: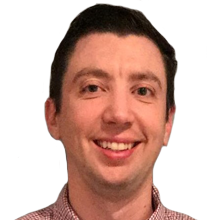 Mike has been covering fantasy sports since 2007, joining Lineup Lab in 2017. An avid player of both season-long fantasy leagues and DFS, Mike's work has appeared on numerous sites, including RotoWire, SportsLine and Sports Illustrated. He's also been featured on DraftKings' nightly show, The Sweat, and was a finalist for the 2018 FSWA Basketball Writer of the Year award. Follow Mike on Twitter @rotomikebarner.