NFL Daily Fantasy Football Recommendations for Week 13 – Quarterbacks and Running Backs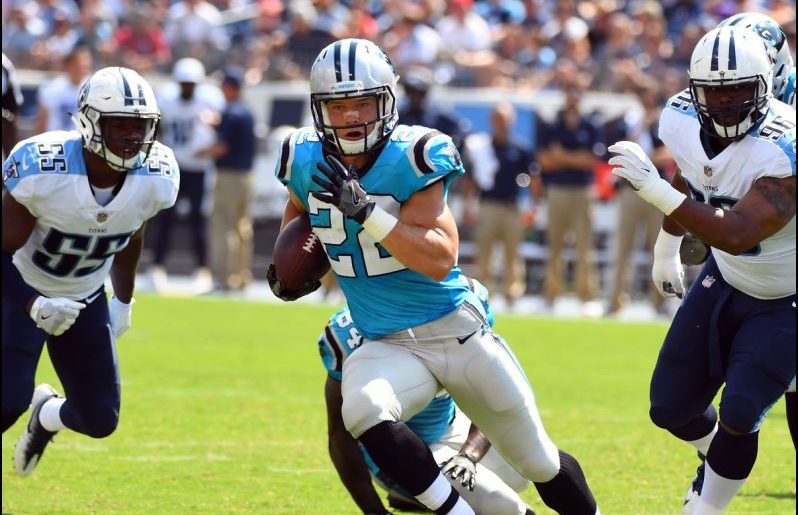 The good news is that there are no teams on a bye in Week 13. The bad news is that we have three games on Thanksgiving, so we still have a somewhat limited amount of options for the main Sunday slate in DFS. With that being said, several of the top offenses will be at our disposal, which should make for an interesting group of games. Here are some of the better quarterbacks and running backs to consider for your entry. Don't forget to sign up for our Newsletter and try our NFL Lineup Optimizer to help build a winning entry on FanDuel and DraftKings.
QUARTERBACK CASH TARGETS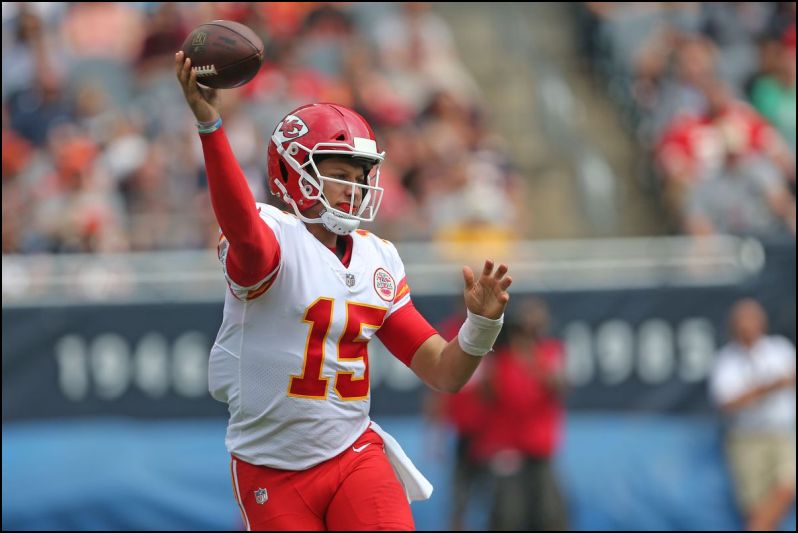 Patrick Mahomes, KC vs. OAK
FanDuel = $8,600
DraftKings = $7,400
Mahomes was shut down by the Chargers in Week 11, throwing for only 182 yards and a touchdown. Part of that was because Tyreek Hill had to leave the game with a hamstring injury. Coming out of their bye, initial reports seem optimistic that Hill will be able to play against the Raiders. When these two teams met in Oakland earlier this season, Mahomes was stellar with 443 yards and four touchdowns. The Raiders have allowed the fifth-most passing yards per game and are tied for the second-most passing touchdowns allowed in the league, setting up Mahomes with huge upside for their rematch.
Sam Darnold, NYJ at CIN
FanDuel = $7,600
DraftKings = $6,100
Don't look now, but the Jets have won three games in a row. Darnold was a big part of their last two wins, throwing for a combined 608 passing yards and six touchdowns. The schedule has worked in his favor since those games came against the Redskins and Raiders, but he's not exactly going to face a juggernaut here in the Bengals, who have allowed 16 touchdown passes while only picking off five passes. At his reasonable price on both sites, rolling with Darnold could go a long way towards helping fit a stud or two into your entry.
QUARTERBACK GPP TARGETS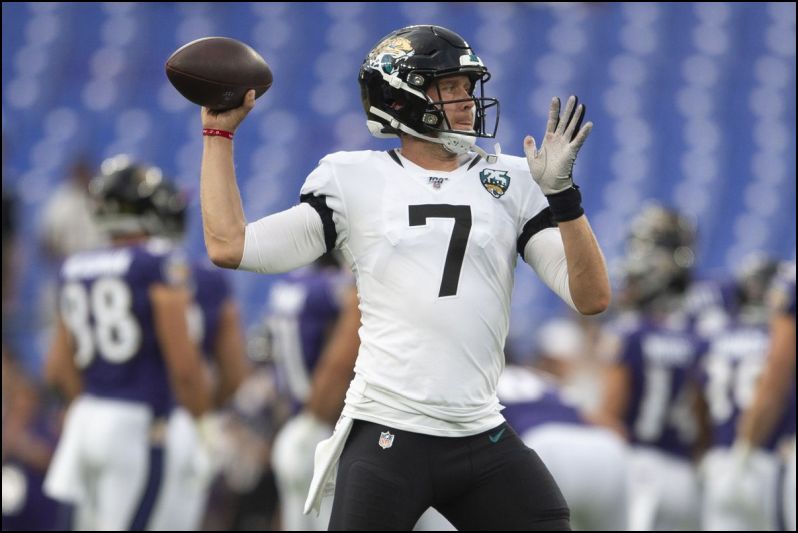 Nick Foles, JAC vs. TB
FanDuel = $7,500
DraftKings = $5,700
Foles couldn't come through for me last week as he failed to register a touchdown pass after being included in this section of the column. On the bright side, he did throw for 272 yards and was not picked off. He also chipped in three carries for 20 yards. As disappointing as that was, don't let that leave a sour taste in your mouth. This is a prime spot for him to bounce back in a big way against a Bucs team that is tied with the Raiders for the second-most passing touchdowns allowed while also allowing the second-most passing yards per game.
Kyle Allen, CAR vs. WAS
FanDuel = $7,200
DraftKings = $5,500
Talk about a tale of two very different performances. Allen struggled against the Panthers in Week 11 with four interceptions and no touchdown passes. He then bounced back to throw for 256 yards and three touchdowns versus the Saints last week. He's been a bit inconsistent since taking over for Cam Newton, but he does have at least two touchdown passes in three of his last six games and has thrown for at least 250 yards in three straight contests. The Redskins have allowed the eighth-most touchdown passes, so taking a chance on Allen at this cheap price could prove to be worthwhile.
RUNNING BACK CASH TARGETS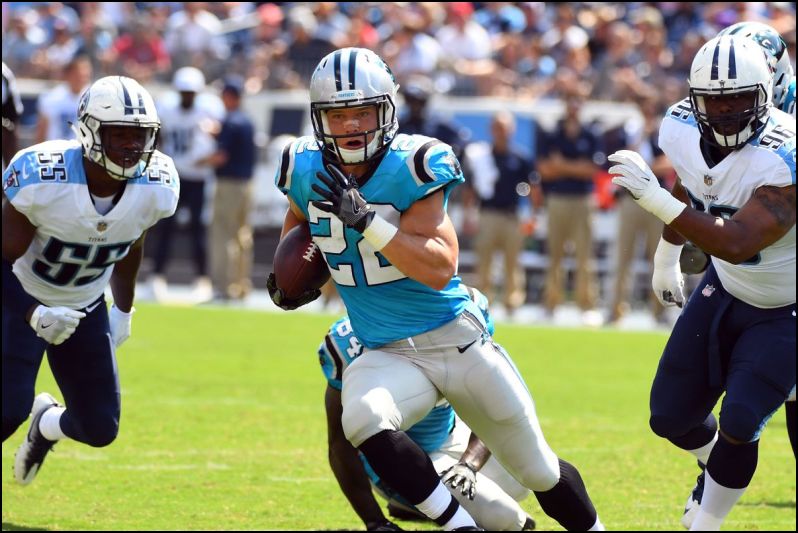 Christian McCaffrey, CAR vs. WAS
FanDuel = $11,000
DraftKings = $10,500
It's crazy to think that any player could be worth this high of a price tag, but McCaffrey has yet to disappointment. He wasn't overly efficient on the ground against the Saints last week, rushing 22 times for 63 yards. However, he did catch all nine of his targets for 69 yards and finished with two total touchdowns. After that performance, he now has 1,709 total yards to go along with 16 total touchdowns for the season. Now he gets to face a Redskins defense that has allowed the fifth-most rushing yards per game. I rest my case.
Le'Veon Bell, NYJ at CIN
FanDuel = $7,300
DraftKings = $7,200
Bell certainly isn't lacking in opportunities with 173 rushing attempts and 62 targets across 11 games. However, he's only averaged 3.2 yards per carry behind a suspect offensive line. Still, the volume leaves him with a relatively high floor and makes him an appealing target against the Bengals, who have allowed by far the most rushing yards per game in the league.
RUNNING BACK GPP TARGETS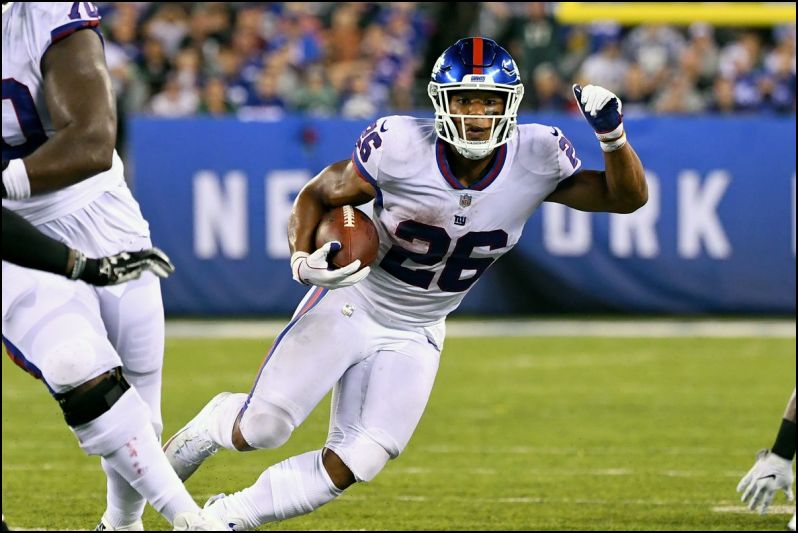 Saquon Barkley, NYG vs. GB
FanDuel = $7,600
DraftKings = $7,400
Entering the season, it's crazy to think that Barkley would even be priced this low. However, between injury and the shift to a more pass-heavy offense with Daniel Jones under center, Barkley has struggled to be productive. Although Barkley is certainly adept at catching passes out of the backfield, Jones is often looking to go deep, rather than Eli Manning, who was known for frequent check-downs and short passes. If there ever was a favorable spot for Barkley to get back on track, this might be it. The Packers have allowed the seventh-most rushing yards per game and the seventh-most receptions to opposing running backs.
Phillip Lindsay, DEN vs. LAC
FanDuel = $6,300
DraftKings = $5,000
A timeshare between Lindsay and Royce Freeman leaves both players with limited upside. Still, this might be a week to take a chance on Lindsay. The first time he faced the Chargers this season, he recorded 114 yards and a touchdown on 15 carries. With the team preferring to run the ball a lot with Brandon Allen at quarterback, Lindsay should still receive enough carries despite his shared role to do some damage again.
Jamaal Williams, GB at NYG
FanDuel = $5,600
DraftKings = $4,500
As bad as the Packers were against the 49ers last week, Williams actually emerged from the game with a favorable stat line. He finished with 45 yards on 11 carries and caught seven of eight targets for an additional 35 yards. He's an important part of their offense despite having to share the workload with Aaron Jones, so don't be surprised if he finishes with another valuable stat line against a porous Giants' defense.
Author Bio: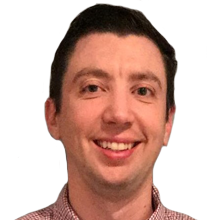 Mike has been covering fantasy sports since 2007, joining Lineup Lab in 2017. An avid player of both season-long fantasy leagues and DFS, Mike's work has appeared on numerous sites, including RotoWire, SportsLine and Sports Illustrated. He's also been featured on DraftKings' nightly show, The Sweat, and was a finalist for the 2018 FSWA Basketball Writer of the Year award. Follow Mike on Twitter @rotomikebarner.