Daily Fantasy Football: NFL DFS Week 1 Cash and GPP Picks
Quarterbacks: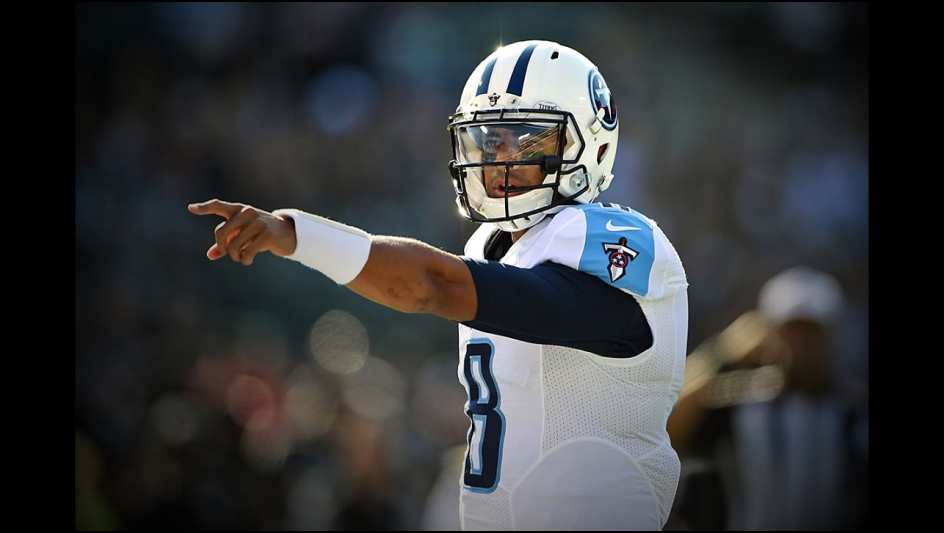 Quarterback is the most underpriced position in both Draftkings and Fanduel. The main reason why the quarterback position is wildly underpriced is that there isn't a large gap between the top scoring QB opposed to the 12th scoring QB. It also has to due in large part with the fact that their scoring is weighted lower than other positions. QB's receive 4 points per touchdown and 1 point for every 25 yards gained. If you play on Draftkings they give a bonus for quarterbacks that throw over 300 yards. That may alter your decision making because it makes quarterbacks more reliant on touchdowns in FanDuel than in Draftkings. Now that we broke down the scoring discrepancies, let's take a look at a few quarterbacks you should be targeting for both cash and gpp games.
Cash:
Marcus Mariota (DK $6,700, FD $7,700)
Mariota comes into week 1 as the consensus chalk quarterback. The 6th highest priced QB on DK and 7th highest priced QB on FD, Mariota won't be heavily owned because of his bargain price. Instead, Mariota will likely be the highest owned QB in cash games because of his favorable Vegas totals. The Titans come into week one as a 3.5 point favorite against the Raiders in a game that features the highest over/under 50.5. This high over/under gives the Titans an implied total of 26.5 points, good enough for second on this slate only behind the Steelers. Quarterbacks with similar Vegas totals have gone on to perform well in the past. Mariota has had the best red zone touchdown efficiency rating since joining the league in 2015. When you add up all that and include that the Raiders had one of the worst secondaries in the league last season, you can see why Mariota is expected to be the highest owned quarterback.
GPP:
Russell Wilson (DK $ 6,900, FD $8,000)
After a let down 2016 season, Wilson finds himself looking to hit the refresh button. His fantasy production last season took a dip because he only rushed for 259 yards on the season with one rushing touchdown. It's been heavily reported that Wilson changed his workout routine over the offseason and is looking to recapture his 2015 form this season. Well, week 1 is a nice opportunity for Wilson to put his new offseason regime to the test against the Packers. The Packers allowed the seventh-most fantasy points per game last season and did hardly anything to improve their secondary in the offseason. This game opened up with an over/under just under 50 but has since increased to 51, giving this game the highest over/under on the slate. The Seahawks are on road underdogs, and that generally isn't a recipe for success, but the Packers secondary is bad enough for you to consider taking a flier on Wilson in tournaments.
Plays worth considering in Cash & GPP:
Matt Ryan (DK $6,900, FD $8,500) – The Falcons are tied for 1st on the slate for implied team points with 27.5. Matt Ryan is going up against a Bears defense that is significantly improved in the front seven and new offensive coordinator Steve Sarkisian could look to air it out in their first game to get Falcon's fans over their 28-3 blown Super Bowl win. However, Ryan does come with some red flags as he is playing on the road and there truly is no way of telling how the offense will function without Kyle Shanahan.
Ben Roethlisberger ($DK 7,300, FD $8,200) – Big Ben comes in with the same implied team total as the Falcons. He's playing an abysmal Browns team and is an 8.5 point favorite. Ben will have his full assortment of weapons to his use with the return of LeVeon Bell and Martavis Bryant. The concern here is Ben's home and road splits.
Running Backs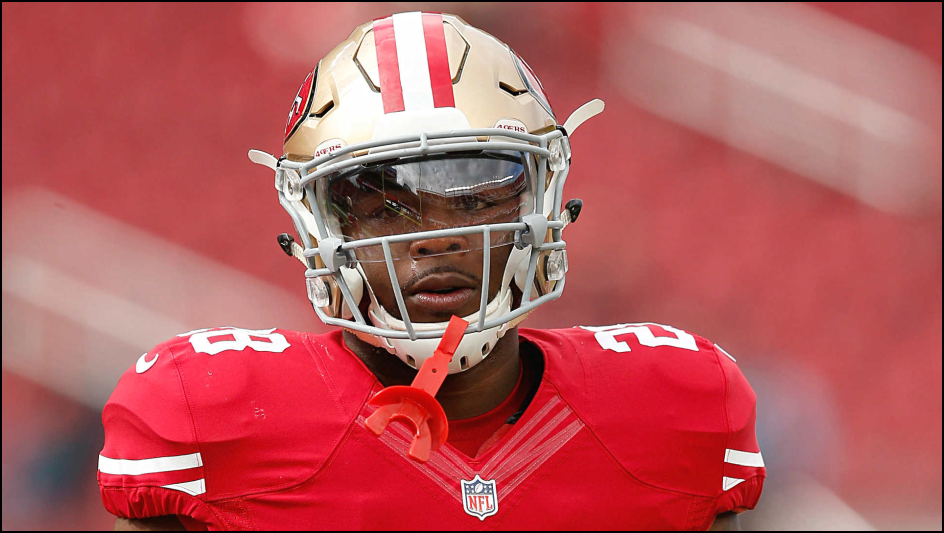 The running back position is almost always dominated by Le'Veon Bell (DK $9,800, FD $9,300) and David Johnson (DK $9,400, FD $9,400). This week is no different. Both are elite plays and expect to be the highest owned backs in this slate. Now the question is if you can play both of them. The answer is yes. There's certainly enough value in other positions that allow you to make your lineup construction with these two elite backs. But if you have to choose one over the other I like Johnson over Bell because of the simple fact that the game has a closer spread and David Johnson plays for a Cardinal team that has fewer mouths to feed than the Steelers.
Chalk
Todd Gurley (DK $6,000, FD $7,300)
If you're looking for a chalk alternative from the two safe, elite backs look no further than Todd Gurley. More of a value on Draftkings than Fanduel, Gurley comes into week 1 in an elite spot. The Rams are currently home favorite against the Andrew Luck-less Colts and have seen the Vegas line shift them from 3 point underdogs to 4 point favorites. With a poor offensive line and Jeff Fisher calling the plays last season, Gurley had a letdown year after being selected as the number 1 RB in most season-long drafts last season. This year the Rams have made some moves to improve their offensive line and also brought in Sean McVay to jumpstart their offense. Gurley should have an ample amount of opportunities to get to the 100 yard DK bonus and could even fall into the endzone.
GPP
Carlos Hyde (DK $4,600, FD $6,800)
If you're looking for a cheap running back in your roster construction, Carlos Hyde is your answer. With Joe William landing on the IR and Tim Hightower being a surprise cut out of the 49ers camp, Hyde only has to share targets with undrafted rookie Matt Breida. Hyde should be a lock for 25 touches with Kyle Shanahan calling the plays now and his price on both sites could help open up salary in other roster spots.
Wide Receivers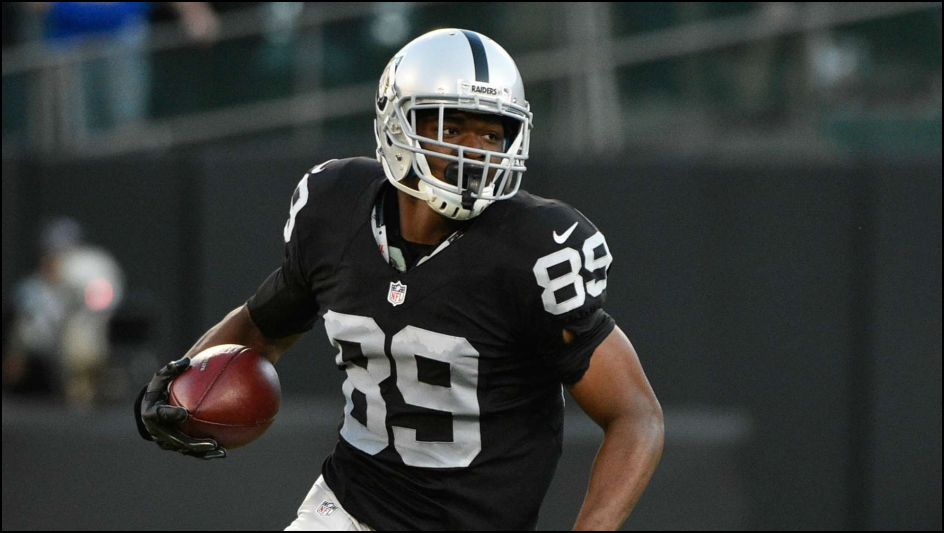 Depending on lineup construction, wide receiver could be where you really differentiate yourself from the field. The top 3 studs are all in strong positions. Antonio Brown (DK $ 8,800, FD $9,100), Julio Jones (DK $8,500, FD $9,000), and AJ Green (DK $8,000, FD $ 8,400) are all in spots where we can see them have a big game. But let's take an audible into some plays that people may be overlooking
Doug Baldwin (DK $6,700, FD $7,500)
I mentioned how the Seahawks passing offense was in a good spot against the Packers. The game flow looks to be in Baldwin's favor as the Packers had the worst secondary in the league last season, and quite frankly their cornerbacks don't scare any passing attack. Baldwin will face either Quinten Rollins, Davon House, or Damarious Randall neither was graded higher than top 50 of Pro Football Focus Cornerback Rankings.
Kendall Wright (DK $3,200, FD $5,200)
Kendall Wright looks poised to take advantage of a Bears receiving corp that is extremely depleted after losing Cameron Meredith for the season. Although Wright is not listed as the number two receiver behind Kevin White, Wright will be on the field in three wide receiver sets. That may sound concerning, but during preseason the first-team Bears offense ran three wide receiver sets 14 out of their 15 plays, so Wright is a sneaky cheap option to get some much volume. Wright was signed by the Bears after his previous work with offensive coordinator Dowell Loggains. Under Loggains, Wright saw and an average of 8.7 targets per game back in 2013. In a game that the Bears are heavy underdogs against the Falcons, the offense could be throwing the ball more than 40 times opening up cheap targets for Wright to snag.
Amari Cooper (DK $7,200, FD $7,600)
Amari Cooper should be another popular play. Playing in the game with the highest over/under on the slate, Cooper is going to have an ample of opportunities to bring in targets. The Titans last season ranked in the bottom of the league in points per game allowed to wide receiver, and with a duel of Cooper and Crabtree, the Raiders passing game could be in store for a big game.
Larry Fitzgerald (DK $5,900, FD $6,400)
Fitz is a veteran that could be heavily owned in this first few weeks. The one thing about the vet is that he has some drastic splits from the first half of the season and the second. Fitzgerald has averaged 13.9 points in the first 6 games of the season compared to 11.3 games in the second half. The Cardinals passing offense faces the Lions who were 32nd in DVOA.
** Fanduel only ** Terrelle Pryor (FD $6,200) is extremely underpriced in Fanduel. Although his preseason action with Kirk Cousins left a lot to be desired, Pryor should see a massive target amount.
Tight End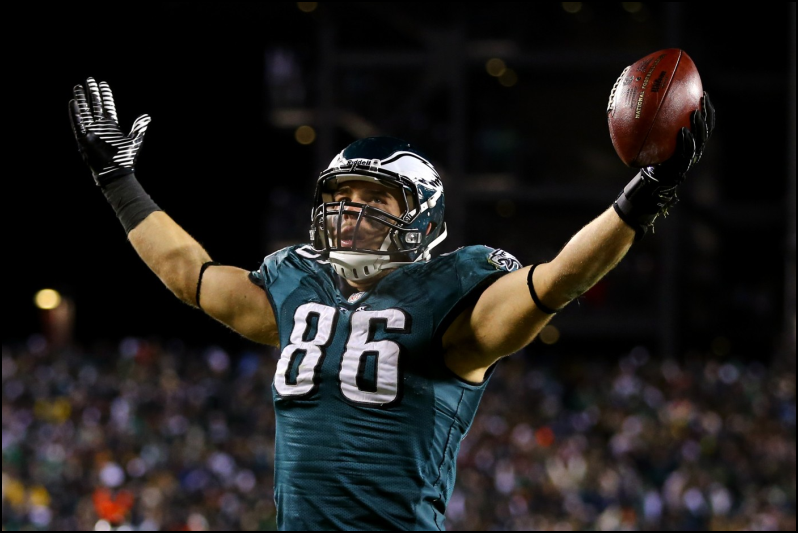 Drafting a tight end in DFS is often dependent on the site you play. In Draftkings touchdowns become less important than targets, while on Fanduel touchdowns valued higher than targets/receptions.
Chalk
Draftkings – Zach Ertz (DK $4,300, FD $6,100)
Ertz is the uber chalk on Draftkings. With the Eagles getting rid of Jordan Matthews and Alshon Jeffery expecting to be shadowed by Josh Norman, Ertz becomes the immediate beneficiary of targets from Carson Wentz. Ertz doesn't have the touchdown upside that others like Jared Cook or Tyler Eifert may have, but his price and volume make him a nice cash play on Draftkings.
Fanduel – Tyler Eifert (DK $4,600, FD $6,100)
Eifert is an example of how site determines what would be the better player. With Green sucking up most of the targets, Eifert is left with minimal targets. Fortunately for Eifert, he scored on over 40% of his targets last season. Although that number is likely to regress, Eifert is at a good price for such a volatile position.
Defense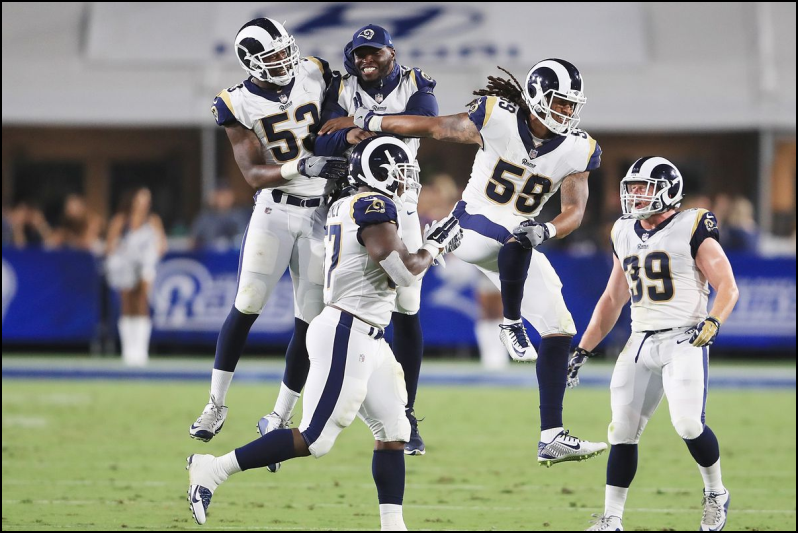 Los Angeles Rams (DK $3,200, FD $4,600)
The Rams' defense is in a good spot as a 4 point home favorite against a team that doesn't have their starting quarterback. The Colts could very much be a train wreck come Sunday, and although the Rams will likely be without their All-Pro Aaron Donald, their defense should be able to handle Scott Tolzien and Frank Gore.
Houston Texans (DK $3,800, FD 5,100)
The Texans are the chalkiest defense with the highest upside. Aside from the fact that they are with the most talented defense in a prime matchup, they get to face Blake Bortles. Bortles looked dreadful this preseason and last year ranked in the bottom-10 in interception rate (3.7%). They are the most expensive defensive option out of the other chalk defense.