NBA Daily Fantasy Basketball Lineup Picks for 11/27/17
NBA Daily Fantasy Basketball Lineup Picks for 11/27/17


CYBER MONDAY special only use Code "CYBER30" at checkout for 30% off Seasonal Package
Point Guard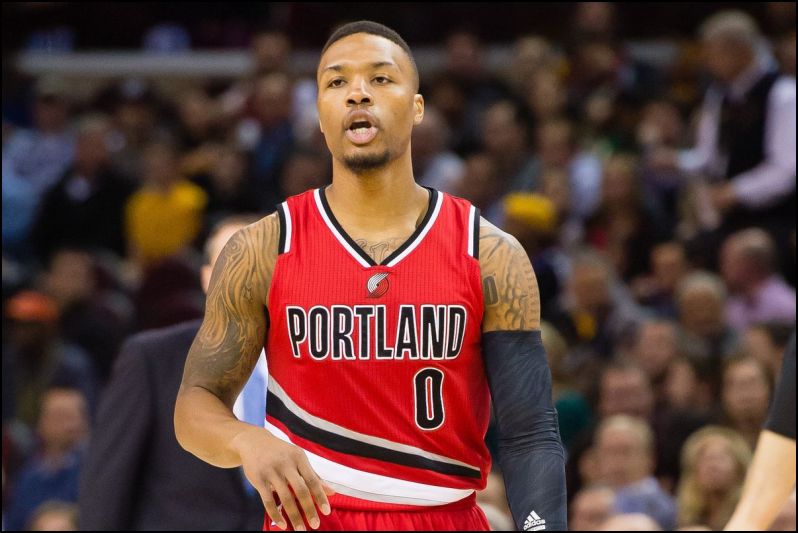 Damian Lillard
FD $9000 DK $8800
Point guard is always an interesting position. It's typically one of the higher scoring positions and one that you need to nail on the head. Tonight, by the time 7:00 hits, you're going to have plenty of options. There are countless injuries on this slate and things are going to get weird. With that being said, there are some guys you can pay up for and Damian Lillard is my favorite. While he is known to be better at home, it's not been the case this year. I think it has a lot to do with him stepping up as a superstar and entering his prime. He's deadly everywhere. Tonight, he heads into Madison Square Garden to face off with the Knicks. We all know stars love playing in New York and the Knicks can't cover point guards. Lillard is fairly priced on both sites and makes sense in both cash games and tournaments. With all the value on this slate, you should have no problem paying for Dame Dolla (Yes, his rap name and he has dropped an album).
T.J. McConnell
FD $5400 DK $4700
There's going to be a whole lot you need to pay attention to on this slate. Ben Simmons is going to be one of them. If Simmons plays, he's going to play a lot of minutes at point guard and a match-up with LeBron James. T.J. McConnell would be useless in that scenario. If Simmons is out, there are 30 minutes of PG and a bunch of ball-handling up for grabs. With Simmons out last game, McConnell saw 36 minutes and put up 54 fantasy points. We probably won't see that for another season or so, but it proves his capability. If given the opportunity, he's a guy you want exposure to in a game that should remain close. If Simmons is out, McConnell is an elite play in all formats.
Shooting Guard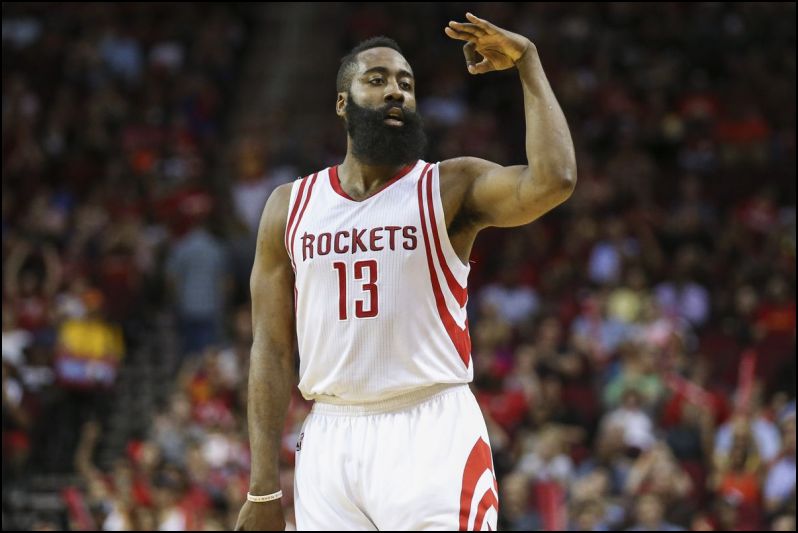 James Harden
FD $11800 DK $11800
With all the value on this slate, you can easily pay up for James Harden. While he's nowhere near a must and there are other guys you can pay for on the slate, we know the upside Harden has. The blowout is a risk tonight, but if it stays remotely close, you can guarantee 55+ fantasy points out of the beard. If it's a blowout, it's because Harden went off, so he won't see less than 40. His upside is in the 90's against a Nets team that plays faster than anyone in the past 10 years (109 PACE). They don't have any perimeter defender to slow him down and certainly don't have any rim protection. If you have the funds, don't run away from James Harden against the lowly Nets.
Klay Thompson
FD $7000 DK $7000
As we sit, Stephen Curry, Kevin Durant, Draymond Green, and Andre Iguodala are all questionable. Let's say all 4 of those guys find a way to play. Thompson would be a normal low-end cash game play in a great match-up against the Kings. If 1 or 2 of them sit, he's an elite play in all formats that will see an increase in usage and minutes. Now if 3 or 4 of those guys sit, play Klay Thompson. It should allow this game to stay close and we know the kings stink against guards. Thompson will be able to shoot 25+ times without worrying about it and will see a guaranteed 35+ minutes (if stays close). You're going to have to wait for all the news to break, but could easily end up as one of the top plays on the slate.P.S, Klay Thompson destroys the Kings almost every time and was the team he put up 30+ in one quarter against.
Small Forward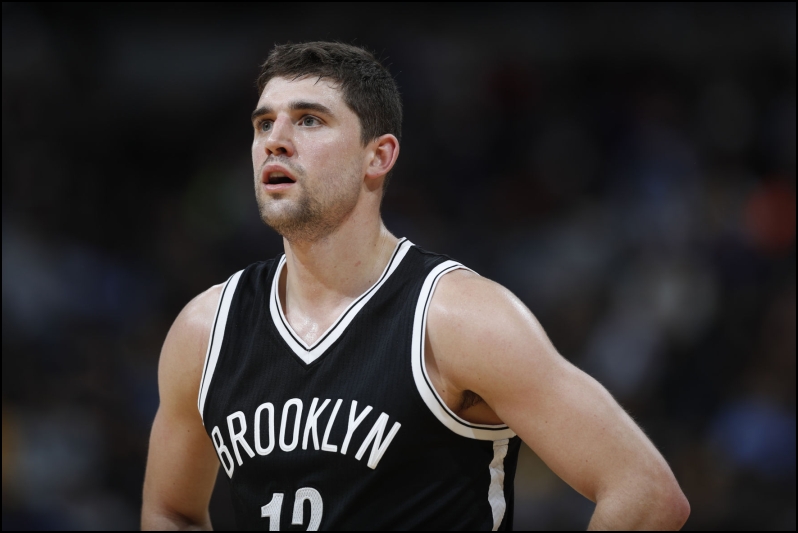 Omri Casspi
FD $4000 DK $3800
This is one of the value plays that could be a must. We just touched on this entire situation with Klay Thompson and there's no reason to do it again. The Warriors have yet to stretch out Casspi for over 30 minutes, but they might not have a choice tonight if both Iggy and Durant are unavailable. In his recent games with 24-28 minutes, he's been extremely productive with 1.2 FP per minute. He'll also have a little personal edge around him facing the Kings team he's been on for a few years. Near minimum-price, Casspi is a lock for value in both cash games and tournaments. Depending on the injury news, Casspi could very well be in 100% of my lineups.
Joe Harris
FD $4100 DK $3600
We do have 1 solidified piece of news. Allen Crabbe and D'Angelo Russell are both going to miss this game. They both missed yesterday and it results in Joe Harris picking up 36 minutes. It was a tough match-up with the Grizzlies, so who really cares how he produced. Tonight, he gets a far better match-up against a Rockets squad that loves to run. You can bank him in there for another 33+ fantasy points and count him in for 25+ fantasy points as well. He'll be covered by James Harden and Trevor Ariza and neither will be paying much attention to his game. He can shoot 3's well and will have plenty of them to shoot. He's a phenomenal value option in all formats and will get the minutes whether the game blows out or not.
Power Forward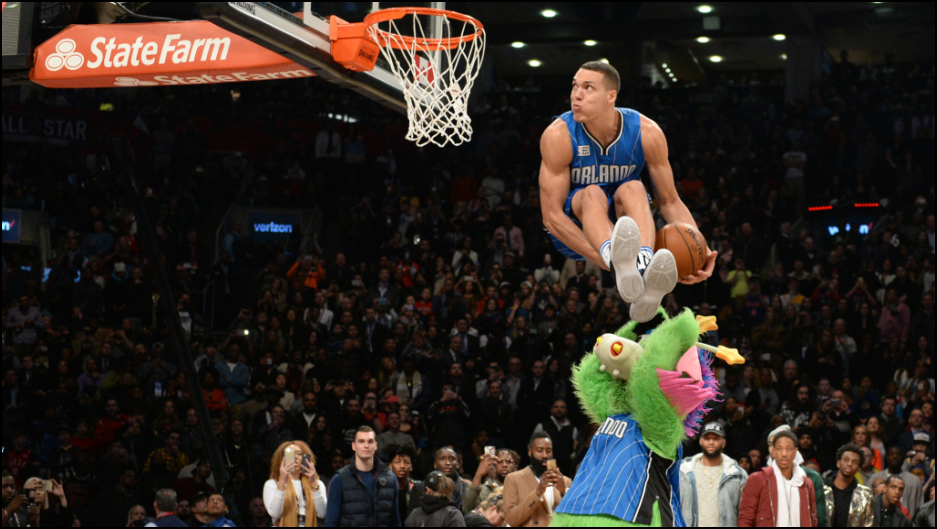 Aaron Gordon
FD $7400 DK $7400
Tonight is going to have a whole bunch of stars and scrubs, which only makes sense. There's a bunch of value and it forces people into that type of lineup. I will certainly fall victim to the same thing, but will make sure I have Aaron Gordon as a mid-priced option at power forward. The Pacers are the league's worst team against power forwards and are the only ones to give up over 50+ fantasy points per game. Gordon is an absolute monster this season and he's been very consistent for his price. Gordon has an ideal match-up tonight and he is a phenomenal play in both cash games and tournaments.
Michael Beasley
FD $4600 DK $3700
Kristaps Porzingis is currently questionable, so add his name to the list of many. If he plays, you can ignore this Michael Beasley play. If Porzingis misses, Beasley is an elite play in all formats. With Porzingis out last game, Beasley ended up with 36 minutes and 40 fantasy points. We know how much Michael Beasley loves to shoot and when Porzingis isn't out there, he's allowed to. There's no way he misses value if he sees 30+ minutes. He is just far too involved in the offense. The Blazers are nothing to be scared of and 25-30 fantasy points is my expectation is 'Staps is out. The upside for more is there, believe it or not.
Center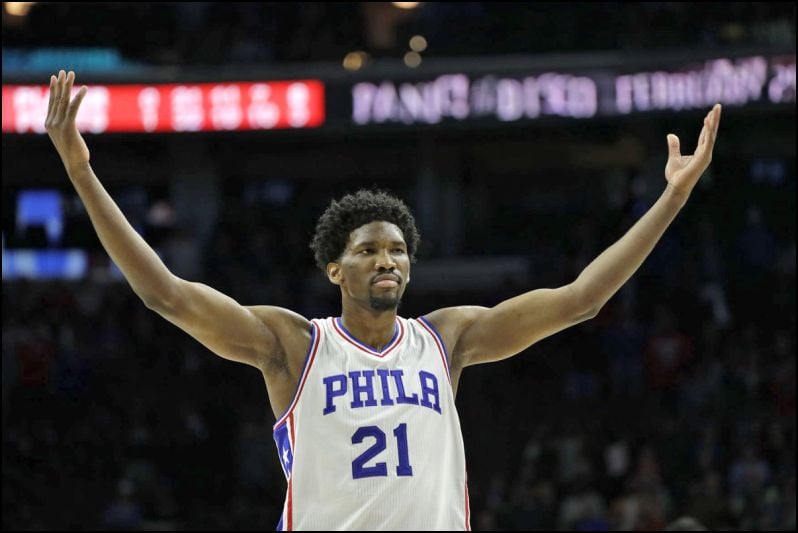 Joel Embiid
FD $9700 DK $10000
Embiid is just a monster. On a per-minute basis, he may be the best DFS player we have. He's just ow getting his full allotment of minutes and it's been quite fun to watch. Tonight, the 76ers face off with the Cavs in what should be a very exciting game. Ben Simmons is questionable and Embiid may see more looks if he misses, but it doesn't really matter. In a way, Simmons can help Embiid against an elite opponent that will keep it close. The Cavs don't have any real centers, so it'll be Kevin love doing his best. Good luck with that, Kevin. Embiid is going to dominate for as long as he's in the game here and I could see a 60 FP performance without much trouble. 40 is the floor.
Jusuf Nurkic
FD $7,400 DK $6,800
I don't think Nurkic will be very popular tonight, but that's great for us. With Porzingis and Kanter both likely to miss, the Knicks don't have much of any rim protection. Nurkic will have a huge advantage over the likes of Hernangomez, Beasley, and O'Quinn. Nurkic is a big part of the offense and he shouldn't have any problem getting involved early. I guess Nurkic is just going to be an inconsistent player, because he has been since entering the league. For that reason, I'll typically reserve him for tournaments. With all the value on this slate, I'll be finding a way to pay up in cash games for Mr. Embiid. Either way you go is a solid option, but it might be a good idea to pay for the safety at this position. Good luck tonight!!!