*Austyn Varney*
NBA Daily Fantasy Basketball Sleepers Lineup Picks for 3/27/18
NBA Daily Fantasy Basketball Sleepers Lineup Picks for 3/6/18. Put the picks into our lineup optimizer and generate lineups. Find out how to create your own floors and ceilings in Mike's new videos on our Facebook Group. If you need any help in fantasy or just want to come join in on the fun we highly recommend requesting a join. Sign up for our Newsletter and try our Playerlab tool, where you can filter the stats that matter the most and find the value players that are low-owned on FanDuel and DraftKings like George Hill and Patrick Patterson.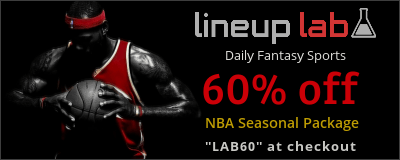 Use Code "LAB60" at checkout for 60% off Seasonal Package
Point Guard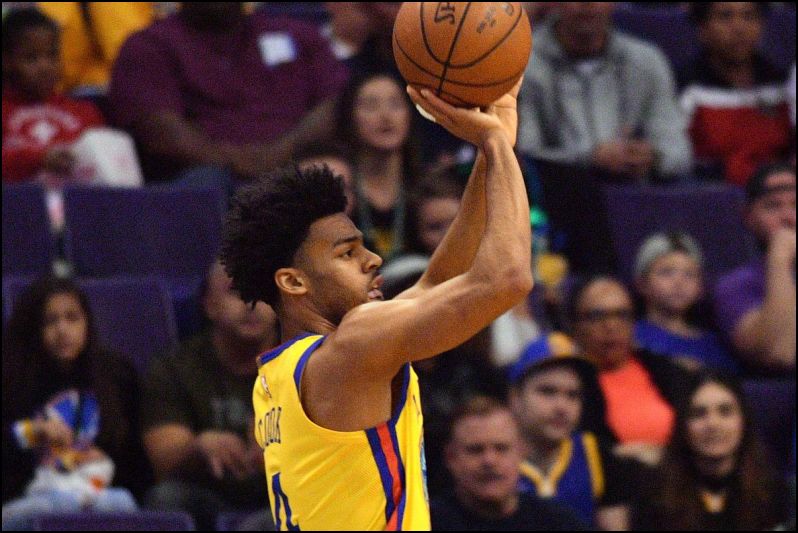 Quinn Cook
FD $6,000 DK $5,900
We'll kick things off Golden State with Quinn Cook. He struggled when first handed the starting gig, but has flipped that to the extreme and is dominating on a nightly basis. Curry is going to miss all the way through the first round of the playoffs, so Cook is going to have a cemented role on this team and it's not going anywhere. He's been over 34 minutes in 3 of the last 5 games and has come through with 30+ fantasy points in 5 of those 5. He now sees a match-up with the Pacers, who rank 22nd against the point guard position and haven't improved since the break (26th). Cook is going to have another productive night and the $6k price tag isn't a worry for me. Let's go a little cheaper.
Yogi Ferrell
FD $3,900 DK $4,200
Maybe this isn't the place, but I just want an explanation as to why J.J. Barea misses what seems like 40 games a season and none of them are ever for the same reason. Get yourself together, dude. Either way, he's out again tonight and Yogi Ferrell will draw the obvious benefit. Already seeing 25 or so minutes a night, this will put him around the 35 number. His price is fair on both sites and you're looking for 25 fantasy points in cash games. Against De'Aaron Fox defense, that really shouldn't be so hard. Ferrell isn't anything special when on the floor, but he's average 1.13 fantasy points per minute. He's a great play in all formats and I like Quinn Cook just a tad bit more with the prices considered.
Shooting Guard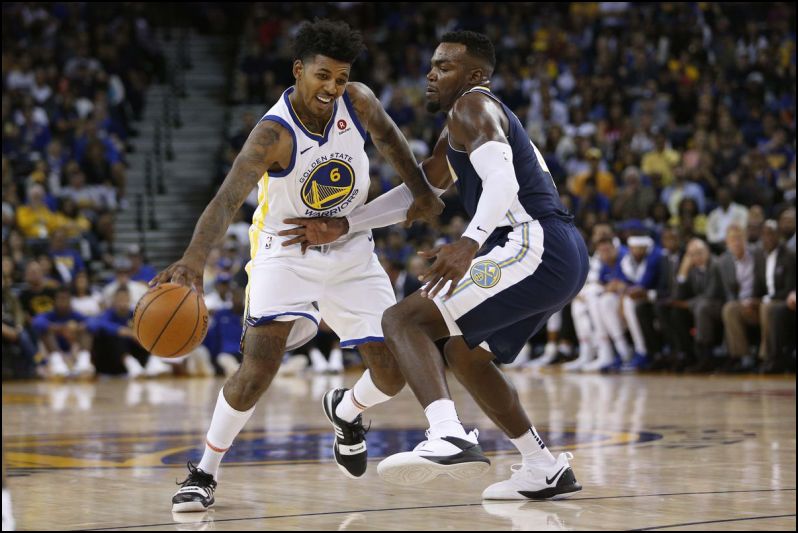 Nick Young
FD $4,800 DK $4,800
Young is going to continue seeing huge minutes with Klay Thompson out. He's been over 30 minutes in 5 of the last 6 games and has been over 36 in 4 of them. 40+ in 2 of them. He's not the most consistent player when on the floor and he is rather reliant on his jumper, so you can't be too comfortable in cash games. With that being said, he can go for 40 on any night and it doesn't really matter who he's facing. Tonight, it's the Pacers. They rank 22nd against shooting guards and play fast. Perfect for Swaggy P. His price has risen, but he's still a value on both sites and a good play in all formats. Let's move up the price range a little bit.
Eric Gordon
FD $5,600 DK $7,200
Eric Gordon is a tiny bit expensive for a value article, but he's going to be one of the more popular plays on this slate and rightfully so. He's going to draw the start for resting James Harden and figures to grab an extra 5-10 shots and minutes. There will be plenty available and we know Gordon has no reservations about shooting a ton. He matches up with a Bulls squad that rank 25th against the position. With a 220 total, there are plenty of fantasy points to go around and we know Gordon is going to get over 30. He's a lock in both my cash games and tournaments, but do understand the fade for other Rockets.
Small Forward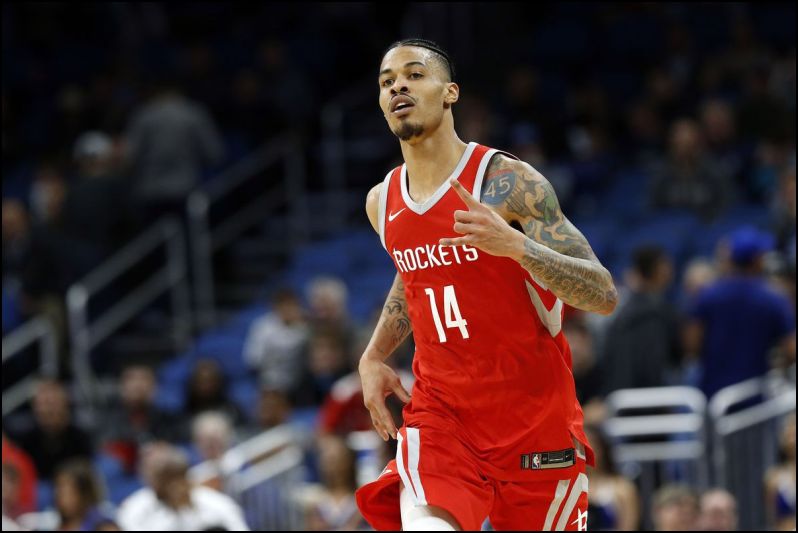 Joe Johnson and Gerald Green
FD $3,500 – $3,700 DK $3,800 – $4,700
These 2 guys have already been picking up 25-32 minutes a game, so this injury news on the Rockets isn't just about minutes for these guys. I'm sure they'll each grab a few minutes with Harden, Mbah a Moute, and Capela all out, but it's more about the shots up for grab now. With Harden out, you know both Gerald Green and Joe Johnson are going to have some fun when the ball is in their hands. Much like a guy like Michael Beasley, they are automatic production with the ball in their hands. It's not necessarily good for the team, but these Rockets are good enough to overcome some me-ball from Johnson and Green. I honestly love both and will have a ton of exposure in all formats. This Rockets squad is the top value on the day and these guys are right in the center of it. Still cheap on both sites, don't be afraid to plug either of those guys into your lineup.
David Nwaba
FD $4,800 DK $4,700
Here's what we're working with. Nwaba is currently picking up 25 minutes a night. Denzel Valentine is questionable. If Valentine is in, Nwaba is a nominal play at 25 minutes. He's fine in cash, but doesn't blow anyone away. Now if Valentine sits, we've seen the Bulls play Nwaba upwards of 35-40 minutes. He is productive when on the floor and has the ability to put up 40 fantasy points with ease. The match-up with Houston is a great one, as it'll be guys like Gerald Green and Joe Johnson covering him. Ariza and Paul will be on the better players. Nwaba is just under $5k on both sites and one of the top plays in all formats if Valentine is out. Pay attention on Twitter and make sure Valentine is ruled out before plugging Nwaba in everywhere.
Power Forward
Cheick Diallo
FD $4,300 DK $4,000
We start off with a very contingent Cheick Diallo at power forward. With Nikola Mirotic out last game, Diallo picked up 25 minutes and put up 34 fantasy points. 30 of those fantasy points came in 14 minutes in the 2nd half. Wow. He has a ton of upside in the right spot and is safe if given the opportunity. Tonight, Nikola Mirotic is questionable and it all depends on his status. If Miro is out, Diallo is going to pick up 25 minutes again and makes sense in all formats. If he plays, I have no interest in Diallo at all.
Tarik Black
FD $3,500 DK $3,000
Along with Harden, Clint Capela is going to take a rest tonight. He plays 26-30 minutes on most nights and is a huge interior presence for this team. The two candidates to take his minutes are Nene Hilario and Tarik Black. Hilario is where you assume they go, but he's old and coming off of injury. The point of this game is to rest the team, not put an old man right back on the injury report. That's why I suspect it'll be the youngin Tarik Black, who won't touch the floor in the playoffs. He could easily pick up 25 minutes tonight against Felicio and post a quick double-double. I'll be way over the field at 50% and don't hate dieing on this branch. As a worst-case scenario, he sees 20 minutes and put up 15 fantasy points. Best case is 26 minutes and 30-35 FP. He's minimum around the industry and an elite play because of it.
Center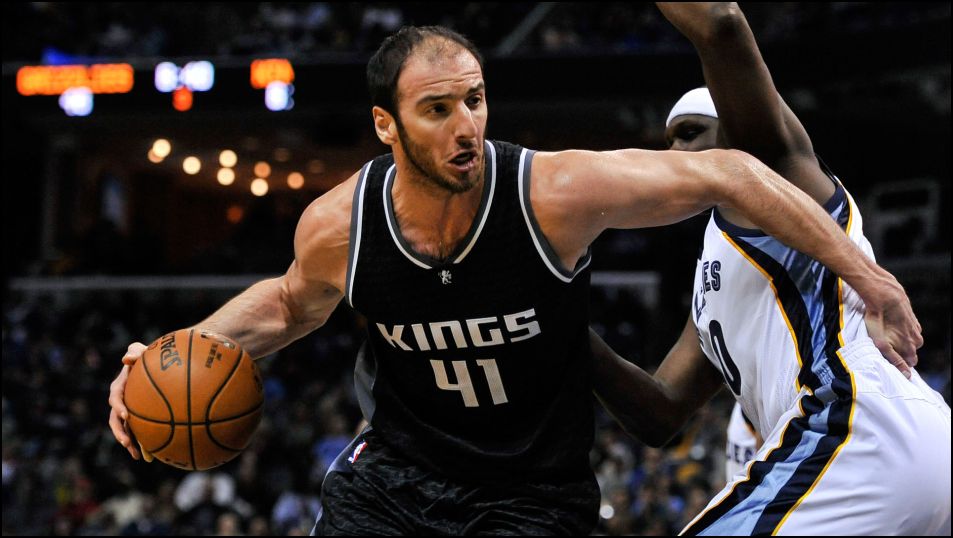 Kosta Koufos
FD $3,800 DK $4,400
There's only one center I have much love for under $6k. Koufos picked up 32 and 25 minutes over the last two games and has been excellent in both. The 55 fantasy points a few nights ago is obviously lofty expectations, but that isn't what we need. He's around $4k on both sites and you only really need 20 to make you extremely happy. The Kings are one of the weakest interiors in all of the league and Koufos won't have trouble when in there. Expect another 20-25 fantasy points and don't be surprised if he gets up to that 30 mark. Good luck tonight and comment below with any questions!