NBA Daily Fantasy Basketball Sleepers Lineup Picks for 2/13/18
*Austyn Varney*
NBA Daily Fantasy Basketball Sleepers Lineup Picks for 2/13/18
Tuesday's 6-game slate leaves slim opportunities. You know who the studs are, but do you know who the cheaper daily fantasy basketball sleepers are that could make your lineup stand out amongst the rest in a GPP? Sign up for our Newsletter and try our Playerlab tool, where you can filter the stats that matter most and find the value players that are low-owned on Draftkings & Fanduel like Davis Bertans and Raymond Felton.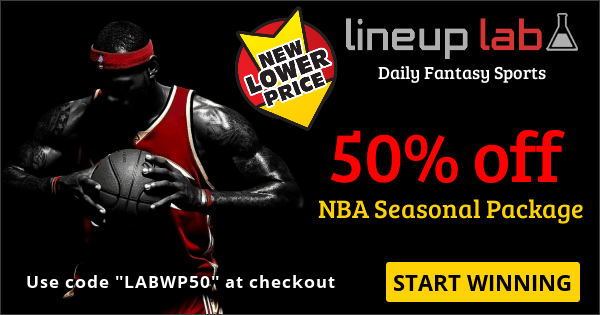 Use the code "LABWP50" at checkout for 50% off Seasonal Package (including playoffs)
Point Guard
Raymond Felton
FD $5,000 DK $4,900
We open up tonight's 6-game slate with a play that's fully dependent on injury news. Russell Westbrook is currently questionable to play and has missed the last 2 games. Felton picked up 33 and 31 minutes and put up 22 and 32 fantasy points. The Cavs are ranked 29th against PG's on the season, but let's not be nieve. George Hill is a lot better of a defender than anyone the Cavs have had and they will slowly improve. With that being said, he's not amazing and will not shut down anyone. If Russell Westbrook is once again ruled out, Felton can be locked in for 30 minutes and 25 fantasy points. This match-up between the Thunder and Cavaliers is an extremely fun one tonight and we'll be looking to get as much exposure as possible with a high total and low spread. Felton will be in 100% of my cash games and tournaments if Westbrook is ruled out.
George Hill
FD $4,800 DK $4,900
Speaking of George Hill, he's certainly in play. He looked like a completely different player in a Cavs uniform than he has in Sacramento and it's not at all surprising. He's always been a huge competitor and seems to thrive off of relevancy. He's a great defender and will be on the court a ton if Westbrook is ruled in. Even if he's not, it's safe to expect at least 20-25 minutes. The road to 30+ minutes should be slow, but it might not be. There is still a ton of upside at this insanely low price, so you can absolutely play him in all formats. I'll have a lot more of Hill if Westbrook is ruled in, as he'll pull all interest away from Felton. Point guard is always important and you'll need to get it right on this slate with some solid expensive options.
Shooting Guard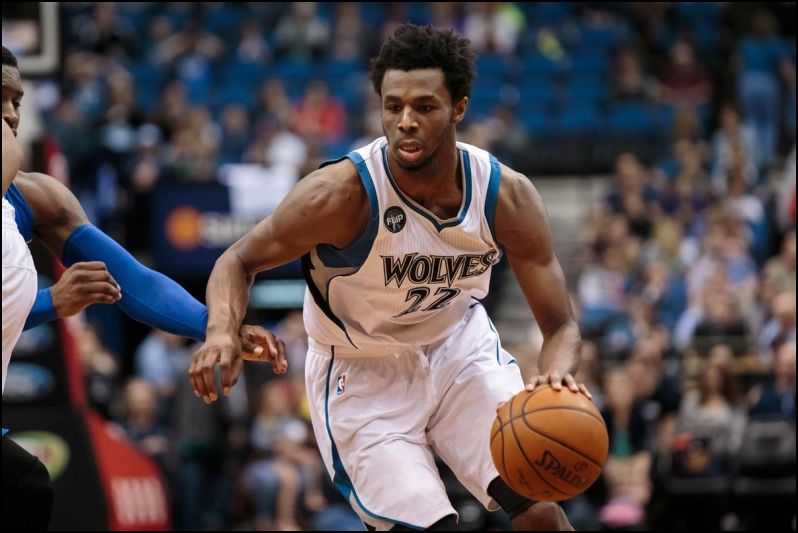 Andrew Wiggins
FD $6,200 DK $6,200
I try to focus on some of the cheaper options at each position, but we know SG is usually pretty tough to pay down at. You'll often find your main value guys around $4k or $5k, opposed to the typical minimum-priced guy at each other position. Tonight, we'll look at 2 mid-priced options here. The first is Andrew Wiggins, who figures to match-up with James Harden. That's all that really needs to be said. Wiggins is back to his normal self and is a lot more comfortable in the offense than he was earlier in the season. He's putting up 20+ every night and typically sitting around 35 in solid match-ups. He's always a bit reliant on his scoring, but that should be fine in a game with a 222 total and 2.5 point spread. If you're wanting exposure to this game, Wiggins is an extremely easy choice at a lackluster SG position.
Rodney Hood
FD $5,000 DK $4,800
We're on to another new Cavalier in Rodney Hood, who'll inevitably be in the $6 or $7k's very soon. He only saw 18 minutes in a blowout against the Celtics, but still put up 20+ fantasy points. He would have easily seen close to 25 minutes and should easily get there tonight, assuming the game stays close. Hood is going to be a huge part of this team before long and he's always been a dynamic DFS player when on the floor. As of now, Hood is just $5k. He needs you 25 fantasy points and it shouldn't be a problem at all if the game stays close. I do prefer Wiggins and will try to pay up, but there is still a lot of safety and tournament upside here with Rodney Hood. Don't be afraid of the 18 minutes in that blowout.
Small Forward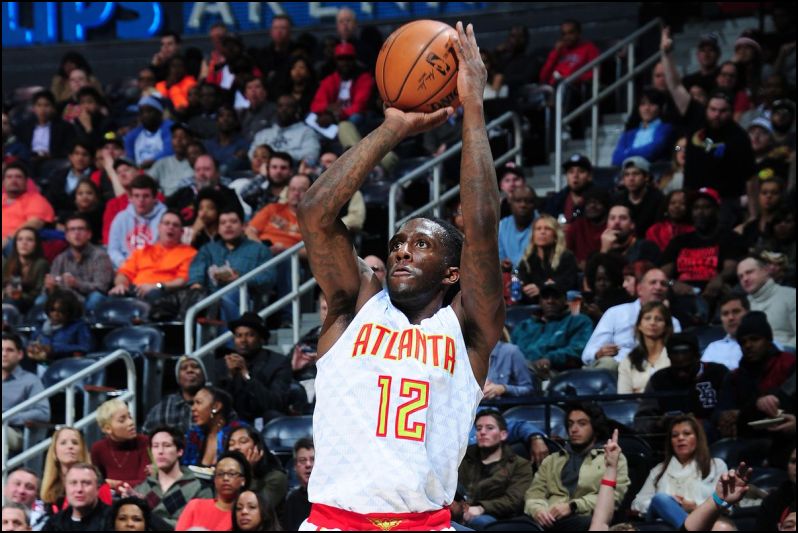 Taurean Prince
FD $4,000 DK $4,700
If you're looking to pay down at small forward, it'll be kind of tough. PG and PF are the real spots to pay down tonight and everywhere else is just a tad bit reaching. With that being said, Taurean Prince is a guy I will have decent exposure to. He's simply too cheap and always a solid option. While he saw 22 minutes last game, he's been between 26 and 32 minutes on most nights since January. His price is now far below $5k on both sites and you're only looking for 20 fantasy points. The Milwaukee Bucks rank 21st against small forwards and it's safe to assume Khris Middleton will be on him, opposed to Giannis. I don't love the upside prince has, but he's cheap and pretty safe in cash games.
LeBron James
FD $11,500 DK $11,500
I know, quite the value play. I just didn't want to pass up LeBron here as my favorite play on the entire slate. We know the hype behind this new Cavs squad and nobody is feeling it more than LeBron. He's now the only catalyst for this offense and is going to see a usage rate well over 35%. His price is obviously up there, but he's going to have the ball in his hands for 40 minutes against a fast-paced Thunder team. Paul George is obviously a good defender, but do yourself a favor and watch some LBJ highlights against the Pacers. He doesn't have much trouble. This is a game I'm all over tonight and I will have 100% LeBron James. Small forward is one of the weaker position on the slate and LeBron can erase all of that. Don't try to get cute with another value play.
Power Forward
Davis Bertans
FD $5,000 DK $4,800
With LaMarcus Aldridge remaining out, you can count on Davis Bertans for an encore of last night. Against the Jazz, he played 28 minutes and put up 29 fantasy points. He's always extremely reliable when on the floor with a 1.02 FP per minute and it just depends on the opportunity he has. Tonight, the match-up with Denver is far better. He now has a solid match-up as well, so we could be looking at a bit of upside. His price is still under $5k on both sites and you're only needing about 20-25 fantasy points. He's a very safe option with plenty of upside in tournaments.
Patrick Patterson
FD $3,900 DK $3,800
If Carmelo Anthony is ruled out, you can certainly punt with Patrick Patterson. Over the last 3 games, he's seen 35, 29, and 25 minutes. At close to minimum-price, even the 25 minutes doesn't kill you. If he sees 29 or 35, you're way in the money against a Cavs team that gives it up to bigs. Jerami Grant will also be locked into 30ish minutes, but he's just not cheap enough for me to lock him into my cash games. If Melo is ruled out, I have no problem getting more exposure to this game with a punt PF that can shoot the 3 and rebound against Cleveland. If Melo is in, completely ignore Patterson.
Center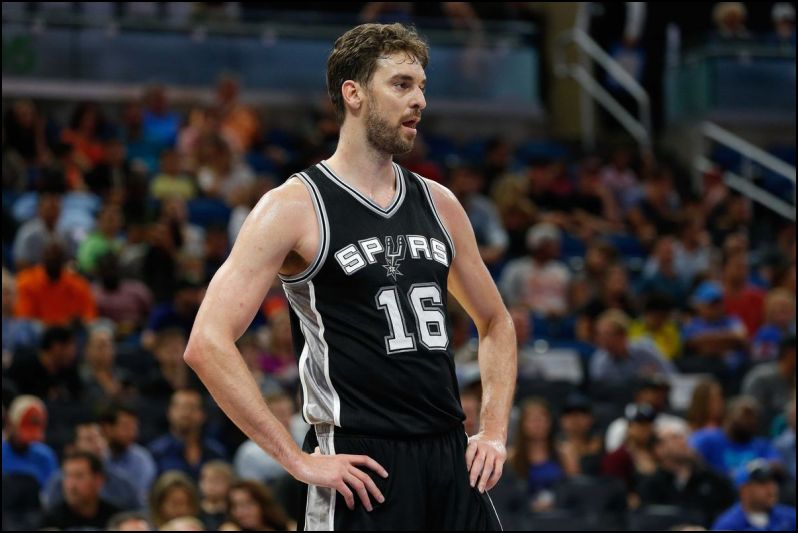 Pau Gasol
FD $6,000 DK $5,600
Pau put up 50 fantasy points with LMA out last game and while it's ambitious to expect, it's not crazy. He is this good of a player and he's only not over 30 FP every night because of Popovich and his brain. If Gasol was on the T-Wolves with the moron that is Tom Thibodeau, he put be putting 40 FP a night and be dead by April. The only problem people may have with Gasol is the 33 minutes last night. With the ASB coming up, I don't think it's a worry AT ALL. If this game stays close, expect another 28-33 minutes out of Gasol and 30-40 FP against a weak Denver interior.
Tristan Thompson
FD $4,500 DK $4,500
Nobody loves rostering Tristan Thompson, but we all know he's the motor of this team. LeBron is obviously the man, but you know when the Cavs are playing well. it's when Thompson is all over the place and somehow making a difference on every ball in the paint. We saw it last game, even without a big FP performance. He's going to continue seeing minutes with this new style of team and his price is very low at just $4.5k. You're looking for 15-20 in cash games, which is 3 quarters of meh basketball against the Thunder for Thompson. He's a guy I'll have a lot of in tournaments, but Gasol is in too good of a spot for me to overlook.