NBA Daily Fantasy Basketball Sleepers Lineup Picks for 3/6/18
*Austyn Varney*
NBA Daily Fantasy Basketball Sleepers Lineup Picks for 3/6/18
NBA Daily Fantasy Basketball Sleepers Lineup Picks for 3/6/18. Put the picks into our lineup optimizer and generate lineups. Find out how to create your own floors and ceilings in Mike's new videos on our Facebook Group. If you need any help in fantasy or just want to come join in on the fun we highly recommend requesting a join. Sign up for our Newsletter and try our Playerlab tool, where you can filter the stats that matter the most and find the value players that are low-owned on FanDuel and DraftKings like Yogi Ferrell and Justise Winslow.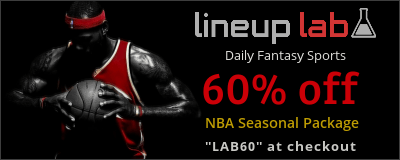 Use Code "LAB60" at checkout for 60% off Seasonal Package
Yogi Ferrell
FD $4,000 DK $4,300
You can be a fan of the 24 minutes Ferrell has been seeing in the last couple games, but I'm not convinced it's indicative of the future. He is one of their youngsters and they have already said, very publicly, that they will try to up those guys' minutes. Ferrell is always effective when on the floor and this match-up with the Nuggets in phenomenal. On the season, they rank 20th against opposing point guards. Jamal Murray is a bad defender and the interior is even worse. Ferrell is extremely cheap on both sites and this game does have a solid 219 total with just a 5 point spread. I'm a fan of Ferrell in both cash games and tournaments if you need to pay this far down.
Milos Teodosic
FD $4,400 DK $4,700
If you're looking for cheap consistency, this is an obvious choice. You probably won't get 40 fantasy points ever out of Milos Teodosic, but you will grab 20+ on 8/10 nights. At his price, that's all you can ask for. This is also a game we're all over with a 236 over/under and 2.5 point spread. The minutes are locked in around 28-32 and he's safe in all formats. He stuffs the stat sheet well and isn't reliant on any 1 category, like most value guys are. Teodosic will be in a ton of my lineups.
Shooting Guard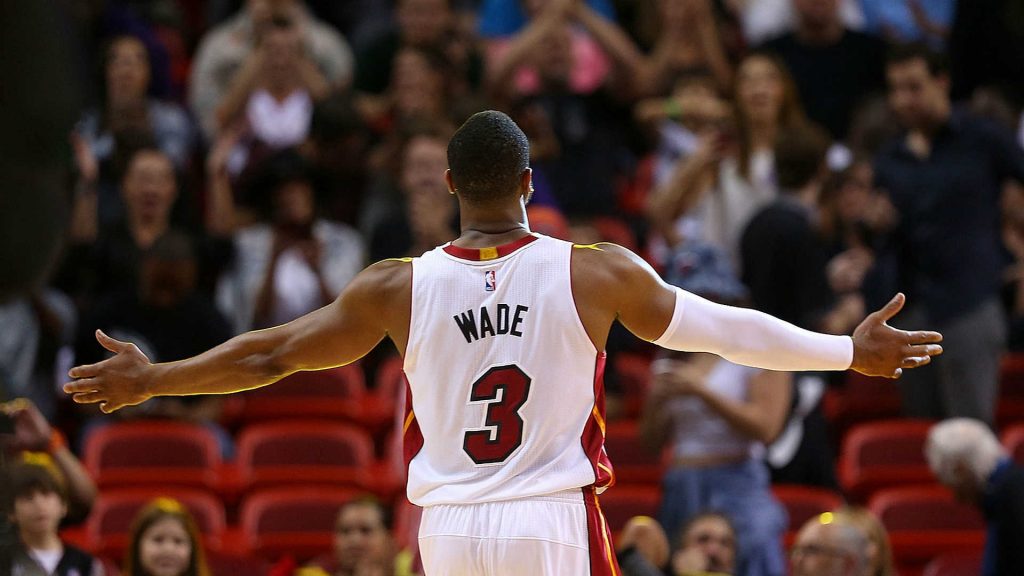 Dwyane Wade
FD $4,900 DK $5,300
You can't love the minutes for Dwyane Wade, but he's certainly producing when on the floor. For now, we expect 25 minutes and 25 fantasy points. We hope for 30 minutes and 35 fantasy points in a big game against the Wizards. His price is still fair on both sites and I have no worries in any format. He's going to shoot when on the floor and has the ball in his hands a ton. The Wizards like to play fast and I don't see why Wade wouldn't excel at this PACE. I don't necessarily love Wade, but he's the best of what you have to choose from at this position for value. Don't blame me.
J.J. Redick
FD $4,900 DK $5,200
I don't really love the value at SG, but both of these guys are going to be all over my rosters. I just don't have to have anyone at the top either and am fine with paying down for a safe 20-25 fantasy points. You get that out of both Wade and Redick, who faces off with the Hornets in a game with a crazy 236 over/under and 2.5 point spread. Against shooting guards, the Pelicans rank 29th against shooting guards. The only worse team is the Phoenix Suns, who might as well not have a defense. Consider Redick a safe option in both cash games and tournaments. If you make me choose, I go Redick over Wade just barely.
Small Forward
E'Twaun Moore
FD $4,200 DK $4,000
Here are another 2 guys that you don't necessarily get excited about, but you also don't worry about them burning you. When E'Twaun Moore gets minutes in a good match-up, you can count on an FP per minute. In a game with a 236 over/under and just a 2.5 point spread, there are a ton of fantasy points to go around. He does see a 14% usage and is typically taking at least 8-10 shots in most games. If he gets hot, we've seen the 40 point ceiling more than a couple times. Ranking 26th against SG's and 23rd against SF's, we won't see any problems with the match-up. He's cheap enough on both sites and I couldn't blame you for playing him in either format, though I'll try my best to make it just tourneys. I prefer the next guy in cash games.
Justise Winslow
FD $4,300 DK $4,200
Now for one of the easier plays on the entire slate. Over the last 3 games, Winslow has played 31, 30, and 27 minutes. In those 3 contests, he proceeded to put up 43, 31, and 28 fantasy points. Good luck fading him in a fast-paced contest with the Washington Wizards. A team that's ranked 26th against SF's on the season. Winslow needs you 20 fantasy points at $4.2k, so I don't really see the logic in fading. He's a great player and is finally rounding into himself coming off the bench. I will have close to 100% in both cash games and tournaments.
Power Forward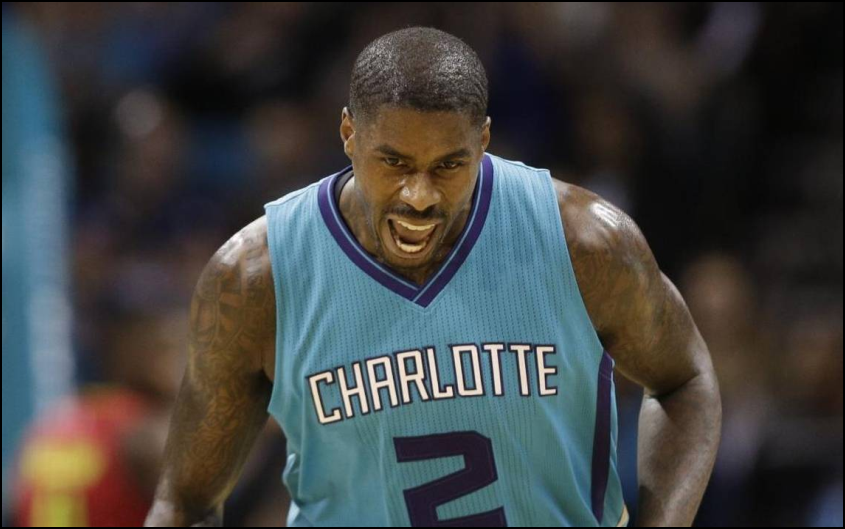 Marvin Williams
FD $3,600 DK $4,000
I typically dislike the value at PF and tonight is no different. If it's up to me, I'll sit in the mid-range with guys like Tobias, Draymond, and Mirotic. If you need to pay down, however, you can with Marvin Williams. He's extremely cheapon both sites and seeing 20+ minutes a night. He's not safe, but you can see 30 fantasy points if he gets hot from behind the line. The Sixers give up the 4th most 3's to PF's and the upside is most definitely there. I won't be on much of Marvin, but could very well end up there on a few lineups as I try to make things work.
Dwight Powell
FD $5,700 DK $5,500
Dwight Powell isn't all that cheap, but I don't love anyone else under $5k at the position. Dwight Powell is still a value at under $6k and you can almost guarantee he sees 24+ minutes in every game. It doesn't seem like a ton for him, but he's locked in for an FP per minute these days. Especially against a Denver Nuggets squad that ranks 24th against the PF position over the last 20 games. They play big with Jokic at the 5 and Millsap at the 4, so his size will be necessary over a guy like Dirk Nowitzki or Maxi Kleber. Powell isn't necessarily safe, but you should grab 25 fantasy points and there's always a chance for 40 if he sees 30+ minutes for whatever reason.
Center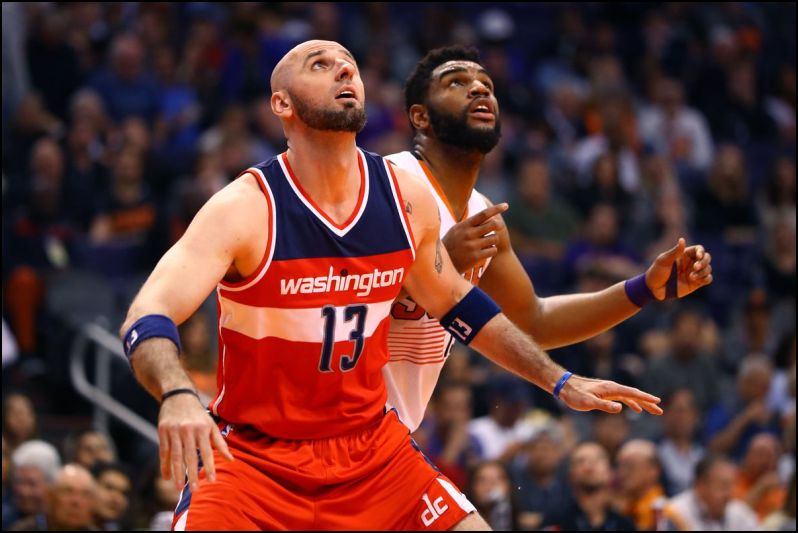 Marcin Gortat
FD $4,100 DK $4,500
At center, Marcin Gortat is the only guy I'm comfortable recommending under $6k. On most teams, you'll find DeAndre Jordan or Clint Capela in this spot, but there are a few spots where you must pay down. If that's the case, I have no reservations about a low-$4k Marcin Gortat. He's far from flashy at this point, but has been right around that 20-25 fantasy point mark in solid match-ups. He sees a match-up against the Heat and Whiteside tonight, who rank 13th against centers. At the insane $4k tag, you're only needing 20 fantasy points and we know his size will be necessary with Whiteside on the other side.