NBA Daily Fantasy Basketball Sleepers Lineup Picks for 3/20/18
*Austyn Varney*
NBA Daily Fantasy Basketball Sleepers Lineup Picks for 3/20/18
NBA Daily Fantasy Basketball Sleepers Lineup Picks for 3/6/18. Put the picks into our lineup optimizer and generate lineups. Find out how to create your own floors and ceilings in Mike's new videos on our Facebook Group. If you need any help in fantasy or just want to come join in on the fun we highly recommend requesting a join. Sign up for our Newsletter and try our Playerlab tool, where you can filter the stats that matter the most and find the value players that are low-owned on FanDuel and DraftKings like George Hill and Patrick Patterson.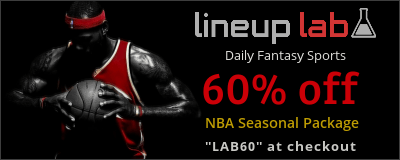 Use Code "LAB60" at checkout for 60% off Seasonal Package
Point Guard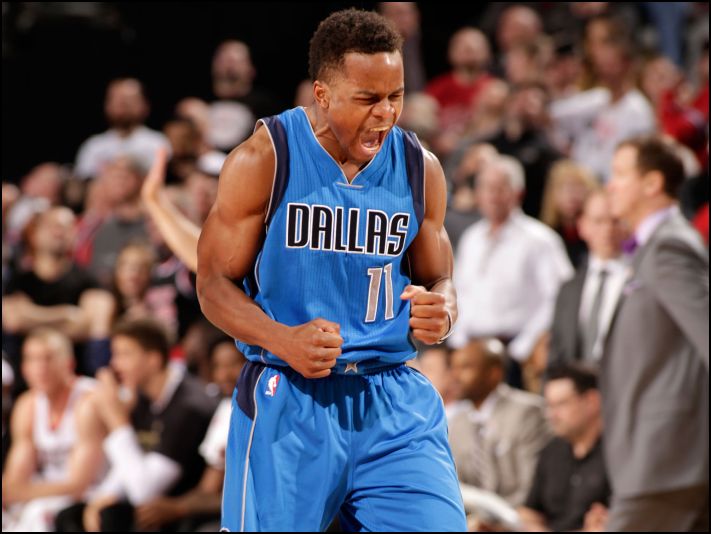 Yogi Ferrell
FD $4,900 DK $5,300
According to Rick Carlisle, Dennis Smith Jr. is going to "miss some games". Whatever that means. For a team that's tanking, it's just counting down the days until the season is over. In the meantime, you can look towards Yogi Ferrell. He's already seeing 30 minutes a night and should get close to 40 here. The match-up is impeccable against a Pelicans team that sits 28th against the point guard position. We also have a questionable J.J. Barea. If he misses, Kyle Collinsworth would be forced into 25 minutes and be a good play. For now, Yogi Ferrell is one of the more reliable options at any price point on the slate.
Tyler Dorsey
FD $3,500 DK $3,700
At point guard, Yogi Ferrell really is the cheapest I'm comfortable going in cash games. With that being said, tournaments are a different story and I have a lot of interest in Tyler Dorsey. He's been picking up 25-28 minutes in most games and typically produces. On the season, he's sitting at 0.98 fantasy points per minute. He now draws at a match-up against a Jazz squad that ranks 18th against the PG position. His price is sitting extremely low in the mid-$3k's and you're only needing 20 in cash games. I don't think he's necessary in cash games, but you can pay up at a few other spots in a tournaments and use him. Personally, he's in about 25% of my lineups.
Shooting Guard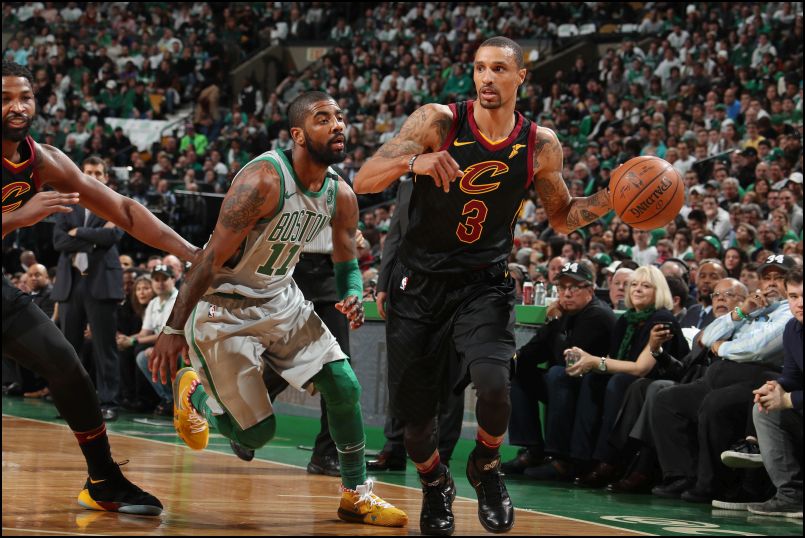 Troy Daniels
FD $3,800 DK $3,900
Daniels played 28 minutes last game without Devin Booker and put up 29 fantasy points. He put up 18 points from the field and sprinkles in 6 combined peripherals. He's always going to be a tad bit reliant on his jumper, but has a lethal one and can get hot from behind the arc. The match-up with Detroit isn't ideal, but they rank 23rd against the SG position, so it could be a whole lot worse. If Booker plays, I'll be ignoring the situation as a whole. If Booker is out, Troy Daniels is a viable cash game punt at a weaker SG position.
Kyle Collinsworth
FD $3,600 DK $3,600
If you're not a fan of Troy Daniels or just want to go elsewhere, Kyle Collinsworth is pretty interesting. He's picked up 17-25 minutes in each of the last 3 games and now see Dennis Smith Jr. out. He should get up to at least that 25-minute mark and his price is low enough to play in all formats. It's hard to trust a guy that isn't guaranteed any minutes, but it's what you're signing up for when you want to pay down at shooting guard. I definitely prefer Daniels and will play him in any format, while Collinsworth is more of a tournament option. Let's get to small forward.
Small Forward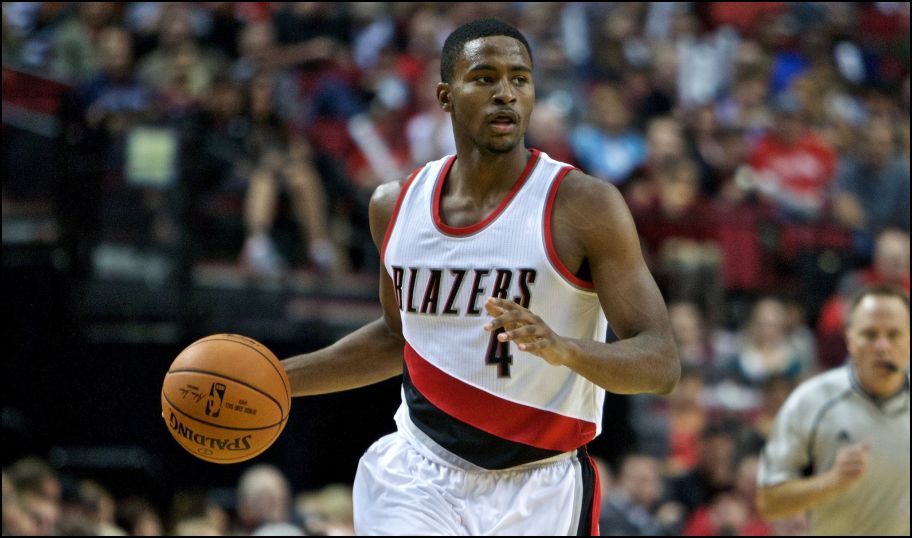 Maurice Harkless
FD $4,000 DK $4,000
Small forward isn't the greatest spot to reach for value. There are a few different ways to go, but I'll probably be doing my best to get to the mid-range. If you do need to pay down, Maurice Harkless is your best bet. Seeing 25+ minutes s night, he's put up 30+ fantasy points in 2 of the last 3 games. He doesn't mind being a big part of this offense and has gone on red-hot streaks before. Harkless is insanely cheap at $4k and will need you just about 20 to make you happy in cash games. We know the Rockets love playing fast and Harkless excels in the open floor. Give him a go in all formats and don't worry about him being the reason you lose.
Doug McDermott
FD $3,500 DK $3,500
McDermott saw 41 minutes last game, so you have to take interest in him at the price. He definitely doesn't produce like you would want, but he can get hot from behind the line and get to 25 fantasy points. He faces off with a Pelicans squad that ranks 23rd against the SF position. They give up the 4th most 3-pointers in all of the league and have played at the 2nd fastest PACE since the All-Star Break. Book him for 15 fantasy points and 35 minutes. It's not safe, or fun, but he'll help you pay up elsewhere and shouldn't hurt you too badly. Let's get to some big guys.
Power Forward
Jae Crowder and Jonas Jerebko
FD $5,400 – $3,500 DK $4,600 – $3,300
The two starting PF's have been ruled out in this game and we're going to look at a couple guys from the game. Let's start on the sugar side. With Derrick Favors out, that adds 25-ish minutes to these two guys. With my math, we should see Crowder around 35 and Jerebko 24-28. At the bare minimum price, I don't think Jerebko will ever hurt you in this spot. Crowder is more expensive, but a lock for 25 with 40+ upside. The Hawks are one of the weakest interiors in all of the league and can be targeted at will with skilled bigs. Both of these guys will make a big impact when in the game and I really like both in either format.
Center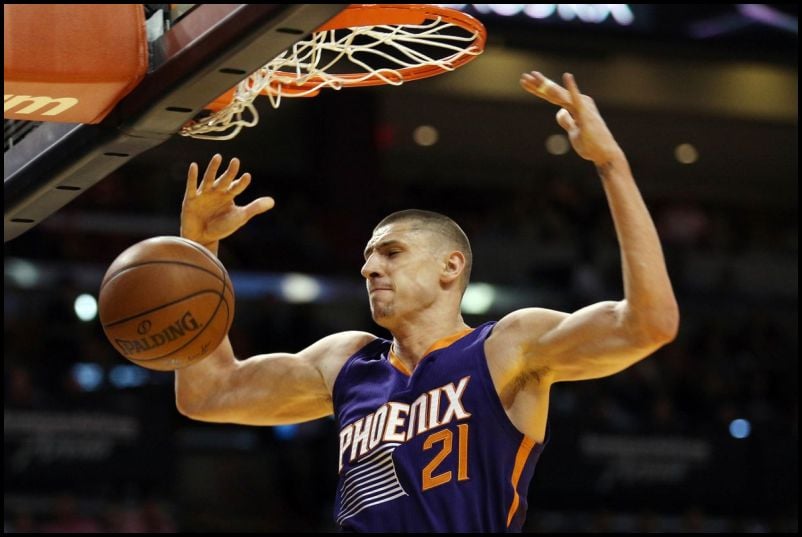 Alex Len
FD $3,900 DK $3,700
The low-end of center is never very good. Tonight is no different. If Tyson Chandler ends up missing, Alex Len should grab 20-25 minutes and faces off with a weak Pistons interior. Because of Andre Drummond, his size is going to be very necessary for the Suns to at least grab some rebounds. He's been pretty frustrating on this season, but we know Len is a guy that can pick up 30 fantasy points on any given night. This game does hold a 210+ over/under, so Vegas expect there to be plenty of scoring to go around. The Pistons rank 18th against the C position and Len won't have any problem putting up numbers when in the game. It's just a matter of actually getting in there.
Aron Baynes
FD $3,70 DK $3,500