NBA Daily Fantasy Basketball Sleepers Lineup Picks for 1/23/18
*Austyn Varney*
NBA Daily Fantasy Basketball Sleepers Lineup Picks for 1/23/18
Tuesday's 5-game slate leaves slim opportunities. You know who the studs are, but do you know who the cheaper daily fantasy basketball sleepers are that could make your lineup stand out amongst the rest in a GPP? Sign up for our Newsletter and try our Playerlab tool, where you can filter the stats that matter most and find the value players that are low-owned on Draftkings & Fanduel like Joffrey Lauvergne and Josh Hart.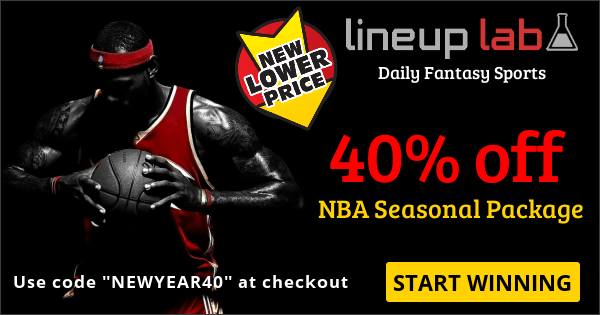 Use the code "NEWYEAR40" at checkout for 40% off Seasonal Package
Point Guard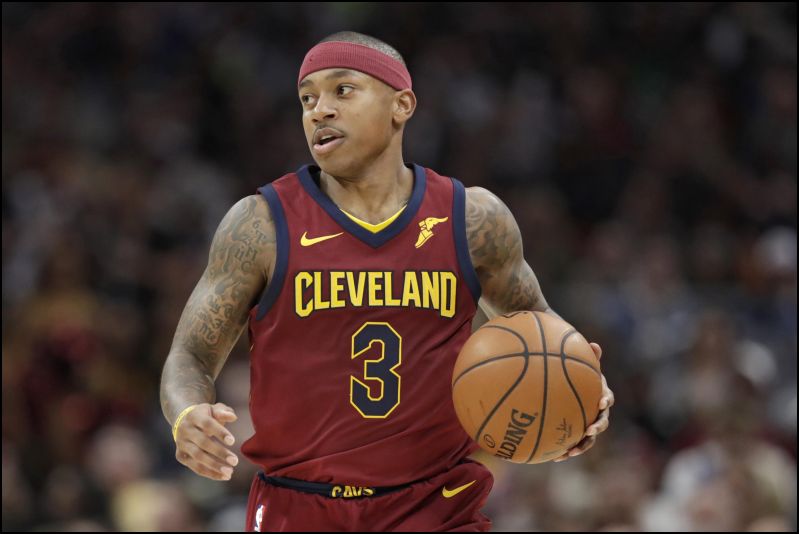 Isaiah Thomas
FD $6,500 DK $6,000
We're starting with 2 guys that aren't all that cheap, but are definitely considered "value". Isaiah Thomas is a player that should be over $8k on both sites and will be very soon. He's definitely not at that line of production yet and is still figuring his way into this offense, but we know who this guy is. He's a 1.5-2 FP per minute player when on the floor and has been over 30 minutes already a few times. He sees a match-up against the Spurs that is not too shabby. Sure, the Spurs are always a solid team defense, but PG is a spot you can get them at. On the season, they rank 15th against the position. Thomas is way too cheap and is going to continue putting up 30+ fantasy points a night, until he figures it out and is at 40-50. This game is going to be close and he'll be in there against guards who don't play much offense.
De'Aaron Fox
FD $5,700 DK $5,200
Fox is going to come in a little bit cheaper than IT2 and I don't see why. Aside from playing 30+ minutes in 4 of the last 5 games, he's sitting over 30 fantasy points in most decent match-ups. He's obviously the future for this team and they are now focused on him as the sole point guard. He's going to be well over $7k very soon and we'll be looking back at these days as missed opportunities. Fox and the Kings match-up with Orlando tonight, who's an underwhelming defense by every measure. They rank 27th in the league against PG's and seem to give up a big game almost every night. Fox is a near-lock for 25 FP (value) and has a phenomenal shot of getting to 35 and being a monster in tournaments. This is a value article, but these are still my 2 favorite PG's on this slate, regardless of price.
Shooting Guard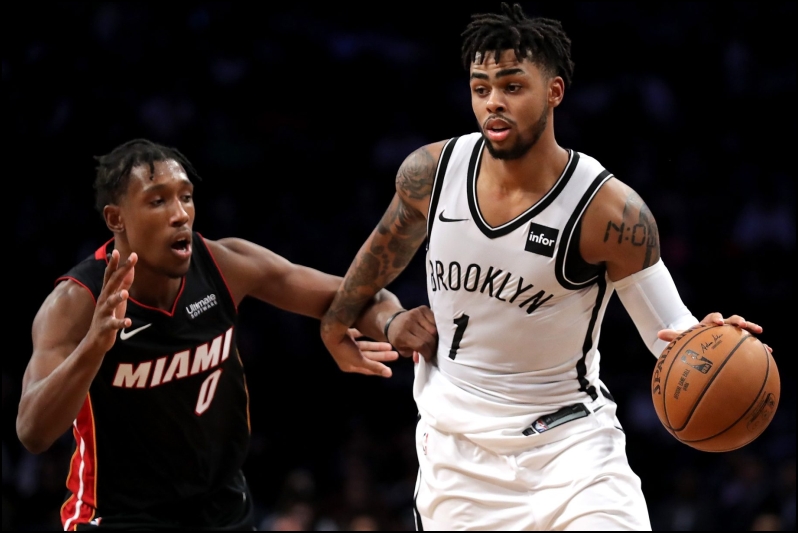 Alex Caruso and Josh Hart
FD $4,200 – $3,700 DK $4,500
With Lonzo Ball already ruled out, we know minutes and shots are up for grabs. We then have Kentavious Caldwell-pope doubtful, who's extremely important. If KCP plays, I don't have any interest in Caruso or Hart. If KCP is out, I think both see over 24 minutes and hit value in a competitive game against the Celtics. Jordan Clarkson is obviously the guy who's in for the biggest workload increase, but he's expensive and going to cost you a stud elsewhere. Hart and Caruso are both 1+ FP per minute players that do get involved and will rarely disappoint when given the opportunity. The Celtics aren't a bad defense, but Vegas think it stays close and high-scoring with a 209 O/U and 4.5 point spread. Caruso is the guy who seems to be safer, but Hart has been over 30 minutes in worse spots. Both are in play for tournaments and I'm ok with either in cash if KCP is ruled out.
Jonathan Simmons
FD $5,300 DK $5,300
If you're on DraftKings, Simmons is a stellar value option at shooting guard. You'll have to wait for small forward on FanDuel, but just be patient and deal with it. Simmons is still way too cheap on both sites and in a game with a weak Kings perimeter, he'll struggle to miss value. He's getting 30 minutes in every close game and has been the 2nd option since Vucevic went out with an injury. When I said a weak Kings perimeter, I mean. They only rank 20th on the season against SG's, but dead last over the last 10 games. Hield and Bogdanovic are both pitiful defenders that can be taken advantage of from anywhere on the floor. WCS has also been a disappointment in terms of rim security. Simmons isn't anything crazy tonight, but he's just a little too cheap and in a better than usual spot. A cash game beast.
Small Forward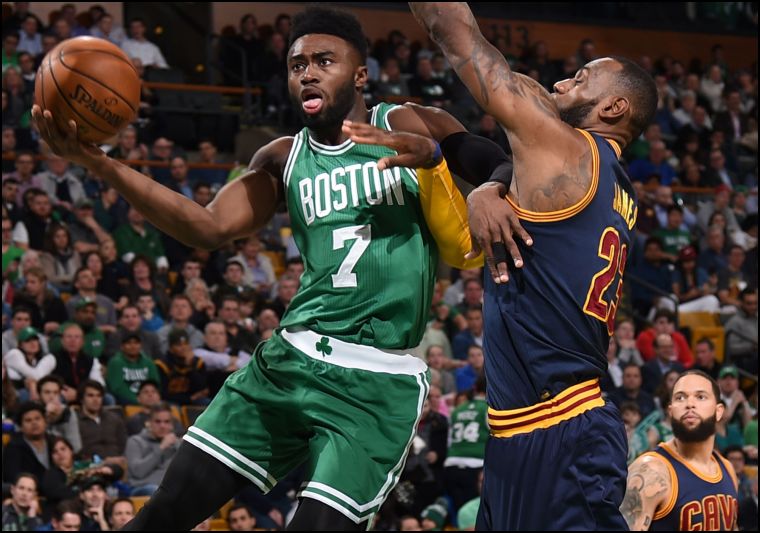 Jaylen Brown
FD $5,500 DK $6,200
Let's be honest, most of the world will be focusing on the high-end at this position. We have Kevin Durant and LeBron James in interesting situations with a cheaper Paul George in an ideal match-up. Those 3 guys deserve most of the ownership at the position and will get it. We will instead focus on some cheaper guys who may not be as highly owned. Jaylen Brown is never the most exciting player to roster, but he's extremely consistent and always a great cash game option. Just do yourself a favor and take a look at his box scores. He's over 33 minutes in every close game and is never under 20 fantasy points. His price is extremely fair on both sites for a guy that will put up 30 FP in most cases against the Lakers. Ranking 2nd to last against the SF position, you have nothing to worry about here with a match-up. Brown will do what he wants and it just comes down to how many minutes he's in the game for.
Allen Crabbe
FD $4,600 DK $4,400
If you really need to pay down at small forward, Allen Crabbe is perfectly fine. In a game that the Nets will need some scoring, you know Crabbe will raise his hand. He loves shooting the ball and will often get into 15-20 shots if given 30 minutes. He's been over that 30-minute mark in 4 of the last 6 games, but is guaranteed for 26 no matter what. His price is a little bit too low for a guy that's guaranteed 20 with a ceiling in the 40's. He's a legitimately good player and one that often gets hot in fast-paced match-ups like this. On paper, the Thunder rank 16th against the SF, except it doesn't really matter. Paul George will be on Carroll, leaving Crabbe on either Grant or Roberson. Both are downgrades from George. I'd much rather pay up for Jaylen Brown in cash games, but see the merit in paying down at a spotion everyone else will be paying up for.
Power Forward
Marcus Morris
FD $4,700 DK $5,000
There is some pretty solid value here at power forward. Starting with Marcus Morris, the value is safe. Morris has slowly gotten himself back involved in the offense and is sitting around 25-28 minutes at this point. Because of that, he's not going to ever demolish value, but shouldn't get under 20 FP either. He's been over 17 FP in each of the last 5 and got up to 35. The Lakers rank 25th against power forwards on the season with 3 guys who just can't play defense. Vegas has this game staying close and competitive, so Morris can be counted on for his concrete 25+ minutes. His price is still under $5k on both sites and it allows you to play him in all formats. He's a lock for 20 with the upside for 35. Safe as can be on a slate like this.
Davis Bertans
FD $3,600 DK $3,700
We're about to touch on 2 guys that are directly benefiting from Pau Gasol being out. Gasol has been getting over 30 minutes on most nights, so we have a lot to look at. Davis Bertans was already getting 20-25 minutes a night, so this should push him over 30 without much trouble. He is one of the guys Pop is willing to play big minutes and we know he can produce when out there. He matches up well with the Cavs bigs and shouldn't have much trouble getting open shots. At close to minimum price, he may be one of my highest owned players on the slate. I just don't see him missing value, with him only needing 20-ish.
Center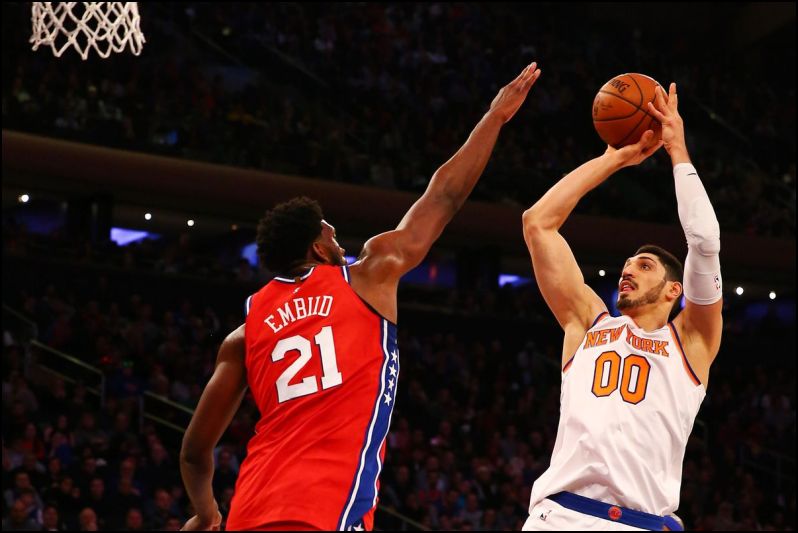 Joffrey Lauvergne
FD $3,500 DK $3,300
With Pau Gasol and his 30-33 minutes out of the lineup, you have to look at Lauvergne. We know the Spurs are comfortable playing him for 25+ minutes and we know he's one of those guys who produce a ton when given the opportunity. He also is a very good match-up for this game against the Cavs, where speed is extremely important. He likes to shoot a ton and the Spurs don't have anyone outside of LMA that dictates the ball at this point. Lauvergne is a safe bet for 20 minutes and a lock for value at lose to $3k. Don't be afraid of the recent box scores.
Enes Kanter
FD $5,800 DK $6,200
This is most certainly risky, but the upside is there. We know bigs can sometimes see diminished minutes against the Warriors and end up with one of their worst games on the season. They can also find a way to fit into the PACE and have one of their best, as the Warriors can struggle against bigs that can run. Kanter can run and has a good chance of staying in the game for 25+ minutes. His price is perfectly fine on both sites and he needs to get you in the low 30's in cash games. It's a near lock if he can find a way to fit into the game as the Warriors don't have a single guy who can handle his offensive skills. I'll still be Lauvergne-heavy on most of my teams, but Kanter deserves some looks in tournaments.