NBA Daily Fantasy Basketball Lineup Picks for 12/4/17
NBA Daily Fantasy Basketball Lineup Picks for 12/4/17


CYBER MONDAY special only use Code "CYBER30" at checkout for 30% off Seasonal Package
Point Guard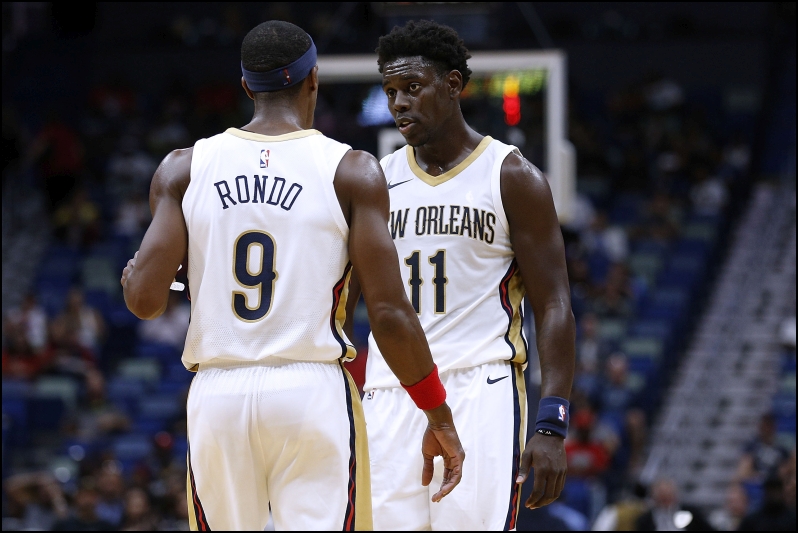 Rajon Rondo
FD $5700 DK $5000
We obviously have some huge injuries to deal with on the slate tonight and you'll see a lot of them be the reason we suggest certain guys. Anthony Davis is the biggest of all. With AD out for the foreseeable future, we'll see everyone in the lineup pick up some usage and shots. Rajon Rondo has finally made himself comfortable in this offense and he's been over 35 fantasy points in each of the last 2 games. He shot the 3rd most of anyone on the team as well, which is very rare for him. Rondo hasn't really gotten any worse since the Boston days. He was a worse shooter then. He's just not as solidified into his role as the leader. He probably won't be all year, but he will get some extra numbers for the near future and we'll look to take advantage while cheap. Oh ya, the Warriors also love to run and offer some extreme upside.
Jarrett Jack
FD $4800 DK $3900
If you're looking for value and want to go a little bit safer, Jarrett Jack is a phenomenal way to go. Like Rondo, the Knicks are dealing with some injuries that are putting Jack and others into the spotlight. With The two best offensive players in Porzingis and Hardaway out, there are countless shots to go around. Jarrett Jack will have the ball in his hands a lot more than usual here in a solid match-up with the Pacers. Collison isn't a bad defender, but he has no protection behind him and the Pacers play fast. Jack is safe in all formats at his depressed price tag.
Shooting Guard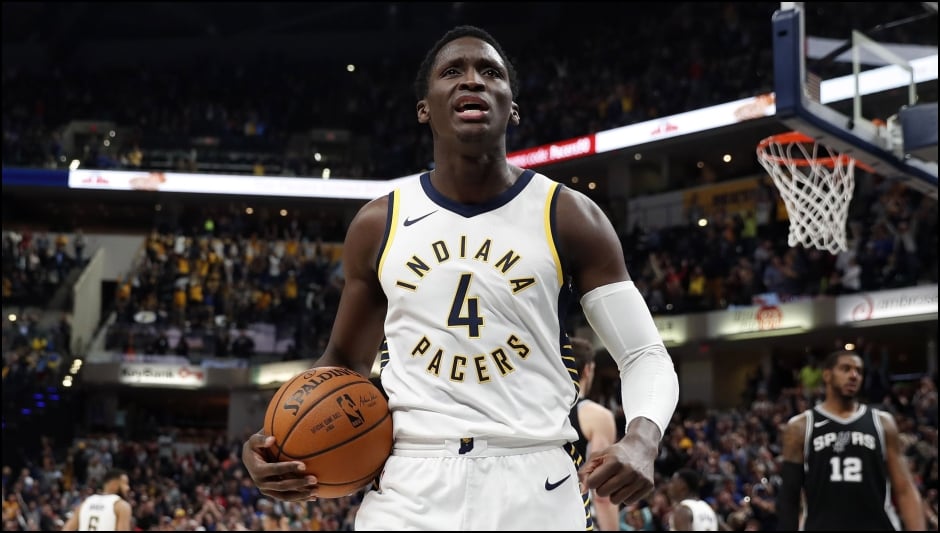 Victor Oladipo
FD $9200 DK $8700
Victor Oladipo is far from the player we witnessed in Orlando and Oklahoma City. He has turned a corner and is now one of the premier wing players in the league. While he's not only a menace on offense, he's one of the few guys who actually make a difference on defense and turns it into efficient FP. He's been over 68 fantasy points in 2 of his last 5 games, so it's tough to even call the price a stretch. He's shooting as much as he wants and stuffing the stat sheet incredibly. Myles Turner is the number 2, but there's really no 3rd option after that. It allows Oladipo to run the offense at will and you'll see a lot of similarities between him and what he witnessed in Russell Westbrook last year. With plenty of value to choose from on this slate, Oladipo is one of many pricey options worth consideration.
Jrue Holiday
FD $6700 DK $6300
Aside from DeMarcus Cousins, Jrue Holiday will benefit most from AD out. We looked at Rondo already and he will as well, but Holiday is a bit more reliant on scoring. Davis' absence gives him the opportunity to shoot a ton and we saw it last game with 18 attempts. In a match-up with a Warriors squad that loves to run and score, Holiday will be needed if they have any hope of keeping it close. His price is down and he's a safe play in all formats. This is a $7k+ player with AD off the floor. No doubt about it. Even if the game does blowout by halftime and absolute worst case scenario hits, I can't see Holiday getting less than 25 FP by default. At this price, that's not even too bad. With an upside well over 45, it's worth it.
Small Forward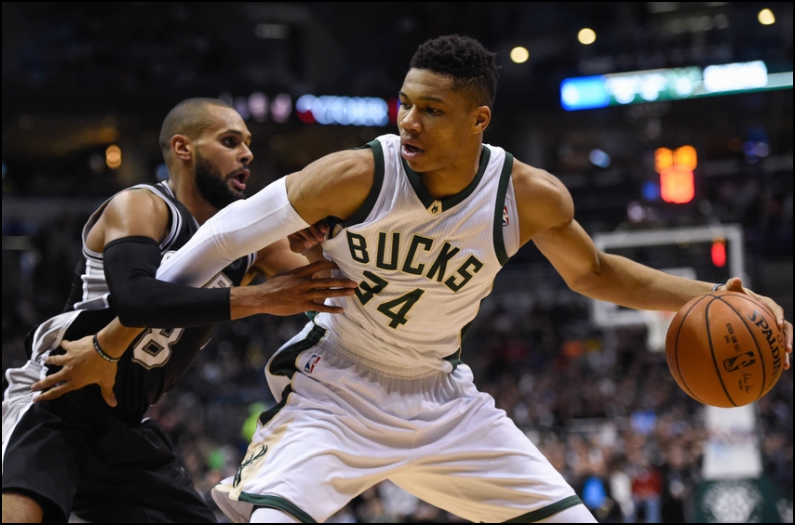 Giannis Antetokounmpo
FD $12400 DK $10600
Full disclosure, Giannis is a bit too expensive for me on FanDuel. Sitting almost a full $2k higher than Durant, I would rather go there. On DK, however, Giannis is just $10.6k and in play everywhere. The Celtics aren't a team we love to target, but they play at an average PACE and we have seen Giannis go crazy against them twice already this season. He put up FP totals of 71 and 69 less than a week apart. Jaylen Brown and Jayson Tatum will try again, but I assume the exact same thing will happen. They will put up a good battle and then have 0 help on the inside. Al Horford is a pitiful defender and a big reason why the Celtics can occasionaly be attacked in the paint. Antetokounmpo is a threat for 80 FP every time he takes the floor and is a safe call for 55. There are a lot of different ways to pay up tonight, so he shouldn't be more than 15-20% owned across the board.
Robert Covington
FD $7000 DK $6200
We haven't touched on the 76ers just yet, but we'll get to two of them real quick here. Starting with Robert Covington, he's a guy you're going to want in fast games. He's prett inconsistent, generally striking dry in games that are slow and lack spacing. When the Sixers run and Covington is able to get open from 3, the sky is the limit. He has immense upside in tournaments and against a Suns squad that plays faster than anyone, in cash as well. This 6ers team should be close to fll health tonight, though Covington may have to fill in at the 4 if Simmons covers for McConnell. You also have to wonder who covers Covington if Warren moves over to Simmons. There's a lot to like here from Covington and he'll surely be one of my more popular options.
Power Forward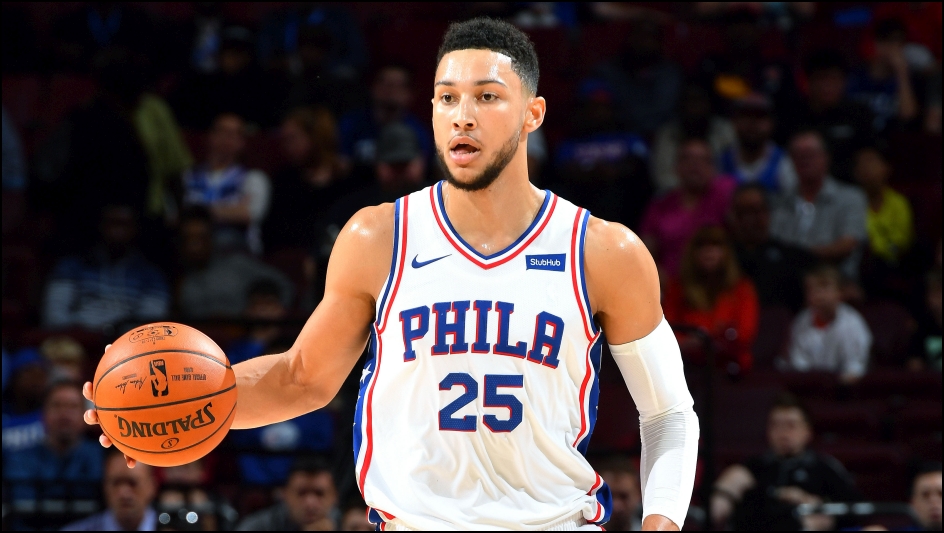 Ben Simmons
FD $10500 DK $9800
Ben Simmons is just an extremely good and versatile player. There are no 2 ways around it. He's putting up numbers that are unprecedented from a rookie and he's doing in night in and night out. He now sees his best match-up possible against a Suns squad that has nobody to cover him. I assume it'll have to be T.J. Warren, but he will still struggle and it will give Covington a huge mismatch. They may be forced into Josh Jackson and Marquese Chriss, which is just ugly. The Suns are still holding onto a 108 PACE, which is higher than any team since pace has been recorded. Simmons is a menace on the open floor and should do damage while in the game here. With a 228 total and a -10 line, Vegas thinks this is high-scoring and somewhat competitive. You have a lot of options to make tonight and Ben Simmons is one of the biggest.
Michael Beasley
FD $5000 DK $3500
We looked at Jarrett Jack at PG for the Knicks, but he's just the tip of the iceberg with Porzingis and Hardaway both ruled out. Michael Beasley saw 24 minutes last game and put up a nice 27 fantasy points. In my opinion, that's his absolute floor with no Porzingis. Beasley is a great scorer that can give you a much-needed body without your top 2 offensive players. Oh ya, the Pacers also rank dead last against PF's with over 50 FP allowed each night. Beasley will see between 24-30 minutes with a 25 FP floor and a ceiling we haven't seen. He put up 60 fantasy points out of nowhere multiple times last year, so there's no telling with this guy. He's too cheap, in a great match-up, and going to see the ball more than ever. If you don't play Beasley here at PF, you're playing with fire. He probably won't kill you, but you'll need to find some strong value elsewhere.
Center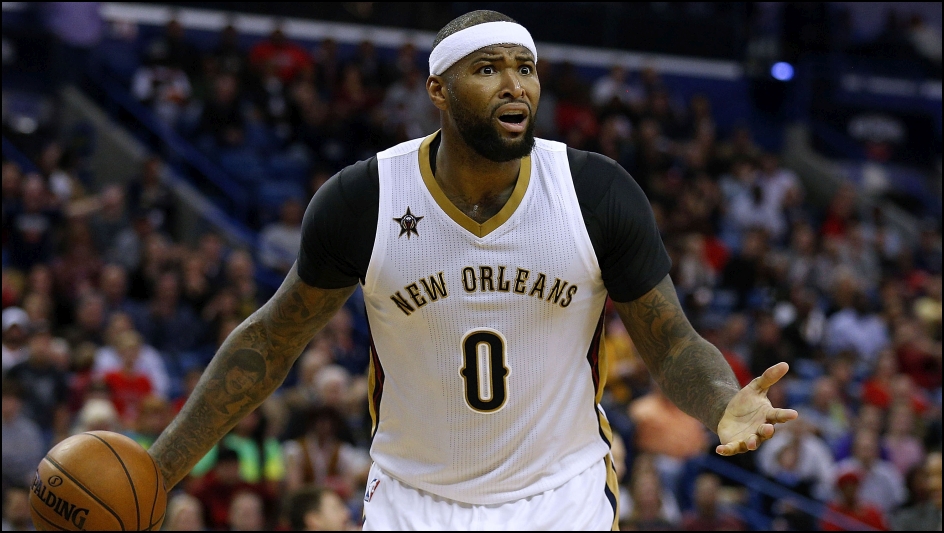 DeMarcus Cousins
FD $11000 DK $11000
We gave the Pelicans a break for a few positions and now get to the guy who most people on this slate are focused on. Boogieman Cousins. With Anthony Davis injured, he gets to kick it back to the Sacramento days and shoot as much as he wants. He put up a monstrous 28 attempts last game and now sees a much faster-paced match-up. There's obviously a blowout risk, but Cousins has proven his ability to hurt the Warriors. He can run with Draymond if the game is close and with him getting the ball every possession, you're sure to see a motivated Boogie. This is one of the more volatile possible match-ups a guy can have, but I can't get away from Cousins. If it stays close, 90 FP wouldn't surprise me. Call it crazy, but he's the way it stays close and it would mean he gets 30+ shots. If it blows out, he sees 28-30 very productive minutes, ending up at 45 fantasy points. This is a guy I would have 100% exposure to if it wasn't for the next guy we look at.
Enes Kanter
FD $6600 DK $6200
We just looked at Michael Beasley and he's the more volatile big man to benefit. Enes Kanter is a stellar offensive player when given the opportunity and we've seen it over the last 2 games with 40+ FP in both. He now gets an incredible match-up with a Pacers squad that can't cover the paint. Ranking 24th against centers, Kanter should have no problem coming through with a double-double as a floor and 50 fantasy points as a ceiling. It will certainly be tough to fade Cousins, but knowing you have a solid pivot makes it just a bit easier. Personally, I'll be trying my best to get Cousins everywhere. It's a limb I'm going to be hanging on. Good luck tonight!