NBA Daily Fantasy Basketball Lineup Picks for 11/1/17
NBA Daily Fantasy Basketball Lineup Picks for 11/1/17
Point Guard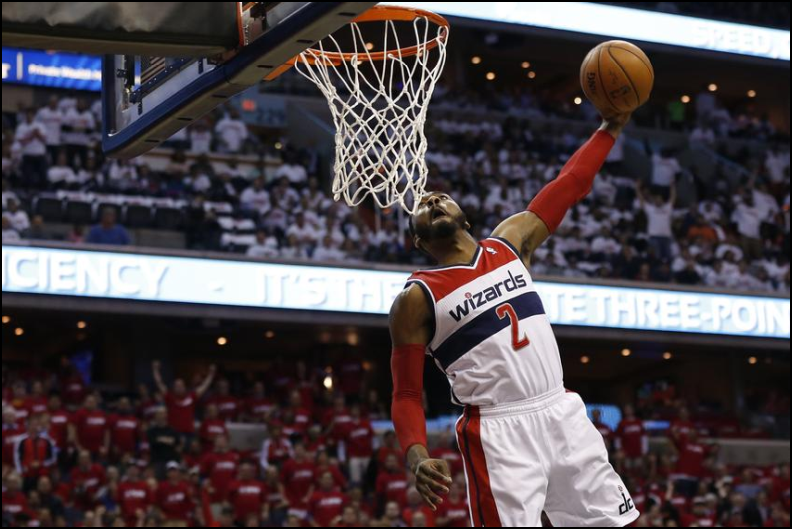 John Wall
FD $9,700 DK $9,500
The theme of the day is going to be the few games that have incredibly high over/unders. This affair between the Suns and Wizards leads the bunch at 226 with the Wizards favored by 10. Both the Wizards and Suns have played at a 103+ PACE, which would have made them the fastest team in the league in 2016. Those numbers should end up going down, but it doesn't take away from how quickly both of these teams play. You also have Eric Bledsoe out indefinitely for the Suns, which leaves Mike James and Tyler Ulis to cover John Wall. Yeah, good luck with that Phoenix. Wall has yet to have a huge game, but this could very well be it. The Suns have allowed 58 FPPG to PG's which is 4 higher than the 2nd worst team. Wall is easily my favorite play at PG and my 2nd favorite superstar on the slate. He is going to be in every single one of my lineups unless some news breaks that significantly changes things. He has a 45 fantasy point floor with an 80 ceiling.
Jarrett Jack
FD $5,200 DK $4,700
He's still getting the start and the price is yet to rise too high, so let's not jump off because he's no longer the shiny new toy. If you can count Jarrett Jack in for 25-30 minutes against the Rockets, I'll take it every time. For fantasy, Jack is great. He's not only unafraid to shoot, but he gets involved on the boards and in the passing lanes. At his price, he gets to value without doing much scoring. When he ends up getting hot and going for 20 real-life points, we'll see a solid upside game. For now, he'll be a perfect cash game savings option at a position that isn't as deep as usual. Unless some more PG news comes out that gives a cheaper option 30 minutes, Jack is the guy to own.
Shooting Guard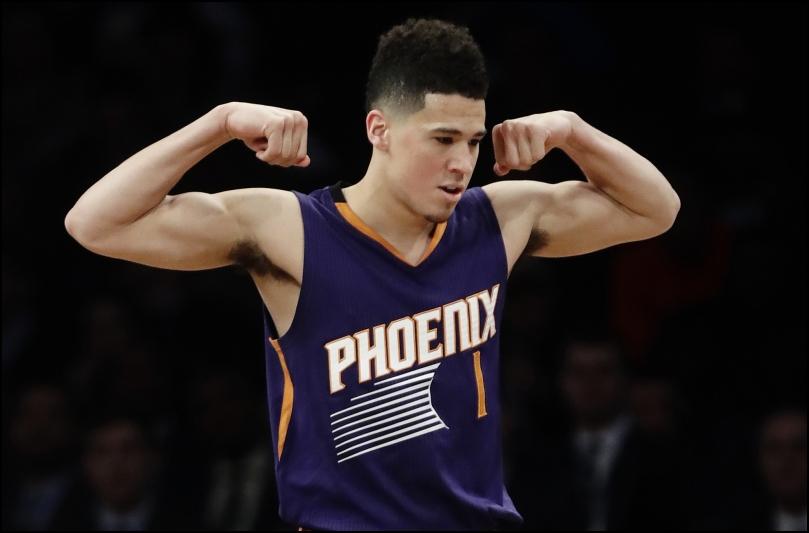 Tim Hardaway Jr.
FD $5,200 DK $5,400
We'll stay on the Knicks side of the court and look at Tim Hardaway Jr., who's had quite a weird year. Opposed from having one of his coldest streaks ever, he went berserk against the Cavs with 55 fantasy points. He then followed it up with a more normal THJ game, at 30 fantasy points. You can expect him to be around there for the most part with an occasional 45+ explosion when he gets hot from behind the arc. The Knicks don't really have anyone they need to feed besides Porzingis, so the shots go to Hardaway. He's shot just 4 times less than Kristaps per game and 3 more than any other player. It looks like his cold streak is long gone, so don't expect any 2-for-13 games out of Hardaway for at least 2 weeks. He'll match-up with James Harden and Eric Gordon at the 2, who are a lot more worries about offense than Hardaway. Expect another 25-30 fantasy points with the upside for a lot more if the game stays close. This is another 210+ total with a close spread, so Vegas thinks it stays close and high-scoring.
Devin Booker
FD $7,200 DK $7,800
With Eric Bledsoe out indefinitely, it'll take a lot more than $7,500 to make me fade Devin Booker in this match-up. While Bradley Beal can play defense, Devin Booker can play better offense. He can play the type of offense that is literally unstoppable. Think hot Damian Lillard or Kemba Walker. He's put up 45 fantasy points in B2B games with one of them against an even better defender in C.J. McCollum. Booker gives you a 35 point floor with a ceiling we really don't know of. The guy was 30 away from breaking Wilt Chamberlain's record last year, so I'm a bit afraid to throw a ceiling on his fantasy points. If he gets hot, he may be a necessity to win a tournament. For me, this game is my top priority and Booker is an elite option. Playing devil's advocate, the Suns played last night and Booker is a jump shooter. Maybe he goes out and stinks, giving the Wizards a large early lead. If you want to fade, I don't hate it, but it's not the side of the coin I'll be on.
Small Forward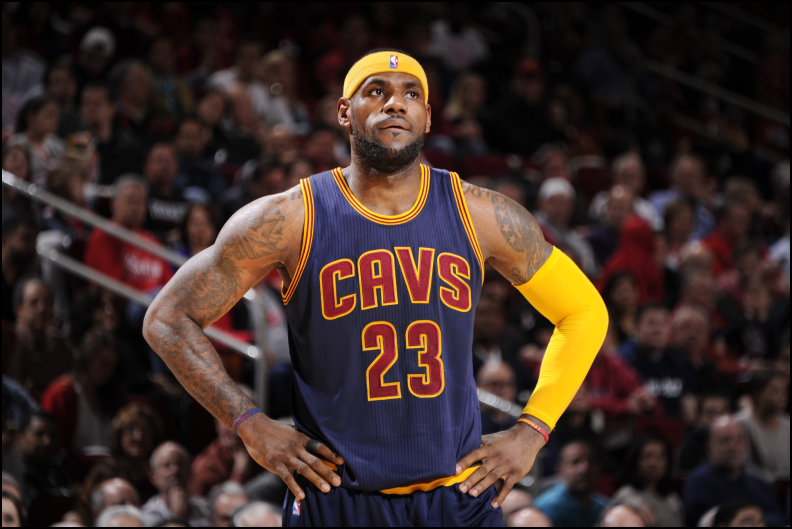 LeBron James
FD $10,400 DK $10,400
Small forward is going to be a spot I look to pay up at. LeBron James is right up there with John Wall and Anthony Davis as my favorite superstars of the night. The Cavs haven't been playing well, and while we all know it's the same thing that happens every year, Lebron has to prove it. Why? I don't know. People are stupid. Anyways, this is certainly the match-up to do it. The Pacers don't even really have an SF, so they'll throw Bojan Bogdanovic and Lance Stephenson at LeBron. Opposed to blowing hot air into his ear, they won't do much. LeBron has played 37+ minutes in all but 2 of 7 games so far, so the whole age thing isn't what's going on. He's going to get 55 fantasy points tonight if the game stays remotely close. If it stays close down to the wire and LBJ is needed for the last 10 minutes, a 70 burger here wouldn't surprise me. It's nowhere near a guarantee, but this seems like a perfect recipe for a LeBron game.
Jimmy Butler
FD $7,900 DK $7,100
We've somehow ignored the game with the 2nd highest projected total on the slate. At 224 and the NO -3, Vegas expects the game to be just as high scoring at WAS/PHO, but a lot closer. There are plenty of options to choose from in this game and Butler is my favorite option on the T-Wolves. He originally got his "Jimmy Minutes" nickname from Thibs, which went to Jimmy Bucks after he was treated like a human with non-metal knees and elbows. He's now back to seeing 40 minutes each game with the big doofus at the helm. It's at least good for us, though, as you can guarantee production. This defense is nothing to be scared of and Butler will likely see E'Twaun Moore and Dante Cunningham for most of the game. Lock him in as one of the safest cash game plays on the board at under $8k.
Power Forward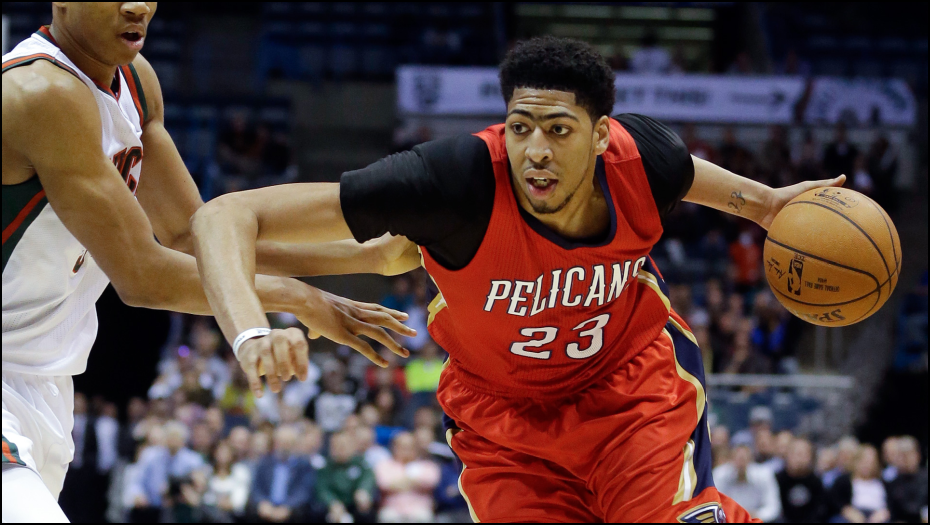 Anthony Davis
FD $11,800 DK $11,200
Our 3rd and final superstar of the night is the most expensive of the bunch. Some people have taken the stand that rostering AD at all is a bad idea because of his injury history. To those people, please keep depositing. You're the reason people are still able to make money in DFS. For the rest of us logical beings, Anthony Davis has a phenomenal match-up with the Timberwolves. Karl-Anthony Towns and DeMarcus Cousins will be battling at the 5, which should leave Gorgui Dieng and Taj Gibson on Davis. I'm sure Davis and KAT will match-up at some point because they have a long history, but Davis has dominated him in the past anyway. He's put up 61 fantasy points in B2B games and looks to be fully healthy. As long as he's a full go, he's on my radar as a 60 fantasy point monster. if you have the funds to spend at PF, don't go looking to switch your lineup around because the guy gets hurt in 1% of the games he starts.
Otto Porter
FD $7,300 DK $7,100
We're touching on this game between the Suns and Wizards a lot because it holds the slate's highest expected total at 226. It's also expected to stay relatively close, giving the starters a full allotment of minutes. Here we have Otto Porter, who's played most of his career as a role player. He's now a pivotal piece of a contending lineup. He is a close 3rd option and a guy that is no longer going to randomly play 20 minutes. You can lock him in for 30+ with Markieff Morris out and the Wizards needing a backup 4 as well as a starting 3. The match-up with the Suns couldn't be any better, as they've allowed the most FP to PF's on the season. Marquese Chriss is quite the shot blocker, but he isn't strong and can't contend with Porter on the outside. Porter has been one of the more consistent players this early in the season and while his price has risen, it's rightful. This is the best match-up as a team the Wizards have had and I love the 3 stars in both cash games and tournaments.
If you're searching for value, Olynyk and James Johnson have a lot of upside if Hassan Whiteside misses another game.
Center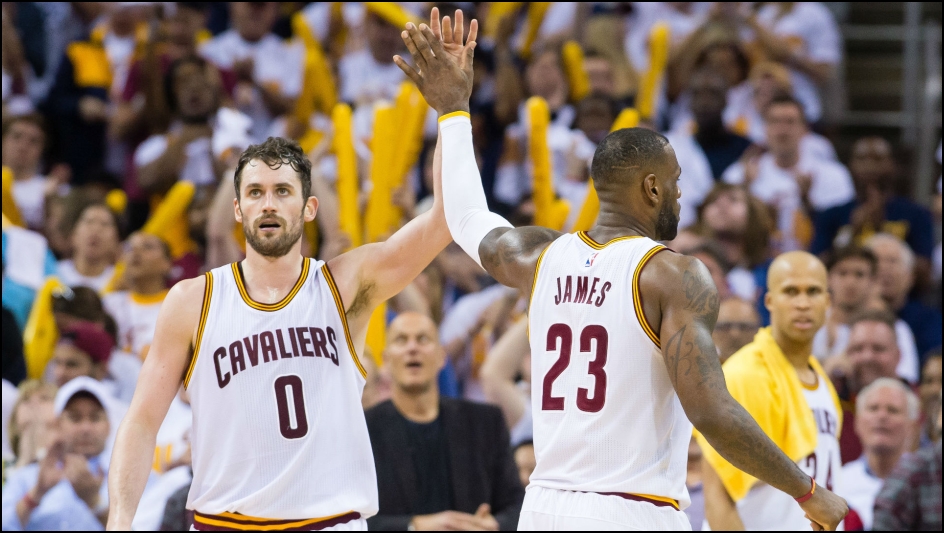 Kevin Love
FD $7,700 DK $7,500
You'll rarely see a Cavs game with a 219 over/under. They're on the slower side of things and have a relatively solid defense. However, the Pacers are on the absolute opposite side of that. They're the 3rd fastest team in the NBA and don't play much defense at all. Myles Turner has already been confirmed out, so that'll leave Domantas Sabonis and Al Jefferson on Love. He should be able to shoot over both, as well as out-rebound. He has a huge individual mismatch, let alone the pace that these guys will be playing at. LeBron is looking for Love more than he ever has before and it's turned in quite the consistency. Through 7 games, Love has 6 double-doubles. In that 1 "bad" game, he had 9 rebounds. Yep, Love is the real deal this year and you can count on him when healthy in all formats. His price is still too low for me and I'll continue targeting him in these types of games.
Dewayne Dedmon
FD $5,100 DK $4,500
I know it's scary, but if you need to pay down at center, you could do much worse. The 76ers and Joel Embiid require a lot of size, which will put Dedmon on the floor for at least 28-30 minutes. the only game he hasn't seen big minutes in recently was against the Bucks, who don't require any size to be dealt with. Dedmon has average just over 1 FP per minute, giving him a good shot at 25-30 here. You also have to add in that the Hawks are playing way pace-up and they stink against centers. Dedmon isn't the sexiest option out there, but he'll get you at least 20, which won't kill you at this price. I prefer Kevin Love quite considerably, but the salary god does too.