NBA Daily Fantasy Basketball Lineup Picks for 11/3/17
NBA Daily Fantasy Basketball Lineup Picks for 11/3/17
Point Guard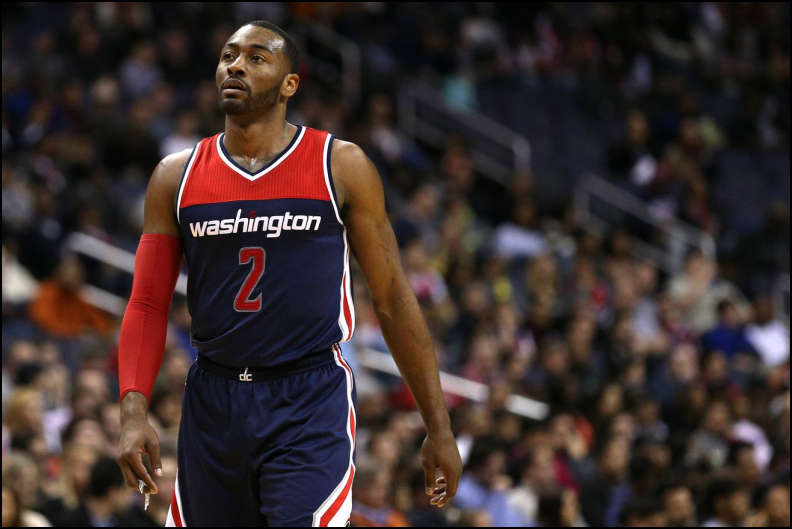 John Wall
FD $9,900 DK $9,700
There's an argument to be made for both John Wall and Russell Westbrook. On FanDuel, where Westbrook is barely more expensive, I'll have plenty of exposure to both. On DraftKings, Wall is $2k cheaper and a better play in cash games. He hasn't had one of his huge 60 fantasy point games yet, but it's coming. He gets match-up tonight against the Cavs, who barely have a PG. Derrick Rose is back, but he may be one of the worst defenders at any position in basketball. I'd expect the Cavs to make a switch pretty soon after Wall burns him every play. It doesn't help when Kevin Love is the guy on the help-side. The Cavs are allowing 46 FPPG to PG's and I look for Wall to push that number up tonight. This is a game I'm all over and we'll get to another couple guys later.
Lonzo Ball
FD $7,500 DK $7,300
He disappointed about 50% of DFS'ers yesterday, so maybe his ownership will stay down against the Nets. I highly doubt it. He only played 27 minutes, so he's ready to go on the back to back. The match-up couldn't be better, facing off against D'Angelo Russell and Spencer Dinwiddie. They are both pretty horrible defenders and Ball will be able to get inside on both. The Nets allow the most peripherals in the league and it feeds into Lonzo's game perfectly. His price is still fair on both sites and as long as he keeps getting the minutes, he'll put up 30-40 fantasy points in most games. This is a top 2 or 3 match-up possible.
Shooting Guard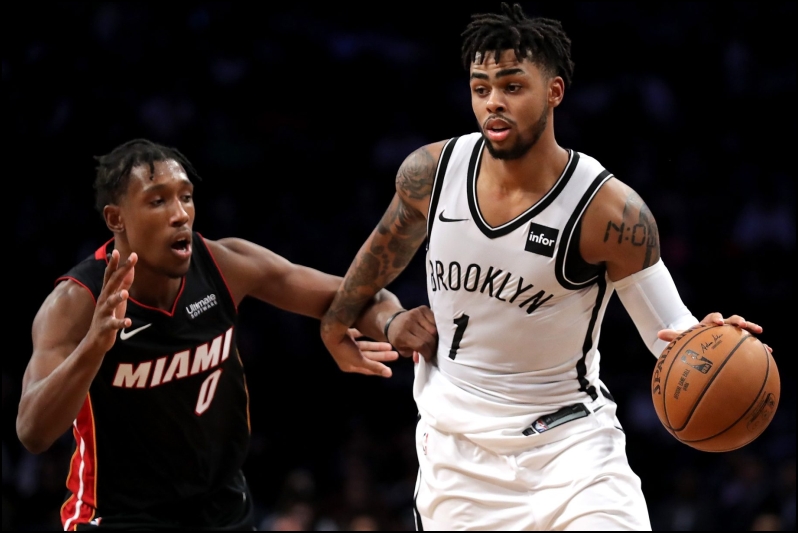 D'Angelo Russell
FD $7,500 DK $7,900
D'Angelo Russell plays the Lakers for the first time tonight and the Nets players have already been quoted saying they expect him to "attack" and be "extremely aggressive". While Russell is both of those on most nights, you have to be foolish to think it doesn't make an impact tonight. he obviously has some problems with the Lakers organization and he is going to have a big game. Maybe if the Lakers had someone to slow him down I would get the fade, but they don't. He can get to the hole or get open on every single one of these defenders, including Brandon Ingram. Which won't happen unless Russell is at 40+ real-life points. His price is too low for the role he plays on the high-pace team and I'll continue targeting him in match-ups much worse than this. If you don't play Russ tonight, never play him.
Donovan Mitchell
FD $4,400 DK $3,800
Donovan Mitchell has played exceptionally well and his price is yet to react. Especially on DraftKings at just $3,800. Mitchell saw a season-high 34 minutes against the Blazers and responded with 37 fantasy points. There's been the talk of him getting the start here, but even if not, he won't see under 30 minutes. The Raptors fit his style of play well and he is a similar body style to DeMar DeRozan. They'll likely match-up for a decent amount of this game until Joe Ingles is sent to lock him down in the 4th. The Raptors are nothing special on defense, allowing the 11th most FP's to both PG's and SG's. Mitchell is an extremely safe value play tonight at a position without a whole lot of opportunity cost. Compared to other positions, at least.
Small Forward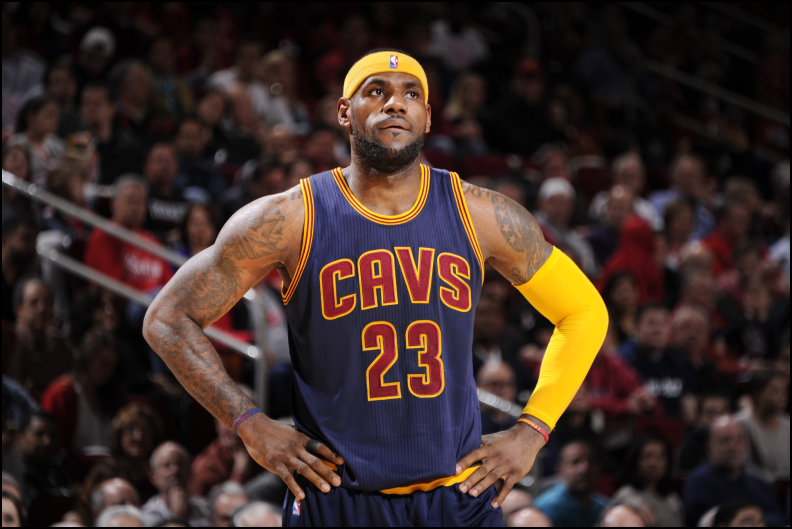 LeBron James
FD $10,600 DK $10,600
LeBron is having a phenomenal start to the season. Even if the Cavs are "struggling" or whatever people want to portray after 7 games, it doesn't matter AT ALL. It seems like people do the same thing every year and then laugh about how stupid they were when they thought the Cavs were bad. And then they do the same thing next year. As long as you're getting this LeBron James, the Cavs will be the team facing the Warriors or Thunder in the championship. James has been over 50 fantasy points in 5 of the 7 games to start the season and sees his best match-up yet. The Wizards play fast (103.3 PACE) and love fastbreaks, which is where LBJ obviously excels. He averaged 62 FP against the Wizards in 2016 and I'd expect a similar number tonight. With these rumors out there as well, he will want to shut them up on national TV. LeBron is a guy I have in 100% of lineups and that will not change.
Brandon Ingram
FD $5,900 DK $6,100
Ingram is going to keep producing and until his price matches, we have to keep playing him. Hen ow sees the best possible match-up he can against the fast-paced Brooklyn Nets. We've already touched on D'Angelo Russell and Lonzo Ball from this game, so it's one you're going to want exposure to. Especially with the latest news on Larry Nance. Ingram will get about 35 minutes tonight and I think you pencil in a 30 fantasy point floor. That's extremely difficult to find at $6k. The Nets will have enough on their hands with Ball and Lopez, but I'm sure will try to put RHJ on Ingram at some point. He's a great defender, but Ingram will still get his peripherals. He's a safe option that helps you pay up elsewhere.
Power Forward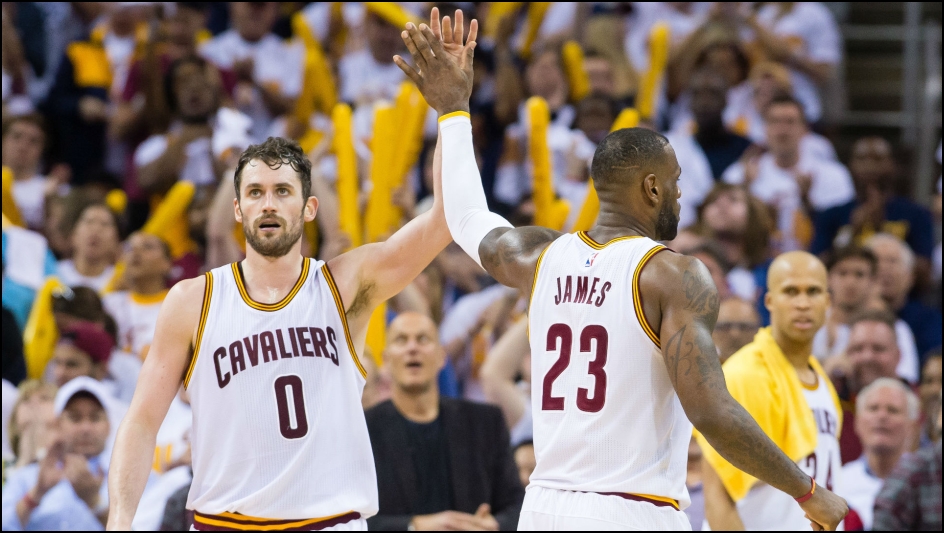 Kyle Kuzma
FD $4,700 DK $4,700
This is probably the easiest play on the slate. Kyle Kuzma is already getting 25-30 minutes a game and now Larry Nance has broken his thumb. Go ahead and lock Kuzma in there for 30-35 minutes against a putrid Nets squad. That's all that really needs to be said. They play at an incredibly fast-pace and this is a game we already have a lot of interest in. Do yourself a favor and lock Kuzma into your cash games. The only possible way he doesn't hit value is an early injury or some crazy Drummond-esqe foul trouble. Assuming no other pivotal Lakers news breaks, Kyle Kuzma is the easiest guy to press the lock button on the entire slate.
Ben Simmons
FD $9,400 DK $9,100
We'll touch on the two Sixers studs here. Starting with Ben Simmons, he's been insane. I think most people were expecting a slow start that eventually led to this, but 50 FP a game from the start is quite telling of what his eventual upside is. He now sees a match-up against a Pacers squad that loves to run. Simmons will have no quarrels, as that's where he makes his dough. He isn't a big scorer, so is heavily dependant on how many possessions there are. The more possessions, the more boards/assists/steals etc. available. This bout between the 6'ers and Pacers is going to be one of the higher scoring games on the schedule and you're going to need exposure. If you're looking to stack, you can look at Oladpio on the Pacers side.
Center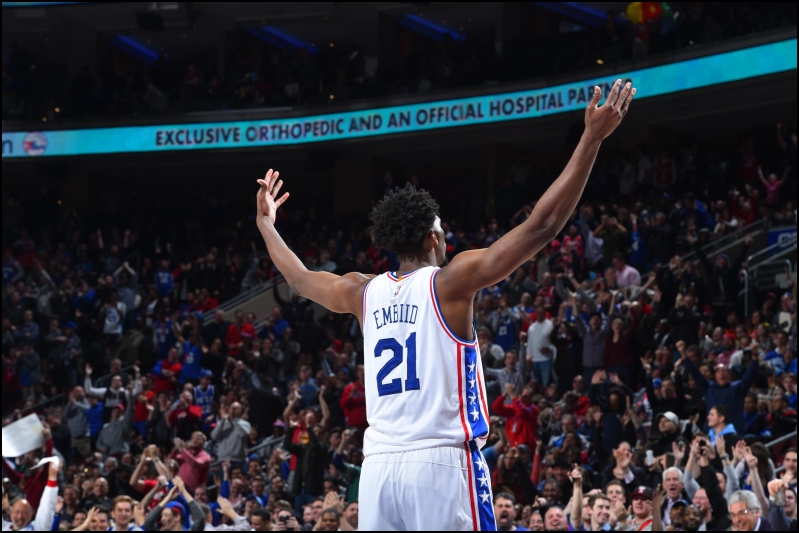 Joel Embiid
FD $9,300 DK $8,300
I get that he's expensive and won't play over 34 minutes, but we have to accept that it truly doesn't matter. He can literally put up 70 fantasy points in 30 minutes of court time. He gets a match-up against the Pacers where he will be an extreme mismatch. With Myles Turner doubtful, it'll have to be Domantas Sabonis on Embiid. We all know how that will end up. We just touched on why Simmons is a great play and Embiid is the same blueprint. The Pacers like to run and it ups the possessions for these guys to accumulate numbers. There's plenty of different ways to go at center, but Embiid is undoubtedly one of the best.
Marcin Gortat
FD $5,900 DK $5,900
The Cavs have been horrible against the pick and roll since Kevin Love joined the team. It's not going to change tonight. The bread and butter of this offense is the John Wall/Marcin Gortat pick and roll with a backside off-ball screen for John Wall. It's effective as any play in basketball and the Cavs have had plenty of trouble stopping it. Love is a great rebounder and scorer, but he can't cover anyone in the paint. Expect another double-double out of the ever-consistent Marcin Gortat.