Happy Tuesday everyone! We have a full 15-game slate on our hands with Scherzer and Coors to talk about. There are other non-coors options to discuss too. So lets dive right into the picks and find that money!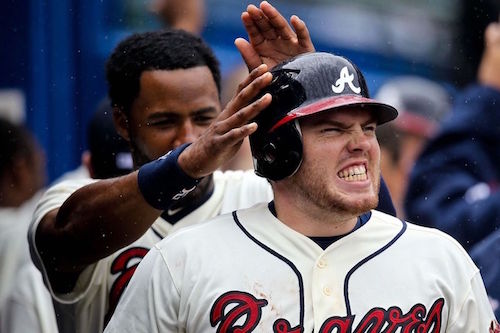 Pitchers
Drew Pomeranz FD 9000 DK 11600
Opponent – TB (Odorizzi) Park – @BOS
FD – 36.74 DK – 23.99
We have Scherzer as the chalk play today, but I'm going to give you a couple of other options because he's gonna set you back $11.2k on FD (ouch) and $13.6k on DK (double ouch) and will be very highly owned. For some cash games he may be your man but for GPPs we need someone cheaper who can at least match his point total. And I believe there are definitely guys that can match him. The first guy that I think can do that is Drew Pomeranz.
Talk about a guy that snuck up on me! This kid is [really] good and is an excellent play today. He'll be going up against a Rays' offense that has really struggled against southpaws. They own a .313 wOBA (23rd in MLB) to go along with a whopping 25.7 K% (highest in MLB) against lefties this season. If you're trying to get away from the "chalk" of the day, Max Scherzer, well don't look any further! A strikeout prone offense meets a guy that fans 27% of the batters he faces! Pomeranz' upside is through the roof and I love him for tournaments today. Throw him into the mlb optimizer tonight.
Cole Hamels FD 10300 DK 11500
Opponent – SEA (Paxton) Park – @TEX
FD – 34.06 DK – 22.49
I guess we will stick to theme here and go from one southpaw to another. This time, we will be looking at 32-year-old, Cole Hamels. The veteran is still putting up great numbers and it's safe to say he has been drinking from the fountain of youth. I feel like he's been in the league for 40 years and he's still killing it out there.
Today, Cole draws an appealing matchup against the Mariners. Not only have they struggled against southpaws (21st in wOBA against lefties), but they have also had some trouble at the plate as of late. In their last 14 contests, they own a .300 wOBA (23rd in MLB) along with a .145 ISO (24th in MLB). They have struggled making contact as well as hitting for power, so go ahead and roster Hamels in tournaments today. He will be low owned and has some big upside! Just look at his game log!
Stacks
Atlanta Braves vs. Edwin Jackson(SD)
I know we have Coors on our hands, but here are some very viable fade options. There are plenty of cheaper stacking options that could put more points up than the guys at Coors. Plus, it gives us the ability to pay up for pitching! So lets talk about the Braves!
The Braves' offense had been completely dead all season long, but not anymore! They have been on a roll as of late and I don't see the presence of Edwin Jackson on the mound slowing them down.
Jackson is another guy who has been awful on the mound this season and I don't see it getting any better tonight. This season, he owns 11.2 BB% along with a 5.61 xFIP (Yikes). He gives up way too many free passes, which is part of the reason why his ERA and xFIP are so high. We all love free passes when picking a pitcher to stack against; not only do you get points for walks, but its truly a blast to watch a guy clean the bases to give us a pile of runs and RBI's. It doesn't get much better than this, so go ahead and grab some Braves' hitters tonight.
My top 4 guys to stack: Freddie Freeman, Ender Inciarte, Matt Kemp and Nick Markakis.
Cincinnati Reds vs. Jered Weaver (LAA)
The last team on the list today is the Cincinnati Reds. I know Weaver delivered a quality start in his last outing, but I don't expect him to do it again today. He'll be going up against a Reds' offense that's hotter than my coffee (.347 wOBA/ 114 wRC+ in last 14 contests), so don't be surprised if they put on a show tonight.
Not only are the Reds hot, but Weaver hasn't been spectacular this season. He owns a 5.90 xFIP and opponents own a .307 AVG against him. Now the choice is up to you to decide if Weaver is turning it around. I for one, expect a lot of runs and hits from this Reds' squad so go ahead and load up on them if you like them as well. In other words, you're not alone!
My top 4 guys to stack: Joey Votto, Jose Peraza, Scott Schebler and Adam Duvall.