NBA Daily Fantasy Basketball Lineup Picks for 11/11/17
Point Guard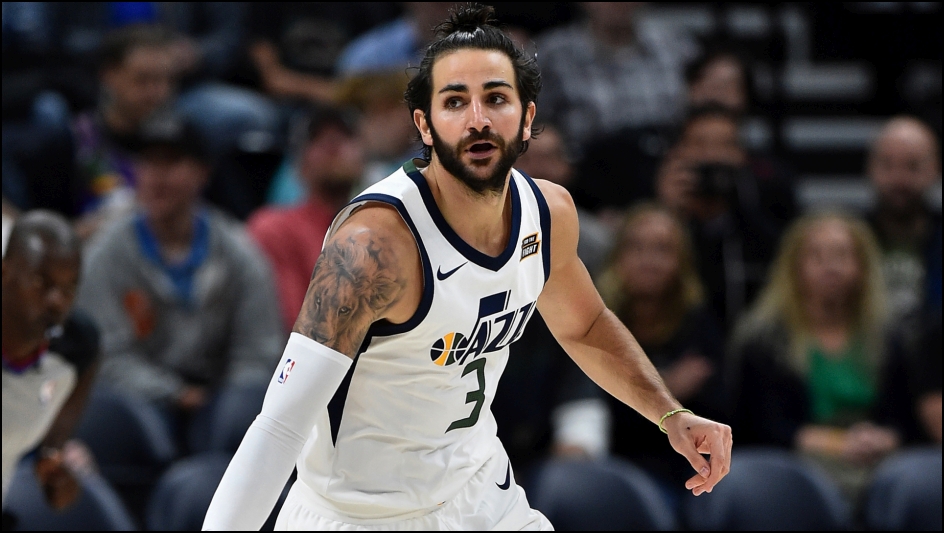 Ricky Rubio
FD $7,600 DK $7,100
The Utah Jazz are a team that play extremely slow. On most nights, they see less than 100 possessions in a game. Tonight, that won't be the case. Coming off a late night bout with the Blazers, the Nets will be struggling to keep up with the Jazz here. The Nets play faster than anyone, and it puts a lot of these guys on the other side in play. We start out with Ricky Rubio, who fits perfectly into this match-up. Rubio isn't reliant on any one stat, stuffing the sheet as well as anyone in basketball. His peripherals have actually been down because of the pace the Jazz typically play at. He has triple-double upside in any fast-paced game and this is certainly one. The Nets are currently playing faster (109.2) than any NBA team ever has. PF is the only position they can really guard, so mark Rubio as an elite cash game play with a huge ceiling in tournaments. The Nets might get blown out, but the Jazz will get their numbers if that's the case.
Jeff Teague
FD $7,100 DK $6,800
Jeff Teague has been the big surprise on the Timberwolves. While everyone expected him to be decent, he's made a huge jump from last season. He's controlling this offense and has the ball in his hands a lot more than anticipated. He's only produced, over and over, so let's get on him here against the Suns. After the Nets, the Suns are the 2nd fastest team. PACE is extremely important to PG's as a +possession is worth more. Guards have been brutalizing the Suns all season long and they've given up the 3th most FPPG at 51.2. Teague will see Mike James and Tyler Ulis individually, which should be pretty fun. For Teague. And you if you play him. Point Guard is a spot you'll want to pay up for. We will get to some value elsewhere.
Shooting Guard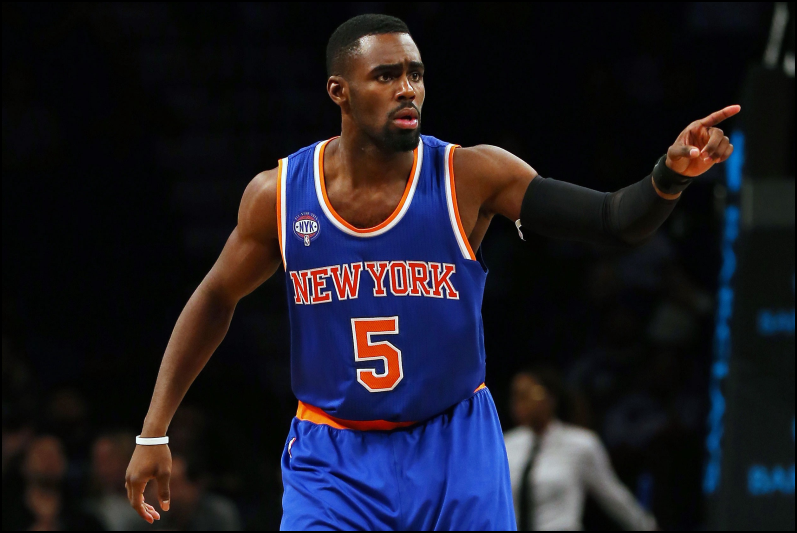 Tim Hardaway Jr.
FD $6,300 DK $6,400
Sure, you can pay up for James Harden. He put up 76 fantasy points against the Jazz, so there really isn't a bad match-up for the guy. However, I want to play him when he's playing up in pace. The Grizzlies play extremely slow and have an interior that actually may slow him. There are few guys in the last 20 years that can defend a drive like Marc Gasol. Instead, we'll look at two mid-range options who are underpriced. Tim Hardaway Jr. went off last game with Porzingis out, ending with 40 fantasy points. He won't see as many shots tonight, but around 15 as the 2nd option against the Kings is great. SG against the Kings is something we've been attacking for a while and Buddy Hield hasn't stopped it. Hardaway Jr. is a safe bet for 25 fantasy points with the realistic upside of 45.
Donovan Mitchell
FD $5,500 DK $5,600
Donovan Mitchel is my pick for rookie of the year. Maybe the hype will come through and he'll get buried, but I love how this kid plays and I think he ends up being the leader of the Jazz team one day. As a rookie, he's been over 30 fantasy points in about every game. He's typically over 20 fantasy points, but I'm looking at 30 tonight against the Nets. Brooklyn plays incredibly fast, as we've already looked at, and it will benefit Mitchell just as much as Rubio. His price is still incredibly fair on both sites and he's in play in all formats. I'll have a ton of exposure to this Jazz team in an up-pace match-up with the best possible scenario Nets squad. If this game finds a way to stay close, I wouldn't be surprised to see a lot of the Jazz guys demolish value.
Small Forward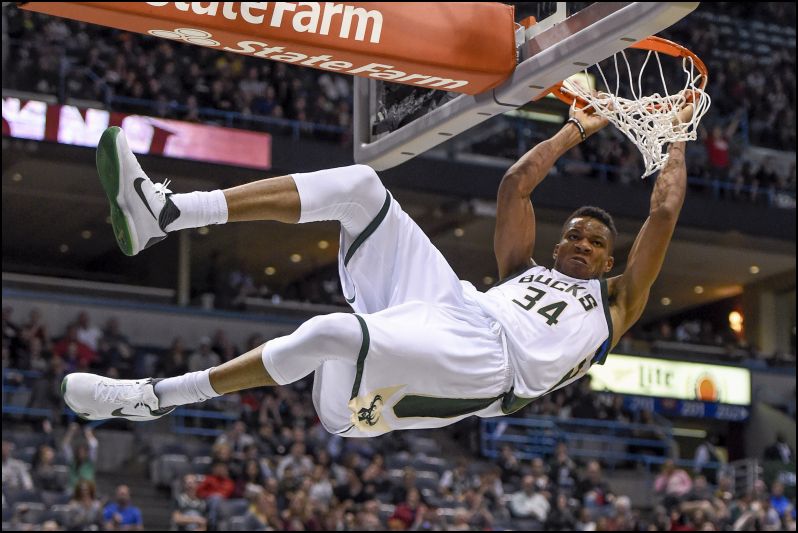 Giannis Antetokounmpo
FD $12,200 DK $11,200
He is so damn good. I don't know if there's a player that is more fun to watch than Giannis Antetokounmpo in the league right now. He was already amazing last year, and only got better. They have now added Eric Bledsoe, which I see as a positive. It takes some attention away from Giannis and forces the defense to spread out a bit. This match-up with the Lakers should be fast-paced and close throughout. Brandon Ingram is the obvious choice to cover Giannis because of length, but he's not big enough. Antetokounmpo bullied him around last year and Ingram has been average so far on defense at best. It's not really his fault, but the addition of KCP has pushed some offense towards him. We've seen a huge price jump on Giannis, but it's obviously warranted. There's no real reason to fade besides the price. If you're going with a stars and scrubs build, I think you need ABC. The floor is around 55 and I don't think we know the ceiling yet. Bold prediction? I think he hits 100 FP this year at least once.
Wesley Johnson
FD $4,600 DK $3,900
Wesley Johnson is horrible, although he tries to trick you into thinking otherwise on occasion. Why am I recommending a guy who isn't good? Because Doc Rivers hasn't realized it yet and minutes + production. Not all minutes are created equal, but Johnson does take some usage (17%) on an offense where it's available. Danilo Gallinari will miss this game with a hip injury and it secures Johnson over 25 minutes. Against the Pelicans, I'll take it. They don't play any defense and the defenders they do have will not have a single care about Wesley Johnson. They have much bigger fish to fry, like a 6'10 gorilla that can jump out of the arena and outrun guards. Johnson is safe for 20 FP with the upside for 40 if his corner 3 gets hot.
Power Forward
Ben Simmons
FD $9,800 DK $8,700
This could go two ways. One, the Warriors come out and absolutely obliterate the 76ers. It's very possible and if it happens, Simmons won't hit value. On the other hand, this stays close and Simmons sees insane numbers. When Warriors games stay close, the numbers that starters put up are usually crazy. They play at a fast pace and the only real way to keep it close is to score a ton. Simmons isn't necessarily the scorer of the team, but he's about everything else. As just a rookie, he's playing as well as anyone has. Sure, his jumper needs work, but the guy has an insane basketball IQ and has a model basketball figure. Tonight, he'll see both Kevin Durant and Draymond Green. I assume Embiid will draw Green, which will give the Warriors some issues with Simmons. His floor is about 20 tonight in a blowout and 50 in a close game, with a ceiling of 70. I won't recommend him in cash games, but  I think it stays close, so he'll be in all of mine. This is a guy I'm willing to take a stand on a guy that may not be very high-owned.
John Henson
FD $5,200 DK $4,500
Henson drew the start against the Spurs last game and ended up with 39 fantasy points. With the impressive performance and Greg Monroe officially gone, Henson will likely stay in this starting C role. If we're able to count on 28+ minutes out of this guy every night, he's going to be in the $7k's. He's a volatile player, of course, but he averaged 1.29 FP per minute in 2016 and is at 1.49 this year. He's an extremely lengthy and wide dude who has an extreme presence in the paint. Against a Lakers squad who doesn't really have an interior, he should excel. Brook Lopez can score, but it's all he does. He has no interest in playing real defense or rebounding. Kyle Kuzma won't either, as he's more of a wing forward. Henson should get to a double-double in 20 minutes if he stays out of foul trouble, and everything else is gravy at his price. Power forward isn't great and both of these guys will be all over my teams.
Center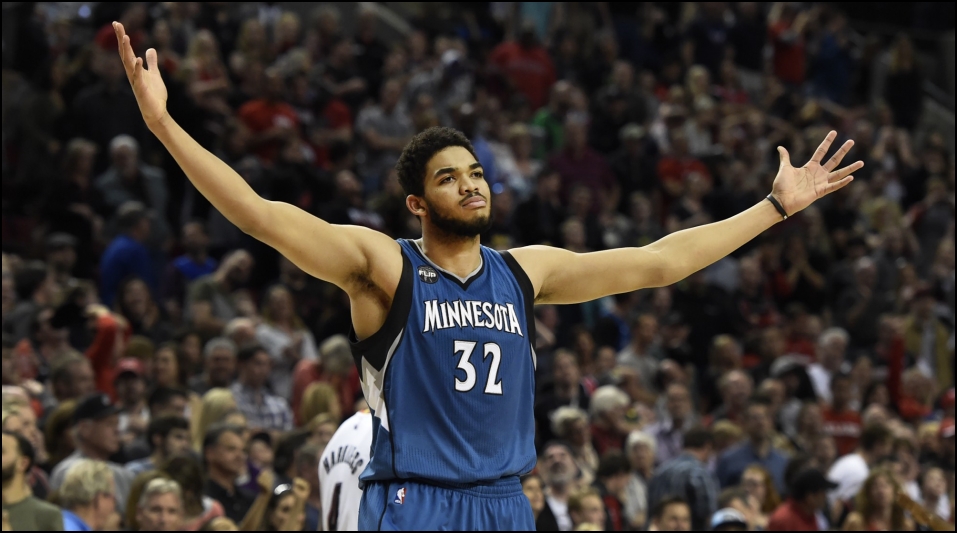 Karl-Anthony Towns
FD $9,700 DK $9,300
When moving up in pace, KAT is my favorite guy to target. That's usually not the case with centers, but he's no average big man. He can run with the Warriors, so there's no team he can't run with. We touched on Jeff Teague against these Suns early and the game stack is one I love in tournaments. Assuming this game stays close, 2 or 3 guys from each side will blow up their price. Tyson Chandler is looking to be out for the Suns, so it'll be a far weaker Alen Len on defense, backed up by Chriss and Bender. 2 guys who weight about 150 pounds wet, combined. Towns should have no problem controlling the paint and getting 40-50 FP no matter the outcome of the game. The upside is limitless here if he has one of his crazy games.
Alex Len
FD $4,400 DK $4,900
We'll get right to the other side of things and look at the guy who will be covering KAT. Tyson Chandler is currently listed as doubtful, so just make sure he's out before you plug in Len. What Len did last game is he showed the people who like to box score watch how wrong they are. After his insanely dissapoint 6 FP perforance against the Heat, they all ran away and cried the next game. He put up 41 fantasy points. We don't care about either of those games. Tonight, the Wolves are a team that will warrant the size of Len. Like I said, the alternative to cover KAT are Marquese Chriss and Dragan Bender. Expect 30 minutes out of Len if he can stay out of foul trouble, and while KAT is an elite scorer, he's average on defense. Both of the centers in this game are elite plays. It just depends how you want to build your roster. Good luck everyone!!