*Austyn Varney*
NBA Daily Fantasy Basketball Sleepers Lineup Picks for 1/16/18
Tuesday's 4-game slate leaves slim opportunities. You know who the studs are, but do you know who the cheaper daily fantasy basketball sleepers are that could make your lineup stand out amongst the rest in a GPP? Sign up for our Newsletter and try our Playerlab tool, where you can filter the stats that matter most and find the value players that are low-owned on Draftkings & Fanduel like Yogi Ferrell and Dragan Bender.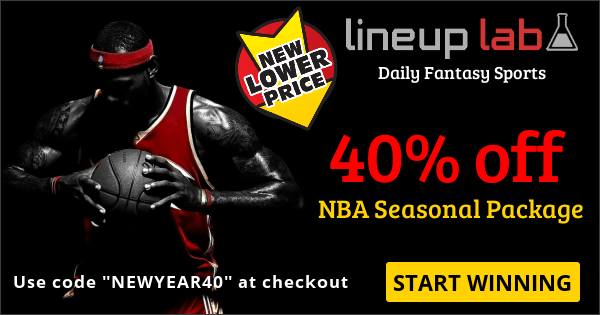 BRING in 2018 with code "NEWYEAR40" at checkout for 40% off Seasonal Package
Point Guard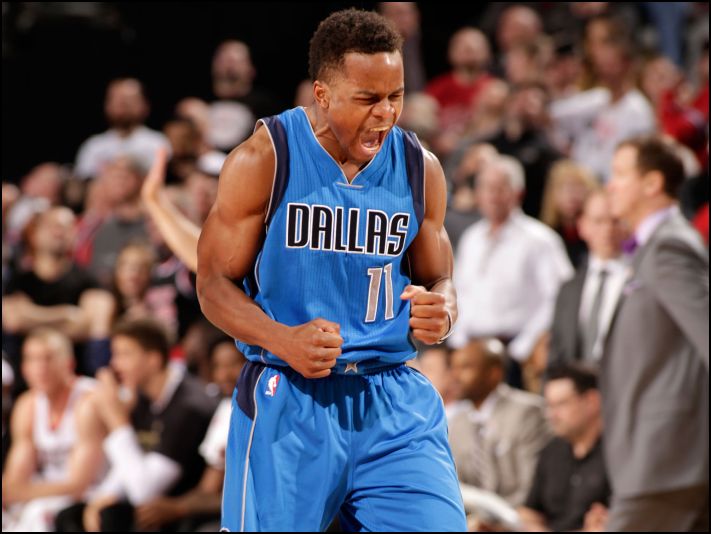 Yogi Ferrell
FD $5,300 DK $4,500
J.J. Barea has already been ruled out for this game, so Yogi is one of the easiest plays of the night. He's been at 33, 36, and 42 minutes over the last 3 and can be bet on for 35+. He could easily get up to 40 as he's being relied on for minutes at both the 1 and 2. We know he produces when on the floor and is never a guy that's going to disappear in the corner for a long stretch. The Mavs match-up with Denver, who rank 20th in the league against PG's. Jamal Murray already a bad enough defender, but it doesn't help that Nikola Jokic is one of the worst rim protectors in the conference. Ferrell will get himself involved all game long and have another 25+ fantasy points. His ceiling is in the 50's if he gets hot and the Mavs match the Nuggets PACE.
Tyler Ulis
FD $4,200 DK $4,000
Tyler Ulis has been pretty inconsistent as a whole on this season, but never as a point per $ producer. When given the minutes, he produces. He did it all of last year and has followed through this season with a 1.14 combined FP per minute. He was seeing over 30 minutes with Canaan injured and jumped down to 25 with him back. Tonight, he should fall in between 25 and 30. At $4200 against a weak Blazers defense, that will be plenty. The Blazers rank 19th against PG's on the season and 26th in terms of assists (where Ulis thrives). Vegas hasn't dropped a line on this game yet, but I'd be willing to bet it's over a 216 total with a spread around 3 or 4. It's a game we want exposure to in all formats. Ulis has been over 20 fantasy for 4 games in a row and will look to make it 5 at close to minimum-price. He's in play in all formats as the price is just a little too low.
Shooting Guard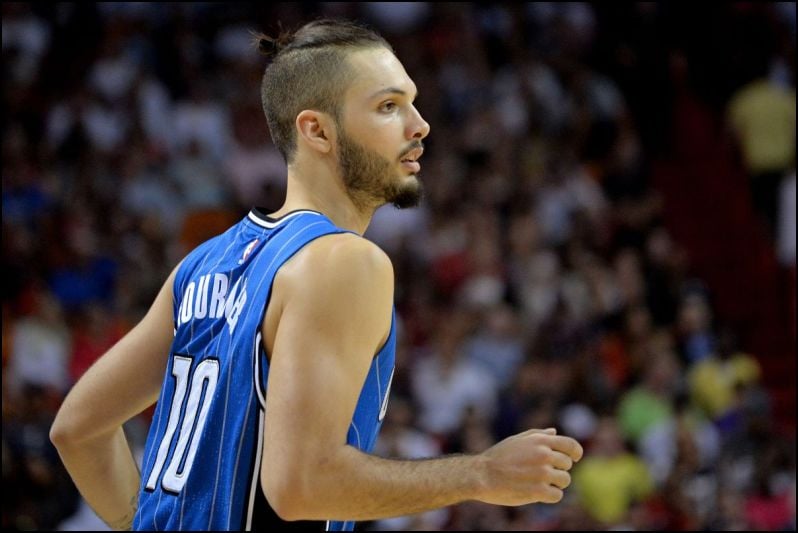 Marcus Smart
FD $5,500 DK $5,200
If you're looking for value at shooting guard, you have to wait for some injury news. As of now, you can't really go under $5k. We'll look at two mid-range options in Smart and Fournier that won't break the bank and have a very high chance of hitting cash game value. Starting with Smart, he's getting consistent minutes with the 2nd team and is always in the game down the stretch. He gets a match-up against a Pelicans squad that ranks 26th in the league against the SG position. Smart is going to fill the stat sheet like always and will have plenty of open shots against a weak Pelicans perimeter defense. You can count on 20 out of Smart with the upside for 35 if he can get his 3 to fall. He's a viable option in all formats, though he'll be limited to my cash games.
Evan Fournier
FD $5,400 DK $5,100
Here we have a guy with some more upside in Evan Fournier. Fournier is always going to be a bit reliant on his shot, but that's how he derives a lot of his upside. He takes 15 shots in most games and has been over 20 fantasy points in each of the last 4. This match-up with the Timberwolves is slightly below average on paper, but I think it ends up as a high-scoring affair and we know Fournier is going to be needed for that. His price is extremely fair just over $5k on both sites and he has the upside to hit 40 if it stays close. Fournier is a guy I'll have in all formats, though I understand the risk that comes along with it.
Small Forward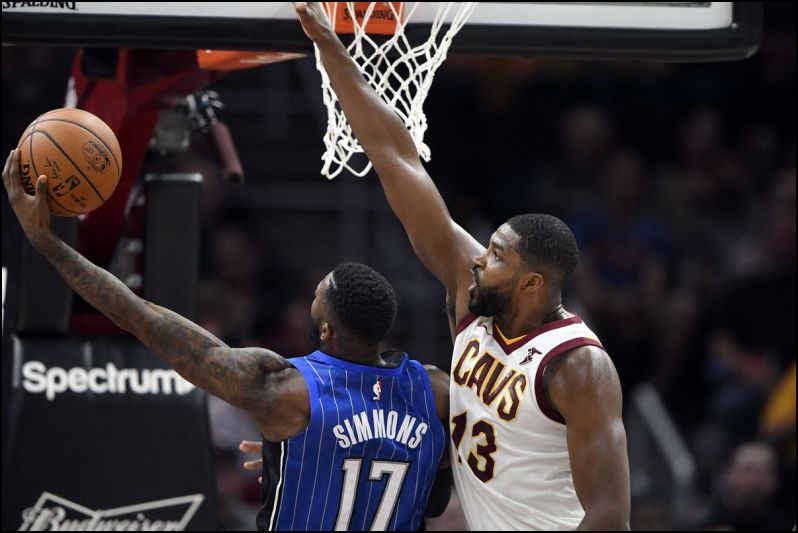 Jonathan Simmons
FD $4,700 DK $4,900
Jonathan Simmons got injured on January 3rd and has been battling back ever since. For the first time in two weeks, he saw 30+ minutes last game. He looked like his normal self and put up 29 fantasy points. He's assumed to be fully healthy and a guy we can bet on for 30+ minutes at this point. His price is still depressed under $5k and I have a hard time believing he misses value if the game stays close. Jimmy Butler is a menace at the 3, but he's by no means going to shadow Simmons. He will see a bunch of different defenders and a few of which he'll have a clear advantage over. He's a shot maker and will be needed if the Magic want to live up to the 217 over/under that Vegas has set. Simmons is simply WAY too cheap and a lock in my cash games because of it. He's a great player that can be locked in for 20 with the upside for 40+ if it stays close. At one of the weaker positions on the slate, he should be popular.
Josh Jackson
FD $5,200 DK $4,800
With T.J. Warren questionable to play, Josh Jackson has a chance to step in as one of the top value plays on the board. He saw 30 minutes last game with Warren out and put up 30 fantasy points. He's been over 1 FP per minute on the season and can be trusted when given the opportunity. The Blazers are a subpar defense against the wing and have allowed the 5th most 3's to small forwards. If Warren plays, Jackson would fall into his usual 22-25 minutes and still be fine in cash games. Don't play him if Warren is ruled in, but I don't mind taking a flier if he's still questionable at lineup lock. Jackson is a solid player and this is a game we want exposure to in any way possible.
Power Forward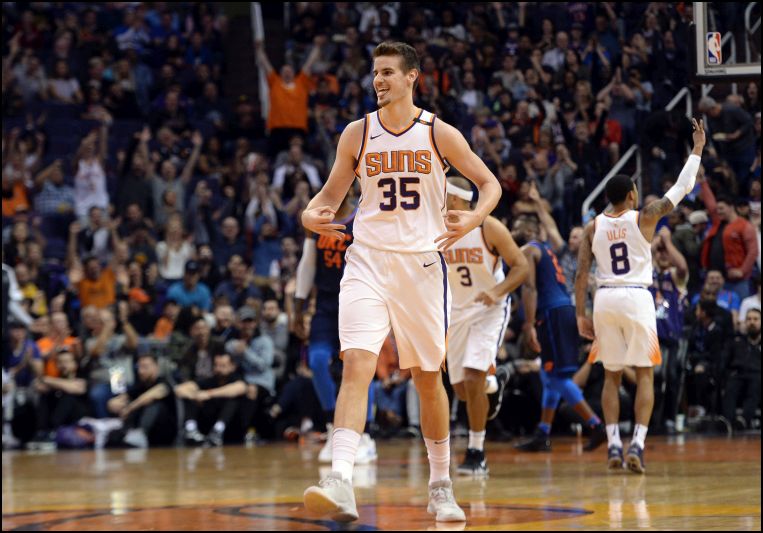 Dragan Bender
FD $4,800 DK $4,600
With Chriss out, Bender has put up 39, 32, and 30 minutes. He figured out a way to put up just 3 fantasy point last game but poured in 43 and 32 the nights before. He is an extremely productive DFS player that seems to get involved in almost every possession. He's far from scared to shoot 15 times and can get hot from anywhere. He's a versatile 4 that's going to give the Blazers some huge issues. They'll toss Ainu at him for most of the night, who's a good defender, but is undersized to contest Bender in the paint. As long as Chris's remains out, Bender is a top value option on the slate. He can't be trusted for a floor, but should put up 30-50 in this spot on most nights.
Marcus Morris
FD $4,700 DK $4,500
Marcus Morris is in play here no matter what. He's getting 24+ minutes a night and producing quite nicely. Even if everything breaks against him, he's going to see 24 minutes against a weak Pelicans defense. Under $5k, it's doable. I certainly prefer Bender, but you can do much worse. Now if Jayson Tatum sits, it's a whole new world. Morris would likely jump up to 30-35 minutes and be one of the easier plays on the board. He's been playing well and has been over 30 a ton in limited playing time. The Pelicans are a poor defense as a whole and can be taken advantage of inside. Morris is always involved when on the court and a value option I've been all over recently. His price has slowly risen, but not to the point it should be. If Tatum is out, plug in Morris across the board. Daniel Theis would also become interesting if he gets the start.
Center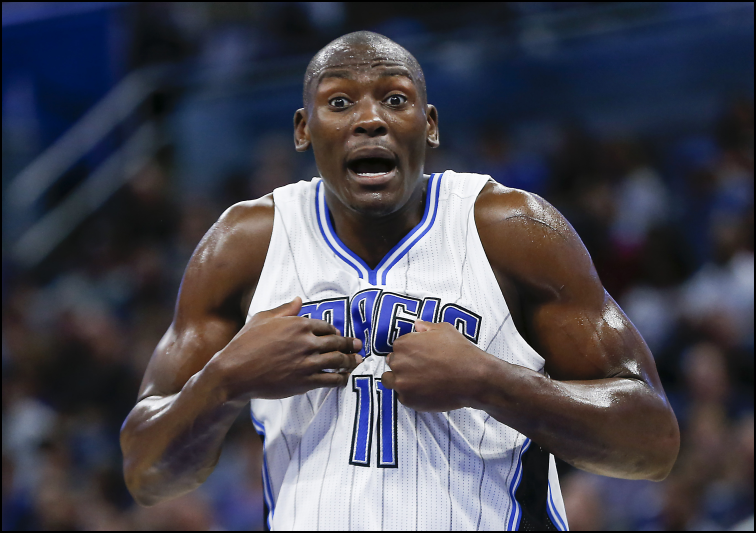 Bismack Biyombo
FD $6,400 DK $5,600
I'm sure some were surprised by the 50 FP Biyombo outburst a game ago, but you can't be if you've been paying attention to him for longer than this year. He's a very able big man that has stepped in in the past and dominated, with Nikola Vucevic and is seeing similar minutes he has already been over 35 fantasy points three times. He's nowhere near the asset on offense but gets himself involved as much as anyone. As one of the best rebounders in the league, you can lock in 10 against Minnesota. In a game with a 217 over/under, his size will be needed against Towns. He's not as cheap as he's been, but a consistent week of production with some mixed in 40's will do that. The T-Wolves struggle against big men and Biyombo should have all that much trouble putting up numbers in 30-34 minutes.
Aron Baynes
FD $3,800 DK $3,800
This is admittedly a stretch, but hear me out. If Tatum misses this game, Baynes has to see over 22 minutes. The Pelicans front court is just too big and he's too valuable to sit on the bench while Al Horford and Marcus Morris struggle. He's always one of the best FP producers when on the floor and it always just comes down to him getting out there. If you're looking for safety, pay up at center and grab one of the many safe options. If you need to pay down in a tournament and want a shot at 30, Baynes is the guy. I will have more exposure than the field of Tatum is out and don't see how it could go wrong. Just kidding, this is Aron Baynes and it doesn't take much for it to go wrong. I just see him getting stretched for 22-28 minutes against a frontcourt that can be handled on offense.